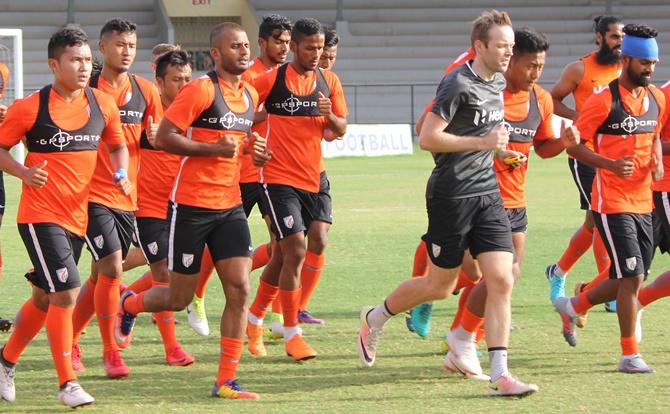 New Zealand football coach Fritz Schmid, on Tuesday, dubbed India lying somewhere between 'a sleeping giant and a rising competitor'.
Schmid is here with his team to take part in the Hero Intercontinental Cup, starting June 2.
"I appreciate the opportunity to play in the hero Intercontinental Cup as for countries like us it provides an excellent option to play against three potential strong opponents and have a look at players who will take us forward for the future," he said.
Asked what impression he has about football in India, he sounded optimistic.
"India is somewhere between a sleeping giant and a rising competitor. It's a big country and from my activity back in the Asian Football Confederation I realised there was a lot of activity at the top level with their professional league.
"At the same time, they were trying to put things together for grassroots and development aspects. I followed very closely their activities around the FIFA U-17 World Cup.
"There are a lot of efforts going on and it's very important for them to put the pieces together to find their position in terms of popularity of the sport in direct comparison to cricket."
He has been following the the Indian team's progress, and is aware of the challenges that await his team.
"India have qualified for the AFC Asian Cup and it's a big year for Indian Football. It's understandable they are preparing for the Continental Championships while we are building up for a new campaign.
"I know Stephen Constantine is a very experienced coach who has been successful in many different countries. I expect them to be really prepared especially after the two weeks of preparatory camp in Mumbai. They will be playing at home and it will be a tough challenge for us."
Intercontinental Cup is good preparation for Asian Cup: Sandesh Jhingan
Indian football team defender Sandesh Jhingan says playing physical teams like Kenya in the upcoming Intercontinental Cup will help when the side competes in the Asian Cup next year.
Asked about India's prospect in the Intercontinental Cup, Jhingan said, "This is the first time India are playing Kenya and they are a different team, the way they play football and the way it is played in their continent is something new for us to experience.
"I know they are going to be physical, but it will be a good test for us."
The four-nation Intercontinental Cup is starting from June 2.
Jhingan said: "In the Asian Cup, we are going to get physical teams. Bahrain is a physical team, so is UAE. So now if we play teams like Kenya we will get to know our weaknesses and on what aspects we need to work on before the Asian Cup."
He added that these matches will help the team get a clear understanding of its preparation for the AFC Asian Cup.
"You don't want to go and play against teams that are not strong or not at the same level. You want to play against teams that always keep you on your toes because that's how you learn," he said.
"The friendly games are vital. Of course, the result is also important, but more important is to learn from them and you only learn when you play tough teams. To go into the Asian Cup in our best shape we have to play against tough teams," Jhingan said.
Nishu, Semboi to play for BFC till 2020; sign new contracts
Defender Nishu Kumar and striker Thongkhosiem Haokip will continue to represent BFC till 2020 end.
Both the players have signed new two-year contracts here, which was announced by the club on their twitter handle.
"They're Blue for another TWO! @nishukumar22 Semboi Haokip. #WeAreBFC," BFC tweeted.
Though former BFC coach Albert Roca fielded them infrequently in the Indian Super League, they played key roles in helping the team reach the knockout stages of AFC Cup.
Nishu has played 26 times and scored three goals, while Haokip, who is popularly called Semboi, played eleven games and scored three goals for BFC this year.
Haokip had represented FC Goa and Kerala Blasters in ISL, before joining BFC.
He also had played for East Bengal, after having made his professional debut for Pune FC in 2013.
In a group league encounter of the AFC, Nishu's right-footer in the first minute of the stoppage time helped BFC climb on the top of the Group E table. He also scripted a timely brace in an AFC away game against Abahani Dhaka to enable BFC to qualify for the next round of the tournament.
Expressing his delight, Nishu said he had to fight for his chances this season which is a good sign as that makes one to work harder to get into the side.
"The management, coaching staff, dressing room and the fans have always been so supportive of me and I think this was an easy decision to make."
Haokip, who was picked in the ISL draft back in July 2017, played a key role in a season where Roca rotated his players heavily owing to the fixture.
Playing nine games in Asian campaign of 2018, Haokip struck three goals in the qualifying stages, which included a match-winning brace in the play-off stage game against TC Sports Club from Maldives as Bengaluru booked a berth in the group stages of the competition.