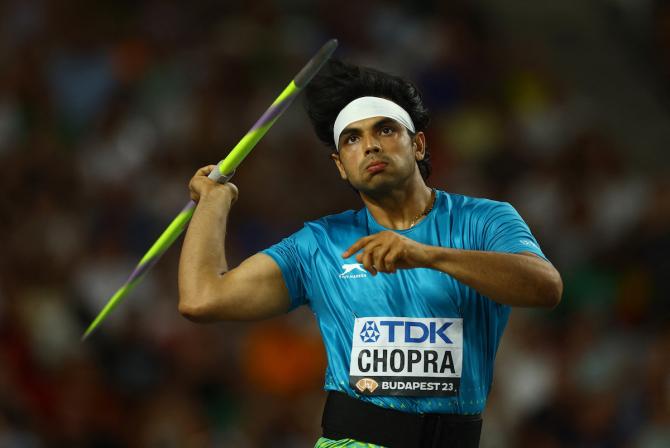 Led by Olympic champion Neeraj Chopra, India will seek to showcase its ascendency as a sporting power at the Asian Games, which opens formally on Saturday after an unprecedented one-year delay due to the COVID-19 pandemic.
India will hope to surpass the 70 medals (16 gold, 23 silver and 31 bronze) won in 2018 in Indonesia with largest contingent of 655 athletes competing in 39 sports in Hangzhou to show the world the rapid strides the country has made in sports since the historic performance in Tokyo Olympics in 2021.
For a country that aspires to host the Olympics in near future, an eighth-place finish in 2018 Asian Games is far from satisfactory, and it will seek to rise higher in the medal tally in Hangzhou, which will host the world's biggest multi-sport event after the COVID-19 pandemic.
India have not finished in the top-5 in medal tally standings since the 1986 edition in Seoul.
The catchline is 'Iss baar, sau paar' (this time crossing 100 medals). Though 100 medals may not be possible, India is expected to surpass the last edition's count with athletics once again set to contribute the lion's share. Last time, track and field athletes had won 20 medals and this time at least 25 podium finishes are expected.
India's medal prospects
For the first time in the Asian Games history, India will be having five Olympic medallists in their ranks led by javelin superstar Chopra, who will be defending his title, raising hopes of the country grabbing more gold medals than the 16 won in 2018.
The other Olympic medallists are weightlifter Mirabai Chanu, shuttler PV Sindhu, wrestler Bajrang Punia and boxer Lovlina Borgohain.
Still, it is difficult to predict the gold medal count for India. Sindhu has been struggling for some time, Chanu has had fitness issues recently while Bajrang started training only a few months ago after taking part in the wrestlers' protest.
Borgohain and Chopra have, though, become world champions recently.
Borgohain will also shoulder the responsibility of being the Indian contingent flag-bearer during the opening ceremony on Saturday along with the men's hockey team captain Harmanpreet Singh.
The eight-gold show in athletics in 2018 will be hard to repeat but hockey (men and women), kabaddi (men and women), chess and archery can swell India's yellow metal tally.
Indian hockey team favourites for gold
Going by current form, India can win gold in both men's and women's hockey competitions. India can also win a gold each in men's and women's kabaddi and make amends for missed chance in Jakarta. The men's team had won a bronze and the women's settled for a silver last time.
Shooters had given nine medals in 2018, including two gold, but they may not be able to surpass the tally this time.
In boxing, the likes of Nikhat Zareen and Borgohain are favourites to win a medal but it is difficult to predict the colour. The same is the case with the wrestlers who had won three medals, including two gold, in 2018.
By hosting the world's biggest multi-sporting event, China is heralding its opening from the pandemic, a giant competition which will be the biggest ever in its history.
No doubt the Olympics is the pinnacle of multi-sporting event in the world but more athletes compete in the Asian Games, with over 12,000 taking part in Hangzhou.
About 11,000 participated in the Tokyo Olympics two years ago and about 10,500 will do so in the next year's Paris Games.
The 2018 Asian Games had seen a little over 11,000 athletes taking part, which will be surpassed in China.
45 nations to compete
The 19th edition of the continental showpiece, which will run till October 8 in Hangzhou and five co-host cities of Huzhou, Ningbo, Shaoxing, Jinhua and Wenzhou, was to be held in September 2022 but was postponed by a year after a surge of COVID-19 cases in China.
Forty-five nations and territories in Asia will compete for 481 gold medals from 40 sports and 61 disciplines, including Esports which is making its debut in the Asian Games. Competitions in football, volleyball, cricket, rowing, sailing and modern pentathlon began before the grand opening ceremony.
The Hangzhou Asian Games are being held under unprecedented circumstances after the International Olympic Council (IOC) annulled the presidential election of the Olympic Council of Asia, which oversees the Asian Games and Olympic sports in the continent.
The July 8 election was won by Kuwait's Sheikh Talal Fahad Al-Ahmad Al-Sabah, whose older brother served for 30 years as the chief of the OCA, an organisation that was created by his father.
The older brother Sheikh Ahmad Al-Fahad Al-Sabah was suspended for three years for influencing the result of the election after he was cautioned by the IOC.
That brought India's veteran administrator Randhir Singh, who served as OCA secretary general from 1991 to 2015, at the helm of affairs as acting chief of the organisation and the Games are being held under his watch.
Singh, a former Olympian shooter, was a full-time IOC member from 2001 to 2014 and secretary general of Indian Olympic Association from 1987 to 2012.
China are fielding their second-largest contingent in their Asian Games history with 886 athletes, including 437 women, taking part in Hangzhou. It is 91 less than the 977 athletes China fielded at the 2010 Guangzhou Games.
Games to be declared open by Xi Jinping
China are not only fielding the most number of athletes in this edition of the Games but they are also set to continue their domination by bagging the top spot in the medal tally, which they have been doing at every edition since 1982 with several Olympic champions participating.
South Korea are sending their largest ever athletes' contingent of 867 with an aim to finish second in the medal tally.
The Asian Games are expected to be declared opened by Chinese president Xi Jinping.
Organisers have already spent about 10.2 billion yuan (USD 1.4 billion) on venues for competitions and training, according to reports.
Hangzhou is the third Chinese city to hold the Asian Games, after Guangzhou in 2010 and Beijing in 1990. The Chinese capital has also hosted the Summer and Winter Olympics.
All the venues will use green electricity as the goal is to host a carbon-neutral and green Asian Games.