Now OCA takes up issue with Chinese authorities.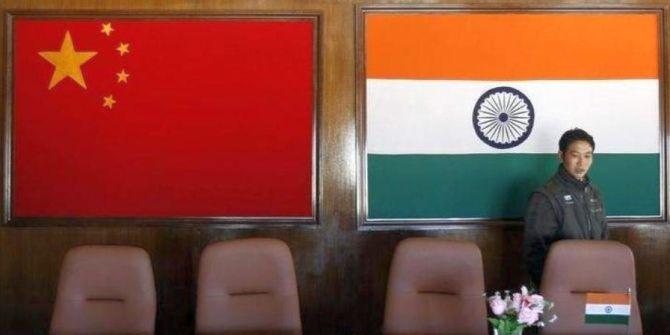 India, on Friday, strongly protested China's decision to issue invalid visas to some of its athletes for the Asian Games, India's foreign ministry said in a statement, a day before the competition begins in Hangzhou.
The three athletes from Arunachal Pradesh, competing as wushu fighters, were issued stapled visas instead of stamped ones, according to India's foreign ministry.
India does not accept stapled visas as valid. Wei Jizhong, chairman of Olympic Council of Asia's ethics committee, told reporters that China did not refuse entry to the athletes.
External Affairs Ministry Spokesperson Arindam Bagchi said as a mark of India's protest against China's discriminatory behaviour, Union I&B and Sports Minister Anurag Singh Thakur has cancelled his scheduled visit to China for the Games.
Later in the day, the Olympic Council of Asia's acting president Randhir Singh said it is actively pursuing with the Chinese authorities the issue of denial of accreditation to three Asian Games-bound Indian athletes from Arunachal Pradesh.
The three female wushu players from Arunachal Pradesh -- Nyeman Wangsu, Onilu Tega and Mepung Lamgu -- have been denied accreditation, which also works as visa, for the Asian Games that officially gets underway in Hangzhou on Saturday.
"We had a meeting yesterday with the working group as well and this has been taken up in the working group meeting. They are taking it up with the government and we are also taking it up with the government," veteran administrator Randhir said in a press conference.
"It is under discussion with us as well. This is outside of what the government to government is happening. We are from the OCA side of it. We are doing it."
"This has been brought to our notice yesterday, and we are taking up this matter with the Organizing Committee and we are trying to find a solution. We will then inform you about it. We are on it now," said Vinod Tiwari, the OCA's acting director general.
However, Wei Jizhong, chairman of OCA's ethics committee, claimed the "Indian athletes have been granted the visa to enter China."
"These Indian athletes have already got the visa to enter China. China didn't refuse any visa. The problem is according to Chinese govt regulations, we have the right to give them different kind of visas. We have an arrival visa, we have a paper visa, and we have a passport as visa," Jizhong said.
"Unfortunately, these athletes didn't accept this visa. I don't think this is OCA problem because China has an agreement to let all the athletes who have certified eligibility to come to compete in China. This is clear. The visa has already been granted," Jizhong added.
Bagchi said a "strong protest" has been lodged against China's "deliberate and selective obstruction" of some of India's sportspersons.

"The government of India has learnt that the Chinese authorities have, in a targeted and pre-meditated manner, discriminated against some of the Indian sportspersons from the state of Arunachal Pradesh by denying them accreditation and entry to the 19th Asian Games in Hangzhou, China," Bagchi said.

"In line with our long-standing and consistent position, India firmly rejects differential treatment of Indian citizens on the basis of domicile or ethnicity. Arunachal Pradesh was, is and will always remain an integral and inalienable part of India," he said.
"The Chinese government has never recognised the so-called Arunachal Pradesh, and the South Tibet region is part of China's territory," a Chinese foreign ministry spokesperson told reporters on Friday, responding to a question about the Indian athletes.
The Indian Olympic Association and the Wushu Association of India did not immediately respond to requests for comment.
Wushu is a multidisciplinary martial art that is believed to have originated in China.
Beijing has issued stapled visas to residents of India's northeastern state of Arunachal Pradesh, claiming it to be part of China's southern Tibet. New Delhi vociferously rejects the claim, saying Arunachal Pradesh has always been part of India.

China and India have been uneasy neighbours for decades after a war over their disputed Himalayan frontier in 1962. Relations nosedived in 2020 after a border clash in which 20 Indian and four Chinese soldiers were killed.

This year, China ratcheted up tensions by giving Chinese names to 11 locations in Arunachal Pradesh.

With more than 12,000 athletes from 45 nations competing across a programme of 40 sports, the 19th Asian Games opens in Hangzhou on Saturday after a year's delay because of the COVID-19 pandemic.
It is not the first time that an issue with regards to Arunachal Pradesh athletes has surfaced. In July, India had cancelled its wushu team's trip to Chengdu for the World University Games when China issued stapled visas to players, triggering angry reactions from the government.
Kiren Rijiju, who is an MP from Arunachal Pradesh, condemned the Chinese action.
"I strongly condemn this act by China to deny visas to our Wushu Athletes from Arunachal Pradesh who were to participate in the 19th Asian Games in Hangzhou," Rijiju posted on X.
"This violates both the spirit of Sports & also the Rules governing the conduct of Asian Games, which explicitly prohibits discrimination against competitors from member states.
"Arunachal Pradesh is not a disputed territory but inalienable part of India. Entire people of Arunachal Pradesh resolutely oppose any illegal claim of China on it's land and people. International Olympic Committee should reign in China's illegitimate action."