'The larger narrative doing the rounds was anti-Hindu, anti-India.'
'Despite the affinity, one could feel the lurking hostility.'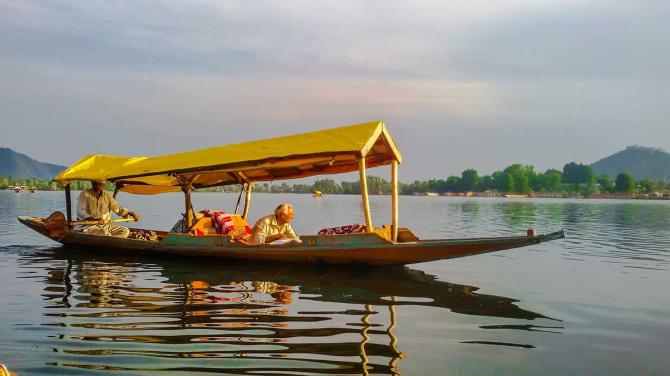 Renu Kaul Verma was born in Kashmir. She now lives in New Delhi where she runs the publishing company, Vitastaa.
Renu set foot in Kashmir last month after 33 years.
"As a Kashmiri Hindu, I am often asked what kind of people we are; why we have no rancour against those who drove us out of our homes," Renu tells A Ganesh Nadar/Rediff.com, as she recalls her trip home.
I did my initial schooling in Kashmir.
The Kashmir weather did not suit my brother's health so, when I was in Class 3, we moved to Kathua.
I completed my schooling and my first year of college in Jammu in 1990 and moved to Delhi in 1991. My parents joined us in 1992.
In 1988, I visited Kashmir for a month as my cousin was getting married. Then, it was the same place I had grown up in.
Now, Kashmir has changed. Other than its natural beauty, it is like any other place in the country. And even the natural beauty is marred by the negativity in the air.
My friend Faiza, who is from Delhi and had joined me on this trip, felt the negativity as well.
As there have been killings lately, there is a fear psychosis in the air. The people I met told me the situation had been improving and then, suddenly, all this violence had happened.
As a Kashmiri Hindu, I am often asked what kind of people we are; why we have no rancour against those who drove us out of our homes.
I understood this as I landed in Srinagar after 33 years. Memories came rushing back. The sight and smell of the chinar and deodar and the pretty, delicate flowers on both sides of the road filled my heart with joy and ecstasy.
I felt like I was meeting a lover after a long separation.
My heart was beating aloud and I felt like wrapping myself with the bounty of my Mauj Kashir (Mother Kashmir).
Hidden in my heart was this desire to return to the Kashmir I had left more than 40 years ago.
It was my friend Bashir Assad's son's wedding that rekindled this hope.
I was so determined not to lose this opportunity that I did not tell my parents and siblings about my plans, lest they dissuaded me, especially since there had been terror attacks in the Valley the day before.
I quickly got my tickets.
Finally, I was in Kashmir after 33 years. Our reunion was emotional.
Bisma and Manzoor were waiting for us.
Bisma's hug was electrifying. The warmth with which she met us cannot be expressed in words. It could only be felt.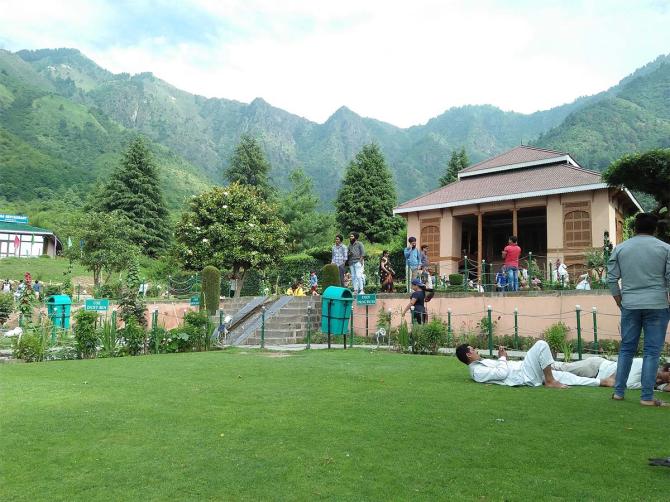 The drive through Hyderpora, Rajbagh, Jawahar Nagar, Dal lake and Nishat Bagh and finally to Cheashmashahi Huts -- where Bashir had made arrangements for our stay -- rekindled memories of my childhood though, at that time, my life had been limited to my ancestral home in Chattabal, my school in Karan Nagar and occasional visits to my maternal home in Habba Kadal.
In 1974-1975 -- when I lived in Kashmir -- there were barely any cars; people would walk. Tongas were the only mode of transport.
Houses were huge and built mostly with wood, mud and stone.
This was what I was longing to see, but it was part of a past that no longer existed.
Early next day, I woke up to fresh air and chilly gusts of wind, stunningly beautiful lawns, manicured trees and paved paths.
The pleasant weather added to the charm of the place. It did indeed feel like Paradise on Earth.
A visit to the sprawling Kashmir University was, however, a disappointment.
We came across some academics who were filled with hatred; every time they opened their mouths, they spewed venom against India, the Modi government and Hindus.
As if this was not enough, we heard that two more killings had taken place an hour ago.
My host sent a message, asking me to return to the guest house.
My dream of paradise was shattered. The fear of the unknown had taken its place.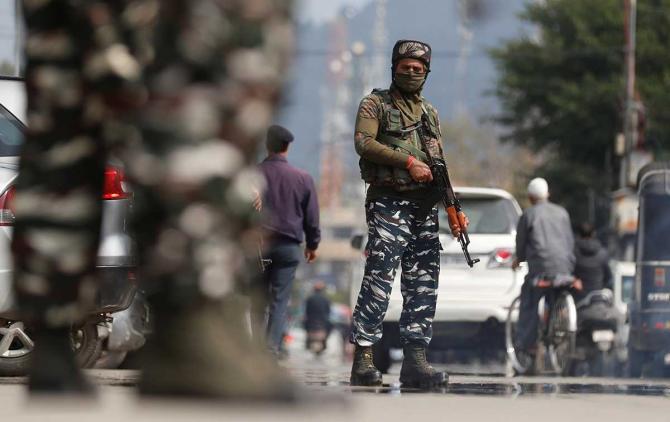 Our driver said the administration feared over-ground attackers the most as they are hard to identify.
You don't know who is carrying a gun. They look just like you and me.
Even though everything may look normal, there is always the fear that you may be the next target.
In the past year, there have been 24 killings by unidentified men.
Another friend who accompanied us to the varsity said it was not unemployment, but extreme hatred that drives these militants.
No one is without shelter in South Kashmir, which is the hotbed for militancy; everyone is busy with their orchards and earn from fruit farming. It is all about mazhab, he said.
However, this seemed to be the view of only a tiny section of the population, that too when they spoke to you individually.
The larger narrative doing the rounds was anti-Hindu, anti-India. Despite the affinity, one could feel the lurking hostility.
One shopkeeper -- though he was very sweet -- said to me, "Aap tho bhaag gayee (You chose to run away)."
Faiza retorted, "Aap bhaga diye (You chased us away)."
He looked uneasy and said the killings that one sees are the handiwork of the Indian agencies.
How is it possible that, with so much security around, a popular chemist called Bindroo gets killed, two teachers get killed in their school premises and a poor golgappa (a street snack) seller gets killed on a busy main road?
There is clearly a trust deficit.
The shopkeeper could not hide his displeasure over the possible return and rehabilitation of Kashmiri Hindus.
Feature Presentation: Ashish Narsale/Rediff.com