'Earlier we had been told we were the crown of India.'
Communist Party of India-Marxist leader Mohammed Yousuf Tarigami -- who has been winning election after election in the militant-infested constituency of Kulgam in south Kashmir from 1996 onwards -- was one of the 14 Kashmiri leaders Prime Minister Narendra Damodardas Modi invited to his residence on June 24.
August 5, 2021 marked the second anniversary of the abrogation of Article 370 and Article 35-A.
"The Indian government continues to misread the situation. Silence is not acceptance. You can make people silent, but you cannot change their hearts," Tarigami tells Rediff.com Senior Contributor Rashme Sehgal. The concluding segment of a two-part interview:
The prime minister said he wants to end Delhi ki Doori.
I welcome the opportunity to talk, but poetry is not a substitute for political action.
We have a 5,000-year-old history and ours is not a Muslim history.
Earlier we had been told we were the crown of India, today been reduced to being a municipality.
You have to integrate us to the Constitution of India.
But this is a government that does not accept several aspects of our Constitution?
They are not a mandated power. They are not mandated to destroy the achievements of our freedom struggle.
I must tell you people of India, full of diversity, with a wonderful ethos of tolerance, who have remained together despite regional and cultural disparities, will (in the near future) put a stop to anything that destroys their past.
A sense of betrayal persists amongst the Kashmiri people?
The only solution is how best the Centre can reach out to the people.
The demand in Kashmir was more power, more autonomy.
This was agreed upon by the central government and ratified by the constituent assembly of J&K.
But instead of removing these gaps, they have uprooted the tree itself.
What can be the result of such divisive policies? This is not acceptable to the Kashmiri people.
The Indian government continues to misread the situation.
Silence is not acceptance. You can make people silent, but you cannot change their hearts.
And this silence becomes the breeding space for violence.
I regret to state that the Centre has played a key role in strengthening this violence.
Political issues cannot be responded to by security measures.
This is a universal truth. Sadly, those who matter and at present most of all, measure their success by the silence of the people.
You have single-handedly ensured that the CP-M has a presence in south Kashmir? How would you explain your success?
Our presence is not confined to south Kashmir.
We do represent an assembly section in south Kashmir from 1996 onwards, but we have a presence throughout the valley.
This is an error in your assessment of Kashmir.
Kashmir is not isolated. We have a presence in other areas as well.
We are not at a disadvantage in promoting Marxist revolutionary leftist ideology.
Revolutionary means to ensure change which is for the better of humanity. Kashmir deserves a better future.
Of course, the CPI-M presence should have had a much large presence in the valley. But because of the difficult situation and the present prevailing uncertainty, we may not be a big force. But we are not insignificant either. Our presence is felt.
The District Development Council elections saw your candidates winning a number of seats.
We could do it because, even if Kulgam is a militant infested area where we have lost many of our comrades, we are part of the people's aspirations.
We are not isolated from them. We work on the ground and people see us even today as being sympathetic to their sufferings.
You don't see a contradiction between Islamic ideology and Marxism?
We are different from any extremist ideology whether it belongs to the Hindu or Islamic stream of thought.
How can you club Islamic fundamentalism with the aspirations of the people?
We must remember that Kashmir had rejected the two-nation theory and this was done not under the influence of Delhi politicians.
It was a reflection of the personality of Kashmiris.
When Muslim tribals invaded Kashmir, and the Indian Army was not present at the initial stage, it was the then National Conference in which Communists were also present in large numbers, who warned these invaders that they would have no dealings with them.
The problem is that Kashmiris are being asked time and again to prove our credentials.
We are treated with suspicion and this is one factor that has encouraged extremism to grow in the valley.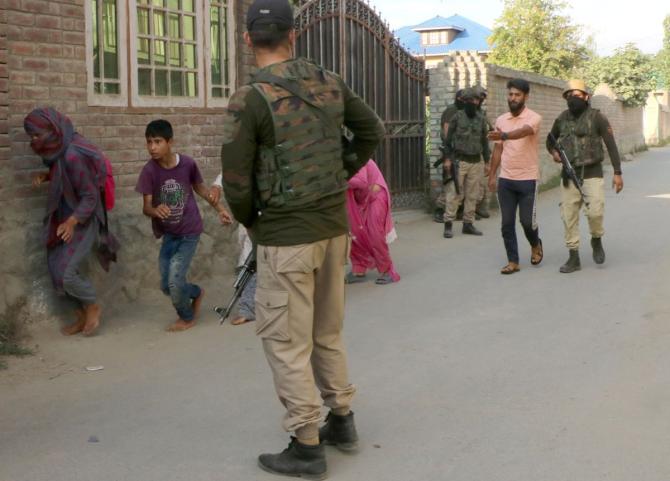 How have the Kashmiris reacted to the recent Chinese incursion in Ladakh?
People here are angry. They are more involved in their own day to day concerns.
China and India need to dialogue closely and find a way out.
How do the people in the valley perceive the growing presence of the Taliban in Afghanistan?
We must ask the present government to be more sensitive to environment in the region as a whole including the latest developments in Afghanistan.
We must create confidence in the people.
That will provide the answer so that they can resist in the future if an unfortunate situation were to arise.
Kashmir is a hot spot with all countries having their eye on it. No country can be in isolation anymore?
I mentioned this in the meeting with the prime minister.
I told him that Kashmir is a frontier area. The atmosphere around it is not good especially with these recent developments in Afghanistan.
The Centre needs to respond to the situation carefully.
Reaching out to people does not mean denying their rights, but rather in meeting their aspirations through a credible process.
We have not said no to participating in the electoral process. We all did participate in the DDC elections.
But the electoral process needs more credibility, so restoration of statehood is a must.
What does the Centre mean by the fact that they are waiting for the appropriate time, this is the appropriate time.
They need to act now.
Feature Presentation: Aslam Hunani/Rediff.com