'This election was the first opportunity where Kashmiris told the world they do not agree with the Centre's policies and are unhappy about their disempowerment.'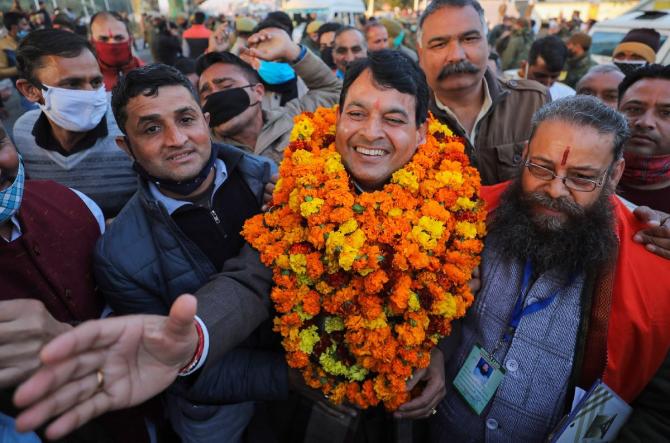 The Bharatiya Janata Party won 74 out of 280 seats in the recent Jammu and Kashmir District Development Council election.
It also opened its account in Kashmir, winning three seats in the DDC election.
Altaf Bukhari -- who served as finance minister in Mehbooba Mufti's Peoples Democratic Party -BJP coalition government -- floated the Apni party -- a who is now a BJP BJP by floating his own party, won 12 seats.
So, what does this mean to Jammu Kashmir politics?
And what has happened to the 7-party historic alliance of People's Alliance for Gupkar Declaration?
It is historic because for the first time, former Chief Ministers of Jammu & Kashmir state Omar Abdullah and Mehbooba Mufti joined hands together with other parties to be a part of Gupkar Alliance to take on BJP.
Syed Firdaus Ashraf/Rediff.com spoke to Mohammad Sayeed Malik (pictured below) -- doyen of the Kashmiri media -- to understand the outcome of the state election in a historical perspective. The first of a two-part interview:
How significant was this election for the future of Jammu and Kashmir?
It was a quintessential Kashmir moment for the people of Kashmir.
For the last 16 months or so, people of Kashmir have been completely gagged.
There is no option for them to express themselves one way or the other.
This was the first opportunity for them to express their collective opinion and they have expressed it.
The Gupkar Alliance had lot of restrictions in campaigning compared to the Bharatiya Janata Party or its smaller allies who had a field day. They had freedom of movement. They could go out and campaign anywhere which was not the case for Gupkar Alliance candidates.
In areas like Shopian, Pulwama and Pahalgam usually one sees a boycott even during Parliament elections. But this time people of those areas considered this election more important than the Parliamentary elections.
They came out and voted.
The voter turnout, however, was very low in Kashmir which was 34 per cent compared to Jammu's 68 per cent voting.
It is always the case.
Kashmir needs extraordinary development for a big turnout at polls.
The presence of secession in Kashmir politics leads to low turnout in elections.
But if you go back in the past, you will find out that there has been a time when there was high percentage of voting when the Peoples Democratic Party won all the three Parliamentary seats in Kashmir in 2014.
That apart in this election, people genuinely wanted to express themselves.
However, let me add that if the issue of Article 370 was not in the background, I am not sure whether the Gupkar Alliance would have performed so well or whether they would have alliance at all if Article 370 was not abrogated.
The BJP won three seats in Kashmir where Syama Prasad Mukherjee, the founder of the Bharatiya Jana Sangh, the predecessor to the Bharatiya Janata Party, died. Does it mean the BJP has been accepted in Kashmir after 67 years?
It is okay as a talking point only, but not a big thing.
They got three seats out of 140 seats from 14 districts in Kashmir.
It is not a big deal.
It can happen on minor level.
Conversely, in state BJP president (Ravinder Raina)'s Jammu assembly constituency, the BJP lost one DDC seat to the PDP.
The BJP's performance in Jammu compared to previous assembly elections was bad.
They performed poorly.
So, the BJP has done badly.
The BJP's claim of winning more seats is irrelevant in Jammu-Kashmir.
This is not an assembly election where the largest party leader gets a chance to become chief minister.
These are board elections.
Out of 20 boards in Jammu Kashmir, 14 are with the Gupkar Alliance.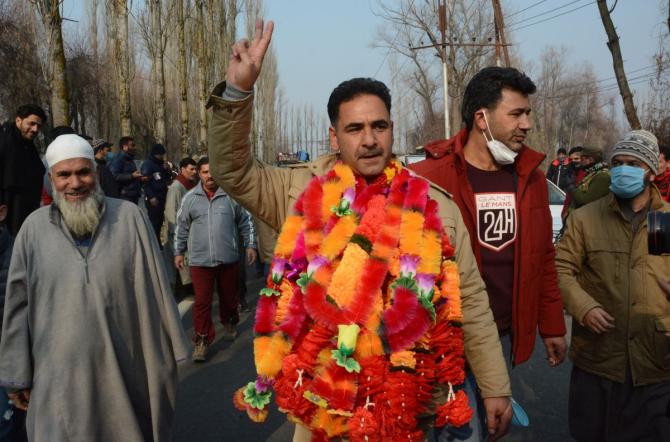 The BJP says it is the largest party and won 74 seats.
This election is essential for boards.
There are 280 seats in Jammu and Kashmir and 20 boards.
The BJP has won 74 seats, but it has a majority only in five boards.
Gupkar Alliance won 14 boards.
Moreover, this is not assembly elections where you beat drums by saying you are the largest party and got 74 seats.
When these boards are constituted, where will the BJP voice be?
They did not win 14 boards.
What about the Apni Party, which is an ally of the BJP? How do you think they performed?
At the moment they are not a factor in Kashmir politics.
It is too early now.
The mood is such in Kashmir that there is no scope for such a party to exist independently.
They must be happy though they got some a dozen seats.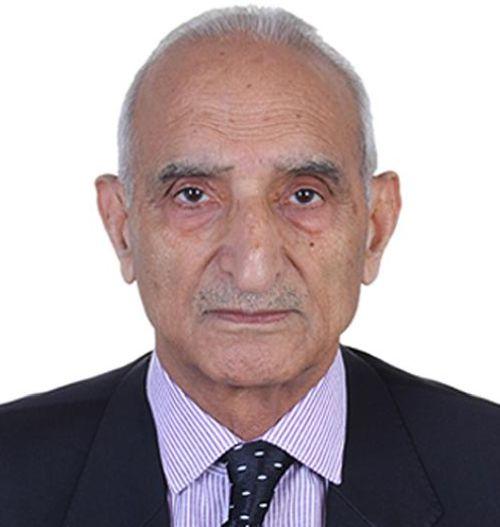 Everyone thought that the voters of Jammu and Kashmir would throw out dynast parties like the National Conference and PDP. However, when these two parties joined hands, people voted for them.
In 1975, Sheikh Abdullah returned to national politics with Indira Gandhi's support.
He then contested elections in 1977 by winning not only Kashmir, but Jammu.
This was the first fair and free elections held by Prime Minister Morarji Desai in J&K.
This was the only election Sheikh Abdullah contested in his life.
When he died, his son Farooq Abdullah took over in 1982 and swept the election in 1984.
Subsequently, the PDP emerged on the scene in 2002.
(Mufti Mohammad Sayeed) became chief minister with outside support from the Congress.
This was for a three-year term and the first major change in J & K politics.
When Mufti Sayeed died, Mehbooba didn't want to continue with the BJP as her heart was not there in 2014 and never wanted her father to go with the BJP.
If you still want to call it dynastic politics, let it be.
Kashmiris vote on issues as we have seen from 1977 onwards.
For the last 14 months, the voice of Kashmiris has been choked.
Everyone who has been in prison and released, s/he has to sign a bond that s/he will not talk about the abrogation of Article 370.
This is illegal and unconstitutional.
There are hundreds of petitions pending in the Supreme Court of India, but it has no time to hear any petition on Kashmir.
It has not heard any major petition on Kashmir.
The judiciary also has not stood by Kashmiris.
This election was the first opportunity where Kashmiris told the world they do not agree with the Centre's policies and are unhappy about their disempowerment.
After the abrogation of Article 370, do Kashmiris fear that they will lose their land to rich Indians wanting to buy land in Kashmir? Have any Indians started buying land in Jammu and Kashmir?
Yes this fear is genuine. Kashmiris fear that they will lose their land.
Till date, no outsider known to have come in big numbers to buy land in Kashmir, but that enabling procedure to buy exists now.
On the contrary, in Himachal Pradesh, no outsider, even an Indian citizen, can buy land.
So far there has been no transfer of land to non state subjects, but local Kashmiris suspect that legal framework has been laid out for that to happen. This fear is evident in Jammu also.
Kashmir was the only Muslim majority state in the Indian Union, supported and motivated by Maharaja Hari Singh in joining the Indian Union through accession in 1947.
On the other hand, it is also a fact that the BJP had all along called for abrogation of Article 370. And it did it at the first available opportunity.
Abrogation of Article 370 was done running roughshod over Kashmiris and done in a dictatorial manner.
Right now, they have enabled people outside of Jammu-Kashmir to buy land.
Today their reflexes are shaped by their perception.
That perception is fear and dread.
They (the Centre) have put many people in jail and steam-rolled the Opposition.
In Parliament, they arbitrarily did away with 'act of faith' that is Article 370.
The special status to Jammu-Kashmir went in one go.
This was bound to create all kind of suspicion in the minds of people.
Feature Presentation: Aslam Hunani/Rediff.com