While there was unrest in the rest of the Kashmir valley, the Dal Lake was serene and peaceful.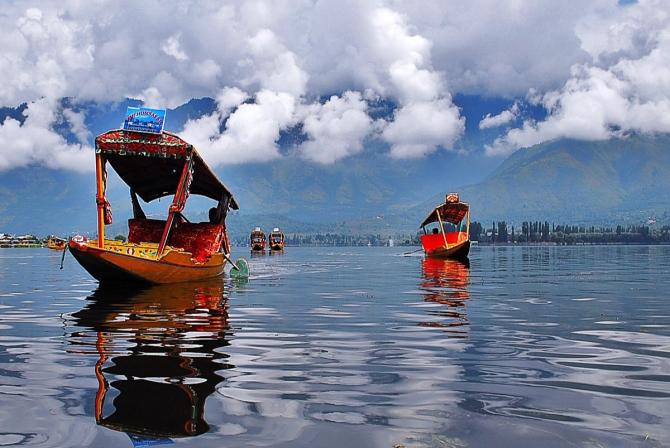 Like all Kashmiris, Renu Kaul Verma feels the pull of home.
Last month, she set foot in Kashmir after 33 years.
For Renu, who now lives in Delhi where she runs the publishing company Vitastaa, it was an eye-opening experience.
"Why was there a trust deficit? Why couldn't people understand that all this animosity would not lead them anywhere?" Renu says as she tells A Ganesh Nadar/Rediff.com about her visit to the Kashmir Valley.
While returning from Kashmir University, I could not help but notice how filthy the Jhelum had become.
I was hoping to see the many bridges that spanned the river, and ghats that bordered it, and the beautiful river. That was how I remembered it.
Our driver told us that the free-flowing river, lakes and springs that Kashmir took pride in was no longer existed. "Our rivers, lakes and springs have suffered because of extensive pollution, siltation and encroaching development since the 1990s."
Later, Shafaq, a boatwala, told us that Kashmir has grown exponentially in the last three decades. This massive expansion has eaten away more than 50 percent of the water bodies in the valley. Whatever is left is badly polluted due to the dumping of garbage and the release of untreated sewage.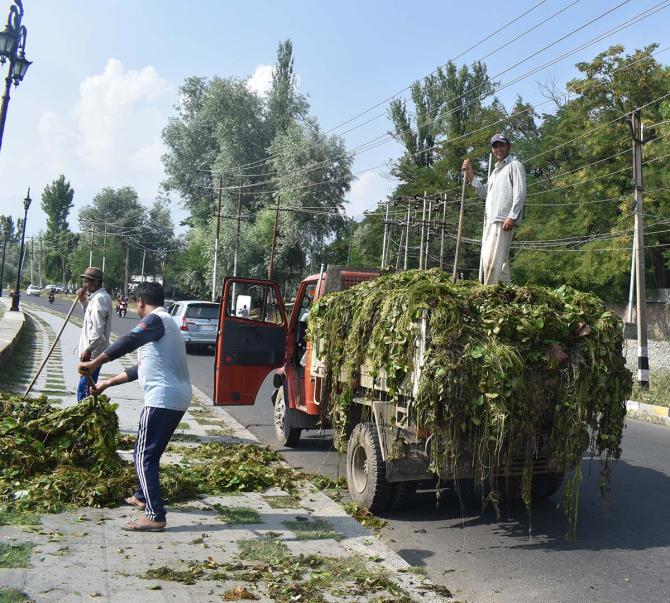 This is especially true of the Dal Lake.
Though it is being cleaned now, to what extent will they succeed? The damage that has been caused is beyond redemption.
"We try not to ferry tourists near the sites that look like garbage dumps. Else, they would never want to visit the lake," says Shafaaq.
The ghats used to be the cultural symbol of Kashmir. Edging the river -- along with the houses, temples and mosques -- they were open spaces where people would bathe and wash their clothes.
The main arterial road followed the path of the river.
The road links with the ghats and the provisions of river transportation at frequent intervals made these streets major commercial hubs that allowed bazaars and other business activities to flourish.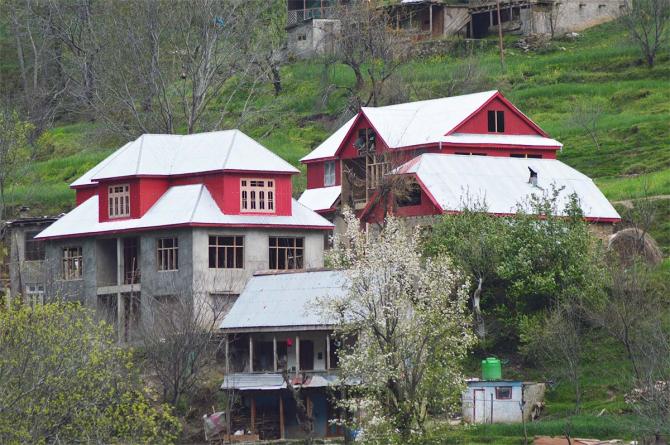 A Kashmiri house, which was multi-storied, followed a similar, organised pattern.
The rooms are multi-functional, with those on the ground floor (called vot) serving more public uses; these included a big hall, a kitchen and a small enclosure for bathing.
The upper floors were more private. These rooms (called kuth) were mostly used in winter.
The sloping roofs allowed for a large room in the attic (called kaini) with large windows, which was used for family gatherings and festive occasions.
Sadly, I found no such homes; the traditional houses have mostly been replaced with modern independent villas.
I could not visit my own ancestral home because of the turmoil in the area. I was not sure how I would have felt if I had visited -- for my home had been broken down and rebuilt.
The pressure of modernisation has unfortunately changed the character of the city which, for centuries, found expression in the river-front development.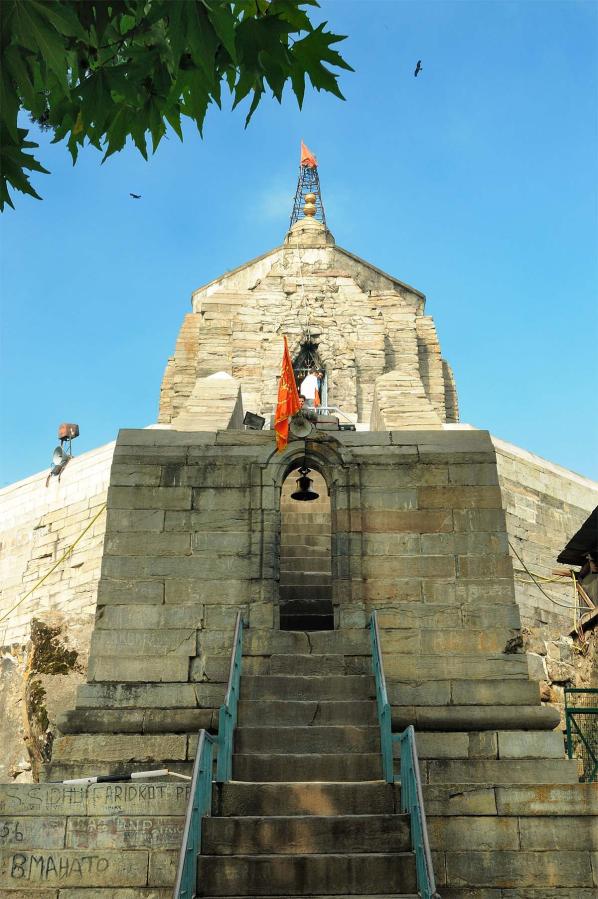 Amid disappointment and negativity, there were moments of cheer too.
I will cherish the memories of my visit to the Shankaracharya temple, the Zeashta Devi shrine, the Hazratbal shrine and the shikara market on Dal Lake.
It was my first visit to the Shankaracharya temple.
As it was located in a high security area, the security checks began even before we entered the road leading to the temple.
Central Reserve Police Force personnel stationed in the area did not allow us to carry our phones or cameras.
We spoke to some of them and asked if they feared for their life. They said they felt blessed to be able to serve their country, but missed their families immensely.
Looking up, the temple looked majestic.
Normally, climbing up 14 steps to my office hurts my knees and makes me breathless.
I was not sure I could climb 300-odd steps that led to the temple. But, as they say, places of worship have a divine power; my knees did not hurt and I did not feel breathless.
It took us about 10 minutes to reach the temple which is housed on an octagonal platform and is about 20 feet tall.
The narrow stone steps are fenced by walls.
At the top of the temple is a dark circular chamber that houses the lingam.
The chamber is tiny and can barely accommodate four-five people; it amazes me how there has been no stampede ever.
The temple complex includes a memorial to Adi Shankaracharya, also housed in a small, dark, cave-like structure.
Adi Shankaracharya is said to have attained enlightenment here.
Finding it unattended, I sat on the floor for five minutes and shut my eyes; it felt heavenly.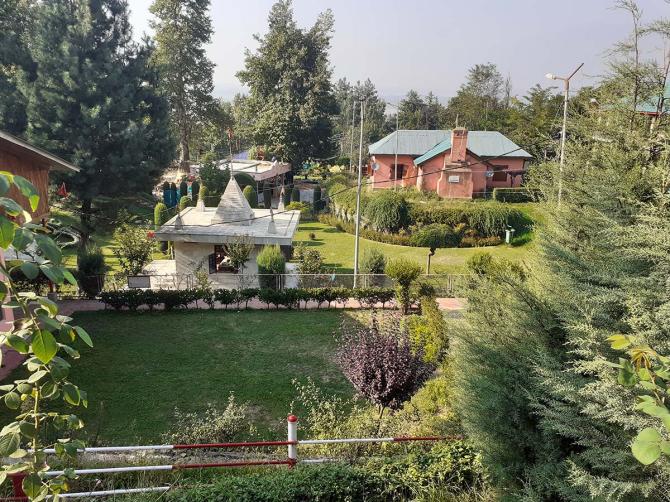 The Zaethyar temple is another place I had heard a lot about.
We were able to drive right up to the steps leading to the temple and were greeted by a retired educationist who said he was a part of the prabhandhak (organisation) committee. Members of the committee take turns at the temple complex so that someone is available in case of any exigency.
The committee has set up a small shop that sold items needed for a puja.
Dedicated to Ma Zeashta and Lord Shiva, the beautiful temple complex -- which is bordered by a dense forest -- houses a dharamshala where Kashmiri Hindus like to stay on their visit to the union territory.
The priest is a retired college lecturer who has dedicated his life to serving the temple.
Though piping hot food was served to the devotees, I preferred the kahwa (Kashmiri tea) and luchis (puris) sold by a vendor nearby.
I had earlier sampled kahwa and luchis on my visit to Kheer Bhawani, another Hindu temple, in 1988. Their taste lingered in my mouth.
Unfortunately, I could not visit the temple this time as it was located in an unsafe zone.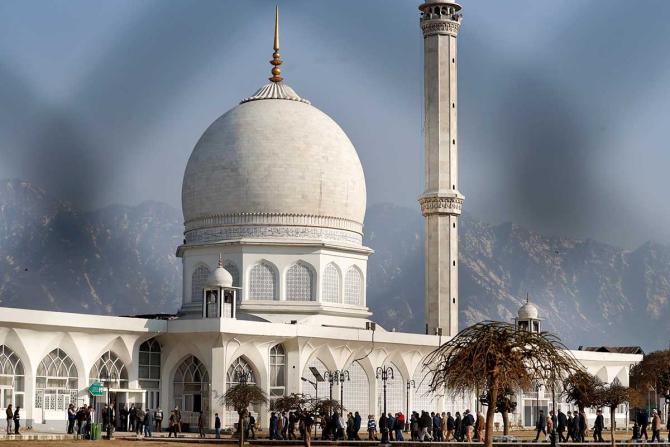 On our way back I accompanied my friend Faiz to the Hazratbal shrine for ziyarat (a form of pilgrimage).
I wondered why the two communities were always at war with each other. Both places of worship offer the same solace and peace to devotees.
Such eternal beauty, yet the people didn't value it. It made me sad.
Why was there a trust deficit? Why couldn't people understand that all this animosity would not lead them anywhere?
A book distributor friend we had gone to meet tells us they have been without work for most of the year.
Terror attacks, encounters and curfews have made their lives difficult and uncertain.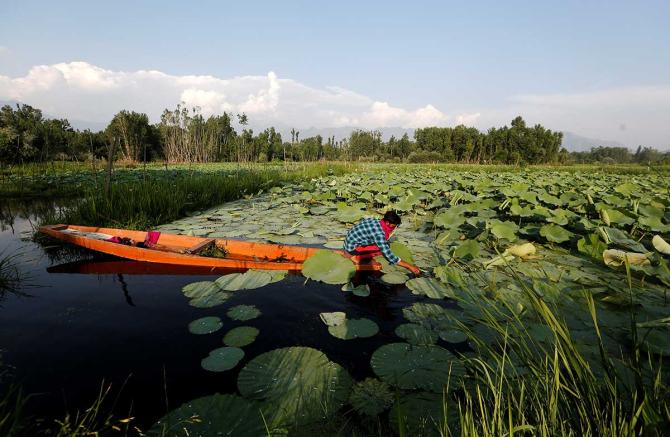 Both Faiza and I decided to spend the rest of the evening at the picturesque Dal Lake.
The ghats were buzzing with activity. Life seemed normal and tourists seemed unaffected by the attacks.
Soon we found ourselves surrounded by shikaras selling flowers, itr (perfume), saffron, wooden handicrafts and even jewellery.
Our boatman doubled up as our tour guide. He took us closer to the floating barbecue, bought us tea and kebabs and told us of life on the water in Kashmir.
Pointing to a roofless shikara, he said villagers gather weeds from the lake and use them in floating gardens to grow vegetables.
The artistically crafted shikaras and houseboats were a refreshing sight. Some houseboats were like bazaars on the lake, where people go in small shikaras to buy goods.
We also visited one such houseboat showroom and bought a few shawls and gifts for our dear ones back home.
While there was unrest in the rest of the valley, the Dal Lake was serene and peaceful.
Feature Presentation: Ashish Narsale/Rediff.com