Stones were hurled at a Ram Navami procession in Fatehpura area of Gujarat's Vadodara city on Thursday, police said.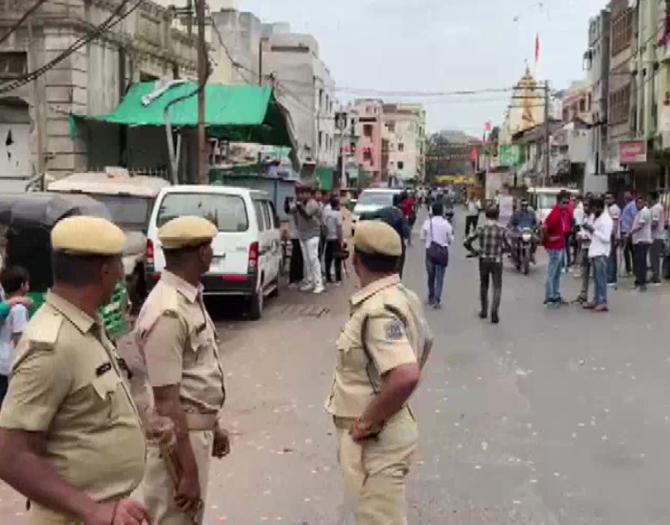 While some vehicles got damaged, no one was injured in the incident and the procession passed along its planned route under police protection, said Deputy Commissioner of Police, Yashpal Jaganiya.
Jaganiya and other senior police officials rushed to the spot upon learning about the incident.
A local Bajrang Dal leader alleged that despite knowing that such an incident had taken place in the past, police were nowhere to be seen when the procession, taken out every year along the same route, came under attack.
But DCP Jaganiya claimed that police protection had been provided to every procession taken out in Vadodara on Thursday.
"The situation is under control. The incident took place when the procession reached near a mosque and people started gathering at the spot. This is not a communal riot. We dispersed the crowd and the procession also went ahead on its route. All such processions in the city were already given police protection," the police official told reporters.
Additional Commissioner of Police Manoj Ninama also reached the spot and ordered deployment of additional force to maintain peace.
"We have deployed armed personnel from regular police, crime branch, SOG and State Reserve Police Force. As of now, there are no reports of anyone getting injured due to the stone pelting. We have ordered an inquiry into the incident," said Ninama.
No one has been arrested yet, he added.
Vadodara Bajrang Dal president Ketan Trivedi claimed that the stone-pelting was part of a conspiracy.
"This procession is targeted almost every year. Despite knowing that, there was no police deployment in this area. Stones were pelted as part of a pre-planned conspiracy," he said.