Riding on a massive Modi wave sweeping through most parts of India, the Bharatiya Janata Party was set to return to power.
Leaders from all political parties congratulated the saffron party and Prime Minister Narendra Modi.
Here are some of the reactions.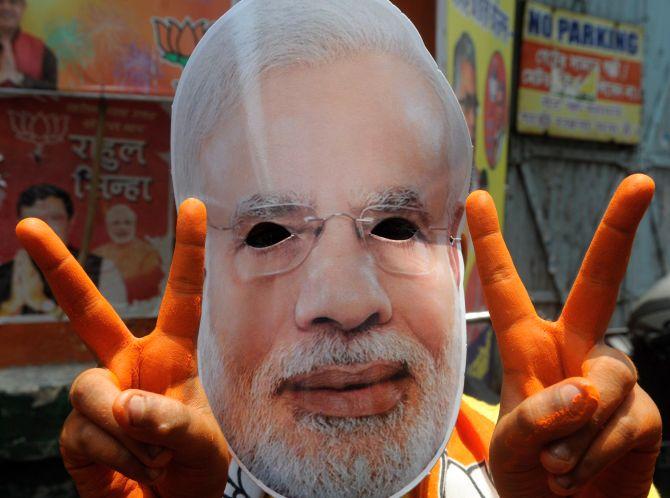 "With all+ development for all+ everybody's confidence = victorious India. Together we grow. Together we prosper. Together we will build a strong and inclusive India. India wins yet again."
-- Narendra Modi, prime minister
"Today's result is India's mandate against Opposition's propaganda, lies, personal insinuations and baseless politics. It is also people's mandate who have chosen development and nationalism and rejected casteism, dynasty and appeasement.
"It is the victory of the hopes of youth, the poor and farmers. This grand victory is a triumph of people's confidence in Prime Minister Narendra Modi's development work and strong leadership."
-- Amit Shah, BJP president
"Prime Minister Narendra Modi -- Many Congratulations for securing such a big victory for the BJP. I am thankful to the people."
-- Sushma Swaraj, senior BJP leader and external affairs minister
In democracy, mandate of the people is considered to be very powerful. We respect the mandate of India and congratulate the BJP for its victory. We offer Prime Minister Narendra Modi best wishes for his future tenure. We hope he would do good work in his future tenure
-- Saurabh Bharwaj, Aam Aadmi Party spokesperson
So the exit polls were correct. All that's left is to congratulate the BJP & NDA for a stellar performance. Credit where credit is due PM Modi Sahib & Mr Amit Shah put together a winning alliance & a very professional campaign. Bring on the next five years.
-- Omar Abdullah, National Conference vice-president
This historic victory in the General Elections is the outcome of Modiji's visionary leadership, Amit Shahji's dynamism and the hard work of millions of BJP karyakartas on the ground
-- Rajnath Singh, senior BJP leader and home minister
Once again people have reposed their confidence in BJP and Modi in a big way. The trends indicate unambiguously that grammar of politics is under transformation
-- Vinay Sahasrabudhe, BJP vice president
It was not an election but Modi tsunami. I heartily congratulate Narendra Modi
-- Ram Vilas Paswan, Lok Janshakti Party chief
It's nothing short of a landslide, a political tsunami sweeping entire country, east or west, BJP is the best, is a reality. North to south people have voted for a clear, unambiguous choice... country must progress further under the leadership of Narendra Modi
-- Suresh Prabhu, senior BJP leader and Union minister
"Congratulations to the winners. But all losers are not losers. We have to do a complete review and then we will share our views with you all. Let the counting process be completed fully and the VVPATs matched."
-- Mamata Banerjee, West Bengal chief minister
"Beyond rationale! #Verdict2019. Anakalniya (incomprehensible)
-- Raj Thackeray, Maharashtra Navnirman Sena chief
"Combination of (Narendra) Modi and (Amit) Shah is very unique and important. This victory is result of leadership of Modi and Shah and hard work of lakhs of party workers."
-- Prakash Javadekar, HRD minister
"Congratulations to Narendra Modi ji for a historic mandate. Today surely belongs to BJP and it's allies. Time for Congress to get an Amit Shah."
-- Mehbooba Mufti, PDP president
"Many compliments to each and everyone who have contributed to this victory of democracy. The spirit and ideal of democracy have once again been established for the world to witness. Crores of people of Bharat are fortunate to have once again a stable government. We wish that with the completion of the polling process, all bitterness will end and the verdict of the masses is welcomed with humility"
-- Bhaiyyaji Joshi, Rashtriya Swayamsevak Sangh general secretary
"Respected dear @narendramodi ji hearty congratulations ... You made it !!! God bless."
-- Rajinikanth