'... so that the hospitals do not get overwhelmed. We have to avoid it at all costs.'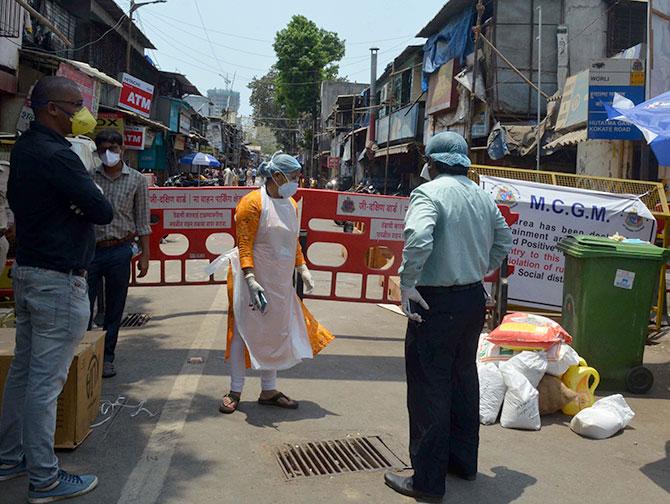 Dr Abhay Shukla -- a public health physician with vast experience in working on health issues at the grassroots in western India -- is the co-covenor of the Jan Swastha Abhiyan or People's Health Movement.
"The situation in Mumbai is serious and worrisome, but it is not disastrous like in Italy or Spain," Dr Shukla tells Rediff.com's Archana Masih in the concluding segment of a two-part interview.
Mumbai's municipal commissioner said in an interview that the cases would peak this week and the city may see 3000 to 3,500 cases. How critical will this week be for Mumbai?
The situation is temporarily going to worsen. We have to be prepared for that.
Probably we didn't act effectively enough in time by doing many more tests, contact tracing, islolation.
Testing is very important even now, but an important opportunity was missed earlier.
The situation is likely to worsen if community transmission starts. Then it will be very difficult to control.
It is not impossible, but it becomes very difficult.
That required containing and sealing of certain areas so that no one goes out and no one comes in and those who fall ill in that area are isolated, treated, their contacts are isolated.
The challenge becomes twenty-fold more. Unfortunately, Mumbai is in for that and perhaps parts of Pune.
Moreover, I feel public mobilisation and public communication is still inadequate in Maharashtra.
In what way can public mobilisation be put to the anti-COVID-19 effort?
A suggestion that I am trying to communicate to the government in Maharashtra is that the state has a very active civil society.
There are thousands of NGOs and civil society groups which can be involved in the anti-COVID-19 effort in a very organised and systematic way.
Some NGOs with large networks have offered to work with the district administration. This will mostly be non-medical help, but every kind of help is also very important in a lockdown situation.
What Kerala is doing through volunteers, Maharashtra can do through civil society organisations. It is a very important front and I don't know why it has been put to use.
In a war, the entire army marches in one direction, but here there is no coordination between the private sector and public sector.
Some hospitals are treating COVID-19 patients, some aren't. Some hospitals are charging exorbitant amounts for treatment of COVID-19 patients.
All these decades of neglect of the private sector is coming back to haunt us. The government should regulate the private sector because this is a public health emergency. They should contribute to public health and treat patients according to the existing protocol.
Of course, the entire private sector is not like this, some are doing good work, but there has to be an entire unit of the health department focused on regulating and harnessing the private sector.
In Maharashtra, the private sector is three times larger than the public health system.
As a public health activist, what would your suggestions be to deal with this epidemic?
There are four areas -- 1. Public communication and mobilisation. 2. Involving civil society organisations in large scale. 3. Regulating the private sector with rigorously imposed norms on practices, costs, PPE and harnessing the private sector and 4. The core public health strategy itself.
Just containment is not enough. It is one part of the strategy, the other parts are about testing, tracing, tracking of contacts, isolation, home quarantine.
An integrated public health strategy is the only thing that will work.
Isn't the high population density in Mumbai one of the reasons for the increased cases, compared to Kerala?
That is partly true, but look at Wuhan, a major city where the outbreak took place. They were able to contain it.
South Korea also had large clusters with large number of cases, but they were also able to contain it. This shows that even when the epidemic has spread it is not impossible to control it.
The situation in Mumbai is serious and worrisome, but it is not disastrous like in Italy or Spain.
It will likely spread to more areas. The point is that public heath strategy can be implemented even at a later stage.
In China, at first, they didn'o;t even know what they were dealing and yet they were able to contain it.
So rigorous integrated health measures will have to be implemented -- tracking, treatment, isolation -- just physical containment is not enough.
We also have to learn from the innovations -- this is a cluster-based epidemic spread -- we need to analyse information coming from all parts of Maharashtra's private and public hospitals about acute respiratory infections.
We need a system of epidemiological analysis like Kerala. They even have a team of mathematicians doing mathematical modeling.
It is not as if Maharashtra does not have a pool of intelligent resources, but public health is not been a priority in India and we are dealing with those consequence. We still have policy choices if we want to avoid a worsening situation.
We have to avoid an explosion of numbers so that the hospitals do not get overwhelmed. We have to avoid it at all costs.
That is what we have to target and that is why we need two arms -- 1. The clinical arm which readies the hospitals, takes over some private hospitals equipped with ventilators, ICUs and puts in place protocols and manages them properly;
Second is the epidemic control arm which isolates all the contacts and home quarantines largest number of people required so that less people reach the hospital in the first place.
Action needs to be taken on these two arms simultaneously. We can still contain it even though the situation is bad.