'If you look at the deaths that are occurring across the state or country, I think out of these 25 not even one required ICU care. That's what we are proud of.'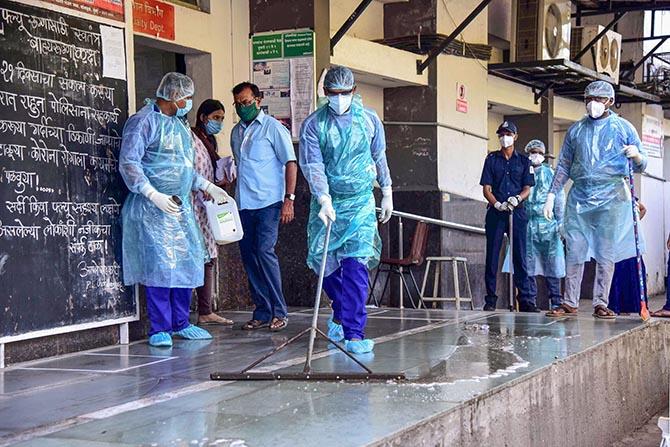 Do you remember the scene from The Godfather where Al Pacino shifts the injured Marlon Brando from one ward to another just so that his life could be saved from imminent death? Or the scene in Ram Gopal Verma's Sarkar where Abhishek Bachchan does the same for Amitabh Bachchan?
Well, a similar scene, on a much, much bigger scale and in real life unlike the scenes in The Godfather and Sarkar, was enacted on the evening of March 28 at the Miraj Hospital in Maharashtra's Sangli district.
Three doctors from Mumbai's J J Hospital were coordinating the effort, ably assisted by doctors from the Miraj Medical College, and with all the might of the district and state administration, as they shifted 200-odd patients from the Miraj Hospital to the Sangli Hospital by the morning of March 29.
When Dr Pallavi Saple, dean of the J J Hospital in Mumbai, Dr Vinayak Savardekar, associate professor, and Dr Prashant Howal received a mail late night on March 27 from the hospital's director asking them to move to Sangli at the request of state Medical Education Minister Amit Deshmukh, the three doctors packed immediately and reached the Miraj Hospital the next evening.
Soon after, they began shifting the 200-odd patients from the Miraj Hospital and completed the task by the morning of the 29th. This Herculean effort was needed because Sangli district in western Maharashtra, which had reported no case till March 27, suddenly woke up to 25 cases of COVID-19 positive patients.
By April 13, all these 25 COVID-19 positive patients were sent to institutional quarantine because two consecutive swab tests performed on them reported absence of coronavirus.
Dr Saple tells Prasanna D Zore/Rediff.com how and why the evacuation was done, the learning from the Sangli success that other states and districts suffering from the COVID-19 pandemic could follow in the fight against the deadly virus and how they won the battle in Sangli. The first of a two-part interview:
Why were you chosen to deal with the situation in the district where out of blue 25 people tested COVID-19 positive?
I was called probably because I was posted as the dean here (of the Miraj Medical College) till six months ago. I was there for three years from 2016 to September 2019, after which I was posted to the J J Hospital (in Mumbai as dean).
I happened to work here for one to three years and also during the floods in Kolhapur, Sangli in July-August (2019). Some of that (the work done in providing medical relief to those affected by the floods) was acknowledged probably, the way we handled the situation and managed it, probably that was that was one of the reasons why I was called (to handle the situation in Sangli).
Suddenly in four days (Dr Saple was called on March 27 when the cases came to light), where we had no case of COVID-19 positive patients there were 25 in one go in like a short span of less than 72 hours, all from the extended family of the index case who had returned from abroad.
It was essentially four people who had travelled from abroad and were COVID-19 positive when they came to India.
Contact tracing helped district health officials to find out 21 more people from the extended family who were infected when they came in contact with these four people.
I received a call on the night of March 27 and I was asked to join the district administration almost immediately.
Fortunately, the three of us -- Dr Prashant Howal, Dr Vinayak Savardekar and I -- who received the call left early morning the next day and reached Sangli in the evening.
We had no idea as to how long we would have to wait. We thought it won't take many days, but since that day we have not moved out of the town.
When we joined the district health officials and met the collector (Abhijeet Chaudhari), he gave us a brief that we need a hospital for these patients.
The hospital facilities were not up to the mark, training of (health) personnel had not happened, equipment was in short supply, and doctors were needed. That was the brief that we were given.
Since I had worked here, I knew what was unique here was that it (Miraj Medical College) is a medical college but with two hospitals. Not many medical colleges have that luxury.
We immediately took the unique decision to shift all the non-COVID patients to Sangli Hospital.
Literally, in the next few hours after joining on the 28th, we shifted almost 200-odd patients from the Miraj Hospital (attached to the Miraj Medical College) to Sangli.
In fact, today (on April 13) we got a directive from the chief secretary that while treating and concentrating on COVID-19 patients, non-COVID-19 patients should not be ignored. They also need critical care like dialysis -- a chronic requirement -- and diabetes treatment, and other medical treatments.
We were very clear that we would be focusing equally on both these categories of patients.
Today, (on April 13) that hospital (in Sangli) had 400 cases. Every day, 150 to 200 deliveries are happening, 60 to 70 Caesareans are happening; every other medical need is being taken care of at Sangli Hospital.
We got the medical facilities at Sangli Hospital up-to-date immediately and also got a reverse osmosis dialysis machine there.
Now, when the lockdown opens, we'll get many more patients, but we are prepared to handle the medical needs of non-COVID-19 patients also at Sangli Hospital.
Clearly demarcating the two different hospitals for COVID-19 and non-COVID 19 patients helped us to prevent the numbers (of COVID-19 patients) from swelling.
From reading about what had happened in Italy, where they put the first (COVID-19 positive) patient in the ICU of the same general hospital where other non-COVID-19 patients were being treated.
What that led to was that the whole hospital suddenly became coronavirus positive, including the doctors. That decision (of separating the two types of patients) helped us from preventing the number from swelling up.
These 25 (COVID-19 positive) people were first brought and kept in the hospital (at the Miraj Medical College). The entire staff there was devoted to treating COVID-19 patients.
Suppose (if the doctors had not sent non-COVID-19 patients to Sangli Hospital), (then) right next door we would have had the delivery ward where we were to perform 15 to 20 deliveries each at Miraj and Sangli along with COVID-19 patients.
Every pregnant woman comes with two-three relatives and the relatives would obviously loiter around the campus leading to mixing up of COVID-19 patients with other patients and their relatives.
Also, there would have been high probability of the hospital staff treating these two different set of patients interacting with each other in the changing room, or while walking along their respective wards or while going home.
Keeping the serious consequences of such mixing up, it was very necessary to split everything physically, geographically and that became possible because we had the backup of hospital at the Miraj Medical College.
We also ensured that those who were due for their immunisation doses would not miss them. Even the chief minister (Uddhav Balasaheb Thackeray) had emphasised the importance of it (not affecting the immunisation programme in the times of coronavirus) lest we may end up conquering coronavirus only to face heightened polio cases which we have already kind of conquered.
Since the immunisation programme (in Sangli district) was ongoing from a month-and -a-half we didn't want to hamper its progress.
So while it (vaccination) is not happening at Miraj (hospital as it was exclusively treating the 25 COVID-19 positive patients)) now we have made all the preparations for it at Sangli (hospital). We have tied up with the municipal office for immunisation.
Even senior citizens are given medicine. Normally, they get medicine for 15 days or for a month. Now, we have started giving all of their medicines for three months, so that they don't have repeated visits to the hospital. And also while commuting back and forth, they don't pick up an infection from somebody.
So they can now sit at home with three months's medicines taken care of. For any minor trouble, they go to their local doctor.
These measures, which we took after careful planning and discussion with all the stakeholders from the local, district and state administration proved to be the masterstroke that helped the district administration restrict it (the number of COVID-19 positive patients) at 25 patients.
Doing this also ensured we could focus our attention in treating these 25 patients.
To help reduce the (physical and mental) stress on the hospital staff at the Miraj Medical College Hospital, we give our nurses only four hour duties.
The PPEs (personal protection equipment) they wear are very cumbersome. And if you discard them and wear them again, somehow the integrity gets broken. Again, I figured this out from the Chinese experiment.
We told our nursing staff to have their fill of water before starting their shift, visit the washroom, eat something and then don't change out of your PPEs for four hours for whatever reason. And they were very comfortable doing that.
For four hours, they concentrated on their work.
Initially, we weren't aware of this situation, but soon enough we realised that our nurses were not willing to go home for the fear they may infect their children, parents or in-laws, so we set up a facility for them to stay in the campus.
We have a residential campus just across the road so they stay there after completing their duties. They kind of do a quarantine -- although we don't call it quarantine because it is not mandated for them. But they rather have a 15-day quarantine and then they go home.
If they develop any symptoms along the way, we check them. Around five to six nurses developed some mild symptoms of cough, but they were all COVID-19 negative.
The rule is that those who are in contact with COVID-19 positive patients only should be checked. So they were checked and fortunately all of them tested negative.
That is one of our goals that we should not lose a healthcare provider to coronavirus. Because they have been treating these patients, their safety, their nutrition is paramount. They get their three meals and other daily nutrition requirements from the hospital.
These things helped and because we had only 25 patients to concentrate, their blood pressure was monitored regularly, their sugar levels checked, then milder symptoms were checked for.
We were kind of or over-prepared, plus their natural immunity would also help.
If you look at the deaths that are occurring across the state or country, I think out of these 25 not even one required ICU care. That's what we are proud of.
Today, all of them have tested negative, but even a few deaths would have shattered our hopes and efforts. We are proud that all of them were safely discharged.
The only thing was because of the social issues they were not sent home, but sent for institutional quarantine for another 14 days's quarantine before they will be sent home. Anyway, they had to stay in home quarantine for another 14 days.
All these 25 patients are otherwise fit for discharge.