'She used to call me every day to check whether I was all right. You know how mothers are!'
Dr Sudhir Kumar Verma, associate professor at the department of medicine, King George's Medical University, Lucknow, has finished his one-week duty in the coronavirus ward and started his 14-day quarantine at the hospital.
"Once you are taking care of the patients, nothing else comes to your mind; only the patient matters," Dr Verma tells Rediff.com's Shobha Warrier.
Continuing our series on Indian heroes at the frontline of the war against coronavirus:
I have heard that none of the medical staff at KGMU has gone home since the first coronavirus patient was admitted.
Yes, the first patient, a doctor from Canada, was admitted on March 9. Dr Himanshu was in charge then.
The whole team was under active quarantine in the hospital in separate rooms for the seven days when they were on duty, and they were not allowed to go home.
After a team completes one week of duty, a new team takes over. The previous team will then undergo a quarantine of 14 days. In fact, they were given the option of quarantine at home or in the hospital premises itself.
They were given strict instruction to follow isolation at home if they chose to do home quarantine. But most healthcare workers chose to remain in the hospital quarantine area itself.
Is it because the virus is highly infectious and they didn't want their family members to be under any risk?
Exactly. Most healthcare workers, including me, have elderly parents living with them. I also have a one-and-a-half-year-old child. Nobody wants to put the lives of their family members at risk.
Now that my active quarantine of one week is over, I have decided to undergo 14 days of quarantine in the hospital itself.
How did your family take the news that you were going to treat coronavirus patients?
When my family came to know that I was posted in the coronavirus isolation ward, everybody was very scared, especially my mother. She became less tense only after I explained to her that we went to the ward with proper protective gear.
I told her I was doing my duty when the entire nation was passing through this crisis, and that we needed to serve our people and country. Slowly, she realised that this duty was very important to me.
She used to call me every day to check whether I was all right. You know how mothers are!
It was not possible to take calls when you are on duty as we did not want to contaminate the phone. So, I told everyone in my family and also my friends that I would not be able to receive calls during the day.
My mother became normal only when I told her that my active quarantine days were over, and I had no symptoms.
Please tell us how the one week in the coronavirus isolation ward was.
When we first got posted in the coronavirus isolation ward, what I did first as the team leader was, explain every detail about the virus, how we should avoid getting it, what precautions to take, how to wear and remove the PPE, etc to the entire team of doctors, residents, nurses and ward boys.
The protocol was that everybody underwent training which included about the disease and also psychological support, before they went to the ward.
I found that after the first day, everybody was relaxed, and I did not see any fear in any of them.
Once you are taking care of the patients, nothing else comes to your mind; only the patient matters.
Our isolation ward has two areas; one for suspected patients and another for confirmed cases. So, we also divide the team into two groups, and the groups rotate the position every day.
What was the mental condition of the patients when they got admitted there?
First, they were not ready to accept that they were coronavirus patients.
When we explained to them that it was only a mild attack and there was nothing to worry, they relaxed.
Our first patient was a doctor who was a Canadian. She had come to Lucknow with her husband, in-laws and child on vacation.
Though she was fully aware of the disease, we explained everything to her. She had only very mild symptoms.
Among the family, only she tested positive first, and the others tested negative.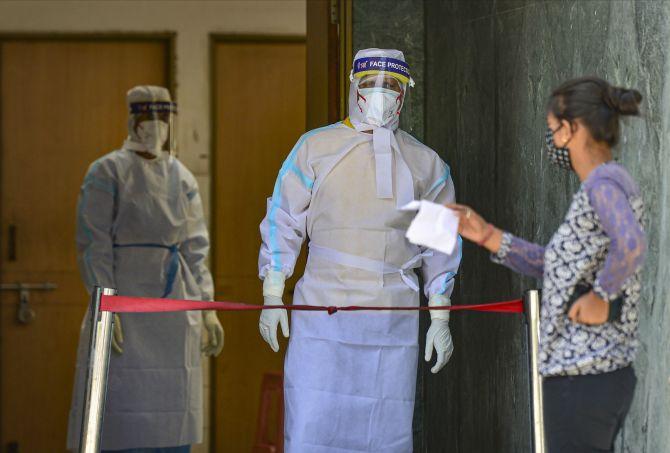 What was the condition of the patients when they were brought to the hospital?
They came complaining of fever, cough, sore throat, body pain, etc.
Most of the patients who have come to our hospital were mild cases and they were young. The oldest patient was 56 years old. He has been cured of the disease and will be discharged very soon.
Luckily, we do not have any serious cases with serious pneumonia till now. So, we didn't have to use ventilatory support for anyone.
As per ICMR (Indian Council for Medical Research) guidelines, we have to test all acute respiratory illnesses for coronavirus.
We got patients with severe acute respiratory illness, but on testing we found they were all coronavirus negative. They were either community acquired pneumonia or swine flu or H1N1 cases.
Out of the 10 cases, we have discharged three. In Lucknow there are 25 cases out of which 12 are who attended the Jamaat in Nizamuddin.
The last patient admitted was a two-and a-year-old child who is the son of our first patient, the doctor from Canada.
When she was in our hospital, her two-and-a-half-year-old child was taken care of by her in-laws. Then, they also became positive. As the father-in-law was a former army officer, they went to the military hospital.
Finally, the husband and child also tested positive. Because she was treated here, she preferred to treat her child here.
As she has recovered fully and has antibodies, she is with the child in the hospital. The child has only very mild symptoms and both of them are recovering in our coronavirus isolation ward.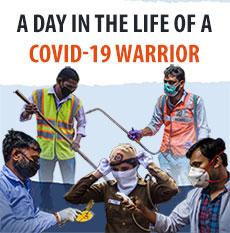 What is the most challenging aspect of treating coronavirus patients?
As the transmission rate of the virus is very high, it is very important to protest ourselves while taking care of the patients. We had to follow the protocol very carefully, especially how we wear the PPE and remove it.
We have been very careful while dealing with the patients. We know that in Wuhan, 3% to 4% of healthcare workers and 10% to 15% of physicians got infected.
In a hospital in Mumbai, several doctors and nurses got infected.
That was because they performed a procedure on a patient before they found out that he was coronavirus positive. After the operation, the doctors and nurses were tested, and found that all of them got infected.
What is the medicine that you are giving patients?
The guidelines are changing almost every day.
We first started with chloroquine, but later we changed the medication to hydroxychloroquine when it became available.
Now, we give hydroxychloroquine 400mg first day, followed by hydroxychloroquine 200mg twice daily for the next four days.
Along with this, we give Azithromycin 500mg once a day. This is based on the recent ICMR guidelines.
How does hydroxychloroquine work in coronavirus cases?
Though hydroxychloroquine is used in malaria cases, it is predominantly used for inflammatory diseases like rheumatoid arthritis, systemic rheumatoid, etc.
Hydroxychloroquine has an immunomodulatory role, that is, it reduces inflammatory response and suppresses cytokine release.
Cytokine release is a kind of inflammatory response to the virus, and the main reason for acute respiratory distress syndrome which is the cause of respiratory failure leading to ventilatory support in many patients. This way, you can reduce mortality.
Uncontrolled studies -- not randomised controlled studies -- and also laboratory studies have shown that hydroxychloroquine is also able to reduce a significant amount of virus load. Thus, people recover faster.
Yes, there were no randomised controlled studies done yet. It means, no authority has recommended this drug for coronavirus, but we are using it based on the uncontrolled studies.
ICMR has recommended this drug only for severe cases.
According to the ICMR guidelines, the treatment is, hydroxychloroquine 400 mg twice daily on day one followed by 200mg twice daily for the next four days, along with Azithromycin 500mg daily for at least five days in severe cases.