'Even though we have around 156 patients, we don't have anyone who requires ventilatory support or the ICU facility.'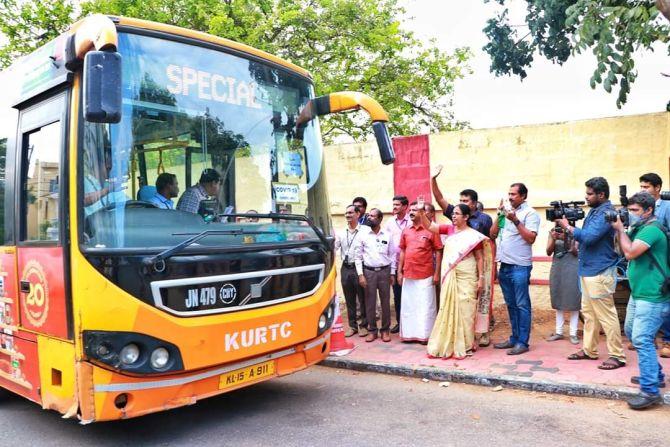 Dr Suresh Babu is the district chairman for Kasargod for the Indian Medical Association.
An ophthalmic surgeon, he has been running an eye hospital in Kasargod town for 22 years.
Dr Babu tells Rediff.com's Savera R Someshwar how the Kasargod administration and the medical community have been fighting COVID-19 in this tiny district, which reported one of the first coronavirus infections in the country and has an extraordinarily high number of COVID-19 positive patients.
Why do you think Kasargod has become a COVID hotspot?
We have a lot of NRIs in our district.
Ninety per cent of our COVID-19 positive patients are from Naif (in Dubai), which has a lot of connection with the Chinese people. Two-three are from Deira (also in Dubai).
The rest of the patients are close contacts of the index cases.
In a sense, this is a big advantage for Kasargod.
Even though we have a fairly large number of COVID-19 positive cases, we are comparatively safe because we can easily identify them. Also, all the contacts of every index patient have been traced.
Community transmission is highly unlikely because almost all these cases have come from Dubai. The authorities have taken swabs and whoever is positive is under treatment.
Now, our index cases are coming down, especially after flights were banned (from March 22).
Did a number of people returning from the Gulf increase after the coronavirus pandemic started spreading?
At any time of the year, there are people coming in from the Gulf to Kerala, so I don't think there was a mass exodus as such.
Yes, there would have been a certain amount of increase in the people coming in because of the fear that the coronavirus has created.
When people have this kind of fear in their minds, they want to go back to their native place.
Everyone who has returned from the Gulf has been quarantined at home.
We have around 11,807 patients in quarantine.
How is the IMA helping the fight against the coronavirus in Kasargod?
We are not directly involved.
This emergency is being handled by government officials and doctors.
We provide whatever help they need.
We are also helping the private doctors and hospitals.
On April 5, we arranged 250 personal protection equipment units from Kochi; on April 10, we arranged for 300 more PPEs.
As you know, travel is restricted and Kochi is about eight hours away from Kasargod by road.
We arranged to have them transported by ambulance and distributed them to different private hospitals in Kasargod.
The government is taking care of the government hospital supplies.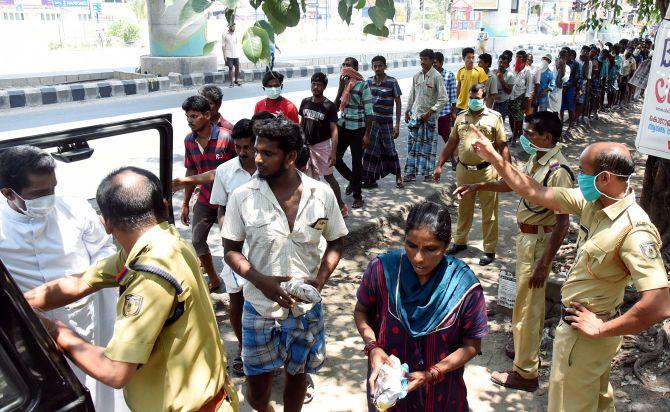 Does Kasargod have adequate testing facilities?
Kasargod is a very small district with a population of around 13.5 lakhs.
Yes, we do lack medical infrastructure.
Yet, till April 7, we have tested around 1,077 samples. That is a good number compared to the overall testing in Kerala.
There is a central university around 30 km from Kasargod town. They have now started a testing lab there.
Earlier, the samples used to be sent to Alappuzha and other places depending on the slot available.
The first virology institute in Kerala was set up in Alappuzha. Now we have one at the Pariyaram Medical College in the nearby district of Kannur as well.
We are waiting for around 300 reports. Once they come, we expect more people who are under treatment to register negative.
We expect around 50 patients to be discharged soon.
Where are the COVID-19 patients being treated?
They are being treated in two hospitals, of which the General Hospital at Kasargod town is an exclusive COVID hospital.
The Kasargod district hospital at Kanhangad treats COVID patients as well as regular patients.
A new medical college that has come up about 25 km from Kasargod town will exclusively treat COVID-19 patients. The government has set up around 200 beds there.
A special team of doctors and medical staff has come from Trivandrum to start it up.
Kasargod is dependent on the multi-speciality hospitals in Mangaluru (located 50 kilometres away, in Karnataka) for specialised health care.
When the borders between Mangaluru and Kasargod we closed, how badly did it affect Kasargod's ability to deal with this virus?
It did not affect our COVID treatment as such, but it did affect other patients.
We lost around 10 lives.
COVID-19 per se was managed very well in Kasargod itself.
We never had serious COVID-19 cases because we caught them early, diagnosed them early and started treatment early.
We have not lost a single patient to COVID-19.
In fact, even though we have around 156 patients, we don't have anyone who requires ventilatory support or the ICU facility.
Since the Kasargod General Hospital, which was catering to different diseases of different specialities, was made into an exclusive COVID hospital, patients with gynaecological and paediatric needs were shifted to a cooperative hospital nearby. They did not face much difficulty as they get free treatment there, like they would in a government hospital.
Those seeking other treatment were asked to go to 30 km away to the district hospital in Kanhangad.
But patients with very serious problems -- like a heart attack or a stroke -- usually go to Mangaluru.
Mangaluru offers different strata of treatment -- you have big hospitals, you have government facilities and you have medical colleges which charge very nominally as they take it as a medical college admission.
So some patients, especially those who live in small towns near the border like Kumbla and Manjeshwar, prefer to go there.
The patients from these areas suffered a lot because many were getting treatment from Mangaluru and were not allowed to go there for follow-ups.
Luckily, on April 7, the Supreme Court ordered that patients should be allowed to seek treatment in Mangaluru.
It listed some guidelines for shifting patients to Mangaluru. This includes a declaration from a doctor that the person is not a COVID-19 patient.
Karnataka will have a medical team at the border who will check the certificate and the condition of the patient and decide accordingly.
(The order also states that only government ambulances can be used. The border will only be open for critical cases. The doctor's certificate also needs to state that the patient is seeking treatment in Mangaluru because the facilities he needs is not available in Kasargod or Kannur.)
How many ventilators does Kasargod have?
Seven.
But with the new hospital coming, more ventilators are likely to be sent there.
What do you feel the district administration and the state should have done better to curtail the spread of the virus?
They have done a wonderful job.
In a way, it has helped us that the third COVID-19 positive patient from India was from Kasargod.
The first case was in Thrissur and the second in Alappuzha (first three COVID-19 positive cases were diagnosed in Kerala in the first week of February).
This happened on February 4.
The patient was a student who had returned from Wuhan, China.
We already had the experience of the Nipah virus in Calicut (now known as Kozhikode) in 2018. The experience we gained then was useful when we treated the student from Wuhan.
As a result, the administration and the health department knew the protocols that needed to be followed. We had a system in place when the numbers started inflating and more cases started coming in by the early week of March.
Our administration was ready; in fact, you could even call it very proactive.
This student, our first case in Kasargod, took 17 days to be declared negative so we learnt from that too. The quarantine period has been extended to 28 days from 14 days.
Even the patients who turned negative in the hospital and were discharged have been asked to stay in quarantine at home for another 14 days.
What are some of the challenges in fighting COVID-19 that are unique to Kasargod?
When an epidemic reaches the fourth stage -- which we also call the final stage - there will be a peak.
You have witnessed it in Italy, Spain, everywhere.
This stage is very important and how the infection spreads will depend on how we handle this period.
We are now entering this peak period.
Going by the trend -- the rise in the number of cases -- since the beginning of March, we were expecting around 300 COVID-19 positive cases by now.
Luckily, we only have around 156 (as on April 7).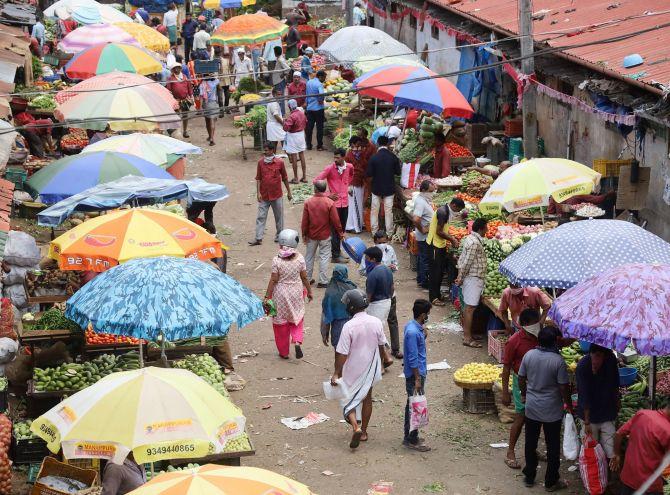 What led to the fewer numbers?
The credit goes to the way we handled this crisis and because of how we traced the contacts made by the index cases. It was very, very, meticulous.
We screened everyone who came from abroad, we screened high risk cases, we asked them to remain in quarantine.
Whenever anyone was found positive, we admitted them and treated them and counselled them.
We have a good system in place because of our Nipah experience and because we were able to take the right steps from our first patient in February itself.
As a medical professional, were you happy with the way that people of Kasargod responded to the crisis?
I cannot say that I am 100 per cent happy.
I can put it around 70 to 85 per cent.
By when did Kasargod begin to understand how serious the situation is?
Well, the police still have to intervene.
But, like I said, I'm happy 70 to 85 of the people have understood that.
Of course, there are still a few people who have not understood that while the fatality rate is lower with this disease, the community spread is more.
Is community spread happening in Kasargod?
No, not so far.
Community spread is said to happen occur when you have a case where you are not able to trace the person from whom the patient contracted the infection.
Till date, we have all contacts traced for all the patients.
Have you received any reports of an increase in mental health ailments because of COVID-19 or because of the lockdown?
We don't have any reports about an increase in mental health condition in the general public.
There are some patients however who are slightly depressed, but we have psychiatrists taking care of them in the hospital.
The hospital staff is also under tremendous pressure.
The hospital is bringing in artistes through video conferencing to motivate their staff and boost their morale.
These artistes are talking to the staff, encouraging them and entertaining them.
I heard the popular singer Gayatri was one of the artistes who talked to the staff.
When do you expect the situation in Kasargod to improve?
Personally, I feel we require a lockdown for at least four weeks more to be on the safe side.