'Everytime the Chinese raised the issue of our patrol crossing the line, I told them let's not fight over a line that does not exist yet.'
'Commanders resolved such situations sitting across the table, sometimes we posed veiled threats about creating problems elsewhere along the 800 km frontier as a tit-for-tat.'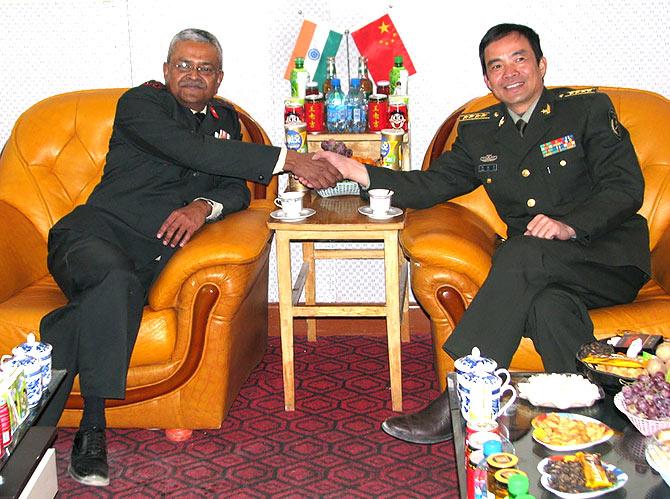 After retiring with 37 years of service behind him in the Indian Army, Major General Somnath Jha has spent the last three years cycling, travelling and farming.
The general has served three tours of duty in Ladakh and was among the first officers to spend more than the stipulated three months laid down limit on the Line of Actual Control above 16,000 feet in 1984.
He spent six-and-a-half months as second in command with troops of the Ladakh Scouts, whom he calls "warriors, not soldiers. The bravest soldiers I have served with."
He would return to serve in that area two more times, the last one as Brigade Commander in 2008-2009.
"Ah, it was so rugged and such a beautiful part of the world," he says.
In his last posting, Major General Jha was the sole Indian Army spokesperson dealing with his Chinese counterpart.
In a two-part interview with Rediff.com's Archana Masih, the officer who is currently setting up a farm outside Nagpur, speaks about the challenges of keeping peace at the LAC.
As someone who cycled throughout the country for 6 months in honour of every martyred soldier after retiring from the Indian Army, you must have been anguished by the brutal death of 20 soldiers in Ladakh.
It was very hurting. No lives had been lost on the LAC in Ladakh in any form of conflict or clash. The two countries had set up very fine mechanisms to ensure that.
The LoC with Pakistan is a well demarcated line where we are in a situation of No War No Peace and are in a war-like situation.
We are enemies across the line and a soldier is liable to be shot at if he exposes himself while watching his post at LoC.
The LAC, on the other hand, has largely remained peaceful till now.
We need to find out how such a situation has arisen and how peace can be restored. I feel sad that it could not be resolved.
At first there were videos of troops shoving and pushing on the north side of Pangong Tso, followed by the heart-breaking confrontation in Galwan.
Pushing and shoving did not happen when I served in those areas. This began in Dokalam, a couple of years ago.
While I am unable to comprehend why the situation could not be resolved, at the same time, I understand it was a game well beyond the level of the local formation commanders.
The Chinese troops were following orders emanating from Beijing.
You have served on both -- the Line of Actual Control with China and the Line of Control with Pakistan -- how different are the challenges on both these lines?
The LAC is a swathe of land between two countries, it is not demarcated on the ground.
On the other hand, every inch of the Line of Control is demarcated, under observation and fire.
Our posts are located right on the LoC -- to the extent that if visibility finishes right of one post, further to the right the next post has an overlapping visibility of that area.
Weapons are deployed and ready to fire, with the belt loaded on the machine gun.
The LAC was never like that. It was not manned, it was patrolled from encampments well away from any place that could turn out to be disputed, and that is how we manned the LAC.
Troops on either side stayed in their garrison, well away from our perception of the LAC.
Troops are told that our perception of the line is up to this point and should be in our control.
Similarly, the Chinese also have a line and these lines are not known to each other, they don't know ours, we don't know theirs. We can only guess by seeing their patrolling habits.
Today, I see a lot of LACs drawn in media reports and lot of satellite images which are nowhere near the truth.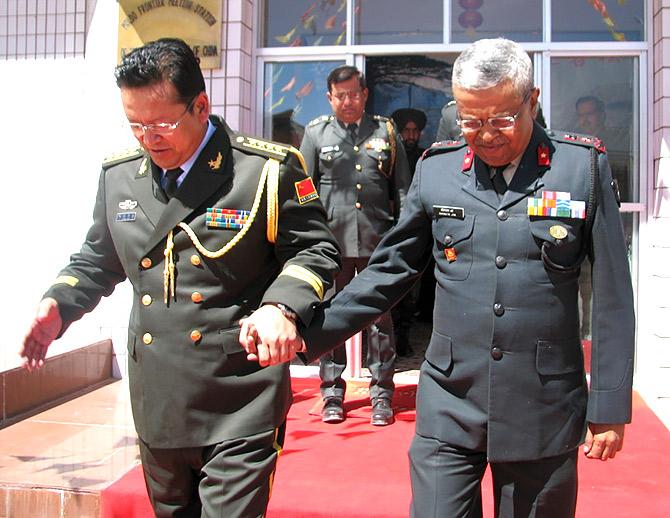 You have served as brigade commander at the LAC, what was your experience of dealing with local Chinese commanders?
A hut in Chushul is the only meeting point between the two sides covering the northern and central sector, right up to the Nepal border. Any dispute that occurs along such a long border is resolved sitting across the table in Chushul.
In my last tenure, I was the sole Indian Army spokesperson dealing with my Chinese counterpart. We had periodic meetings scheduled through the year, but also emergency meetings whenever a situation arose which needed to be resolved.
I dealt with two counterparts -- there was a change of commanders on their side during my time -- and we had built a very fine mechanism.
We had an understanding that demarcating the LAC was not our job, but that of our respective governments. Our job as military commanders was to ensure peace and tranquility as per the peace and tranquility accord signed by the two sides.
Everytime the Chinese raised the issue of our patrol crossing the line, I told them let's not fight over a line that does not exist yet.
Commanders resolved such situations sitting across the table, sometimes we posed veiled threats about creating problems elsewhere along the 800 km frontier as a tit-for-tat.
During my time, they had come inside in Depsang. I met them and they agreed to withdraw. The next day two helicopters were sent out to check and sure enough they had withdrawn.
For the first time senior officers of the Indian Army were talking to the Chinese counterparts to find a solution. Were you surprised?
Our agreements with the Chinese say that only the commanders on ground would resolve disputes, but this time major generals and lieutenant generals were holding talks.
This is the first time perhaps that such senior officers had to meet their counterparts. This was unprecedent as was the situation and modus operandi of the Chinese.
People all over the country are talking about the LAC when they have no idea of what is going on there.
Finger 2 to 8 has become as famous a Taj Mahal!
Only the soldiers serving in the Galwan Valley would know what is happening.
During your time, what would ensue if Indian and Chinese patrols came face-to-face?
Beyond Finger 8 is the Chinese side where there is an observation post, similarly India has an OP on our side.
Our patrol used to be on foot. The Chinese soldier at the OP would see that our patrol had crossed Finger 2, 3, 4 and inform his garrison.
They would then send their patrol and somewhere on Finger 4,5,6,7 the two patrols would meet.
Then there would be the standard drill of telling each other that you have entered our territory and retreat.
Banners would be displayed which would read 'Go Back'. We would hang around and see who would blink first.
There was no aggression and maybe after some time the Chinese would wrap up their banners and start going back.
=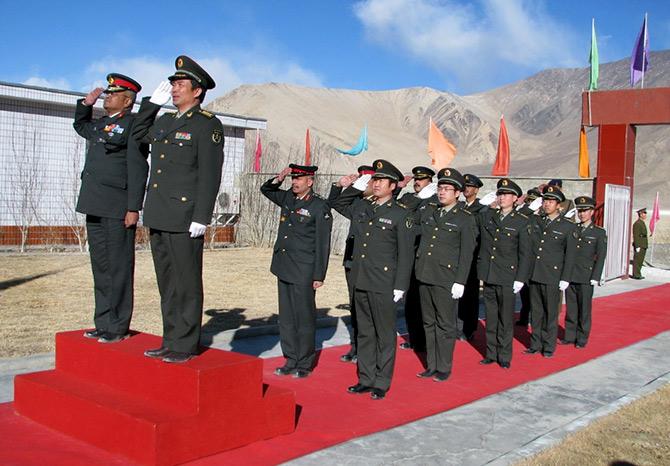 At one level, it is quite bizarre for trained armies to adopt such mechanisms.
It is, but it saved lives.
If you managed to keep 50 metres from each other and could not reach out for the other guy's throat, it saved a life.
What caution will troops have to deploy while guarding the LAC from now on after the deadly encounter that took 20 lives?
Patrolling schedules will have to more frequent.
Maybe we will have to find new patrolling routes and patrol other areas to ensure that we are not taken by surprise in places we usually don't patrol.
The trust is broken without doubt and rebuilding trust is a very tedious process. It will take decades.
If incidents where the use of clubs and sticks occurs every six months or once a year, then again we go back to square one as far as trust is concerned.