'It could have moved from the use of small arms to artillery fire.'
'Anything could have happened like what happens on the LoC.'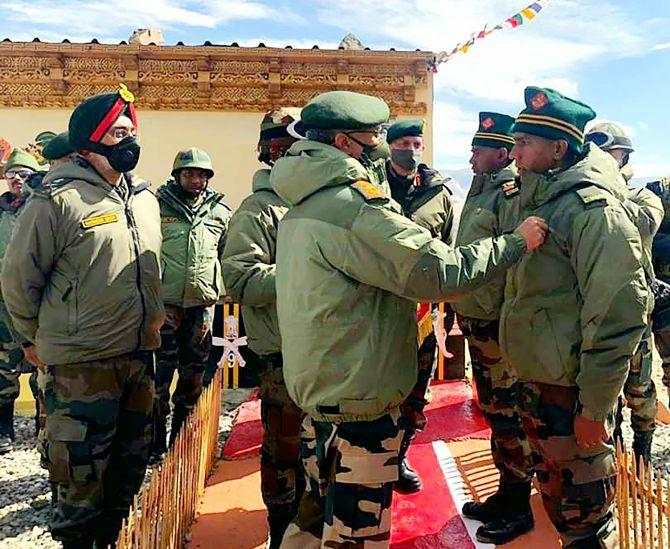 "By not opening fire, we have restricted the space for LoC kind of activities," Lieutenant General S L Narasimhan (retd) -- a member of the National Security Advisory Board and Director General, Centre for Contemporary China Studies at the ministry for external affairs -- tell Rediff.com's Archana Masih.
As someone with a deep understanding of China, you would have interacted with the Chinese military -- what would you say are the strengths and weaknesses of the People's Liberation Army?
The PLA's strengths are: 1. Indigenous equipment; 2. The changed command/control and organisational structure for joint operations; 3. Modernisation and infrastructure; 4. Training and physical fitness of soldiers.
Their weaknesses are: 1. The conscription system; 2. Centralised control; 3. Lack of battle and combat experience.
They haven't fought a major war in a long time.
You have said that 'If fire was opened that day, the Line of Actual Control would have become a Line of control similar to the one on the India-Pakistan border for perpetuity'. Could you elaborate on that?
There have been violent incidents, but no firing across the LAC in many years.
If troops had opened fire, all protocols agreed upon earlier would have broken.
It would have opened the possibility for more such firings on the LAC in the future.
An exchange of fire that day would have resulted in higher casualties.
It would have changed the status of the LAC as being peaceful and it would have become volatile like Line of Control.
Since the boundary with China is unresolved, we cannot afford an exchange of fire on the LAC.
If troops had resorted to using guns, there would have been no stopping.
It could have moved from the use of small arms to artillery fire. Anything could have happened like what happens on the LoC.
By not opening fire, we have restricted the space for LoC kind of activities.
Won't the incident open the possibility of more volatility on the LAC?
On the contrary. By our response the Chinese might have a rethink because both sides have suffered casualties.
No one would like to see an LoC-like situation, not only among the armed forces, but also for people living along the LoC.
Both India and China understand that opening fire is not a viable option.
How we manage the situation within that particular limit is something we need to think about and army headquarters will be studying that.
How has this changed the nature of the LAC?
The nature of LAC has not changed.
We have enough standard operating procedures agreed upon by both countries. As long as we follow them, I don't think we will have a problem.
Do you see any tactical changes in the way we deal with the Chinese on the LAC?
India will have to expect that such incidents are likely to happen again.
India troops will now be prepared for such incidents and will make whatever changes they need to do for their operational procedures.
The Indian Army has changed rules of engagement along the Line of Actual Control with China, empowering field commanders to sanction use of firearms in rare cases. What difference is this likely to make?
The forces were already taking operational decisions.
The prime minister's statement saying that forces are at liberty to take a call has further boosted the hand of the forces on the ground and the morale of the troops.
Contrary to media reports, nobody in government has changed the rules of engagement.
What the government has said is that it supports the decision of the armed forces on the ground.
The home minister said our troops were carrying weapons during the violent encounter on June 15. What weapons do soldiers carry while patrolling the LAC?
Soldiers carry a personal weapon, but the understanding is that troops will not point it towards the other side so that soldiers on either side know they are not hostile to each other.
For good measure even after casualties, the soldiers didn't open fire that day, but now our men will have to go prepared for such events with equipment like riot gear.
Some military veterans have criticised the leadership of the Northern Command and the Leh corps that they took the eye off the ball. What would be your response to that criticism?
That criticism is totally misplaced. People can sit in Delhi, Mumbai, Pune and start commenting, they don't even know what happened.
To say that the corps commander, divisional commander and army commander took their eyes off the ball is the biggest mistake we will make. They have been looking at it day in and day out and know anything that moves on the border.
If they were sitting idle, how would they have given a fight to the Chinese?
The misplaced comments that commanders were not doing their jobs is absolutely incorrect. The intelligence was available and actions were taken as per the professional judgement of those on the ground.
When the PLA conducted its exercise on the Tibetan plateau, should we not have been alerted to their designs? Should the pandemic have prevented stationing our soldiers in the area?
Pandemic or no pandemic, there were enough troops placed in that area.
Whatever build-up the Chinese had, there was an equal and matching counter buildup from our side.
There was no shortage of troops. We should not be finding fault in that.
You are a China expert. Do you think we have enough China specialists in the Indian Army? At our training institutes like the NDA, IMA, DSSC, is the soldiers's curriculum very Pakistan-centric with not much emphasis on China?
I would agree that this was so 15 years ago because of the wars we have fought with Pakistan in 1948, 1965, 1971 and 1999.
After the 1962 War with China we have had peace on the LAC and focus has been on Pakistan.
But with China growing in strength -- economically and militarily -- we started focusing on China 15 years ago.
It is not as if we are waking up to China now.
The China Study Group had sanctioned 72 roads in 2002 and those roads are getting completed now.
It will be incorrect to say that we have not been looking at China because infrastructure development started 15 years ago and is continuing.
Similarly, the number of troops serving on the Chinese border has also increased. To say that we don't give enough focus on China in terms of training, etc is wrong.
How will the events of June 15-16 set back India-China relations?
You cannot wish away a neighbour, neither can you select one. You have to co-exist.
The whole bilateral relationship should not be held hostage to this setback. We should keep it going and implement what was decided on June 6.
Chinese troops should go back to the positions held before May and thereafter adhere to already existing protocols.
If you hold the bilateral relationship totally ransom to this incident, there will be no forward movement. The special representative talks, bilateral dialogue and economic relationship cannot be halted.
Many are saying we need to boycott Chinese products, but that is impractical at this point of time. It may happen over a period of time and we need to start a process of indigenisation.
Total ban may not be possible in the near term, but the process needs to start. We need to indigenise and be self-reliant. That's why the prime minister spoke about creating an Atmanirbhar Bharat.
There was much reaction about the PM's statement that there was no intrusion.
Could you please clarify that? How much into our territory did the PLA ingress and what is their position now?
The PM's statement was in reference to the events of June 15 that there was no Chinese presence on our side of the LAC as a consequence of the actions of our soldiers that day.
When our troops went into that area, they found a Chinese tent on the Indian side. They removed it which led to a violent confrontation.
There is no intrusion in that area now and that is what the PM meant. People probably misunderstood him.
The Chinesee have been pushed back there, but what about the Pangong Tso lake area?
The reason for the June 6 talks between the military commanders of both countries was to resolve the issue, and the Chinese should go back to their previous positions.
This process has to be competed. The aim is not to look at each position and nitpick, but to ensure that status quo ante is restored as it was in month of April.
Production: Aslam Hunani/Rediff.com