'It is a miracle how a soldier handles the lack of oxygen, stands his post and also confronts the Chinese at 14,000 feet where survival itself is a challenge.'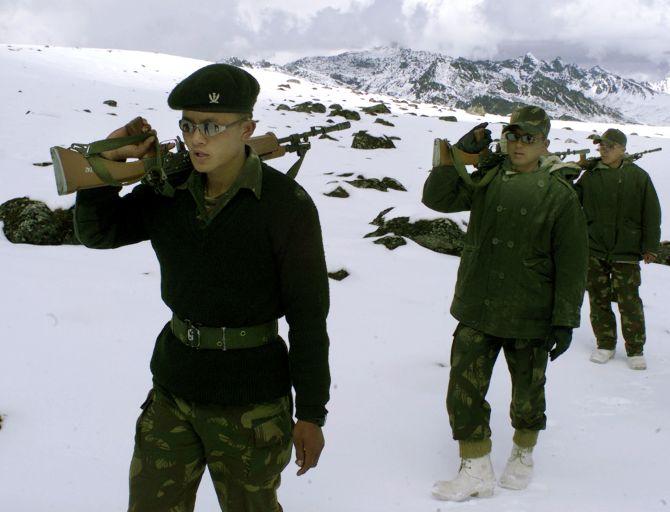 "Soldiers are fighting the elements, the weather and terrain. When it is difficult to walk ten steps due to lack of oxygen, imagine doing a patrol when you have to go up and down the hill, carrying a load."
"The challenge becomes even more severe during a confrontation."
Colonel Sashidharan Dinny recently retired as commanding officer of an infantry battalion stationed in the Pangong Tso area in Ladakh.
In a conversation with Rediff.com's Archana Masih, Colonel Dinny explains a soldier's life on the India-China border, in one of the world's most difficult locations.
It is said the role of the Commanding Officer is sacrosanct in the entire organisation of the Indian Army and his loss an immense setback to the morale of troops.
As a CO yourself in the past, can you tell me about what makes the CO so crucial in a fighting unit?
The basic entity and fighting unit of the army is the battalion.
Even civilians will be able to remember names like 2 Rajput, 8 Sikh. Soldiers identify themselves with the battalion.
The commanding officer commands the battalion.
In an infantry battalion, an officer gets commissioned into a particular regiment and within that he is assigned to a battalion.
For example, if there are 20 battalions of the Rajput regiment, he will be commissioned into one of those battalions.
Right from the time an officer is commissioned as a lieutenant, he starts interacting with the men.
In the initial months, he doesn't wear a rank badge and stays with the men.
He eats, sleeps, plays and goes on operations with them.
He does all these activities even before he is recognised as an officer.
Officers have to start building a rapport with their men from the start of their careers and this is they start growing in the unit/battalion.
So officers have to win the trust and respect of their men over many years before they get into a position of a CO?
As officers start gaining their stripes and seniority, they start getting various appointments within the battalion.
Over a period of time, the officer will gradually come to know each and every soldier under him. He knows what is happening in his hometown, his family problems -- everything.
Even if the officer goes for staff appointments or courses, he returns to the same battalion.
This happens for 16 odd-years where 800 of his troops are observing, watching him through those years.
The officer moves up the ranks till lieutenant colonel after which there is a selection process and then he becomes a colonel (the rank at which most officers become Commanding Officers).
By that time the officer and men have already built a long relationship by virtue of having worked, played, eaten, done operations together and have gone through times when they have saved each other's lives.
Their bonding becomes very strong and by the time he becomes commanding officer there is immense respect for him.
What are the duties and powers of a CO?
A CO has a lot of power. He is involved in the selection process of jawans to higher ranks, sanctions leave, punishes them if they return late, he can initiate pay cut or detention and can initiate court martial etc.
Old timers referred to the CO as the old man because he is seen as the wise man of the tribe. That tradition has continued in the Indian Army.
It must be a huge setback for the troops to see their CO felled by the enemy in an operation or battle. How do troops come to terms with that during an operation or on the battlefield?
The CO is a father figure for the soldiers. He is seen as someone who can solve all their problems.
It is a close-knit family and it is this bonding that holds the Indian Army together.
If something happens to a CO, the troops are angry and emotional.
All hell breaks loose, they will make the adversary pay and will not let it to go unpunished.
It must be very hard to see a CO fall in the line of duty in front of his soldiers.
Yes, undoubtedly. They have to fight the enemy despite the phenomenal mental turmoil that goes through their mind at that time.
But this is what soldiers are trained for, no matter what happens they have a duty to carry on.
We are trained to carry on till the task is accomplished.
We have seen this in Kargil and other wars.
When a CO falls, his second in command takes over.
The task is most important, the troops know that their CO was killed in action doing a task and it is their duty to complete that task.
You have served in Ladakh. Can you explain what it must be to fight on those narrow tracks at that height?
Survival is itself a challenge over there since you are fighting the elements, the weather and terrain.
Even when there is no combat, soldiers are battling to remain alive at 14,000-15,000 feet.
The lack of oxygen starts showing on the body and some suffer problems like a blood clot in the brain or heart related issues even when inside the barracks.
Frost bites can lead to loss of limbs. When walking ten steps is difficult due to lack of oxygen, imagine doing a patrol when you have to go up and down the hill carrying a load.
The challenge becomes even more severe during a confrontation.
It is a miracle how a soldier there handles the lack of oxygen, stands his post and also confronts the Chinese at times.
Troops carry rifles with barrels pointed downwards, radio sets, water and some other supplies in case they have to stay on for a day during patrols in that area.
What medical facilities are available to soldiers at these locations?
These areas test the limits of physical and mental endurance.
Medical facilities are available at the unit. There is a nursing assistance, life-saving drugs, critical care equipment.
During the day and weather permitting, evacuations are done by helicopter or at night by road.
It would take 6 to 7 hours to reach the army hospital in Leh.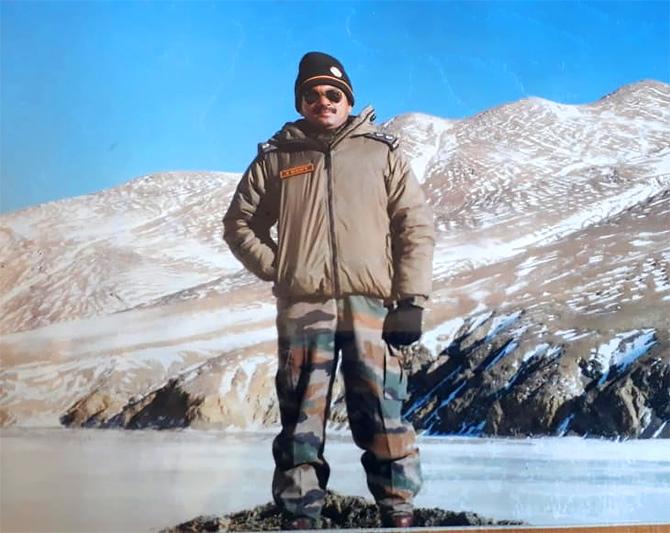 As you explained, soldiers carry weapons. Why did they not use it on Monday night? Because they did not want to break a long-standing protocol?
The moment an automatic weapon is opened up, the casualties would have been in hundreds, especially at night.
In pitch darkness, you are not even sure who is fighting whom.
How do the two armies converse with each other during a confrontation or at border patrol meetings?
Among the troops are soldiers who are trained in the language and also work as interpreters.
How serious is the current situation in Ladakh after Monday's incident in the Galwan Valley according to you?
This situation has happened at the most unfortunate time and place.
This has not happened at the start of the stand-off, but 40 days later when the de-escalation process was being undertaken.
We have gone back on so many years of normalcy on the LAC.
It happened at a remote location at night and that's why the casualties also increased.
The situation is serious because tensions and public anger are high.
The situation is sensitive, but I am hopeful that both governments will not let it go out of hand.
Will there be a change in the standard operating procedures in dealing with confrontations on the LAC from now on?
Maybe there will be a rethink of SOPs to deal with such situations now that this has happened.
The agreements that were in place are clearly not working on the ground and substantial changes are needed.
Production: Aslam Hunani/Rediff.com