Around 700 migrant workers, women and children have lost their lives in this reverse migration.
What is happening today with migrant labour is only a continuation of the policies pursued by the Modi regime for the last six years.
It is not for nothing that India was ranked the most dangerous country in the world for women in 2018 by the Thompson Reuters Foundation poll, points out Rashme Sehgal.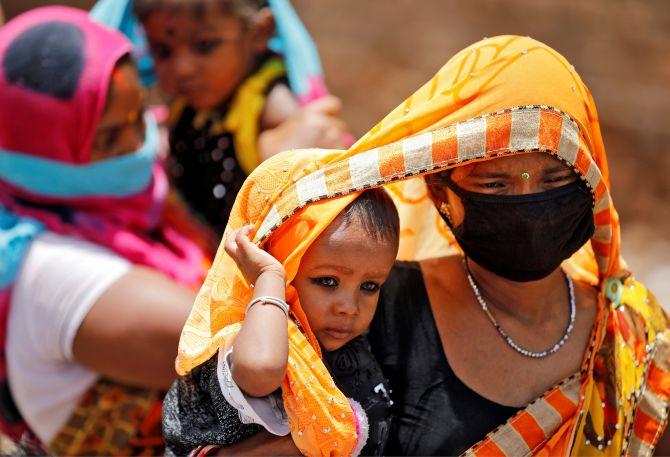 How have women and children fared with the completion of one year of Modi 2.0?
Before we look at the larger picture it might just help to encapsulate the fate of millions of women and children trudging hundreds of kilometres in this blistering heat to return to the relative safety of their villages
Speaking to these women workers, bags on their heads, a child tucked on their waist or even sleeping on a trolley bag being dragged by his mother, (as one visual has shown) they all mutter a similar stance: 'We want to go back to our villages and die amongst our kith and kin. When we were useful to the city folk they wanted us. Now that there is no work, we are being discarded like dead wood.'
Can economic sufferings reach such depths?
The desperation of these women can be gauged from the fact that 25 pregnant women went into labour on the special Shramik Express trains being run by the Indian Railways during the last three weeks.
While 21-year-old Kanti Banjari returning to Chattisgarh was fortunate to give birth to a healthy boy at Pandurna station near Nagpur, other women have not been so lucky.
The pressures of being jobless, not having enough food to eat since Lockdown 1 and then finally managing to board a Shramik Express train along with her husband was more than frail 29-year old Asha Devi could cope with.
She was on her way to Basti from Jodhpur when she went into premature labour and lost both her twins en route to her home.
On May 24, a six month pregnant woman travelling by bus to her home in West Bengal went into premature labour and delivered twins both of whom died.
Fortunately, the bus driver rushed her to a hospital in Bareilly where she is presently recovering.
The desperation of Delhi-based Deepali Kumari, wife of daily labourer Amit Kumar, can be gauged from the fact that she along with her husband decided to return to their home in Bhagalpur located 1,300 kilometres from the capital.
With little money to buy food, some kind hearted policemen spotted this despairing couple in Bareilly and arranged for them to spend a few days in a local dharamshala where they could recover their strength before continuing on their journey.
Said Deepali, 'My husband who worked as a daily labourer had no work after the lockdown. We were close to starvation and decided to make our way back to our village.'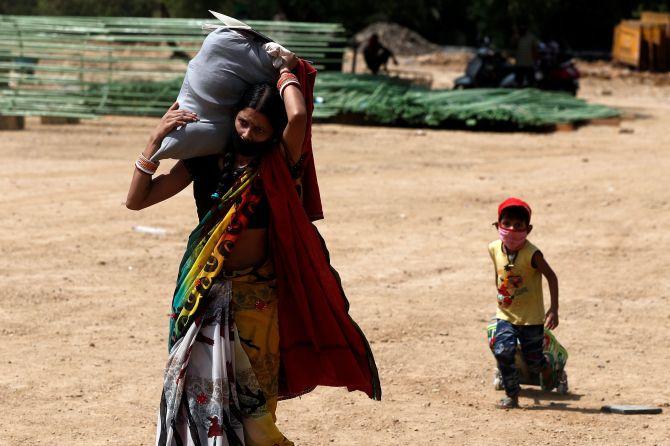 The stories of their children and the travails they have suffered are even more poignant.
Take the haunting case of 12-year-old Jamalo who belonged to the Muria tribe.
This young girl had walked 100 kilometres from her work place in the Bhupalpally district of Telangana to her native village in the Bijapur district of Chattisgarh.
An exhausted Jamalo died just eleven kilometres away from her home.
Eleven-year old Nandini from Mumbai was travelling along with her mother, father and younger brother back to their village on an autorickshaw when they were hit by a truck on May 12.
Nandini and her mother died on the spot.
Of course, there are also success stories.
The story of 15-year-old braveheart Jyoti Kumari who cycled 1,200 kms from Gurugram to her village in Darbanga covering the distance in a period of ten days with her sick father sitting pillion, has won her accolades the world over.
Eleven-year-old Tabaarak who pedalled a tricycle for nine consecutive days transporting his injured father and blind mother, from Varanasi to their village of Araria in Bihar, is another example of a child showing exemplary courage.
When asked how he accomplished such a feat, Tabaarak replied, 'We would have starved to death in Varanasi. So, we put our belongings on a cart including our LPG cylinder. We would halt along the way to have our meals.'
Around 700 migrant workers, women and children have lost their lives in this reverse migration.
What is happening today with the migrant labour is only a continuation of the policies pursued by the Modi regime during the last six years.
It is not for nothing that India was ranked the most dangerous country in the world for women in 2018 by the Thompson Reuters Foundation poll.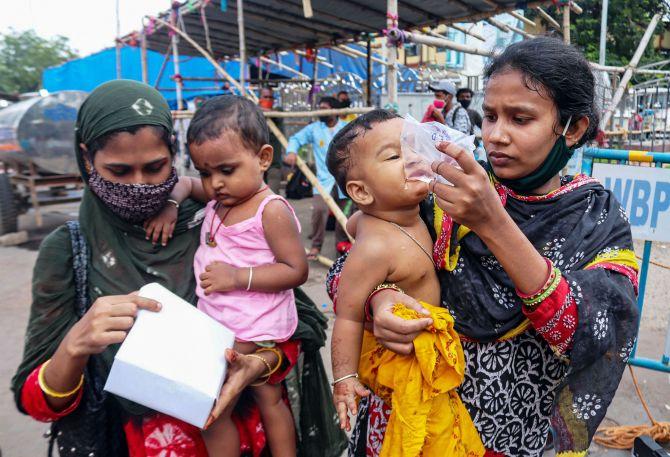 Uttar Pradesh has witnessed 200 per cent rise in cases of child rape in 2017-2018 according to the National Crime Record Bureau data and the figures have only been rising.
The question to be asked is why the new rape law implemented post Nirbhaya in 2013 giving harsher punishment to rapists is not working on the ground.
An example of the swift implementation of this law has been Madhya Pradesh which has awarded 35 death sentences between 2018-2019 under the Protection of Children from Sexual Offences Act.
But has this acted as a deterrent? On the contrary, rape statistics in UP, Jharkhand and yes, MP continue to rise.
Better policing and community outreach are the way out, but this is not something the Modi government has attempted to do in his six-year reign.
Modi is willing to stand by those who share his ideology even when they are discredited and blatantly in the wrong.
To cite an example, the law has been bent backwards to allow the accused Swami Chinmayanand, a former BJP union minister and three-time MP from Jaunpur to be released on bail while the 22-year old law student who accused him of raping her continues to remain under lock up.
She had been accused of blackmail, but the signal being sent out is that the vulnerable, even when criminal acts are committed against them, dare not raise their voice to challenge the rich and powerful.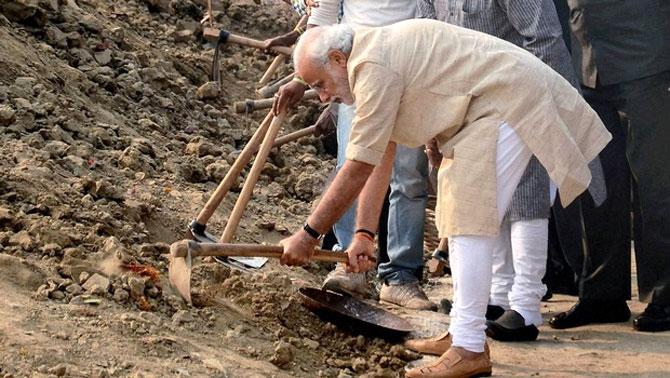 Modi has launched one scheme after scheme for women upliftment without stopping to go into the nitty gritty of how these schemes are working on the ground.
This is a good time to assess some of his women-oriented initiatives given that Modi continues to enjoy substantive support amongst women.
The Pradhan Mantri Ujjwala Yojana saw 50 million LPG cylinders being distributed to BPL families at a cost of Rs 80,000 billion.
The Ujjwala scheme has indeed seen the distribution of a large number of LPG cylinders but the economic downturn in the last two years has reduced the purchasing power especially in rural areas where families no longer possess the economic capacity to buy cylinders.
The usage pattern of LPG cylinders by beneficiaries has therefore shown a steady decline from 3.21 refills till December 2018 to 3 cylinders in September 2019 according to data presented by the petroleum and natural gas ministry.
The turmoil caused by these successive lockdowns post COVID-19 has further reduced the purchasing power of the poor.
The same is the case with Swacch Bharat which claims to be another success story.
On February 1 2019, the Modi government claimed to have constructed 920 million toilets with 550,000 villages and 28 of India's 36 states becoming open defecation free.
But a subsequent survey by the Research Institute for Compassionate Economics which surveyed 3,235 households in four states in north India found that though access to toilets had increased, 23 per cent of people who own a toilet continue to defecate in the open.
This number has only increased further.
HAQ activist working with adolescents, Kavita pointed out, 'With menfolk in the house all day, adolescent girls and even women are going out in the open to defecate as an excuse to get out of the house.'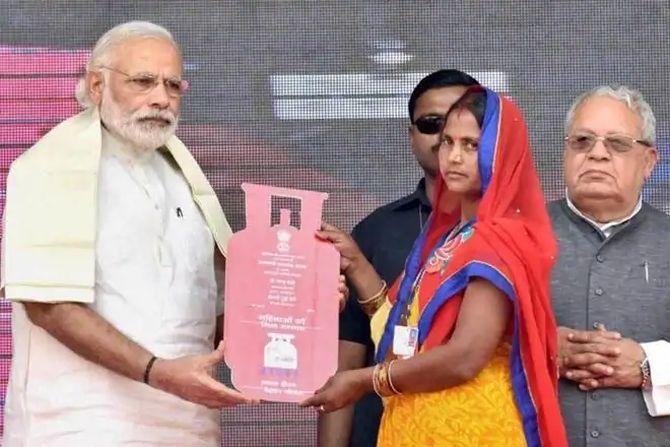 Despite his majority in Parliament, Modi has made no attempt to introduce the Women Reservation Bill to ensure that one third of the seats at the national and state legislative assemblies are reserved for women.
Women MPs presently comprise a mere 14 per cent of the strength of the Lok Sabha.
The National Alliance for Women's Reservation Bill, a coalition of over 20 women's organisations, have repeatedly stressed that in the string of state elections held under Modi's leadership, women have comprised up less than five per cent of the candidates.
With India reeling under the COVID-19, the most pertinent question to ask is how are women faring under the different health parameters?
The Pradhan Mantri Jan Aarogya Yojana provides a Rs 500,000 cover per year per family to 100 million families.
The National Health Authority claims that already more than 1.7 million people have received health care under this scheme in less than 18 months.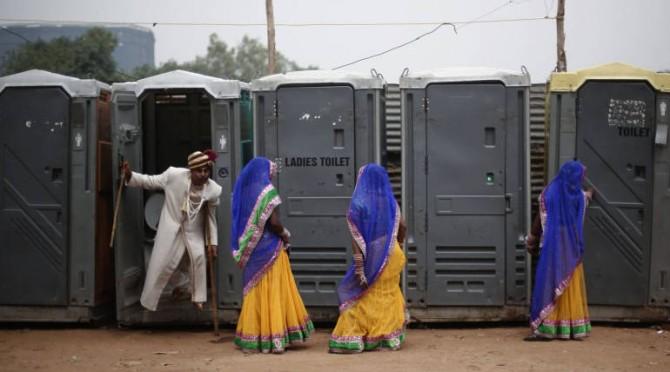 But it is the manner in which the government tackles the COVID-19 crisis which will be a true test of his health model.
The fact is that it is the public health care system that is bearing the brunt of this pandemic and it is this arm of the health services which has been completely neglected in the last few years.
Another minus is the downward spiral of women participation in India's labour force.
The latest NSSO data shows that the participation of females in the labour force has dropped from 37.1 per cent in 2004-5 to just 16.4 per cent in 2017-2018.
No wonder India has dropped 21 spots on the World Economic Forum's Global Gender Gap index because of the lower participation in the economy.
A thrust towards privatisation cuts across all sectors including education.
The last six years and especially the last twelve months have seen government schools being shut down en masse.
Post the Gujarat state elections held two-and-a-half years ago, Congress Rajya Sabha MP Ami Yagnik pointed out how during their earlier tenure, the BJP state government, 'has closed down 13,000 government run schools in which girls and boys from poorer families had a chance to study.'
'Now families are skimping and saving to send their boys to a private school for education even if it is located several kilometres away. But what happens to the girl child? She is forced to stay at home and that brings a closure to her dream to study and get on with her life.'
This wholesale privatisation of educational institutions at all levels is being pushed through in a huge way across all states depriving poor children of a chance to study.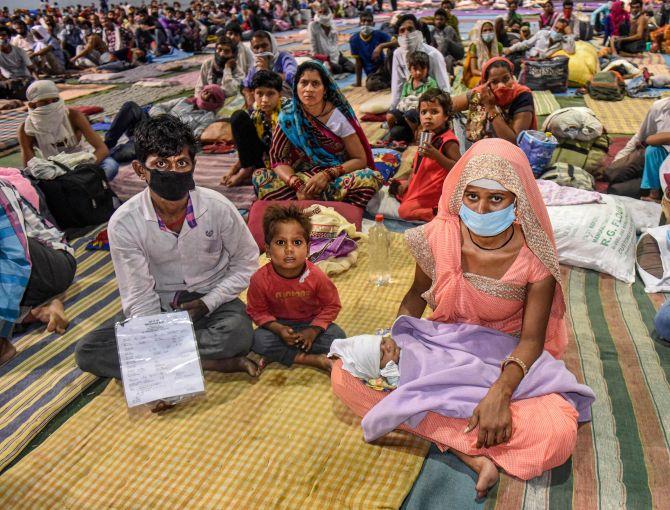 Life is not going to be easy for the migrants back home in their villages.
Already the first round of women migrants who reached their homes in mid-April confess to activists who are in touch with them that they are close to starvation and need financial assistance.
Several organisations including SWAN, a network to assist migrant workers is trying to help.
They complain that with schools non-functional in their village, the large majority are going to find it difficult to put their children back into the schooling process.
HAQ foresees a huge escalation of school drop outs in the coming months.
With ASHAs no longer serving mid-day meals for kids, the spectre of malnutrition is expected to rise further.
It may have been a long journey back home to their villages but for migrant women and their children there seems to be no end to their trials and tribulations.
---
Rashme Sehgal has had a long career in journalism and worked for The Times of India, The Indian Post among other newspapers.
Production: Aslam Hunani/Rediff.com