'There were times when my courage and confidence would fail and I was close to giving up,' says Jyoti Kumari who wanted to bring her father home safely.
So she began the cycle ride of her life.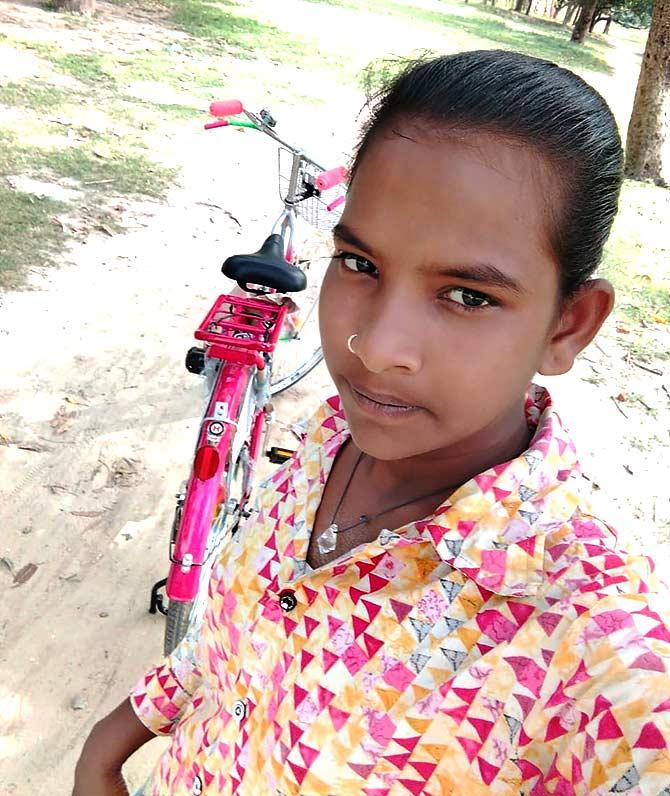 She was just fifteen and staring into the eyes of starvation.
Her father, an autorickshaw driver, had not earned a penny since the lockdown.
By the time Lockdown 3.0 was announced, they were down to one meal a day.
But Jyoti Kumari did not blink.
Instead, with the last few rupees they had managed to scrape together, she bought a second-hand cycle.
Then, the brave 15 year old began the most arduous journey of her life.
With her ailing father perched on its pillion, this young girl cycled from Gurugram in Haryana to her home in Sirhulli, a village in Bihar's Darbhanga district.
It was a journey that spanned 1,200 kilometres and took seven gruelling days.
Her story touched India's heart, and the world's.
Impressed by her feat, the Cycling Federation of India has offered to train her for a career in sports.
Former Bihar chief minister Rabri Devi has said she will bear Jyoti's education and marriage expenses.
Others have come forward to arrange coaching for her if she would like to appear for competitive exams like CAT and UPSC.
This sudden fame is new to Jyoti who comes from a poor Dalit family.
Her father's dire financial situation had forced her to discontinue her education after Class 8.
After her courageous tale headlined the country and the world, the Darbhanga district administration has ensured her admission into Class 9.
Jyoti's goal, at the moment, is to finish her education.
Bihar's 'Bicycle Girl, as she is now called, and her father, Mohan Paswan, are currently under home quarantine.
Jyoti shares her dreams, and the story of her journey, in a telephonic conversation with M I Khan.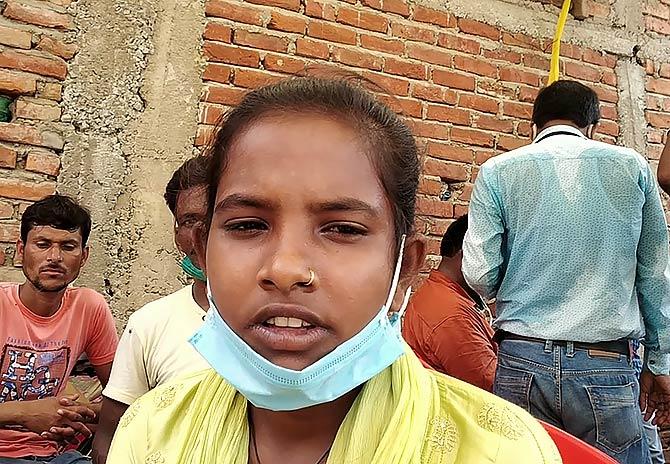 The story of your courage has made the world sit up and take notice. Has your life changed after you cycled 1,200 km so that you could take your ailing father home from Gurugram to Darbhanga?
My life has changed suddenly after my story was reported in the news.
What is happening now is unbelievable for me as well as for my family.
All of us are new to such fame.
A large number of people, including media persons, local leaders and district officials, are visiting us from morning to late evening, lauding my courage for cycling home all the way from Gurugram with my ailing father seated on the pillion.
Mujhe bahut achha lag raha hai, log meri himmat ki parsansha kar rahe hai (I feel happy that people are praising my courage).
For the first time in my life, the elders from my village, neighbouring villagers and others from Darbhanga, across Bihar and even outside my state, are blessing me and talking to me.
Our phones -- mine, my father's and my close relative's, whose numbers were shared -- have been constantly ringing.
I never expected that I will receive so much love.
When we started our journey, my only aim was to reach home so that we could escape the hunger and uncertainty that had overwhelmed us.
I did not think of anything else.
After the lockdown, it had become very difficult for the two of us to survive without ration and money in a small rented room in Gurugram.
Initially, there was some doubt in my mind whether I could pedal so far with two of us on the cycle.
After we reached home, we have received a lot of gifts including four brand new bicycles, clothes, food grains and cash.
Several people and leaders from different political parties have promised to help me fund my education and other expenses.
I want to complete my education; first, I will complete Class 10th then I will go for higher education.
There are reports that the Cycling Federation of India has offered to help you become a sports cyclist.
I will go to Delhi after the lockdown to meet their officials.
I will undergo their trial to explore the possibility of a career in cycling, if any.
But all this depends on my cycling ability as per their parameters.
Was it not a difficult decision to cycle for days on unknown roads that passed through different towns?
It was certainly not an easy way of reaching home.
Cycling across big and long bridges was difficult and challenging. But I successfully managed it.
When we started our journey, I was not sure I would be able to pedal all the way home.
But I didn't have any other option.
The terrible difficulties we faced during the lockdown forced me to take the risk.
I decided I would face whatever problems came along the way.
What forced you to take such a decision? Who do you think is responsible for the problems you faced after the lockdown?
There is no doubt that the government is responsible for the trouble and miseries of thousands of migrant workers, including my father.
We did not get any help.
The government repeatedly said the lockdown was necessary; we don't have a problem with that.
But when the lockdown was imposed without any notice, it badly hit poor people like us.
It became a challenge for us to survive away from home without any livelihood.
There was no ration, no food grains provided by the government.
There was nothing for us because my father is a migrant; he has no ration card in Gurugram.
The government's claims that they helped the poor during the lockdown were mere propaganda.
During the first two phases, we used our limited savings to buy food grains.
Our condition became horrible during the third phase of the lockdown.
We were surviving on one meal; once, we did not eat for one-and-a-half days as we ran out of money.
Hunger was knocking at our door and I feared the worst.
I told my father we should cycle back home. He was reluctant, but I managed to convince him.
We scraped together Rs 500 to buy a second hand cycle.
And, with barely Rs 400 in hand, we began our journey home.
During your journey, did you feel unsafe at any time? Did you face any danger?
I was not alone.
There were a dozen others who were also cycling from Gurugram to my village in Darbhanga.
My father, who is an autorickshaw driver, was injured in an accident earlier this year because of which he has been having leg and back pain. I used to make sure he got enough rest on the journey.
Whenever we could, we would hitch rides on trucks and tractors. Mainly, though, we cycled for long hours to reach home after seven days last week.
We were helped by local villagers on the way and at petrol pumps, where we would rest at night.
People were kind and sympathetic towards everyone who was riding a cycle to reach home.
Since I was a girl and I was supporting my father, people were even more kind to me; I got more help on the way.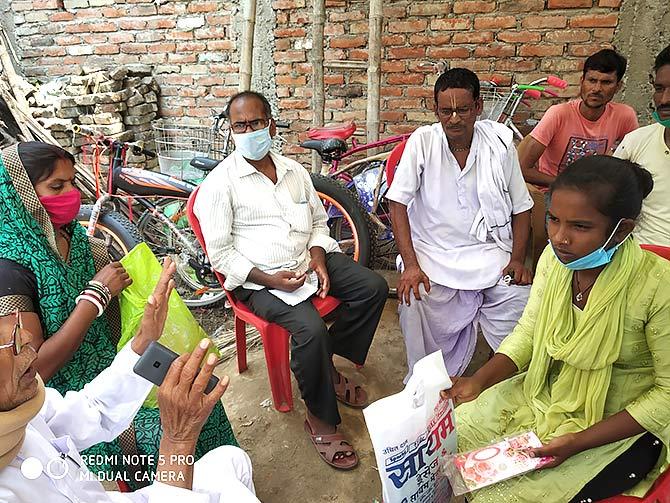 People are impressed by your courage and willpower. Did you, at any point during those seven days, feel that you might not be able to complete your journey?
There were times when my courage and confidence would fail and I was close to giving up.
My father was upset seeing my struggle.
He would beg me to stop because he felt what I was trying to do was beyond the capability of a girl of my age.
Lekin agar hum himmat nahi karte, to mere father bhooke mar jaate (If I had not undertaken this journey, my father would have died of hunger).
There was no source of help and whatever little money we had was exhausted.
The fact that the roads were crowded with migrants like us struggling to reach home inspired me.
I saw hundreds of migrant workers on cycles, on hand driven tricycle carts, in rickshaws, thelas (carts) and jugaad gaadis (improvised vehicles), even on foot with small children, braving the scorching sun and bad weather without food and water in their quest to get home.
Ivanka Trump, the American president's daughter, has praised you, as have many others across the world.
Neither Prime Minister Modi nor Bihar Chief Minister Nitish Kumar have made a statement about your extraordinary courage.
Do you feel disappointed?
You are right. People from outside the country have blessed me.
I had not heard about Ivanka Trump till I was informed about her tweet for me.
Her words of praise made me feel upbeat.
Modiji aur Nitishji bhi baat karte toh mujhe achcha lagta, khushi hota. Lekin abhi tak aisa kuch nahi hai (It would have made me happy if Modiji and Nitishji had spoken as well. But nothing like that has happened as yet).
We are poor people. Modiji and Nitishji should have blessed us -- not just me, but my parents as well.
I have no idea why they have not said anything about my achievement. It may be because we are poor and my father is a migrant worker.
As the daughter of a migrant worker, what you like to tell the government?
We are poor people.
If the government is serious about helping me to continue my education, they should arrange a job for my father locally so that he can earn a livelihood and look after us.
If my father has a decent livelihood, it will help me fulfil my dream.
I don't want my father to feel forced to migrate outside for work and face a similar situation again.
My father is not alone. There are thousands like him, all migrant workers, fighting to look after their families.