'People who stay in their own homes don't understand.'
'The hope of going home, ghar jaane ki ummeed, once awakened, makes you greedy.'
'Lalsa hoti hai. Then you just have to go, come what may.'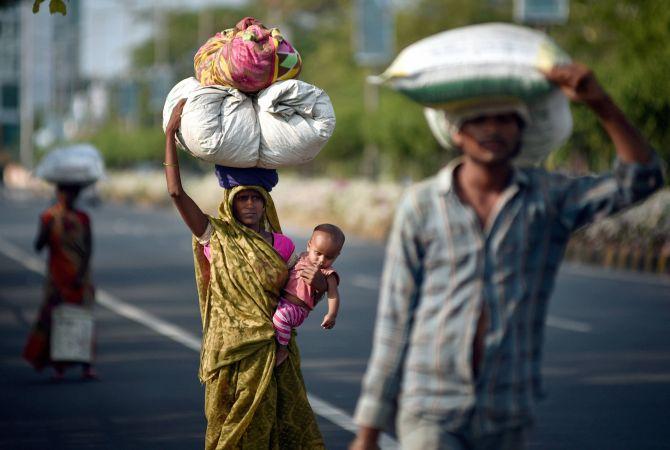 Just 20 years old, Inderlal Kamalsingh Dhurve is a migrant labourer, a part-time farmer, a sole breadwinner and one of four survivors from the group that was mowed down by a goods train near Aurangabad, Maharashtra, 10 days ago, claiming 16 lives.
Through his own journey, the soft-spoken young man reveals to Swarupa Dutt/Rediff.com what drives migrants on a death walk home.
"Ask us why we decided to walk home hundreds of kilometres in this heat. Ask us why we risk everything to go home. But don't ask us why we were sleeping on the rail tracks," says Inderlal.
"Dum ghutatha. Hum saans nahin le pa rahe the. Zindagi jail ki salakon ke peeche nahin guzar jaata (It was stifling, we couldn't breathe. You can't spend your life behind bars)," he explains.
"You work in offices, the lockdown makes no difference to you. Mazdoor vyakti ek din kaam karega, toh do din baithke kha sekte hain. Lekin ek din kaam nahin karenge toh bhooka marjayenge (labourers can eat for two days on the wages of a day, but if they don't work for a day they will die hungry)."
"We leave our villages and work wherever we find work. Nobody goes alone. Ikkathe jaaten hain,, we go in a group. One person finds a job and calls the rest. And that is how I found the job at the steel plant in Jalna," says the 20 year old.
Our homes are far away, and that, he says, makes all the difference.
"You people are also locked up, but you are home. If we go home, even if we don't have money, we will get food to eat. Ghar mein aisa hai ki paise chahe na rahe, khana toh milega hi milega. But outside your home, that's not true. Lekin baahar aisa kuch nahin rahta hai. Ghar aur baahar mein jaisa zameen asmaan ka farak rehta hai," he says.
And that is why he and 19 other migrant workers under lockdown in the premises of a steel plant in Jalna, Maharashtra, decided to walk to their home on May 7.
Hours later, just four survived; 16 were crushed to death under a goods train.
Inderlal is now home in Pauri village in Mandla district of Madhya Pradesh.
Home is a small, mud house with a thatched roof with an extended area for their cow. "It may not be a pucca ghar (a brick-cement house), and one day I will build one, but it is still home to me."
As India began an unparalleled and unplanned lockdown of 1.3 billion people on March 25, Inderlal, a contractual worker with the steel plant, hunkered down with hundreds of other workers at the two-storeyed building in the premises with multiple dormitories.
Unlike other migrants, he and the other workers were fed.
"We were given meals at the canteen in the building. There was always dal, roti, sabzi. We didn't go hungry. Koi dikkat nahin tha, we didn't have any problem," he says.
Unlike other migrants who were forced to undertake death marches home after their landlords threw them out, these workers stayed gratis at the dorm.
"Bas, samay ki hisaab se bardhasht nahi ho raha tha aur aage badhne ke prayaas mein the. Toh socha ghar chale jayen (we couldn't bear staying there anymore, considering the time we had spent in lockdown and we thought it was time to think ahead and head home)."
"Aapko agar ek room mein bandh kiya jaye aur khaana ke alava kuch nahin mile toh kya aap rahenge? If (you are shut in one room and given nothing except for food, what would you do?)," he asks.
Inderlal was new to Jalna. He was hired by a contractor to do odd jobs at the factory since January this year.
He did not have a clue how to get home, but there were several other workers at the digs who, like him, were from Madhya Pradesh, though different districts.
For outsiders to a state, like Inderlal was to Maharashtra, it is always imperative to establish contacts with people from your own village, district or state.
The workers's living quarters, he says, had at least 200 rooms with 15 workers to a room. Among them were many from Madhya Pradesh, and a man from his village, Pauri.
He was familiar with most of the men, but didn't know them personally.
"Bas itna hi tha ki hum unhe roz dekhte the aur pata tha ki woh yahin kaam karte hain. Pehechan toh ban hi jata hai (I used to see them every day and I knew they were working in the factory. You get to know people."
On the night of May 7, the group of 20 from MP set out for home.
There was nothing special about the date, just that that they thought it was time to go.
"Ek din mood bana ki nikalna hai, toh nikal hi gaye, we felt like leaving so we left," sighs Inderlal.
They made themselves rotis, filled bottles with water, and carrying their meagre belongings, walked into the night.
It must have been 8 pm, but he is not sure. His job, he says, was to follow the men. They were buzurg, seniors, his father's age; youngsters like him did not ask questions.
He did not know how many days of walking lay ahead, or whether they would get a train, or where they would sleep in the night, or eat, once the rotis ran out.
He had never heard of the Shramik trains being run by the government to ferry people like him. And he doesn't recollect anyone in the group mentioning the trains either. But someone said they would walk to Bhusawal and try and board a train to MP from there.
He had no idea the distance between Jalna and Bhusawal was a little shy of 160 kilometres. Or that the distance from Jalna to their districts in Madhya Pradesh of Mandla, Umariya and Shahdol, was 850 kilometres.
"Hum bas chal pade. Aur chalte gaye (We began walking and continued walking)," Inderlal says.
Some time in the night, they stopped for dinner. Each of the men had his own share of rotis. There was salt and chillies as accompaniment. Inderlal had eight rotis. He had been told to ration his food and water in the event they ran out before reaching home.
So, he ate two rotis.
They walked 45 km that night.
Somewhere near Badnapur, the group elders called a halt.
The men were exhausted.
"People who work in offices think people like us are used to walking. We are not and certainly not days on end. Bas majboori insaan ko takat de deti hai (Compulsion gives you strength)."
They were walking by the railway tracks for a while then, because it was the best compass to Bhusawal.
The elders said they should sleep away their exhaustion for a few hours and resume walking in the morning.
They sat down. Some on the tracks, some a few feet away, but all together in a cohesive group.
The moment they sat, says Inderlal, exhaustion clasped them in a tight embrace.
"Jo jahan baitha tha bas wohi so gaye. Humme itni shakti nahin thi ki uthke doosra jagah so jaye. Hum rail ke patri ke bahar baithe toh hum wahin so gaye (We went to sleep at precisely the same spot where we sat. We were so tired that we couldn't even pick ourselves up and find another spot. I happened to sit away from the rail tracks and so I slept there)."
Sixteen of the 20 men slept on the tracks, their bags cushioning their heads on the rail, their legs slung over the other rail.
Inderlal and three others slept a few feet away.
A man from his village he calls chacha, jostled him awake.
Inderlal had slept so soundly that he hadn't even heard the train sweep past, a few feet from his head.
"Letne ke baad, thaka hua sharir mein bahut gehri neend aa gayi thi. Achanak yeh ho gaya pata hi nahin chala (I went to sleep the moment I lay down. I slept deeply because I was so fatigued. I didn't even realise what had happened)," he says.
The survivors were taken to the civil hospital in Aurangabad.
At the hospital, Ambadas Danve, the Shiv Sena MLA, met the injured and told PTI, 'The state government is making efforts to send migrant workers to their home states. People should have patience.'
"People who stay in their own homes don't understand," says Inderlal. "The hope of going home, ghar jaane ki ummeed, once awakened, makes you greedy. Lalsa hoti hai. Then you just have to go, come what may," says Inderlal.
When he was awakened by "chachaji" after the accident, he couldn't grasp what had happened because he had not seen or heard the train.
Now, he says, he cannot ever think of a train without seeing those men lying there dead.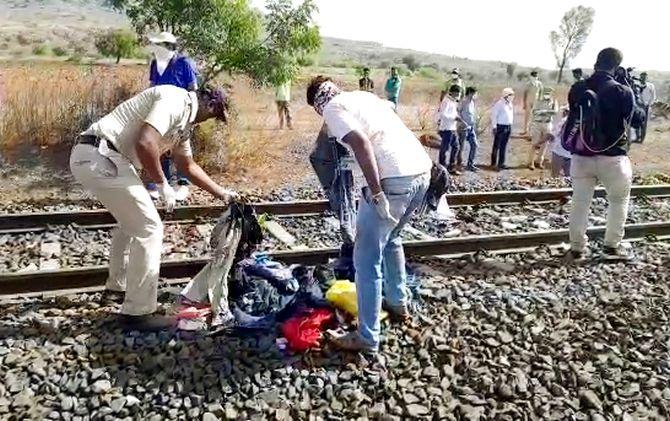 According to PTI, India has recorded nearly 2,000 road crashes and 368 deaths from March 25 when the lockdown began till May 16 (11 am).
Of these, 139 deaths are of migrants travelling back home, 27 of essential workers and 202 of others, it said.
Apart from this number, several have also died of heart attacks brought on by the long walk. Several more have committed suicide.
Inderlal doesn't know when he reached home. Everything was a haze, but he remembers being dropped home by an ambulance.
"What is the point in asking about dates? They have no meaning to a man who has no work. He doesn't know if it is Monday or Sunday. In a village, every day is the same," he says.
He couldn't attend the funeral; the 16 men lived in another district too far to go without transportation.
At home, his parents, quite naturally, were pleased to see him. They knew he was heading home, but without a mobile phone or TV, they were unaware of the accident he had survived.
"Mummy was crying when she saw me. She doesn't say much, but she was happy." He has one sister who is married and lives in another village. He was on the phone with her just before this interview call.
He is grateful to be home, says Inderlal.
His caller tune is a Shiv bhajan. "Ek shakti toh hai jiske wajah se main aaj ghar pe hoon (There is certainly a divine power which ensured I reach home)," he says, hesitantly.
His father is pushing 60 or so he believes, but he is not fit enough to work.
"Can you imagine what would have happened to them I had died. Bas, sab kismat hai. It is fate," he says, after a long-drawn silence.
As if physically brushing aside the last couple of weeks, he says now that he is home, there is plenty of work for him to finish.
"Ghar ka kaam karenge. Gobar khad dalna hai. I will work around the house, fertilise the fields for the next crop," he says.
The family own a small patch of land; he thinks it is around an acre where they sow rice during the rains and matar, masoor and udad dal in the winter months.
The harvest is enough to feed the three for a year, but there is no surplus for the market. If he had a larger plot of land, he would never have left home, he says, but for tribals like him (they are Gonds), it is not possible to acquire more land, he says.
The ground is arid and his field is now bare.
Mandla district has received barely any rain last year and there is not enough water to sow dal.
"Chinta na kijiye (don't worry), we have enough grains at home to feed not just us but 10 more guests."
His village has at least 600 houses, and apart from the women and the elderly, most of the men are migrant labourers.
There are no jobs in his village or in any other village nearby. There is no work under MNREGS either.
"MP mein toh sattar pratishad aadmi berozgar hai, jo idhar udhar bhaagta hai. Usme se ek vyakti main bhi hoon (In MP unemployment is 70 per cent. People have to go here and there in search of work. One, among those people, is me)."
It has always been like this, he says, it doesn't matter which government is in power in the state.
Yet, despite an evidently bleak future, Inderlal is upbeat. He has not spoken to any contractor as yet nor has anyone called him. But he is not worried, because work won't be difficult to come by once the lockdown ends.
"Aisa nahin hai ki hum log ghar chale aayen toh naukri nahin milega wahan pe dobara. Naukri toh hume milegi hi kyunki hum kahin pe jaa sakte, koi bhi kaam kar sakte hain (The moment we get a call, I'll pick up my bag and leave. I know I will get a job, somewhere, someplace)," he says.
He had plans of getting married, but all that will now be on hold.
"What is the point in worrying or being afraid of what the future holds? The future will be exactly what I make of it," Inderlal says.
And how the government deals with the situation.
Since the time he has been home, the mobile network has been erratic, but he did read news reports on how the government has sanctioned money for migrants.
"I want to tell the government, that announcing a scheme is not enough. They have to give us cash. We want money in our hands. Bahut saare log aise hain jinka bank account hi nahin hai. There are many people who don't have bank accounts, so do you mean to say they will miss out?"
"Is it fair that we have to walk home and we don't get money while the government brings you back by planes and trains?"
The factory paid him Rs 30,000 for the three months he worked there. He sent Rs 20,000 home and of the remainder he has 1,000-odd rupees left.
"I was just three months into the job, so I hadn't decided on a fixed amount to repatriate home. Avashaktya anusar bhejte the (I sent whatever they required."
He also lent money to friends. They were small tranches, Rs 200, Rs 500, but several times over. That is what friends are for, he says. But now, he has very little savings left.
"Full khali ho gaya abhi (my pockets are empty now)," he says.
He understands the virus is dangerous and knows people have been dying, but faults the government for the manner in which the lockdown was imposed.
"Modiji should have given us a few days to go home before he announced the lockdown. Modiji has failed us."