Amid the ongoing pandemic, Debjyoti Saha's animation video on the migrant crisis struck a chord with many who shared it all over the Internet.
'I wanted to ensure that public memory of the unmitigated horrors India is living through, endures.'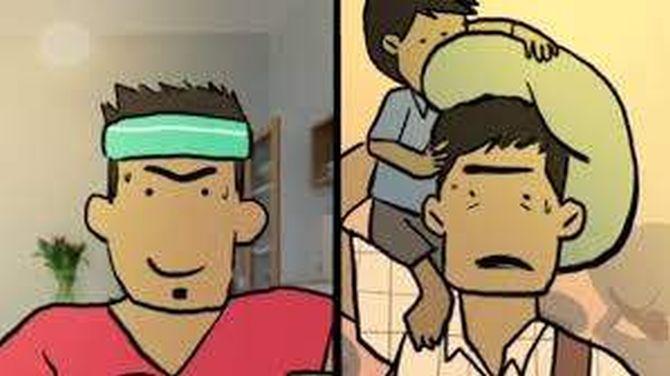 =
In middle-class Bengali homes, a simple meal is almost always a four-course affair. Bhaja (shallow fries of either, not all, bitter gourd, pointed gourd, potato, finely sliced pumpkin or hunks of brinjal), dal (always eaten with an accompaniment like the aforementioned bhajas or sheddo (literally meaning 'boiled' -- mashed potatoes or young pale yellow pumpkin (boiled and mashed) or broad beans (boiled al dente), drizzled with mustard oil and a smattering of plump green chillies), a vegetable main course and fish curry. With rice. Never rice and chapatti. Either or, not and.
Dal-rice, rajma-chawal, soul food in large swathes of India, is anathema to Bengalis.
Food is always a chorus, never a solo act.
But it wasn't such a meal that made Debjyoti Saha (pictured below), all of 25, feel guilty.
Guilt at having the privilege of eating a meal even as lakhs upon lakhs of Indian migrants were on their death walks home on empty stomachs.
"Honestly, I've been living in Mumbai away from home in Kolkata and cook my own meals. As Bengalis we talk of multi-course meals because of our love for food, but I realised how difficult it is to cook more than one dish at a time. So it's not about what's on the plate, it's just that you are eating, and so many are not," Saha tells Swarupa Dutt/Rediff.com.
He speaks of being bombarded with heartrending images of migrant labourers walking home, for over a month, now.
Most people, he says, react in the same way -- heartbroken -- at the unparalleled hardships these men, women, children, in what is the single biggest crisis faced by migrant labourers in post-Independence India.
Empathetic Indians have jumped in, feeding the hungry, arranging transportation, handing out money, opening up shelters.
SEE: Debjyoti Saha's heartrending animated video which went viral. Video: Kind courtesy Debjyoti Saha
Saha did what he excels at -- creating imagery -- with a series of five short videos, called Korona.
"I wanted to ensure that public memory of the unmitigated horrors India is living through, endures," he says.
An animation film-maker and a graduate from the prestigious National Institute of Design, Saha says, "In Bengali, Korona, means 'don't', so it is a word play on all the things people should not be doing during the coronavirus pandemic."
The videos portray 'deep-rooted issues' plaguing India amid the pandemic. The fifth video in the series is on the migrant crisis and has gained the maximum traction.
"I guess their anguish resonates with people. Look, being privileged is not a bad thing and you shouldn't feel guilty about it, either. These are unusual circumstances and everyone is struggling to cope," he says.
"But only when we understand that our problems are petty compared to the migrants' problems, can we reach out and help."
The 48-second split-screen video on the migrant crisis has the left panel detailing life under lockdown in gated communities or 'entitlement', juxtaposed with migrants's lives. The background music is from the film, Dunkirk.
"The music is by Hans Zimmer, which I credited in my Instagram post. I didn't have time to write the soundtrack, and I thought this pandemic is also a war, and Dunkirk's score should work."
His family -- parents and older brother -- think it does.
"When I show my work to my family, they get really excited. But they don't understand the effort that goes behind the work. It's like when you watch a film, you simply judge what you see. You don't bother with production values, money spent, etc on the film. If the acting is bad, the film is bakwaas (rubbish)," he says.
"My family are objective about my work, not subjective. They don't think 'mera beta banaya', so it's going to be good. For them, there is always room for improvement, which is good and I appreciate it."
The first video of the five in the series was posted just before the March 22 Janata Curfew. It was themed on the fear psychosis of the virus.
The second video was on the shortage of protective gear for healthcare workers, the third on the discrimination and xenophobia that people from the north east were facing after the 'Chinese' virus. The fourth video was on the long queues after liquor shops opened.
"In the second video, I focused on the shortage of personal protective equipment kits, masks, the lack basic safety measures that doctors and healthcare were facing. But India drowned out their demands with the clamour and clanging of utensils," he notes.
"Doctors are fighting the battle on our behalf, and sure, they need a morale boost, but I think we could have done a little more than just give them a pat on the back," he says.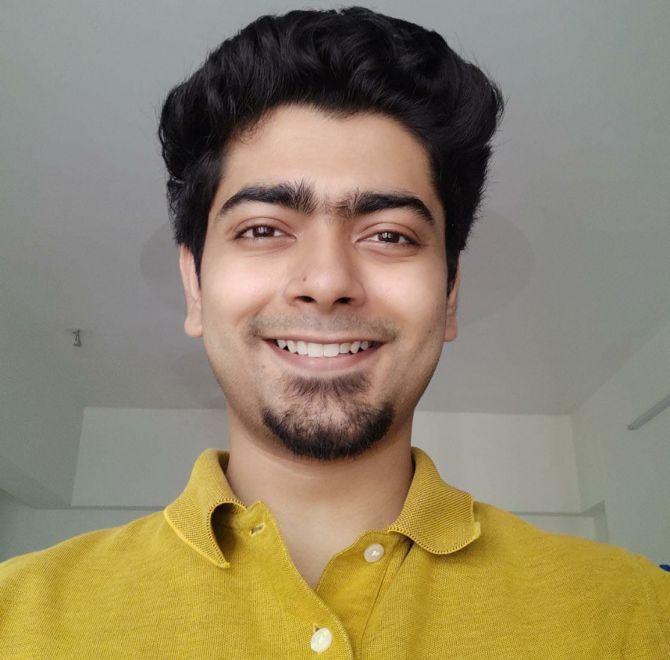 Saha, who is an associate producer at ESPN, says the videos didn't take time to put together.
"These are not really production-heavy videos. I just drew the pictures frame by frame in around a week. I added the sound effects, the music and then it's kind of done. It's not the actual production that takes time, it's the thought that goes behind the production," he points out.
While a sixth video is on cards and should be up before the lockdown ends, he admits he is s surprised that the migrants's video has gone viral.
"I think there is a feeling of guilt somewhere in the subconscious when they are watching the video they are reassessing their own needs. I am not trying to belittle people; I'm just saying use your privilege to make someone else's life a little better."
Over 400 migrants have died on their journey home, which reports say could have been avoided if the lockdown had been better planned.
"Of course, the migrant crisis could have been handled better, there's always room for improvement, but isn't it always easy to point fingers?" he asks.
"The government could certainly have done better; we could have done better, but that doesn't always happen."
"You've seen the New York Times front page (The New York Times on Sunday, May 24, posted the names of all the Americans who had perished because of coronavirus on its front page)? Everyone is blaming the government for it. But there are many New Yorkers who say they want to get out on to the streets because it's a free country and they don't even want to wear a mask. So both the government and the people have to work in tandem," says Saha.
Right now, Saha is trying to raise funds for the victims of the Amphan cyclone which devastated West Bengal last week, destroying infrastructure, homes and livelihoods and uprooting over 3,000 plus trees.
While West Bengal Chief Minister Mamata Banerjee pegged the losses at Rs 1 lakh crore, the Centre has promised only Rs 1,000 crore in aid.
On Instagram, Saha has put out 'Prompt and Draw', a collaborative effort with friends where people can 'prompt' them to draw in exchange of donations.
Saha says the funds collected will be given directly to small NGOs working on the ground in Kolkata and the Sunderbans and not to state government relief funds where he believes there will be a huge gap in allocation of funds.
At the end of the day, it's about food on the plate.