'We are giving priority to little children so that they do not embark on dangerous journeys on their own'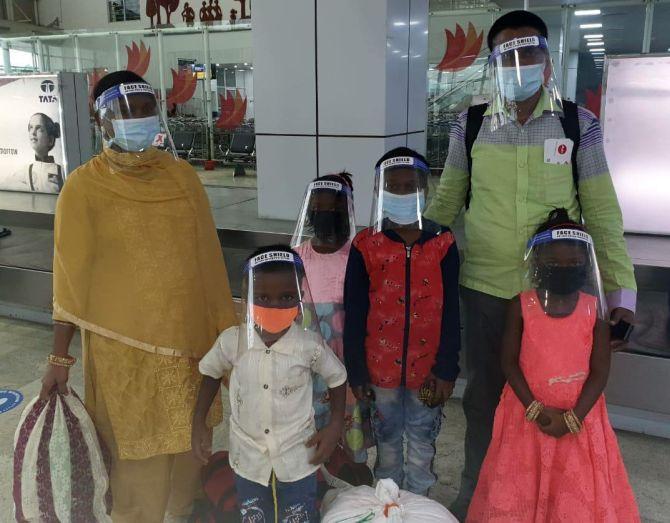 It is a journey they could not have imagined.
A group of 180 migrants from Jharkhand, stranded in Mumbai for over two months due to the lockdown, were flown home on a chartered flight, arranged by the alumni network of the Bengaluru-based National Law School, making it the first such instance in the country amid the coronavirus-triggered lockdown.
The Air Asia flight carrying the migrant workers and five children left the western metropolis on May 28 at 6.25 am and reached Ranchi, the Jharkhand capital, around 8.25 am, an airline spokesperson said.
Shyel Trehan, an alumna of the 2000 batch of National Law School, was one of the organisers who managed this near impossible achievement.
Speaking to Syed Firdaus Ashraf/Rediff.com, Trehan says, "The social economic disparity in India is jarring and we are privileged enough to help."
---
The idea to send migrants home from Mumbai to Ranchi came up after everybody saw the horrible tragedy of lakhs and lakhs of migrants walking home.
We felt sad that they had no resources or means of transport to return home.
Then someone on our WhatsApp group -- the class of 2000 of the National Law School -- suggested that we could hire a bus and send these migrants from Mumbai to Jharkhand.
However, during the process of hiring a bus, we found out that it was more expensive to hire a bus and that's when we decided to send these workers home by plane.
The cost of hiring a bus from Maharashtra to Jharkhand, we were informed, was Rs 2 lakh. We don't know whether bus operators were asking for more money because of permissions to travel across different states or what but that was the cost.
And if we apply social distancing norms, we couldn't take more than 26 people. Therefore, we decided to buy air tickets for 40 migrant workers.
We booked 40 tickets from Mumbai to Ranchi through AirAsia, but unfortunately that flight was cancelled as the Maharashtra government did not give permission to fly as they allowed only 25 flights a day.
When we suffered this setback, we decided to bring in the entire alumni of the National Law School to get more funds.
And that is how we got more money and chartered a plane to send more workers back to their native place.
Everybody contributed for the tickets, ranging from Rs 2,000 to Rs 1 lakh. At this moment I don't know how many people have put in money or how much was collected. But our batch of 2000 raised a total of Rs 12.5 lakh.
I am not at liberty to say how much we paid because Air Asia subsidised our flight and they said they could not give this kind of concession to everybody.
Now, we have a single person sponsoring an entire flight for these migrant workers. And this flight is leaving Mumbai for Ranchi on Sunday at 6 am.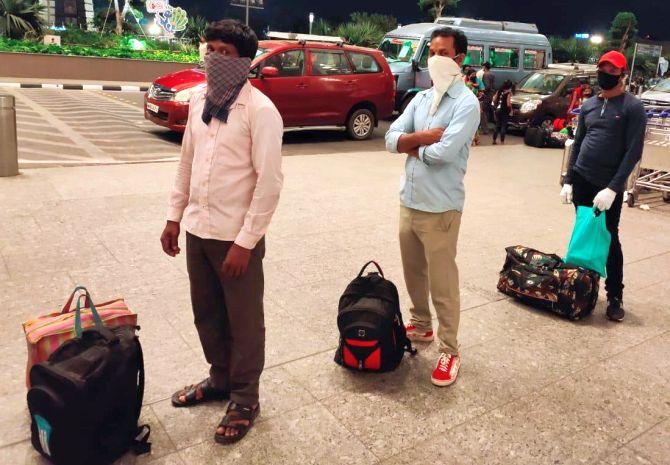 Helping the poor and giving back to society is something in the DNA of our NLS. The whole college was set up for that.
Social economic disparity in India is jarring and we are privileged enough to help.
Equality is the one value that was inculcated in each of us at rhe National Law School even if we went to corporate jobs.
This has driven all of us forward. At the end of the day there is a heavy sense that one should give back to society.
This brilliant idea came up from one of our batchmates, Shyam Sunder, and everybody jumped in.
The most difficult part in executing this idea was whom we should choose to send back.
We are working with NGOs on the ground who are helping migrant workers. They are donating rations and other things. They have the database of these migrant workers.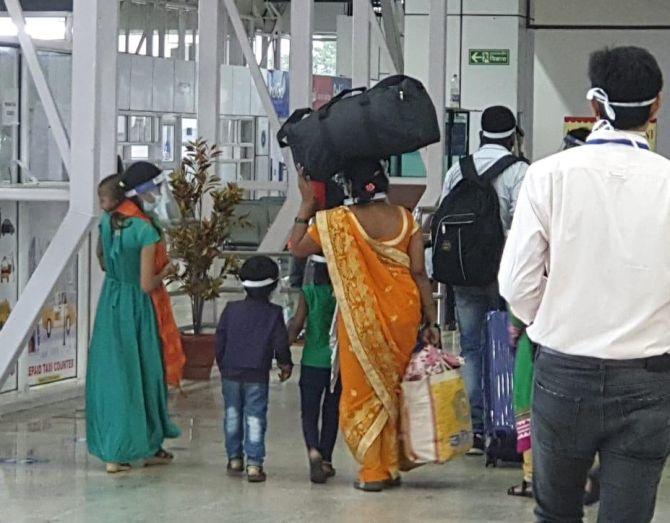 Many people are living on the margins and donation of rations. We are giving priority to little children so that they do not embark on dangerous journeys on their own.
It is heart-breaking to see some people being left out and not able to catch flights because numbers are limited and so are flights.
I feel the exodus will go on from cities to villages as workers are facing devastation.
They just want to go home. Ghar jaana hai, they say.
They have lost faith in the cities which was their home, even if temporary.
I spoke to domestic help who are going back because they are not being paid because of the lockdown.
Until the economy restarts in the cities, workers will not come back. Ultimately, they will come back because they do not have any means of livelihood in the villages.