Most of India's reserves for war have been sucked in by the standoff with China.
A large part of India's airpower has similarly been committed on the eastern border.
By moving these reserves to the China border, India has been weakened vis-a-vis Pakistan.
The nightmare scenario of a two-front war may well come true, warns Colonel Anil A Athale (retd).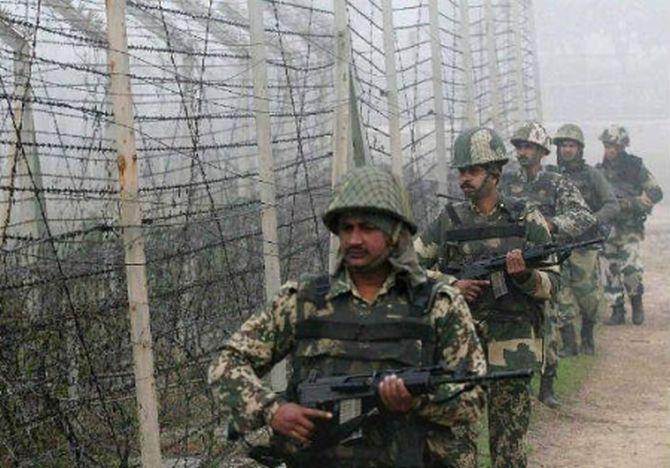 By far the most surprising part of the current India-China standoff in Ladakh is the relative silence in Pakistan.
This is indeed most unusual given the lyrical lengths that Pakistani commentators go to in describing Sino-Pak relations -- 'as deeper than the sea, higher than Everest', etc.
Yet, when its 'Iron Brother' is locked in a tense standoff with its mortal and perennial enemy India, Pakistan is quiet.
This is indeed an ominous sign.
Ever since the current India-China slugfest at the Line of Actual Control, there is very little clarity on Chinese motivation.
The Galwan Valley incident of June 15 in which 20 Indian soldiers lost their lives could well be called an 'accident'.
For, when a large number of charged-up soldiers come too close to each other, this kind of tragedy was waiting to happen. It could still be dismissed as a 'local' incident.
But the large-scale massing of Chinese troops and heavy equipment on the Ladakh border over a period of more than a month cannot be dismissed as a 'local' initiative. This movement could not have taken place without the sanction of the government at the highest level.
Even if one is to accept that the Galwan incident was local, the strategic movement cannot be dismissed as a spur-of-the-moment happening.
Strategically, the Chinese policy in the 21st century has been centred on keeping India away from getting too close to the US-led Western alliance. The various agreements for peace and tranquillity on the border beginning from 1993 were born out of this necessity.
Added to this is the incontrovertible fact that on the border issue both India and China are on the strategic defensive.
The Chinese aim of securing Aksai Chin was achieved in 1962. Many believe that its claims on Arunachal Pradesh are a pressure tactic.
In any case, China does not have the military capability to conquer Arunachal Pradesh like it did in 1962.
India has never seriously contested the Sinkiang-Tibet highway.
The Indian improvement of infrastructure is also essentially defensive in nature, to ensure the defence of the Ladakh plateau. It is because of this that the border has remained peaceful for last 35 years or so.
China, with its aggressive move on the border, has nullified its 20 years of 'normalisation' with India. It has also brought into serious question India-China co-operation at forums like BRICS.
It is difficult to believe that China has sacrificed all these gains in order to get some tactical advantage in the Galwan Valley or the Pangong Tso lake. In terms of military logic, it is hard to believe this.
But whatever the Chinese rationale for its actions, the consequences are clear.
Most of India's reserves for war in the mountains have been sucked in.
A large part of India's airpower has also similarly been committed on the China border. It is well known that most of these reserves had a dual role -- both against China and Pakistan.
By moving these reserves to Ladakh or the Arunachal border, India has been weakened vis-a-vis Pakistan.
Incidentally, the Chinese help to Pakistan in increasing its nuclear arsenal is a far greater provocation as far as India is concerned. Compared to that, the Ladakh incident is a mere pin prick.
One also wonders if the Chinese have decided that strengthening its proxy Pakistan is in its long term interest rather than normalisation of relations with India.
For all the talk of China taking a long term view of relations, this seems a particularly myopic course of action. A course of action that India has studiously avoided vis a vis China and Taiwan.
A joint Sino-Pak attack from the Gilgit-Baltistan side along the Shyok river axis may pose a major threat to Ladakh.
There are unconfirmed reports of Pakistan having made available the Skardu air base to China. This, if true, can negate much of the advantage the Indian Air Force has in this theatre.
It is true that the crisis on the China border does not affect the Indian forces in the plains of Punjab.
If push comes to shove, India can, like in 1965, threaten the heartland of Pakistan in Punjab.
Pakistan has no strategic depth there and is vulnerable.
The Indian Navy, much more powerful than Pakistan's, can also deliver a major blow to Karachi.
A conflagration on this scale will bring in the nuclear dimension. It is difficult to believe if Pakistan stands to gain much from this misadventure.
If the past is any guide, Pakistan is not known for its rational decision-making and is prone to risk-taking.
With the militancy dying out in Kashmir, Pakistan is indeed in a desperate situation.
All in all, the nightmare scenario for India of a two-front war may well come true.
With the US in disarray in an election year and under a whimsical president, the American power that restrained Pakistan in the past (during 1962, for example) stands neutralised.
India will be well advised to be on its guard to face a surprise Pakistani attack.
---
Colonel Anil A Athale (retd), military historian and strategic thinker, is the co-author of the official history of the India-China conflict of 1962.