'The one aspect which no Indian military thinker would wish to see emerge is a LoC type of posture at the LAC.'
'The LoC is manned for 750 km and terrorist infiltration has led to the creation of a virtual fortress along its entire length.'
'Something mirroring this at the LAC is going to be expensive although deployment everywhere is not warranted there.'
'However, given the complete trust deficit, there appear few alternatives,' notes Lieutenant General Syed Ata Hasnain (retd) who commanded the Uri Brigade, the Baramulla Division and the Srinagar-based Chinar Corps.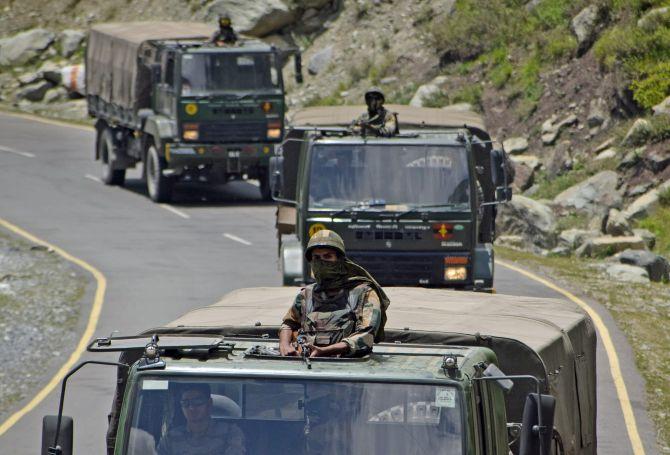 It was bound to happen sooner than later at the LAC.
The PLA was not acting overly aggressive for nothing. It was clearly conveying a strategic message which primarily harped on 'Don't mess with us, keep to your limits'.
That is the message which will probably continue to be played out in the remaining part of the campaigning season and beyond.
While many are focusing on the tragic turn of events and the nuances of what really transpired on June 15/16 I wish to turn to the bigger picture and the near future. But that takes away nothing from the valour of Colonel Santosh Babu and the valiant men of 16 Bihar along with many others.
They clearly demonstrated their prowess and espirit de corps in one of the most awkward situations ever faced by our soldiers in any operational environment.
The first question -- why did this happen? At the tactical level we continue to remain an ethical nation given to dependence on trust.
When confronted with devious adversaries who have no intent to execute on ground what they agree on paper we appear to continue trusting them.
China has demonstrated to the world time and again its propensity to disrespect a rule -based order and that translates down to the tactical level too.
While negotiations for de-escalation continue at the major general level India can no longer stay unprepared for a worst case contingency.
Unprecedented levels of induction of troops into the Himalayan region is not necessarily a precursor to war, but simply precautionary steps since mobilisation to this border is most challenging.
There is no guarantee that awkward situations are not going to develop in the near future with China clearly hell bent to execute a new strategy for the post COVID-19 world order.
What is China actually seeking? Three prime factors are at play.
First is Xi Jinping's personal ambition of placing China at a position of unquestionable pre-eminence in his lifetime, much faster than professed by the 19th congress of the Chinese Communist Party.
The COVID-19 situation and its international effect is viewed as an opportunity to initiate such steps. Thus, all previous bonhomie and cooperation can rest while the new intent is pursued.
Second is a deep psychological image deficit produced by the Doklam incident which left China with a perception of being bested by the Indian Army.
It probably perceived a major threat to its desired pre-eminence in leaving such a psychological impact on the world and its own people.
That supposedly compromised image had to be retrieved by a suitable mix of limited military coercion and subtle strategic messaging.
Third, military coercion was perceived best executed through demonstration at the tactical level to place the PLA at a position of advantage should hostilities ever break out.
Obviously the Darbuk-Daulat Beg Oldi road does not fit into its new scheme of things and that realisation came late since the road has been under construction for over 10 years.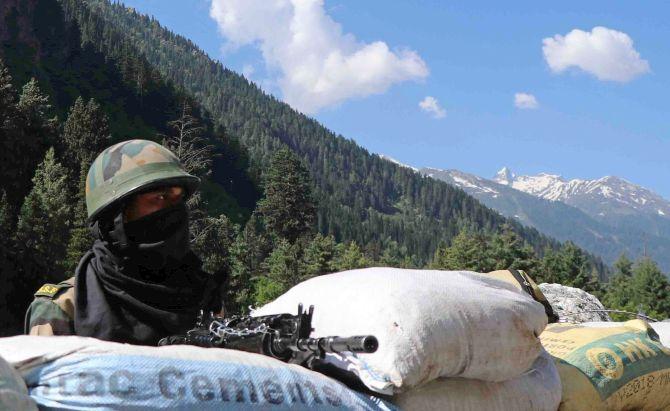 The Pakistan angle is not out of place here. The voluble new Indian narrative on Gilgit Baltistan and Pakistan occupied Kashmir has upped Pakistan's concern and that of China.
Left as it is, the entire emerging situation would have facilitated growing Indian strategic confidence and dwindling Sino-Pak ability to counter it.
The decision to construct the Daimer Basha dam in Gilgit Baltistan appears to be a result of this concern.
The sudden Chinese upsurge of focus on Ladakh also appears to be the early stages of attempting to set the situation for greater Sino-Pak collusion to seek fresh and less fragile avenues for Belt and Road Initiative projects in the region currently limited by the terrain in the existing areas under their control.
Under glare and in sights will be Daulat Beg Oldi, Siachen and the Shyok Valley which form part of the middle tract of Ladakh in the Karakoram zone. Writings in the Pakistan media appear to point in such a direction.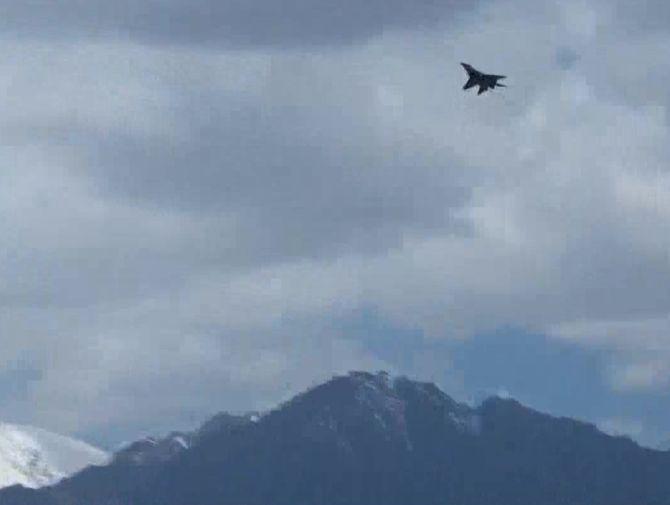 So how must India react?
We have already mobilised essential reserves all along the northern borders and the Indian Air Force too. This caters to any triggers which may emanate from the tense situation.
The terminal benefits of a border war can hardly be perceived because a favourable situation for India cannot remain at that without general war becoming a cascading offshoot.
Pragmatism dictates that in a situation of such intense economic downturn discretion rather than sentiment should be the policy.
It should clearly point towards a review of our overall preparedness and allocation of resources for a stronger military capability.
An emerging India cannot be perceived internationally as a State devoid of modern military capability, notwithstanding advances made in infrastructure and capability in the last few years.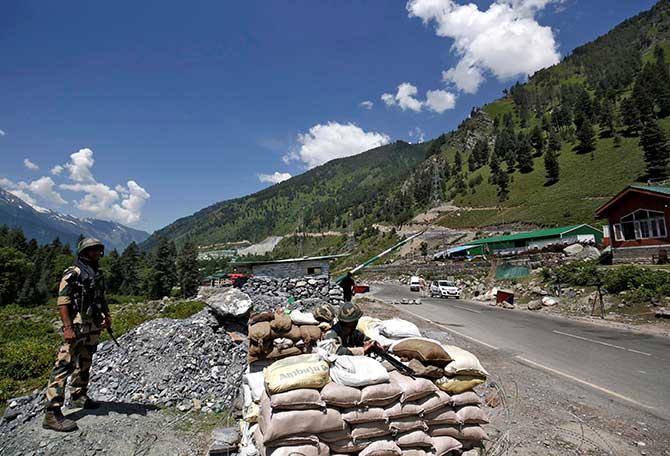 The one aspect which no Indian military thinker would wish to see emerge is a LoC type of posture at the LAC.
The LoC is manned for 750 km and terrorist infiltration has led to the creation of a virtual fortress along its entire length.
Something mirroring this at the LAC is going to be expensive in all resources although deployment everywhere is not warranted there.
However, given the complete trust deficit, there appear few alternatives. The terrain on our side is a disadvantage with winter stocking being a major challenge.
In 1999 we were forced into adopting such a posture in Kargil post hostilities, but that was yet less remote than areas of Eastern Ladakh and the Karakoram tract.
Talks between military commanders on both sides can help in reducing such deployment.
Continuous engagement in such talks at an appropriate level will also help in framing fresh rules of engagement in face-offs in the future.
Two steps necessary on an immediate basis must be taken.
First, hot lines must be laid across the LAC for immediate consultation at the level of brigade commanders;
Second, there should be no attempt at un-notified flag meetings.
Each such meeting must have sanction at the Director General of Military Operations level of both nations and be constantly supervised lest rogue elements of the PLA hijack the proceedings.
Our officers and men must examine all contingencies for the future.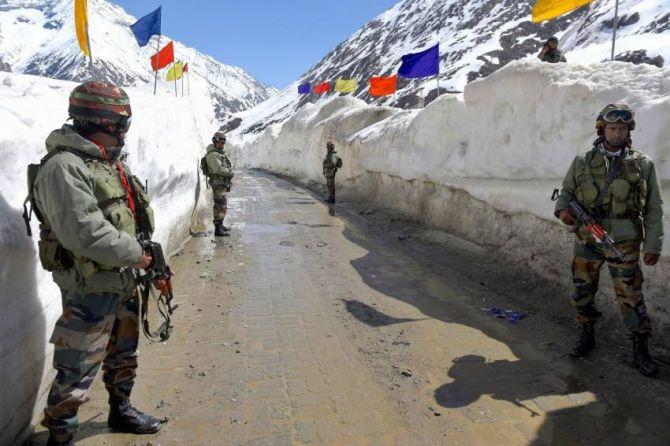 Does diplomacy have a role?
The fact that the Indian External Affairs Minister S Jaishankar has decided to attend the foreign ministers meet of the Russia-India-China forum on June 23, 2020 is a pointer towards India retaining all options while approaching the situation which has emerged.
This has been India's traditional approach and clearly steps towards greater international understanding and support will always pay dividends.
The economic domain is emerging as one area where India can demonstrate its will in not extending cooperation with China, but serious studies need to be done to ascertain the advantages or otherwise that accrue to us.
Given the COVID-19-related economic downturn in India we need to be pragmatic in this sphere too.
Lastly, if the Indian Army's War College and Training Command are not doing crash examination and analysis of the procedures and drills on the LAC, then it is sacrilege. By now study teams should have reached Leh and constant study of the PLA's new operational strategy and ways to counter them must be undertaken on priority.
The sheer remoteness of the areas of the standoff prevents the free flow of necessary information and realistic assessment becomes a challenge.
We have enough examples of the PLA's intense vulnerability demonstrated at the Ussuri river in 1969 against the Soviet army and the rout of 1979 at the hands of Vietnam.
A whole new approach to dealing at the tactical level is not just necessity, but mandatory.
This must end by once again recognising the sacrifice of the 20 bravehearts and scores of seriously injured soldiers. It pricks the conscience when one thinks of such courageous warriors who are battling great odds to keep the nation safe and secure.
Only a very small percentage of people in India can even imagine how remote these battlefields are, the terribly rugged terrain and the kind of privations our soldiers have to undergo.
---
Lieutenant General Syed Ata Hasnain (retd) is now associated with the Vivekanand International Foundation and Institute of Peace and Conflict Studies.
Production: Rajesh Alva/Rediff.com