Madhuri Dixit's birthdays are always special occasions.
Whether she's celebrating on reel or real life, we never get tired of seeing the gorgeous, glamourous star or her smile, style and song and dance treats.
On her 53rd birthday, Sukanya Verma lists 10 times the world fell in love with La Dixit.
Mohini! Mohini! Mohini!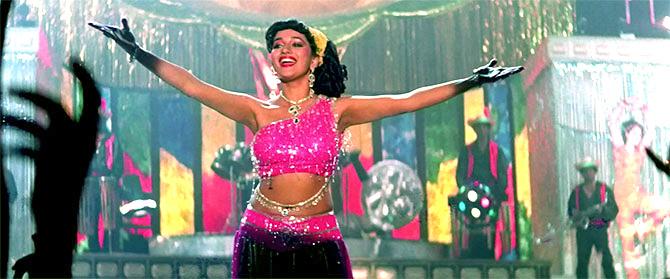 The crowd chanted feverishly and Madhuri obliged every single one of them with her 'Namashkar, kahiye kya sunenge aap?' enthusiasm and Ek Do Teen charms in that iconic pink costume and steps that every girl aspiring to be heroine emulated thereafter and miserably failed.
Ouch...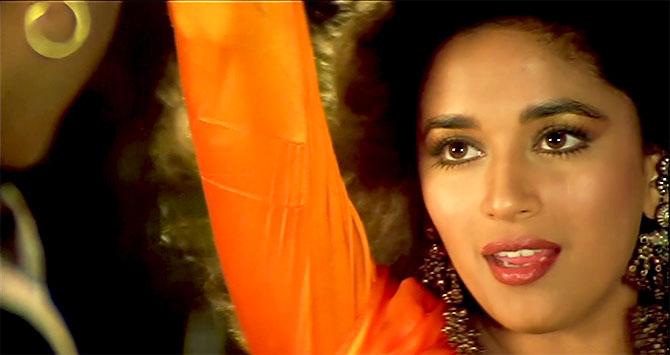 Sound of her sultry 'ouch' in Beta is promptly followed by Mads offering the sexiest demonstration of the human heartbeat known to mankind with her Dhak Dhak tenacity.
Uhoo-Uhoo forever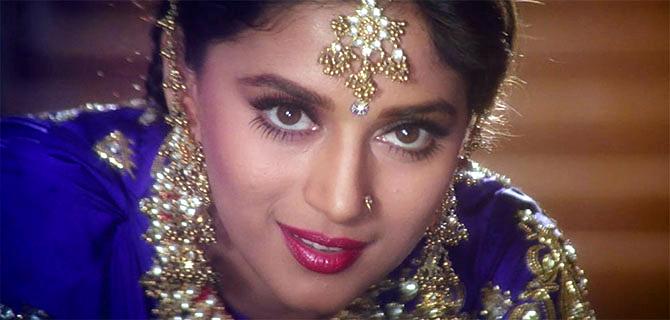 As radiant as romance Madhuri playfully posing the titular question before a stumped Salman Khan and smitten audience -- Hum Aapke Hain... Koun? And the nation led out a collective a-haaaa!
A bag full of moon and stars for Ms Idli Doo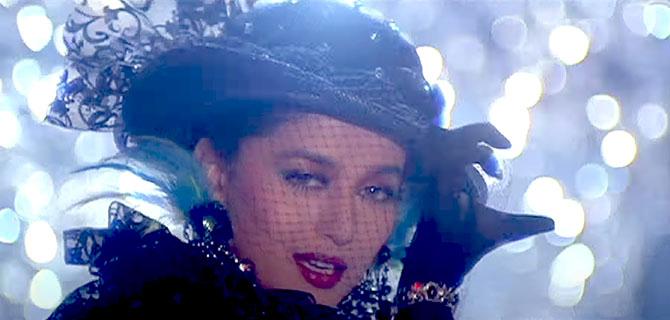 Khel was a box office bummer, but Madhuri's coquettish cabaret number as Chand Taare-demanding Ms Idli Doo had her countless admirers hitting 'add to cart.'
Koli vibes!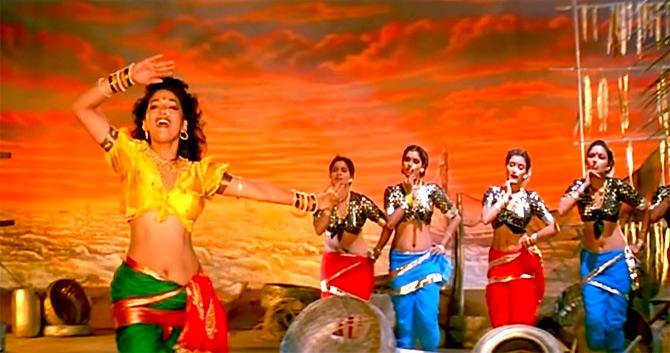 Humko Aaj Kal Hai Intezar drawls Madhuri in a sizzling koli costume and tantalising nose ring in a movie (Sailaab) best remembered for her electric dance moves. Three decades later, it's still raining copy cats.
Saajan ki aankhon mein pyaar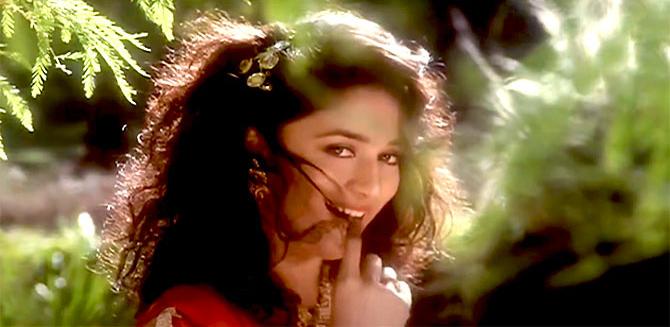 Madhuri's magic lies in how effortless she makes everything.
Be it that twirling of locks or romancing one guy throughout the movie and agreeing to a happily-ever after with another in that twisted '90s love triangle, Saajan.
Choli, Chunri inquiries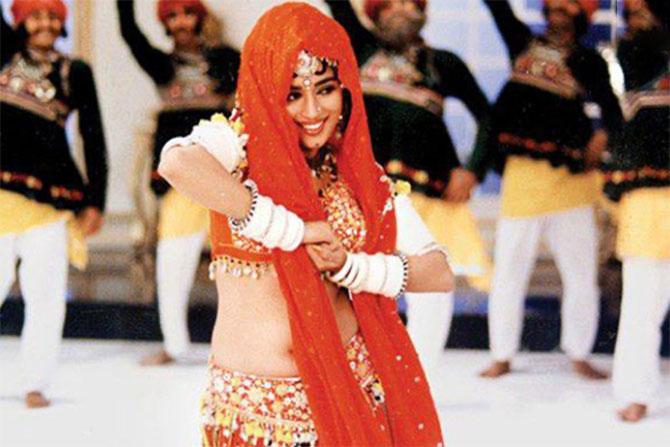 Considered one of the raunchiest songs of its times and Madhuri's career, the lady's alluring jhatkas and matkas never get distasteful despite its super suggestive lyrics.
'Aur paas...'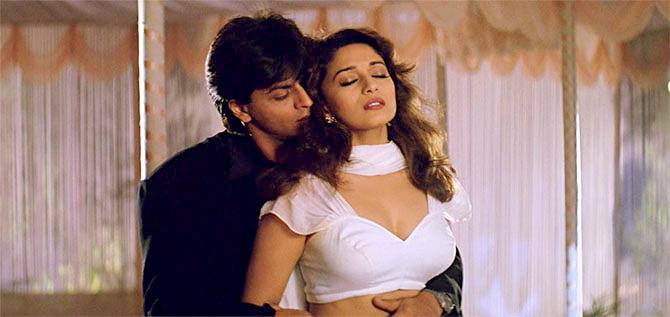 Chemistry is a word casually tossed about in the hero and heroine's context but few burn the screen with their sexual heat like Madhuri and Shah Rukh Khan did in Dil To Pagal Hai.
Someone, somewhere is made for you? You bet!
Advantage Chandramukhi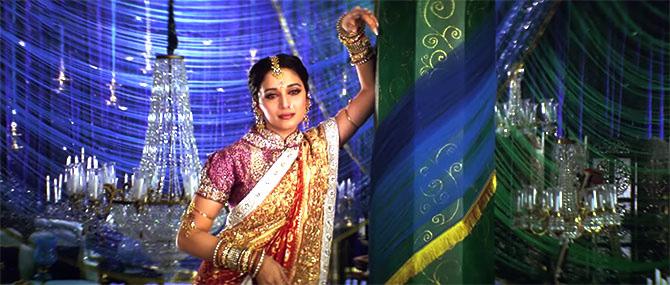 Not everyone can carry such blinding degree of splendour with as much élan nor give Devdas an antidote for his attitude like he badly deserves.
Not everyone is Madhuri Dixit.
'Begum Kaagzi Hai...'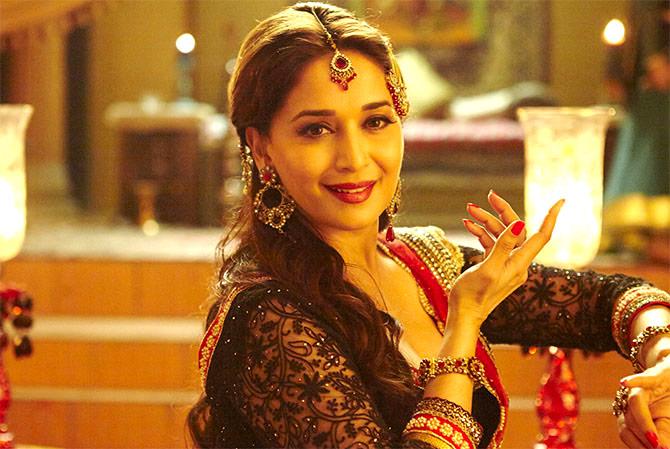 Few film-makers have the intelligence to challenge Madhuri's fire like Abhishek Chaubey's Dedh Ishqiya where she completely steals scene after scene with her ada, adakari and audacity.