'After doing Dedh Ishqiya and Bucket List, I am ready to take up risks in films.'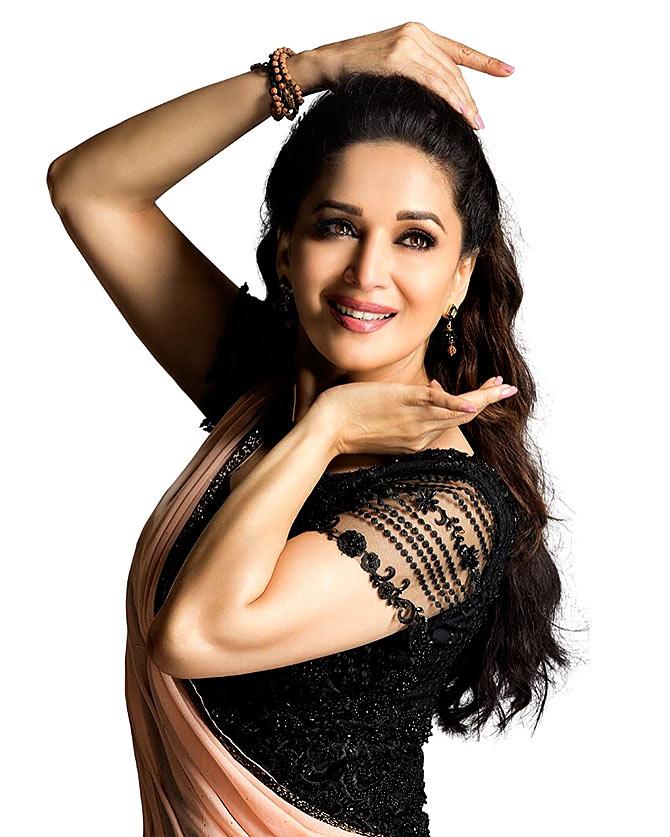 Madhuri Dixit seems to have cracked the impossible task of halting the aging process.
The 51-year-old actress looked dazzling at a promotional event for her new film Total Dhamaal, where she reunites with the director who made her the Dhak Dhak girl.
Indra Kumar puts together a huge star cast of Ajay Devgn, Anil Kapoor, Arshad Warsi, Riteish Deshmukh and, of course, Madhuri, in his new comedy, and it has obviously been a blast on the sets.
Madhuri tells Rediff.com Contributor Mohnish Singh, "Be it Beta or Raja, the way Indra Kumar gave women due importance in his films is praiseworthy. They are more than just eye candy."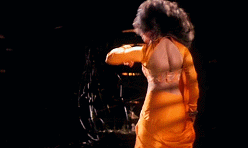 You are collaborating with Indra Kumar after such a long time. What was it like working with him again?
It was great!
I have worked with him in Dil (1990), Beta (1992) and Raja (1995).
When he came to me and discussed the script of Total Dhamaal, I was really excited.
He is wonderful as a person and director. He is an able director and I love his sense of comedy, drama and the way he depicts dramatic scenes.
While working in a slapstick comedy like this, you just let your hair down and be in the moment.
You are reuniting with Anil Kapoor after a long time too.
He has the same level of enthusiasm. He was brimming with energy on the sets all the time.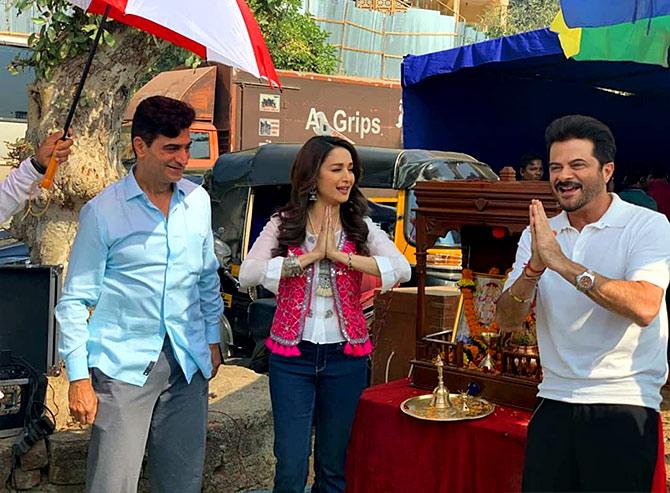 You must have been approached by many film-makers after Pukar in 2000, your last film with Anil.
I got married after I completed Pukar.
I did Devdas (2002) and after that, I got busy with my personal life.
2014's Gulaab Gang was your last Hindi film. You are returning to the movies after five years. Why did you take a break?
I don't have just one responsibility, there are many.
I produced a movie named 15th August, which will release on Netflix in March.
Then, I did a season of Dance Deewane (a dance reality show on Colors TV).
I was busy with the kids.
Many scripts were offered to me, but when Indra Kumar came to me, I felt special. I thought it would be a wonderful reunion with all the actors in the movie.
How instrumental was Indra Kumar in making Madhuri Dixit a female superstar? He gave you blockbuster movies and superhit songs.
His songs and movies were always blockbusters, but what excites me is his art of film-making and the way he presented women in films.
Be it Beta or Raja, the way he gave women due importance in his films is praiseworthy. They are more than just eye candy.
He gives you a gamut of emotions to portray.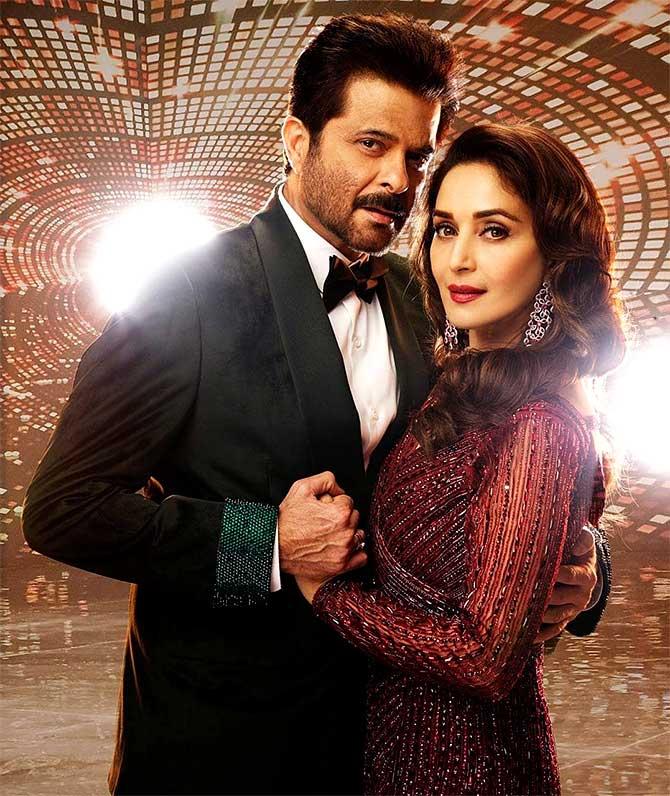 Remixes are very popular, and Total Dhamaal has two.
There is a dearth of good songs.
In Total Dhamaal, they wanted a song that talked about money and then they came across this song called Paisa and felt that it was right for the film.
The movie is all about money; the people are after Rs 50 crores.
I loved the remixes in this movie, as they have kept the charm of the original song intact.
Which is your favourite song from Total Dhamaal?
I love the Paisa Ye Paisa remix, as they have retained the charm of the original song.
The lines are the same, but they have added a little bit of story.
The characters sing according to their image in the movie, which I thought was very interesting.
It is a catchy number.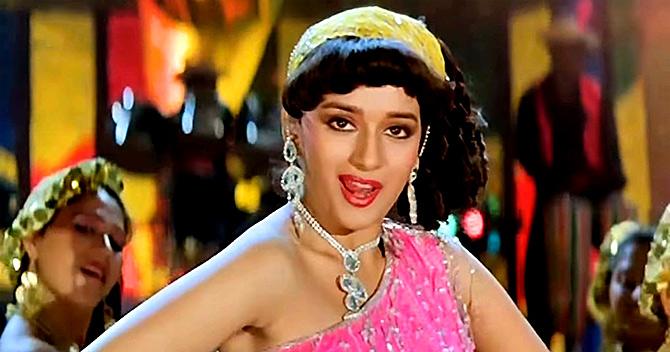 Your hit songs like Ek Do Teen and Tamma Tamma were remixed recently. Audiences prefer the original as against the recreated versions. What is your take on it?
Both of them were good. The fact that these iconic songs have left a lasting effect on people is what inspired them to make a remix.
I think they have succeeded.
It's not lack of creativity; it's just that they are trying to do something they are nostalgic about and recreate that on the screen in their particular way.
Do you still get pre-release jitters when a new film is about to hit theatres?
No, not jitters, as I have been in this industry for 35 years now.
But you do have butterflies in your stomach and hope the film does well, that people like you and the movie.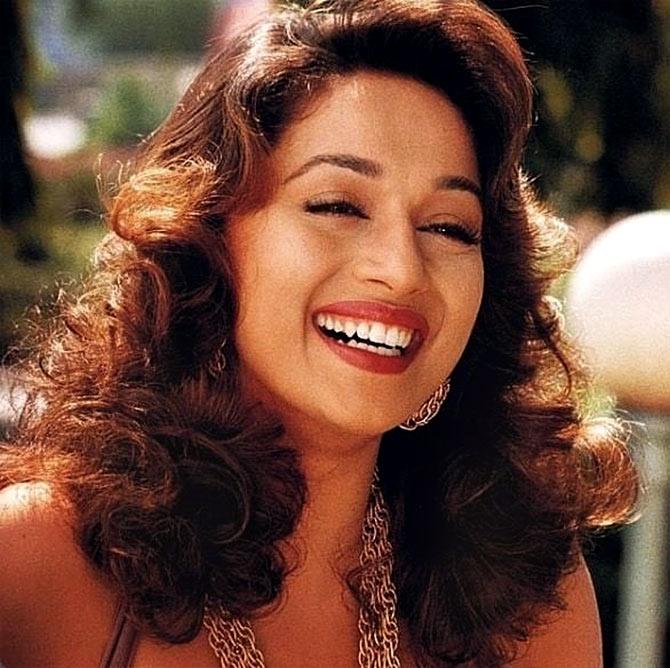 Nowadays, films are more about box office numbers and don't have recall value as such. But people enjoy watching your films even today.
I don't think films are only about box office numbers nowadays. Wonderful content-driven films are being made.
We all want blockbusters to be a part of the industry, as it gives rise to another film.
So we are seeing content-driven films on both small and large scales.
I believe this is the best phase for the women of the industry to be in.
Women are getting good parts to play. Tabu's role in Andhadhun was fabulous.
The line between commercial and art movies has blurred.
Nowadays, two kinds of films are being made.
The first kind of where films have larger-than-life characters, magnificent sets and everything is made on a huge scale.
And then, there are films that one can relate to in their day-to-day life; films placed in realistic situations.
Both genres have evolved.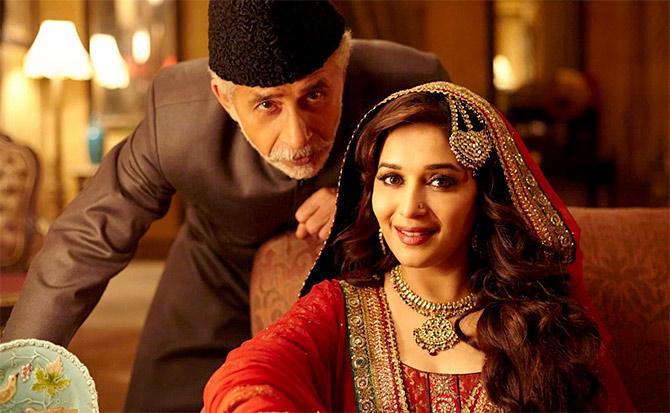 Are you willing to take risks with your roles today?
After doing films like Dedh Ishqiya and Bucket List, yes, absolutely! I am ready to take up risks in films.
I am game for any kind of roles that put me in a different light.
The elaborate song and dance sequences seem to have vanished.
Films back then were larger-than-life, so those things were expected.
Now, the films and its content are completely different. Like in a film like Andhadhun, there is no scope for a song. Where would you add a song in such films?
It all depends on the script and what you are intending to show. The genres of movies have changed, so everything has changed.
The thing is nobody is ever happy.
When there was song and dance, people used to say 'She dances in every film.' Now, when there is no song and dance, people say, 'Arrey, there is no song and dance.'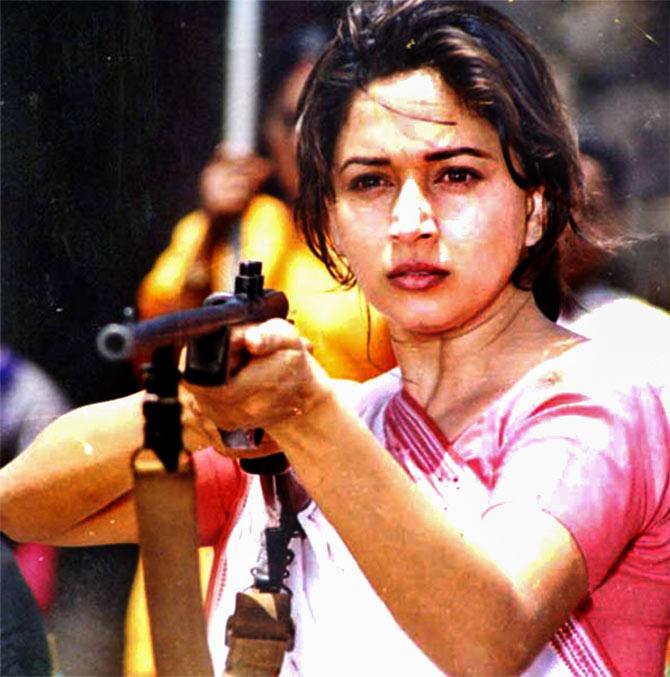 How much has comedy changed over the years?
There is the Golmaal series and the Welcome and Housefull series.
Then, there are films like Dedh Ishqiya, where you have subtle humour.
Then, there is Badhaai Ho, where the topic was serious but it had undertones of humour.
How has your journey been?
Really memorable!
When I was doing those small roles (when I started off), I was not even aware that these were small roles, as I did not know how the industry worked.
I loved doing those as well.
But at some point in time in life, one has to choose the things they have to do in their life.
I have been on stage since childhood, dancing or acting.
I had luck on my side, as opportunities came to me one after the other.
After Abodh, Tezaab, Ram Lakhan happened. So, it feels great.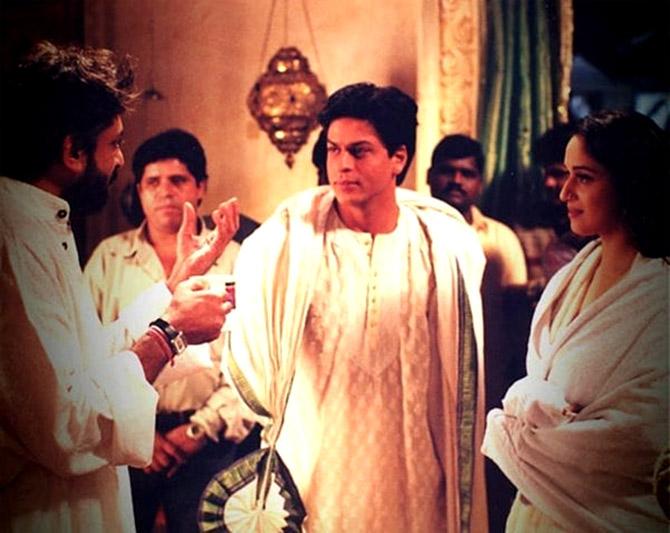 What was the real reason for your exit from Subhash Ghai's Karma in 1986?
I did not leave Karma. In fact, I did the song Maine Rab Se Tujhe Maang Liya.
It was Subhash Ghai's decision to cut the song from the film.
When he saw that bit, he said he wanted me as a lead actress in his next film.
That's how I landed the role in Ram Lakhan.
With content-driven and women-centric films being in vogue today, do you think your movies like Mrityudand and Gaja Gamini would have worked well now?
When I took up such projects, a lot of people questioned my choice of films. Many said I was a commercial star and that I should not be doing such art films.
But I feel that when one does films of different genres, it inspires others to take up challenging roles. If at all it becomes a hit, it builds a good repertoire.
Mrityudand would have definitely worked in today's times, as it was rich in content and dealt with an issue which is relevant even today.
Gaja Gamini is more of an artistic film. It was made by a painter and you have to understand it as it has been made in a different way.
The shots are different and it is more of a non-linear kind of thing.
The common man will take time to come in terms with its content and it might take a few more years for such a film to work.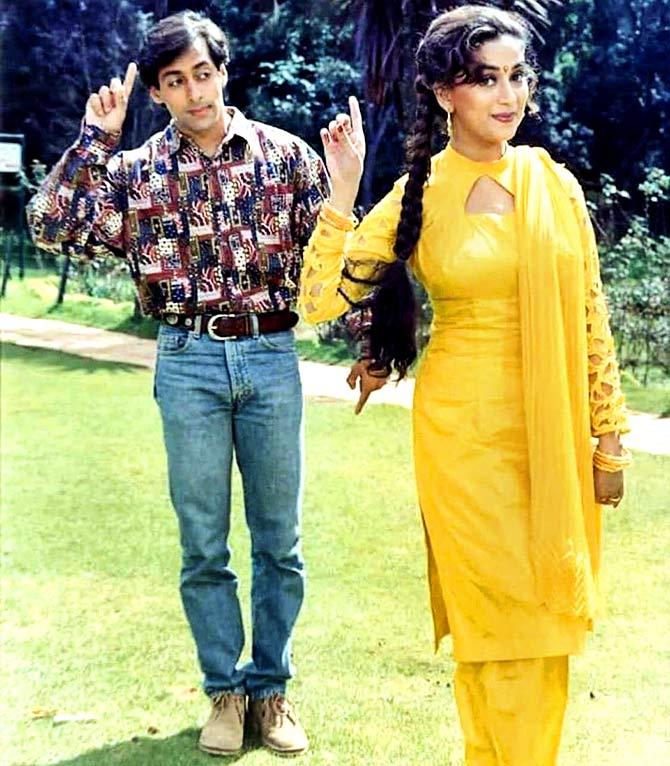 Which are your three all-time favourite films?
Hum Aapke Hain... Koun!, as there is something evergreen about that movie. You can watch it again and again.
Tezaab, of course, as it was my first big hit film.
Mrityudand, as it belonged to a different genre.