'The Ek Do Teen song was shot for many days.'
'Listening to it so many times during the shoot, we knew it would be a big hit.'
'When Tezaab released, Madhuri had gone to the US for a holiday.'
'When she returned to Mumbai, there was a large crowd waiting for her at the airport, calling out 'Mohini, Mohini,' her character from Tezaab.'
'That day Madhuri had arrived in the real sense.'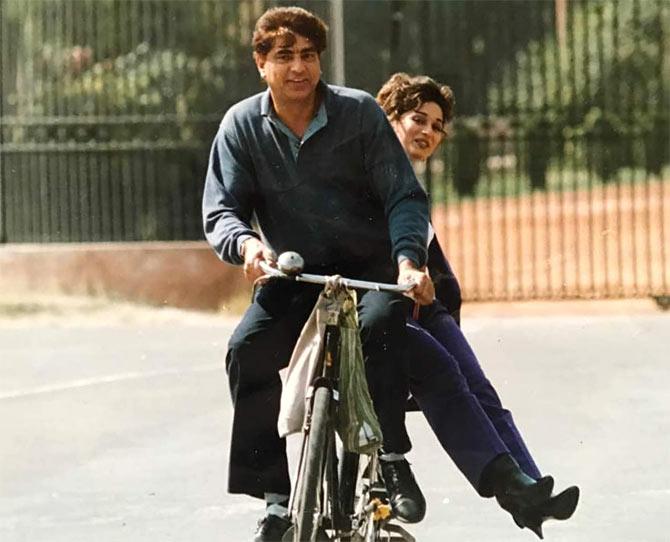 IMAGE: Rikku Rakesh Nath and Madhuri Dixit at India Gate. Photograph: Dabboo Ratnani
For Madhuri Dixit, her long-time manager Rikku Rakesh Nath was the wind beneath her wings.
He worked with the stunning actress for 28 years, right from the time she was introduced in her first film Abodh in 1984.
As Madhuri celebrates her 50th birthday on May 15, Rikku looks back at her long journey in the movies and tells Rediff.com's Patcy N how she became a star.
I met Madhuri in 1984 on the sets of a television serial (Paying Guest) at Chandavali studio (north-west Mumbai). I met her through her hairdresser Khatoon, who also worked with my client Salma Agha.
(Madhuri's first film) Abodh had not released yet.
Khatoon told me Madhuri was very talented and had a good face. When I met her, I realised Khatoon was right.
I stood in a corner and watched Madhuri perform. She was very confident and I was very impressed.
One day, I called her and she asked me to come over.
I met Madhuri's mother, had tea with them and realised they are a simple Maharashtrain family.
Meanwhile, Khatoon had also introduced Madhuri to Subhash Ghai. She had a small role in Karma -- I think it was a dance sequence, which was deleted in the final cut. But she was also signed for Ghai's Uttar Dakshin.
I was handling Anil Kapoor's work too, so I spoke to his brother Boney Kapoor about her.
Boney took me to Subhash Ghai's office once, and all of us sat down together to decide how we would promote her.
We decided to give an advertisement in Screen magazine, listing the names of producers like Shashi Kapoor, F C Mehra, Yash Chopra and Ashok Thakeria who were going to work with her. Most of them did not work with her, but we gave the ad anyway.
I started working with her officially the week Abodh released.
Abodh flopped badly, so I decided not to watch the film. I did not want to discourage myself.
We got her portfolio made with photographers like J P Singhal, Rakesh Shrestha, Jayesh Seth and many more.
In those days, I would go to producers' offices with TPs (transparencies or positive transparent photographs printed on transparent plastic or glass, able to be viewed using a slide projector.)
Before I started working with her, she had signed five films. Her roles were small, but the films were big like Awara Baap, Swati, Maanav Hatya and Mohre.
She was getting films as the second and third lead. I just wanted her work to start, so she did those films.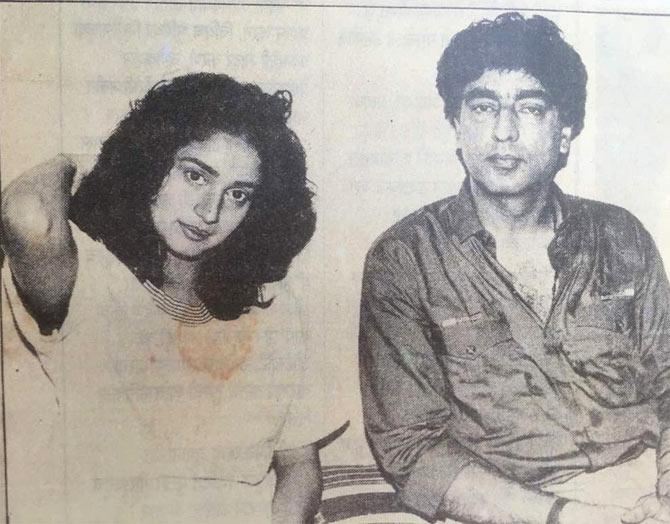 IMAGE: Madhuri Dixit and Rikku Rakesh Nath at her home. Photograph: Kind courtesy Rikku Rakesh Nath
It is funny how Madhuri got Tezaab
(Filmmaker) T Rama Rao had cast Madhuri in 1988's Khatron Ke Khiladi with Dharmendra, Sanjay Dutt, Chunkey Pandey and Neelam.
The film's ad listed Madhuri's name last, so I asked T Rama Rao why he did that. She had been cast opposite Sanjay Dutt, who was the second lead, so her name should have been on top.
Rao explained that the names were according to seniority.
So I told him Madhuri was senior to Neelam.
He asked me to prove it.
I went to Ramesh Behl, the director of Neelam's debut film Jawaani, and asked him to give me a letter stating the film's release date.
Then I went to Rajshri Productions to get a letter stating the release of Madhuri's Abodh. Both had released in 1984, but Abodh had released earlier.
So T Rama Rao agreed to put Madhuri's name on top of Neelam's.
But at Rajshri's office, I met my old friend Chandrashekhar Narvekar. You know him as N Chandra. I knew him from the time he was assisting Gulzar.
"Do you know I'm signing your hero?" he asked me, referring to Anil Kapoor.
I had known it, as I was handling Anil Kapoor's work.
He said he was looking for a new girl.
I immediately removed the TPs and showed Madhuri's pictures. He liked them.
He asked, "Can I see her rushes?"
I told him he was at the right place, as Rajshri had produced Abodh. We asked them if they could show us some reels of Madhuri Dixit, and they agreed.
We saw the reels during the lunch break. Even though Madhuri played a traditional Indian woman in Abodh, he was impressed. I added that she is a good dancer too.
Both of us met Madhuri and she was signed on for Tezaab.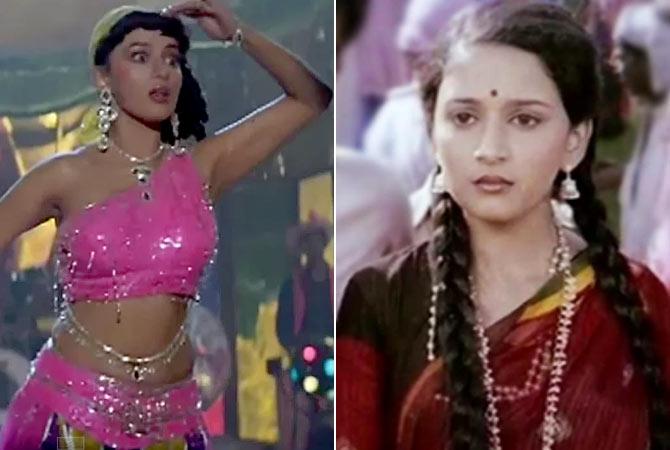 IMAGE: Madhuri Dixit's contrasting looks in Tezaab and Abodh.
When we told Anil Kapoor that we are casting a new girl and that it would be Madhuri from Abodh, he said, "She looks good, but doesn't look like a cabaret dancer."
Madhuri was playing a dancer in Tezaab, but she looked very homely in Abodh.
Madhuri auditioned and passed.
(Cinematographer) Baba Azmi also liked her.
Hard work pays.
Had I not put in some effort to prove to T Rama Rao that Madhuri was senior, I would have not got N Chandra that day.
The Ek Do Teen song was shot in Mehboob studio for so many days.
Listening to it so many times during the shoot, we knew it would be a big hit.
Baba Azmi's lighting was superb. Madhuri really worked hard. That song was the highlight of the film.
IMAGE: Madhuri Dixit and Rikku Rakesh Nath at a press conference after Tezaab became a hit. Photograph: Kind courtesy Rikku Rakesh Nath
When the film released, Madhuri had gone to the US for a holiday with her sister.
I called her and said the film was a hit.
She was happy, but she was not aware that she had become an overnight sensation.
When she returned to Mumbai, I received her at the airport.
There was such a large crowd waiting for her, calling out 'Mohini, Mohini,' her character from Tezaab.
That day Madhuri had arrived in the real sense.
Madhuri did not change even after she became an overnight star.
People around her changed; they started calling her 'Madam' and giving her special treatment. But she was the same person.
I have always treated her like a kind human being, never as a star.
Even after she became a star, Madhuri did not stop living her life.
She would go out shopping or eating out with her sisters Bharathi and Rupa when they visited from abroad.
At home, Madhuri would be like a jhalli (uncaring about her appearance). I am not saying that in a wrong way.
She was a pampered kid and sleep in her mother's lap.
She would go to the kitchen herself and get a thali of food, cross her legs and eat.
Even today, she does that.
I always felt Madhuri should be among the big league, so I would ask her to sign big films even if her roles were small.
I asked her to sign Tridev because it was a big film.
I wanted her to do Wardi as well; there was a choice between Neelam, Farha and Madhuri. I spoke to the (film's producers) Moranis.
I wanted her to do Feroz Khan's Dayavan because he makes stylish films.
Mithun Chakraborty was dubbing for some film at BR Studios. I showed him Madhuri's pictures and he liked them.
He did two films with her -- Ilaaka and Prem Pratigya though they released after Tezaab.
Both Anil Kapoor and Mithun would recommend Madhuri to their directors and producers.
Whenever I asked her to sign a film, she would listen blindly.
Even if she refused a film, it would be based on mutual decisions.
The film that I really wanted her to do, but she refused was Judaai.
She was offered Urmila Matondkar's role. She was not comfortable doing the extra glamorous role.
She was willing to do even a small role in a Sridevi film if she was comfortable with the character.
The other film I recommended and she refused was Veer Zaara,
She said no because she was in the family way (Madhuri's sons were born in 2003 and 2005; Veer Zaara released in 2004).
Prakash Jha wanted to do a political film with her based on a politician's life, but Madhuri said no.
Boney Kapoor wanted to make a film with Sridevi and Madhuri, called Double Trouble.
Madhuri said no and the film never happened. The script is stale now.
Madhuri and I struggled together. I was in a better position in those days, as I had worked with Ranjeeta and Salma Agha, and was working with Anil Kapoor, who was a star then.
I have known her for 30 years now, and worked with her for 28 years.
I remember how I would start my day -- I would go on my bike to Anil Kapoor's house first and sort out his work.
When he went for his shoot, I would have a list of producers that I had to meet and show Madhuri's pictures.
I visited the whole industry -- I would travel from Juhu to Bandra (both in northwest Mumbai) to Famous Studio in Tardeo (south Mumbai) -- four times a week.
I would persuade producers to take her. Slowly, work started coming in.
After Tezaab, Anil Kapoor and Madhuri became a hit pair and did a lot of films together. Some worked and others did not.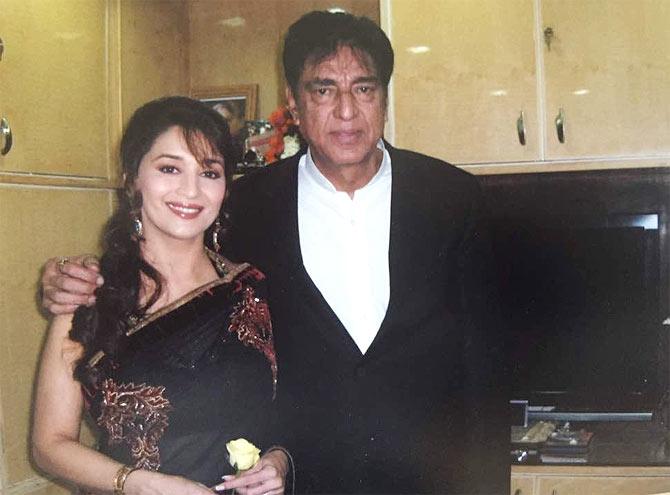 IMAGE: Madhuri Dixit and Rikku Rakesh Nath at his office in Juhu. Photograph: Kind courtesy Rikku Rakesh Nath
I have produced four films for Madhuri.
The first film was Saajan. I am not credited for it, but my wife Reema wrote the story, screenplay and dialogues.
With the income from Saajan, I made this office (Rikku points out to the office where we are sitting).
Then, I produced Dil Tera Aashiq with Salman Khan, Yaarana with Rishi Kapoor and Mohabbat with Akshaye Khanna. Mohabbat was directed by my wife Reema.
Madhuri is usually very quiet on the sets. She does her job and then sits inside. She doesn't mix with anyone.
She has been aloof from the beginning. Only her work matters to her.
She eats in her room and goes out only when the director calls her.
Her lunch always comes from home. But let me tell you, she used to eat junk food too.
Every morning, she would dance. That would be her exercise.
Sometimes she would do yoga. Later, she joined the gym.
All her scandals have been created by producers.
If she was doing four films with Anil, till the time their romance story didn't come out, the film would not be hot and saleable.
Some scandals were created with Mithun and Jackie (Shroff) and even with Sanjay Dutt. All this was business strategy.
Her name has been linked with Sanjay Dutt a lot because in those days she was doing 5, 6 films with him. Most of them became hits.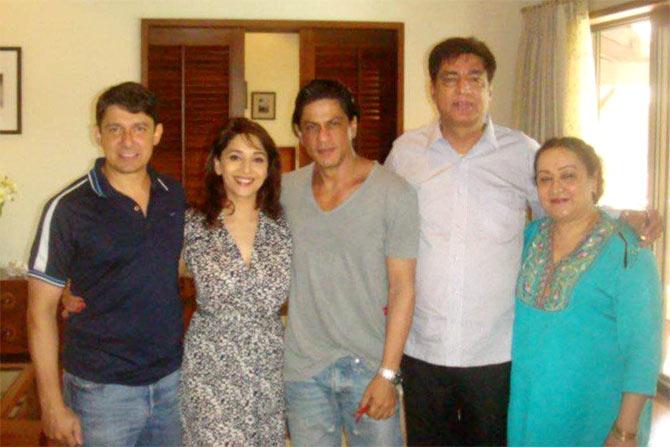 IMAGE: Dr Shriram Nene, Madhuri Dixit, Rikku Rakesh Nath and his wife Reema met Shah Rukh Khan when they were in Goa for the Goa Film Festival. Photograph: Kind courtesy Rikku Rakesh Nath
When Madhuri decided to marry, she had actually gone to the US to visit her sisters.
When she came back, she called me and said she had good news for me.
"I saw a boy," she said and showed me Sriram Nene's picture.
I told her it was a good proposal.
I was right. He is really good for her.
I was the only one from India to attend her wedding in the US.
That was the first time I saw a Maharashtrian wedding. I stayed there for two days.
My daughter Shaina and I arranged her wedding reception in Mumbai.
After her marriage, she was not keen on working.
Later, she had two sons, so she was very busy.
She was there for 10 years, but I was constantly in touch with her.
She said yes to Aaja Nachle because Aditya Chopra especially went to meet her in Denver. I had set up the meeting.
I did not like the story, but she did and signed on.
That film did not work.
Then, she went back again.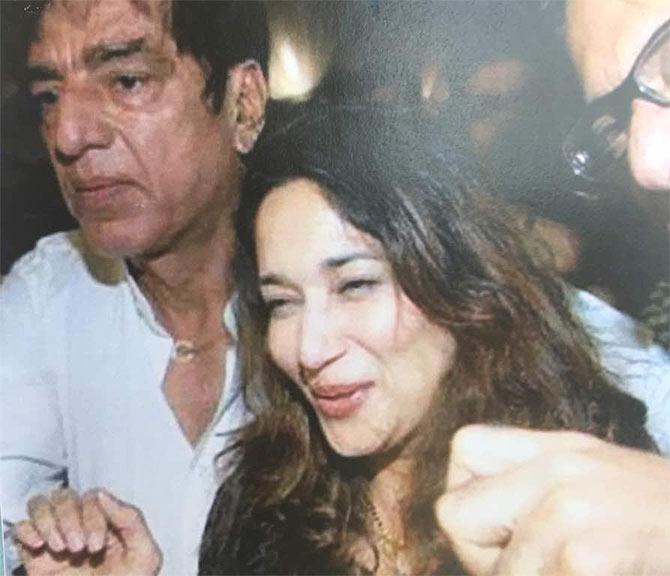 IMAGE: Rikku Rakesh Nath escorts Madhuri at the airport as she arrives in Mumbai from the US for Jhalak Dikhhla Jaa. Photograph: Kind courtesy Rikku Rakesh Nath
One day I heard about Jhalak Dikhhla Jaa and spoke to the people at Sony (Entertainment Television) and checked whether she was interested. She asked Ram and he said yes.
I asked her to stay here for a couple of years and pursue her career again.
During Jhalak, she came here for good. Jhalak was a hit.
She did some ads through me like P&G and Oral B.
I did not leave Madhuri.
One day, I was called to her office.
Ram said, "We want to go the professional way."
I said okay.
Madhuri said, "I am very happy with you, you have worked so much for me. You have done wonders for me. But we want to hire a company and go professionally."
I felt sad. (Rikku's eyes moisten). It was natural.
It was a kind of shock, but I have no hard feelings.
I wish her on her golden year. I can only say good things about her.
When I was working with Madhuri, I had planned a film with my son Karan called Guns Of Banaras Many people helped me because I had a big star like Madhuri.
The moment I left Madhuri, all these people who were helping me pulled away.
The industry is like that. But I have continued with my plan. Hopefully, my son's film will release this year.
Madhuri attended my daughter's wedding. Her mother also came.
There is no problem between our families.
I don't know whether Shriram Nene had any objections.
I don't know even today what went wrong.