The dancing diva turns 48 today!

Breaking into a flirtatious giggle as Hum Aapke Hain Koun..!'s Nisha.
Lost in a dreamy daze as the die-hard romantic Pooja of Dil To Pagal Hai.
Snapping hard at anyone who dares to mess with her as Saraswati in Beta.
Doling out dance and devotion as the dedicated Chandramukhi to Devdas.
Turning into shades of green and grey as the lovesick but headstrong Anjali of Pukar.
Or breathing fire and feminism in pink as Rajjo, leader of the Gulab Gang pack.
Madhuri Dixit and her versatile faces on celluloid define glamour, guts and grit.
Bollywood's gorgeous dancing queen turns 48 on May 15. On the occasion, here's looking at the star's big screen birthday moments.
Saajan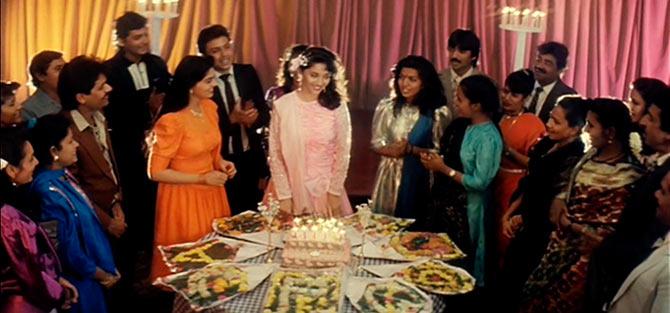 Image: Madhuri Dixit in Saajan
Madhuri's smitten fangirl couldn't have asked for a better birthday gift than the one she receives from Sanjay Dutt on her birthday party -- a face-to-face encounter with her favourite poet in the blockbuster love triangle, Saajan.
Although Dutt is the actual guy, he makes the ultimate sacrifice and presents best friend Salman Khan, also crushing on Mads, instead.
Certainly, Sallu is easy on the eyes and pretty-in-pink Madhuri suspects no foul play when he woos her with Bahut pyaar karte hai in S P Balasubramanium's honeyed voice.
Raja
Image: Sanjay Kapoor and Madhuri Dixit in Raja
One can always count on director Indra Kumar (of Dil, Beta and Ishq fame) for all things overtly dramatic. He doesn't disappoint in Raja either.
At the birthday party thrown by her big brothers (Mukesh Khanna, Gulshan Grover) who announce her engagement to another fella, Madhuri revolts by making an entry with boyfriend Sanjay Kapoor in tow.
Tempers fly, chandeliers are smashed on the floor and challenges are set. To prove his love for the birthday girl, Kapoor Jr walks on a pile of chandelier glass shards.
Best birthday ever, huh?


Zindagi Ek Jua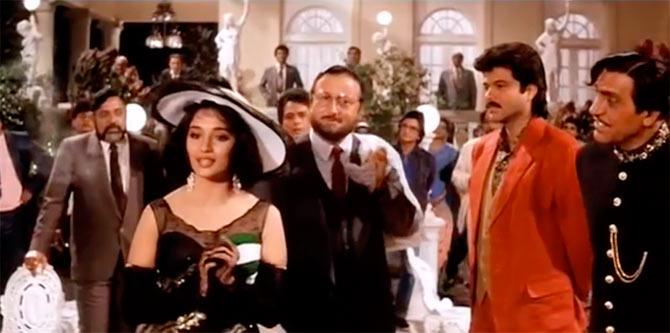 Image: Madhuri Dixit, Anupam Kher, Anil Kapoor and Amrish Puri in Zindagi Ek Jua
The grim contents of Prakash Mehra's Zindagi Ek Jua didn't get much love from the audience. Nor did the sore sight of witnessing Madhuri's drug addiction.
During happier times in the movie, however, the spunky actress celebrates her birthday at a grand bash thrown by her don daddy Anupam Kher, meets future hubby Anil Kapoor for the first time but not before announcing how she won "hard cash" at horse race betting earlier that day.
Perfect opportunity to break into the title song!
Anjaam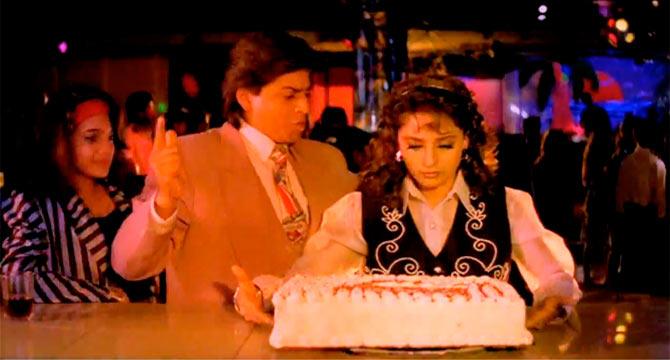 Image: Shah Rukh Khan and Madhuri Dixit in Anjaam
Anjaam garnered a lot of flak for its excessive violence and torture scenes. Even so, Madhuri Dixit and Shah Rukh Khan's intense, aggressive chemistry is evident from the moment they first meet.
Madhuri's private birthday celebration at a discotheque is disrupted when SRK insists on gatecrashing their party.
What's more he even goes on a cake-licking spree, ticking off our girl enough to smash his face in it.
Khilaaf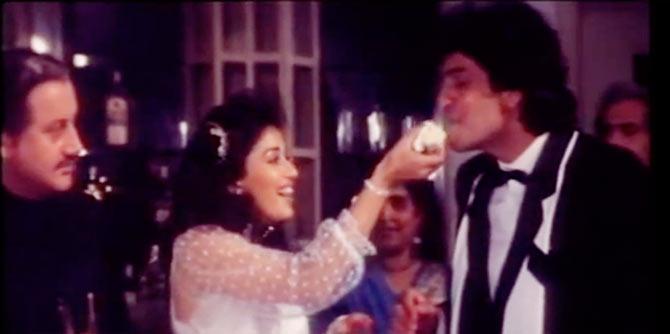 Image: Anupam Kher, Madhuri Dixit and Chunky Pandey in Khilaaf
Another unforgettable birthday for Madhuri Dixit on screen plays out in the obscure Khilaaf, which paired her opposite Chunky Pandey.
As a rule, birthday girls in the movies never cut the cake till their beau arrives.
As a rule still, he never makes it on time.
Predictably then, Chunky shows up like a typical late lateef but charms his upset girl with some sweet nothings and a ring.
No surprise, he gets the first slice of the said cake while her grumbling daddy seethes some more.