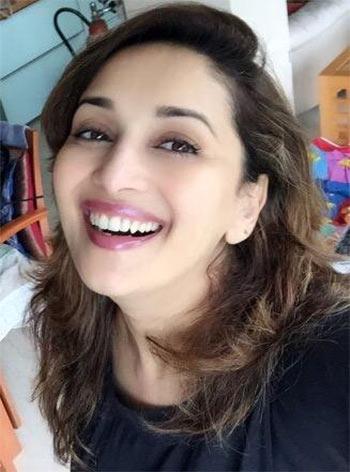 'Acting is my first love but dance is my passion.'
Madhuri Dixit gets ready for her next dance reality show, So You Think You Can Dance: Ab India Ki Baari.
Madhuri Dixit credits dance as the secret to her ageless beauty.
"Dancing is a great form of exercise for your body and mind. It keeps you fit and healthy," the gorgeous diva says with a smile.
The actress, who was last seen in the 2014 films Dedh Ishqiya and Gulaab Gang, and as a judge of dance reality show Jhalak Dikhlaa Jaa, will be seen in the next season of So You Think You Can Dance: Ab India Ki Baari. She will be joined by choreographers Terence Lewis and Bosco Martis.
So what brings her on board this show?
"Acting is my first love but dance is my passion," she says. "I have been learning dance since the age of three. I learnt Kathak, and later adapted to the Bollywood style, which is an amalgamation of different styles of dancing. Because I am exposed to so many styles, dance is my passion. Be it Jhalak or So You Think You Can Dance, it's the dance that attracts me."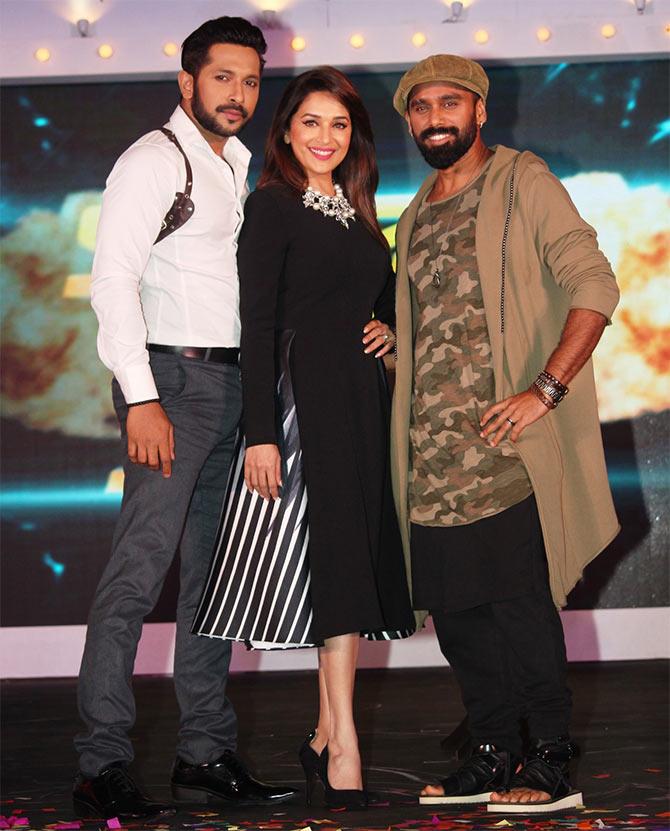 Image: Madhuri Dixit with Terence Lewis and Bosco
The actress says the new dance show is different from the rest because it's about the "common man and the struggles in their lives".
"They talk about their backstories, like how some of them have given up a lot to become dancers. Some families have disowned them and yet, they have stuck to their passion. The best part of this reality show is that you get to see amazing talent from small towns. Our show takes off from a place where other reality shows end," Madhuri explains.
The contestants have been divided into two groups -- Stage and Street.
"So You Think You Can Dance is a wonderful concept. I have been a regular viewer of the US version. It will be interesting to see the distinct styles of Street and Stage battle it out on the dance floor. Personally, I am a huge fan of the stage style as I am a trained Kathak dancer. But there is Street in me somewhere!" she exclaims.
According to Madhuri, the best stage dancers are Pandit Birju Maharaj and Terence Lewis while the best street dancers are Govinda and Hrithik Roshan.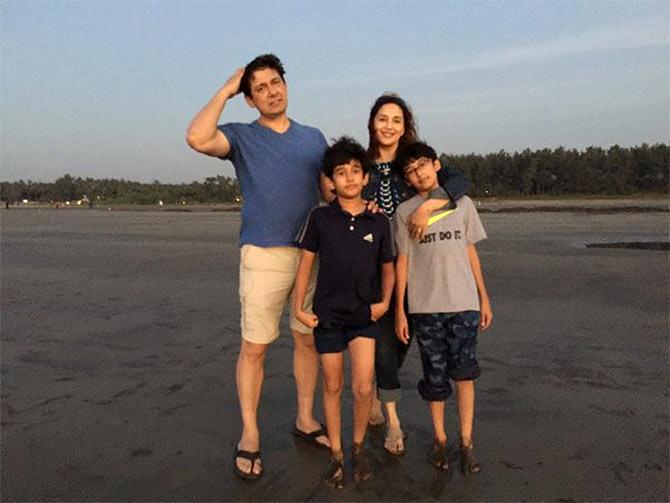 Image: Madhuri Dixit with husband Sriram Nene and sons Ryan and Arin. Photograph: Madhuri Dixit/ Twitter
Madhuri says her sons, Ryan and Arin, are inclined towards music.
"I want them to pursue what comes from their heart," she says. "I don't want to influence them. They are musically inclined; they love playing the piano. They are learning the tabla as well. Recently, they played the tabla at the Kala Ghoda festival. I encourage them in the Arts and want them to develop their own taste."
Those waiting for her movie comeback will have to wait a bit longer, as Madhuri hasn't signed up a film yet. But she stays updated about the movie releases.
"Fan was a lovely movie. Shah Rukh Khan as a fan was excellent. It was a lovely performance. His superstar performance was also very balanced. He has his own fragility, ego and grey areas," Madhuri raves of her Devdas co-star.
The actress says that she has never encountered an obsessive admirer like the character in Fan.

"We always have people around us. It's amazing that they like you when they don't even know you. They just see you on screen, have their own perceptions and start liking you," Madhuri says, flashing her signature smile, as she signs off.