Sukanya Verma picks 10 essential David Dhawan movies you need to watch to understand their loony appeal.
David Dhawan's career is just like the movies he makes -- going with the flow.
As a young man living in Kanpur, he left for Pune's prestigious Film and Television Institute of India harbouring actor dreams in the footsteps of his older brother Anil.
On realising he's not cut out for the job, Dhawan quickly switched to editing and helmed films like Saaransh, Souten and Saath Saath before his finding his calling as a director specialising in comedy.
In his three decades as film-maker behind 40 something entertainers -- some delightful hits, some crass misfires -- David Dhawan turned his style of madcap humour, silly scenarios, garish aesthetics and a cheery camaraderie between his frequently repeated set of actors -- Govinda, Kader Khan, Shakti Kapoor-- into a brand of sorts.
Although the language of comedy has dramatically changed over the years, Dhawan hopes to repeat history by recycling his old tricks with son Varun in lead.
After Judwaa 2, the duo is ready to release a remake of his 1995 Govinda-Karisma Kapoor super hit Coolie No 1 co-starring Sara Ali Khan on December 25.
Meanwhile, Sukanya Verma picks 10 essential David Dhawan movies you need to watch to understand their loony appeal.
Coolie No 1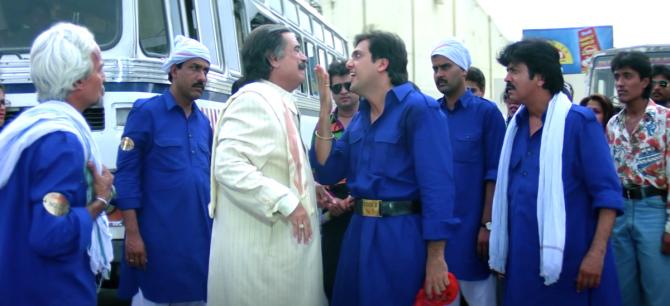 We don't know about the remake, but the original was a hoot.
A coolie cons a rich yet greedy fella into believing he's super loaded to marry his pretty daughter.
The fibbing continues as he pretends to be his own lookalike and avoid getting caught.
Govinda and Kader Khan bring the house down in this easy, breezy comedy of confusion while Karisma pops in for the charmingly pedestrian songs, Main Toh Raaste Se Jaa Raha Tha.
Hero No 1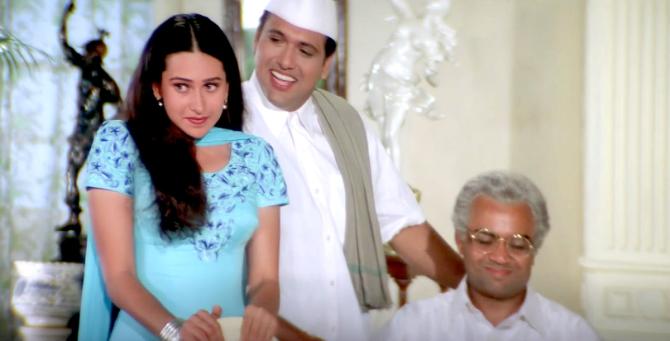 The Bawaarchi rehash may not get any points for originality, but it's impossible to resist the infectious enthusiasm Govinda lends to his portrayal of a wealthy guy's darling son working as a domestic help at his ladylove's to win the heart of her super eccentric family.
Govinda and Kader Khan's feel-good fervour, Paresh Rawal's quirky interjections and Lolo's post-makeover swank contribute to its strong repeat value.
Deewana Mastana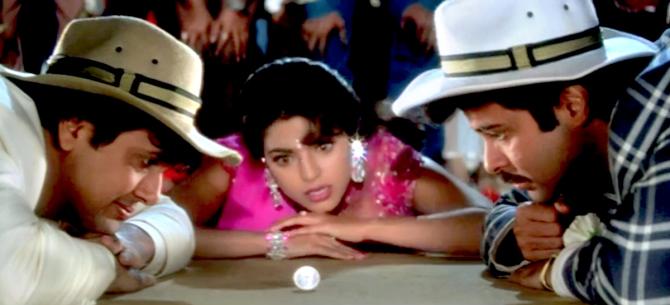 Crafty Anil Kapoor and jittery Govinda trying to outwit each other by wooing a shrink, played by Juhi Chawla, leads to crazy episodes of one-upmanship and snazzy repartee in the company of reliable comics like Johnny Lever, Satish Kaushik and Razzak Khan.
Chintukle, Pintukle will surely agree.
Aankhen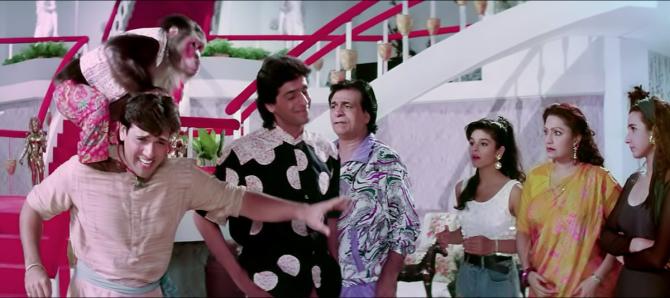 Comedy, romance, music, action, thrills, drama, Aankhen's masala quotient is unquestionably high in one of the biggest hits of his career starring his usual coterie of actors along with Govinda and Raj Babbar in double roles.
Also, long before War came along, Aankhen used plastic surgery as a cool twist to complicate the proceedings.
Raja Babu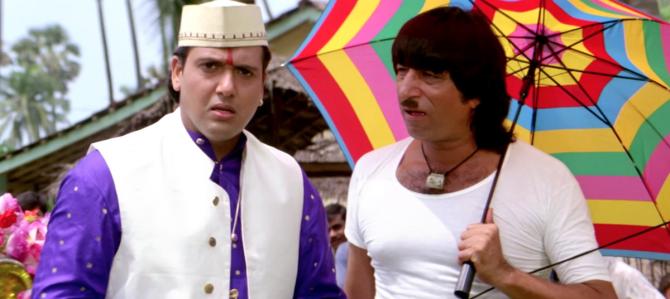 Back in the 1990s, Govinda's pelvic thrusts and Karisma's khatiya antics to the beats of innuendo-heavy songs sent the moral police in a tizzy.
Occasional crudities aside, Raja Babu's commitment to stay silly through and through finds its most outrageous, obliging depiction in Shakti Kapoor's 'Nandu Sabka Bandhu'.
Swarg
David Dhawan is synonymous with crazy comedies but his career breakthrough came with Swarg, a rather soppy, sentimental melodrama about a do-gooder big brother (Rajesh Khanna) falling on hard times, getting the boot from his step siblings and their haughty wives while his loyal domestic help goes on to become a Bollywood hero and comes to his rescue.
Swarg strictly belongs in the 1980s but, nevertheless, efficiently highlights Govinda's star power and Dhawan's potential outside comedy.
Mujhse Shaadi Karogi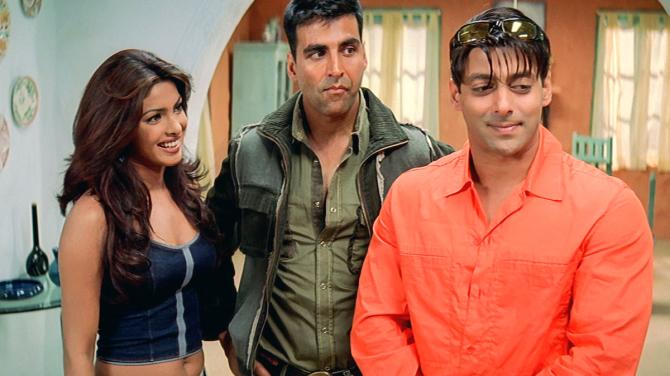 Salman Khan and Akshay Kumar engage in a cat and mouse game whilst serenading Priyanka Chopra while her growling daddy Amrish Puri groans and Kader Khan's physical impediment of the day brings on the laughs.
Salman-Akshay's fun chemistry, the foot-tapping score add to the masti-filled vibe of the movie.
Mr and Mrs Khiladi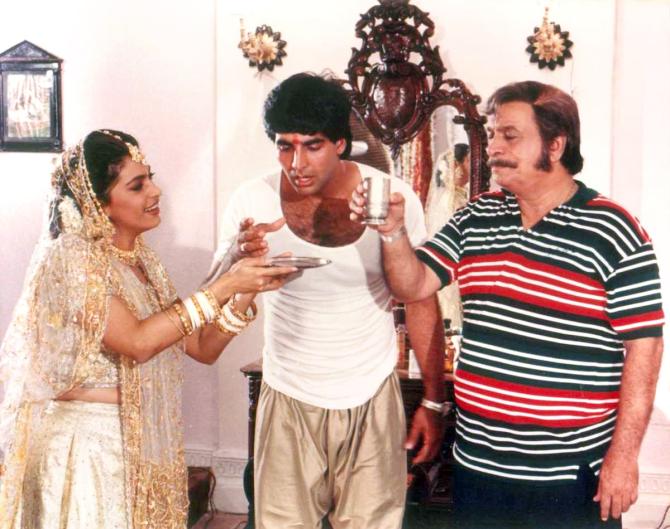 Before showcasing his comic chops to memorable effect in Hera Pheri, Akshay Kumar demonstrated his talent for goofy characters as the good-for-nothing, astrology-obsessed oaf daydreaming about marrying a heiress in David Dhawan's screwy Mr and Mrs Khiladi.
Add Juhi Chawla's lively comic timing and Kader Khan's trademark cheek to the mix and the film becomes better than it means to be.
Shola Aur Shabnam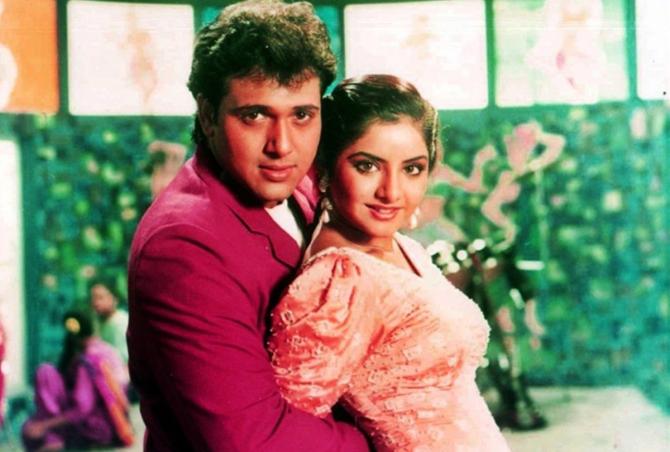 Logic is entirely tossed out of the window as love and laughs collide in David Dhawan's comic-romantic-potboiler.
This mishmash of typical '90s ingredients is purely watchable for Govinda's sensational Oouva dance moves around a perky Divya Bharti and hilariously pranking Anupam Kher's smitten army Major in Sridevi's voice.
Judwaa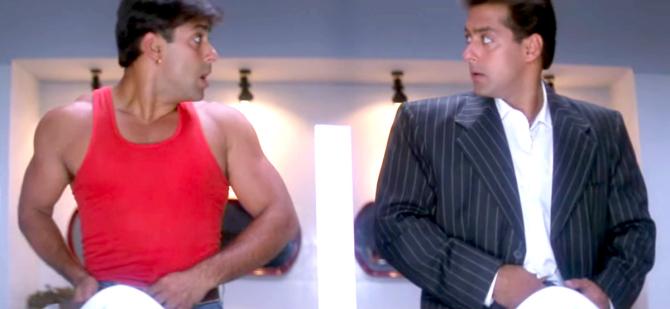 David Dhawan provides his bonkers touch to the Ram Aur Shyam equation where twins, as different as chalk and cheese, separated at birth are caught in a jumble of mixed identities, curious girlfriends and nagging villains.
Salman Khan has a ball juggling between timid and tapori? while Karisma Kapoor and Rambha amp up the glam quotient of this Tan Tanatan Tan Tan Tara ride.