There are so many things we miss during the lockdown prompted by COVID-19. Public transport is one of them.
Staying indoors has turned us nostalgic about everything... the sound of honking, bumper to bumper traffic, the romance of buses.
But since living vicariously through movies is the next best solution, Sukanya Verma hails Bollywood's memorable bus moments.
Gully Boy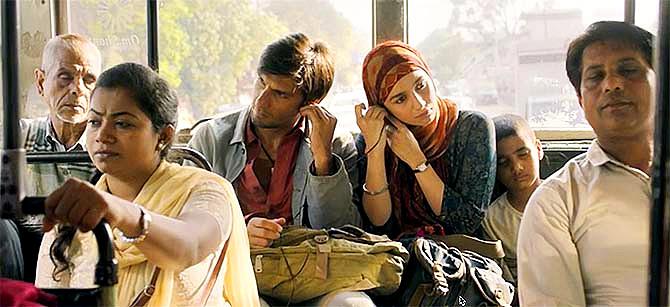 Alia Bhatt's splendid introduction scene in Gully Boy in a BEST bus is still fresh in our minds.
The surreptitious, self-composed manner in which she changes her seat no soon her mother gets off at her stop to hop beside beau Ranveer Singh and share his earphone is, simply put, too cool for school.
Band Baaja Baaraat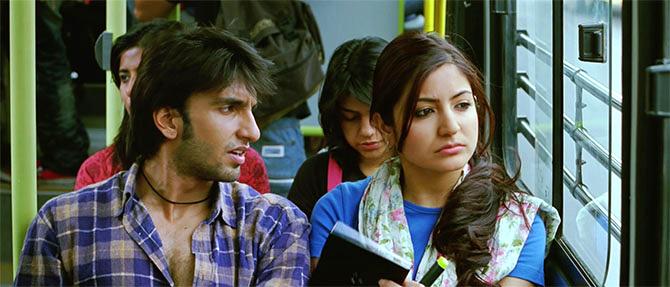 Buses bode well for Ranveer Singh.
Although he first lays eyes on Anushka Sharma at a wedding function in his debut, Band Baaja Baaraat, his proposal for 'Thodi DVD Thodi Friendship' occurs in a bus when impressed by his disarming charm, Sharma shares her wedding planner aspirations with him.
Jab We Met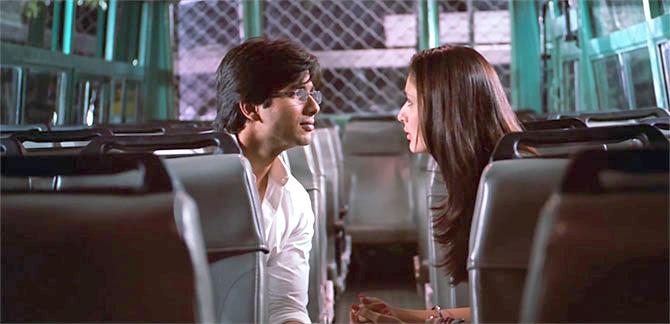 Shahid Kapoor and Kareena Kapoor's memorable meet cute happens on the train as they proceed to use various modes of transport through the course of their journey.
Including the bus where amusing attempts to play cupid and alluring songs about Manzil Se Behatar Lagne Lage Hai Ye Raaste follow.
Aamir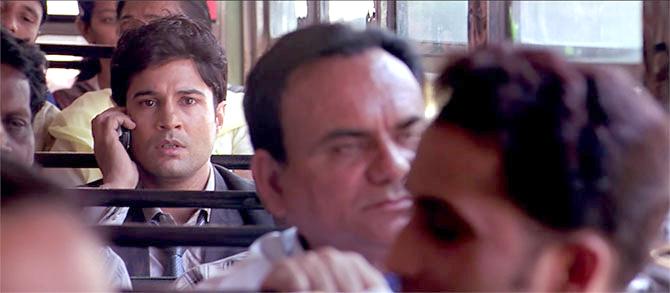 In this remake of the Filipino drama Cavite, Rajeev Khandelwal goes through the most harrowing time after he lands in Mumbai and is forced to assist a bombing mission by boarding a bus.
Needless to say, it doesn't end too well.
Andaz Apna Apna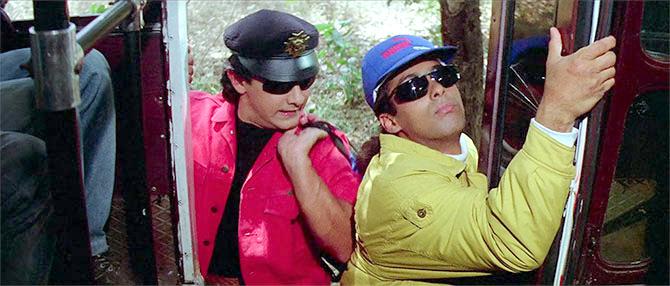 Aamir Khan's Amar and Salman Khan's Prem first bump into each other on a bus. It's the venue for their hilarious exchange over imaginary businesses Mehta and Mehta Textiles and Chaudhry & Sons as well as boisterous dance -- Do Mastane Chale Zindagi Banane.
Saathiya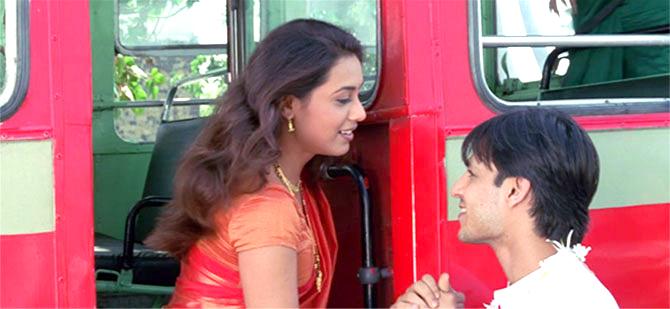 Trains and buses actively participate in Rani Mukerji and Vivek Oberoi's attractive romance in Saathiya.
Over stealing glances, cute banter or sweet adieus of a newly married bride and groom.
Dilwale Dulhania Le Jayenge
Even those who have never stepped outside India are acquainted with London's open-aired hop on, hop off sightseeing buses thanks to Raj and Simran's phoren-friendly romance in Aditya Chopra's record-breaking blockbuster.
Mohra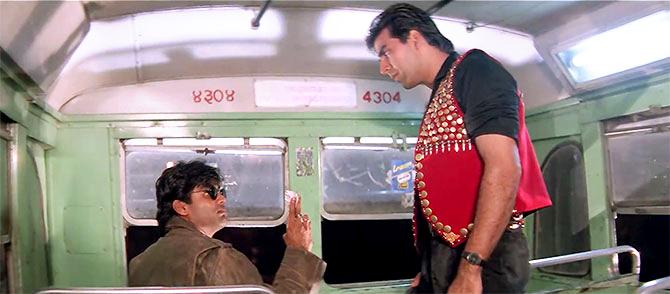 As the angry young cop hot on serial offender Suniel Shetty's trail, Akshay Kumar and his goofy subordinate Paresh Rawal come close to nabbing the accused but for want of proof.
What Mohra has in abundance is cheesy bus puns.
Immediately after Mast Mast, the scene cuts to the duo discovering a dead Tej Sapru on one seat 'Iska Ticket Cut Gaya, Boss' and 'Ticket Hai Mere Paas' excuse ready Shetty on another.
Arjun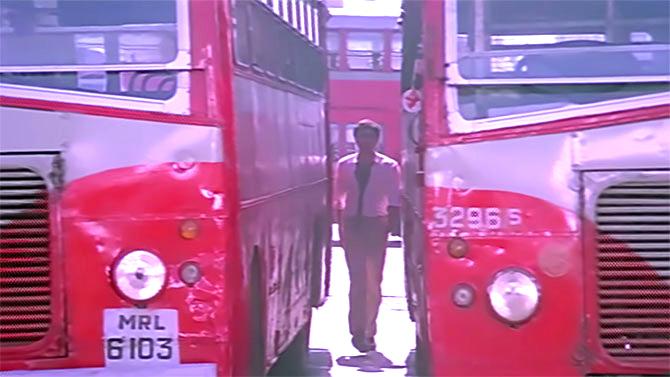 Rahul Rawail's robust classic starring Sunny Deol is happy to use Mumbai's iconic transport as a striking backdrop and during action set pieces.
Bombay To Goa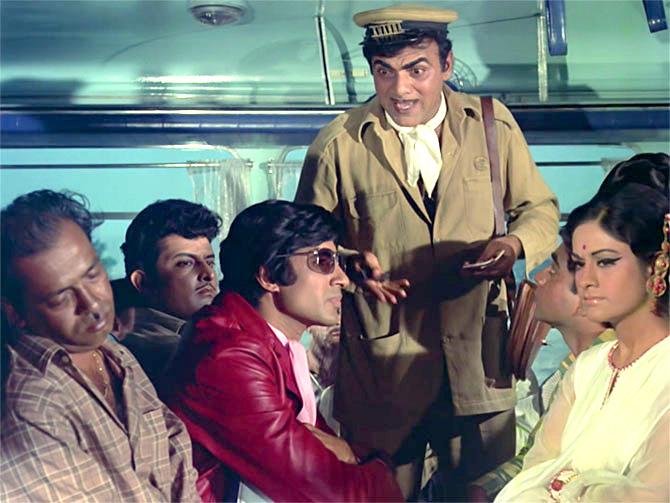 As the title suggests, Mehmood leads a colourful motley crew of cultural stereotypes and comical nuts as the conductor of a bus heading from Bombay to Goa as romance and thrill unravels in the shape of a nubile Aruna Irani and her lanky (back then), lesser known hero, Amitabh Bachchan.
Honeymoon Travels and PVT LTD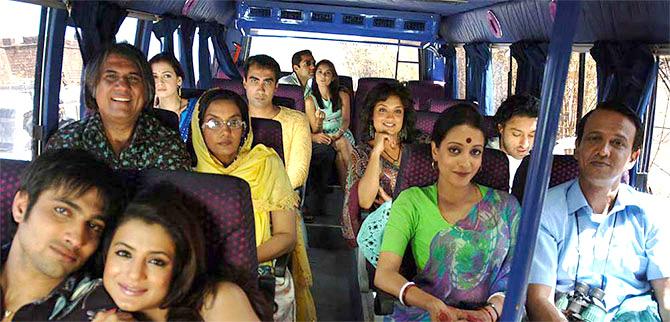 Newly married couples and their distinctly different relationships become the point of focus when a group of honeymooners travel in a tour bus to Goa in Reema Kagti's directorial debut.
Taare Zameen Par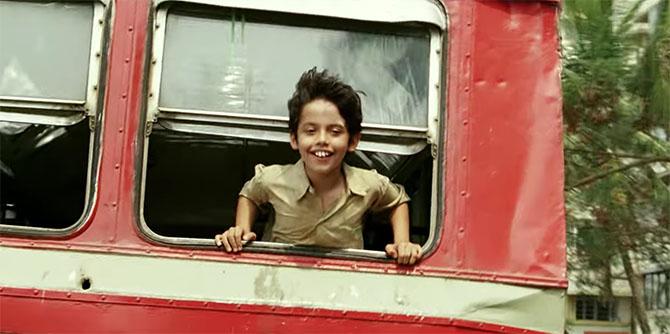 That 'King of the world' feeling and joy of cool, fresh breeze kissing one's face on jutting the head out of a bus window is perfectly captured in Darsheel Safary's day out among many other photographic moments of Mera Jahan in Taare Zameen Par.
Shootout at Wadala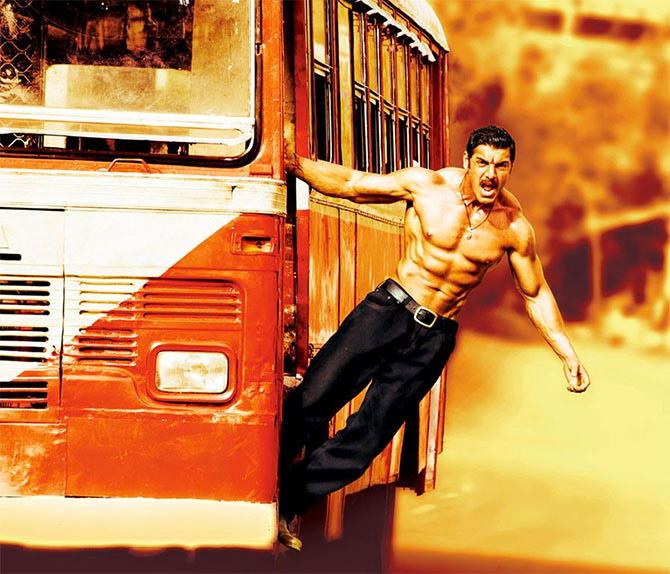 John Abraham's brute force and rippling torso is at the centre of a hectic chase and rescue scene in Shootout at Wadala while the hunk hangs out of the humble BEST to announce his arrival like the quintessential Bollywood movie star.
Shuddh Desi Romance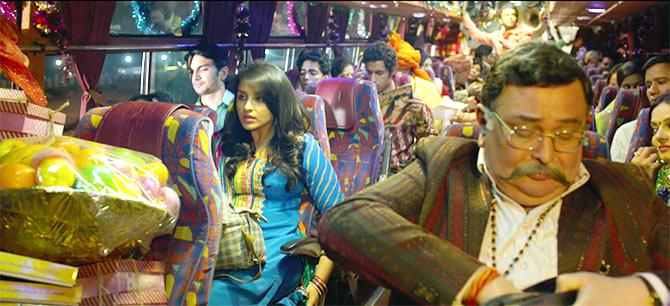 Bus full of on-rent baraatis are part of Shuddh Desi Romance's recurring imagery whose commentary on the institution of marriage happens amidst those engaged in the business of its celebration.
Kick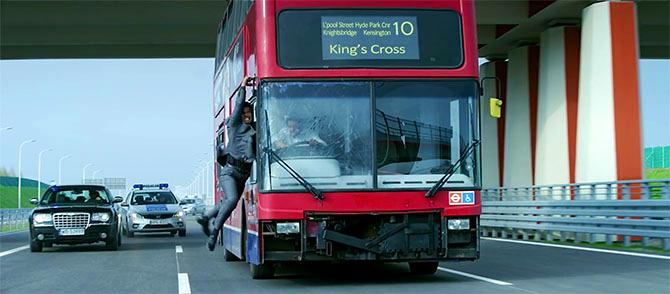 From leaping inside a flying plane from a racing bike to stopping a rushing tram using his jacket in Ek Tha Tiger, Salman Khan has quite a few daredevil moments around transport.
Kick is no different. The climax is one long crazy bus ride neither desi cop Randeep Hooda nor Polish police can end.
Bajrangi Bhaijaan, Hum Saath Saath Hain, Baaghi, Patthar Ke Phool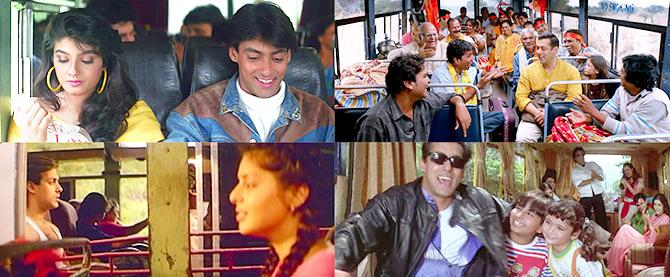 Salman Khan has no dearth of bus moments to his credit.
Like him recounting how he met the knee-high cutie who doesn't talk to his curious co-passengers in Bajrangi Bhaijaan, an absurd ABCDEFGHI song on the family bus in Hum Saath Saath Hain, the love at first sight scenario between him and Nagma in Baaghi and banter that leads to Kabhi Tu Chhalia Lagta Hai fantasies about newbie Raveena Tandon in Patthar Ke Phool.
Dil Se..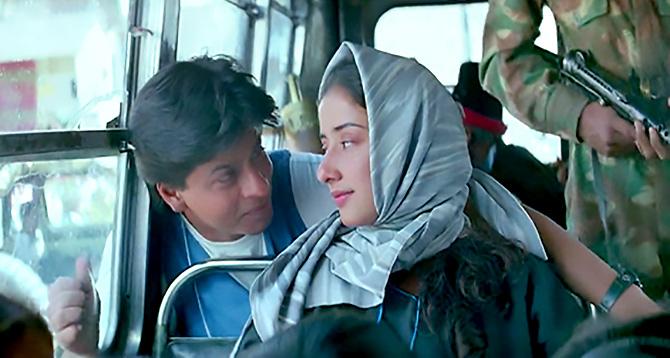 Two different sides of Shah Rukh Khan come to fore in his exciting courtship of a resisting Manisha Koirala on the bus to Ladakh as well as the perky camaraderie between him and potential fiancée Preity Zinta in Delhi at two different junctures of Dil Se..
Coolie No 1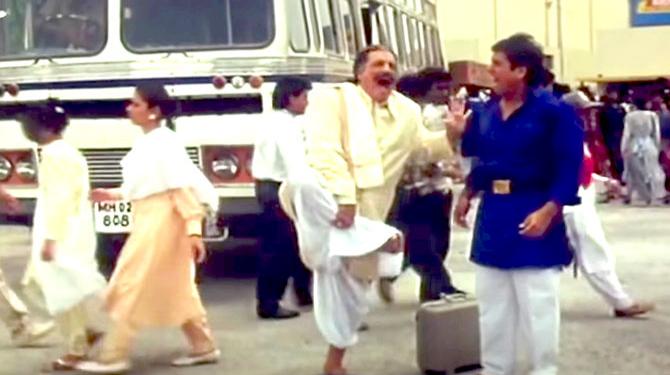 Govinda plays a coolie at a bus stand masquerading as a Mr Moneybags to marry Karisma Kapoor in David Dhawan's rib-tickling comedy of sham identities ensuing in much confusion and chuckle.
Sanam Teri Kasam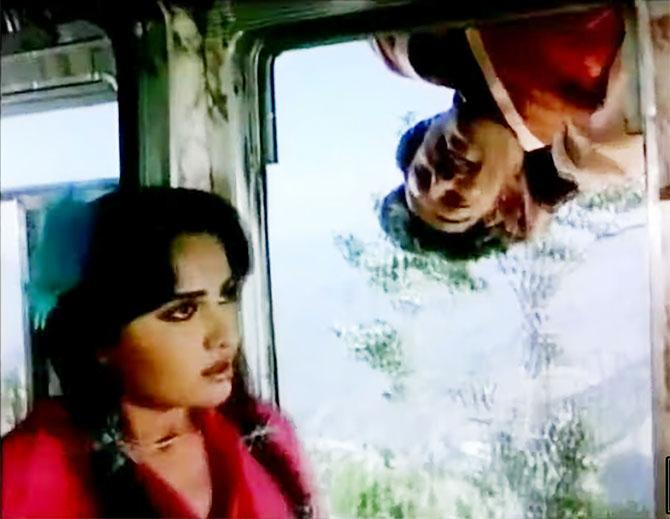 Kamal Haasan gets on top of a bus, dangles from outside the window and does all kind of horseplay to win Reena Roy's heart while crooning its title song in Sanam Teri Kasam.
Khiladi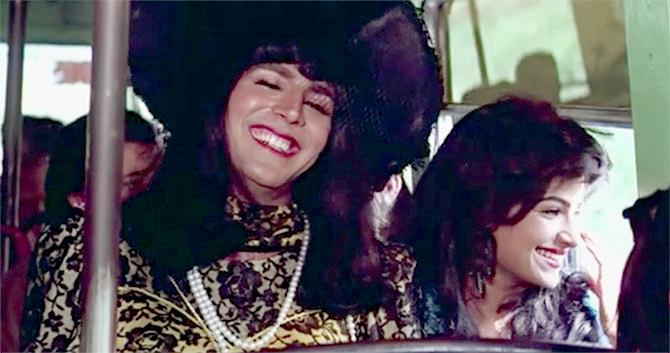 Akshay Kumar and Deepak Tijori dress up as girls and hitchhike on the same bus carrying their girlfriends and their sports coach in classic Rafoo Chakkar tradition in this Khel Khel Mein inspired thriller that turned Akki into a star.
Dil Hai Ki Manta Nahin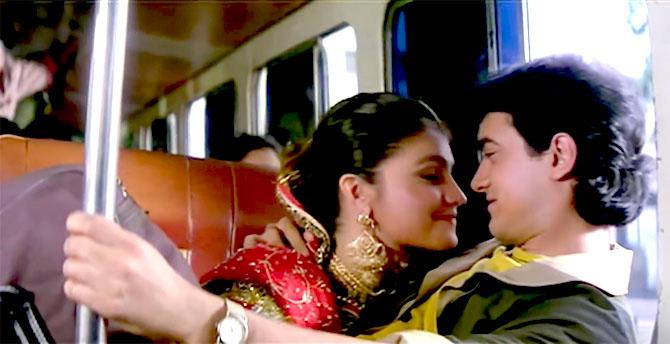 'Bus mein mila tha? Bus conductor hai kya?' Dil Hai Ki Manta Nahin is full of such gems.
Aamir Khan and Pooja Bhatt meet on the bus. They reunite on the bus. It's all very pretty and poetic. And fun.
Jeet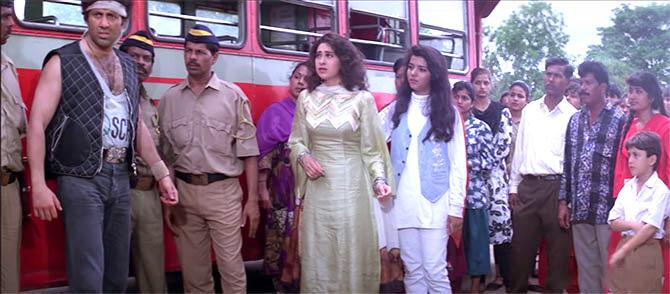 Trust friendly neighbourhood goonda Sunny Deol to beat the bejesus out of eve teasers on the bus until it's impressed Karisma Kapoor and inspired him to turn new leaf.
Maachis
Set against the backdrop of Sikh insurgency in Punjab, Maachis features a chilling bus scene showing Om Puri fiddle with his camera while Chandrachur Singh looks on from a distance.
Once they both get down at their stop, Singh points out Puri's camera is missing but the latter couldn't care less.
Few seconds later, the bus blows into smithereens and Puri's cold, cruel expression make sense.
Qayamat Se Qayamat Tak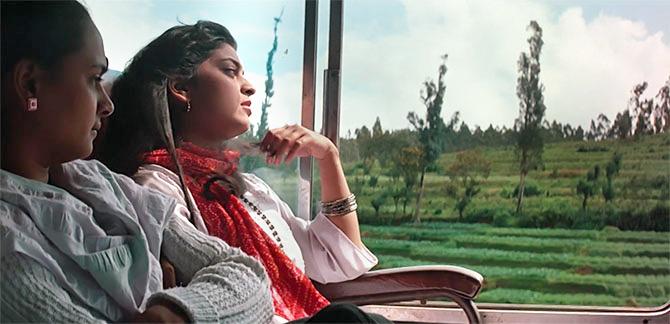 Had it not been for Juhi Chawla's bus breaking down and a bunch of goons attacking her, she'd never flee or get lost in the jungle and bump into Aamir Khan leading to 'Tum Ho Akele Hum Hain Akele' brand of flirtations.
Shaan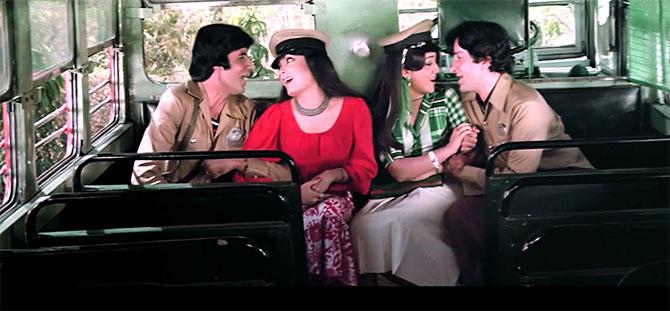 The double dates and making up sessions between Amitabh Bachchan-Parveen Babi and Shashi Kapoor-Bindiya Goswami continue to delight in Jaanu Meri Jaan picturised in and around Mumbai's grand double decker.
Chhoti Si Baat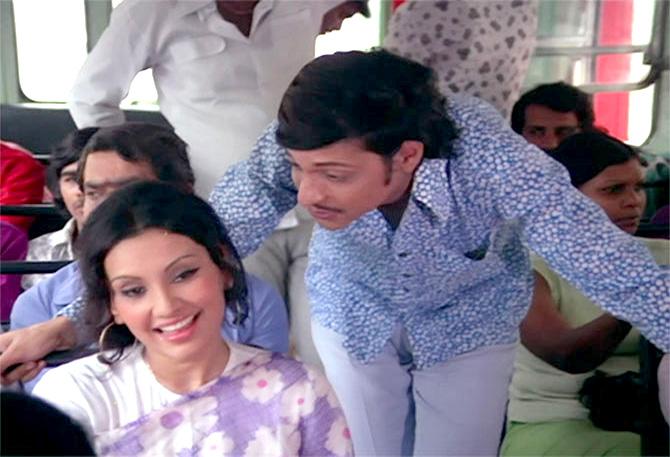 Chhoti Si Baat's rich, romantic ode to Mumbai and its middle-class inhabitants comes alive in Amol Palekar and Vidya Sinha's adorable, almost encounters on the bus/ bus stop.
It's so essential to the narrative, it's almost a character.