Glamour is the source of Bollywood's larger-than-life illusions.
The glossy presentation of stars, how they dream and where they live powers its alluring aesthetics and lasting fantasy.
Grand or cosy, old-fashioned or trendy, there's something about these on-screen abodes that lends itself to the story.
Sukanya Verma takes us inside 10 of her all-time favourite movie homes.
Devdas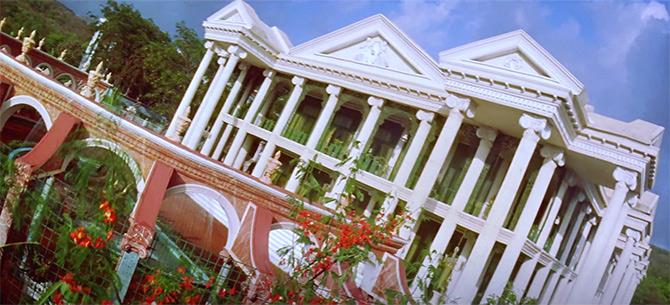 Whatever you may think of Sanjay Leela Bhansali's sumptuous adaptation of Sarat Chandra Chattopadhyay's classic novel, the film is a visual delight. And the art design has a whole lot to do with it.
SRK's Devdas Mukherjee resides in a palatial white colonial style bungalow flanked by flaming red gulmohars.
Full of chandeliers, antiques and checkerboard tiles, the affluence is hard to miss.
His so-called poor next-door neighbour Parvati Chakraborty -- 'Paro' -- boasts of an equally stunning home.
Here's a glimpse -- stained glass doors and windows, lotus pond, swing made of vines, vintage chaise, stuff of interior design catalogues.
Lamhe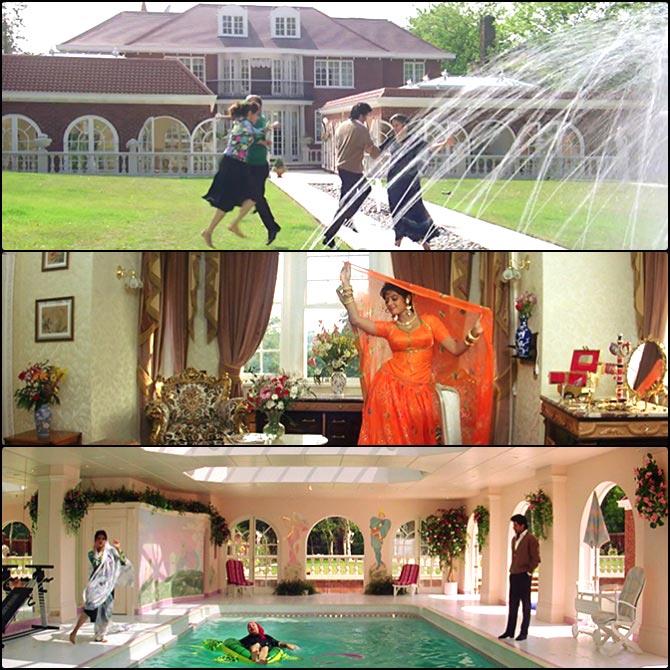 Beauty and elegance are the hallmarks of Yash Chopra's creations.
Everything about his films is underlined in splendour -- beautiful actors, fashionable clothes, postcard dreams and picture-perfect homes.
Anil Kapoor's villa style London home in Lamhe screams luxury befitting of his aristocrat status.
Sprawling gardens with fountains, baroque furniture and classy interiors, an enormous personal pool and gym to boot -- what's not to love?
Maine Pyar Kiya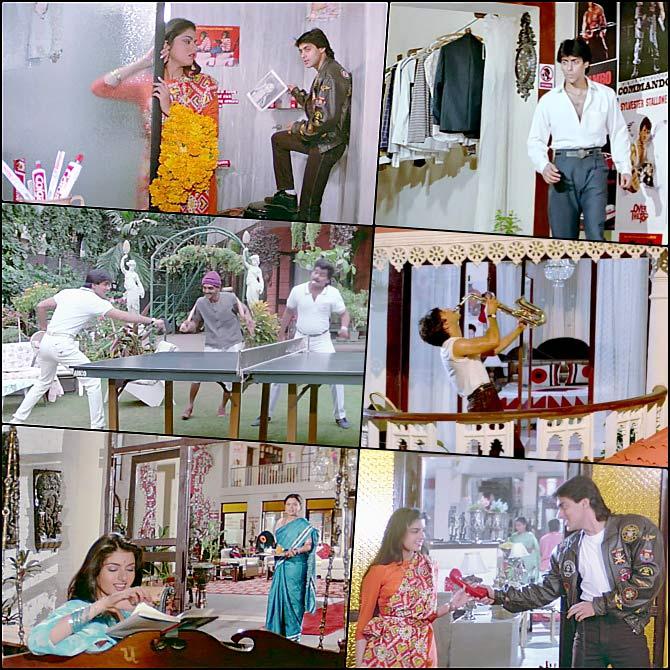 When Maine Pyar Kiya came out in 1989, Sooraj R Barjatya introduced Bollywood to a cool and youthful vibe through the phoren-returned Salman Khan.
His bungalow not only reflects his personality's mix of modern and tradition but also serves as a character in the story following Bhagyashree's arrival.
Poster filled walls, walk-in closets, lawns and tennis tables, panelled windows, well stocked kitchens, even the loo looks like a place you wouldn't mind hanging out in.
Masoom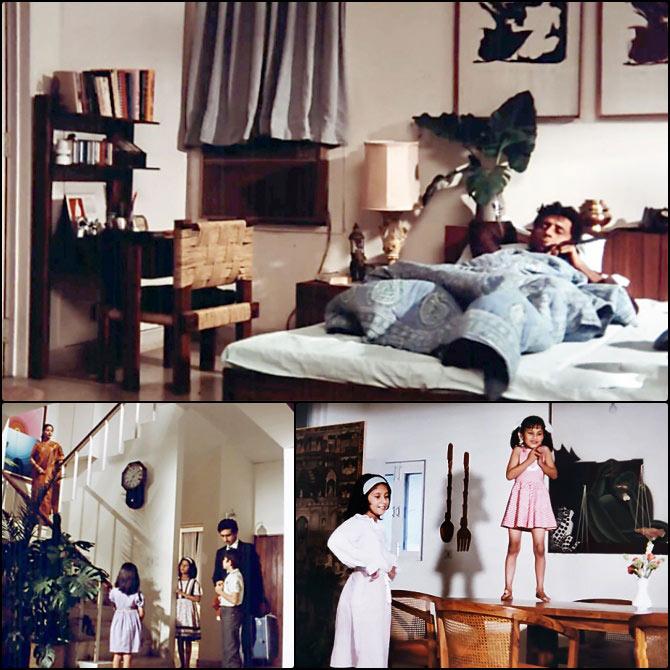 Naseeruddin Shah and Shabana Azmi's lovely kothi somewhere in South Delhi, fits perfectly in context of Shekhar Kapur's script.
It wears the air of a lived-in residence inhabited by a well-to-do South Delhi architect and his wife, with their school-going daughters.
The interiors are tasteful yet homely, where abstract artwork and kiddie doodles happily coexist and greenery abounds as furiously as books and brass.
Kinara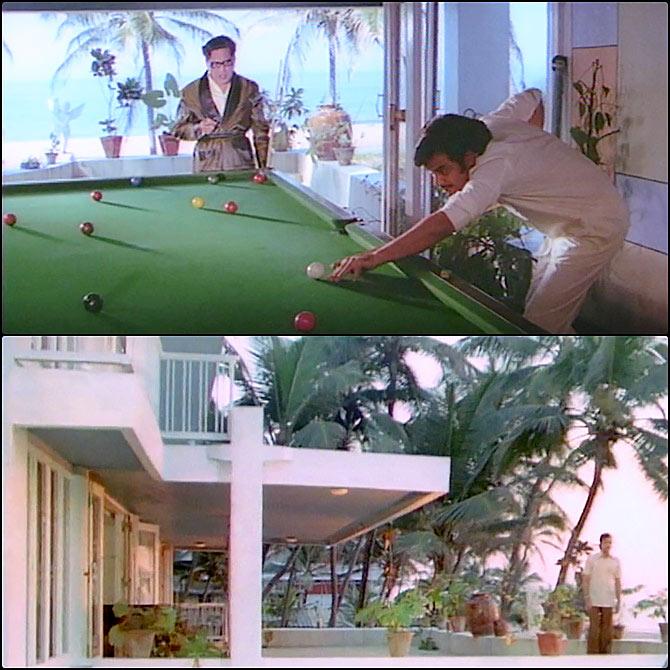 Gulzar's artistic aesthetic shows keenly in the homes of his characters, especially in films like Ijaazat and Kinara.
Considering how inclined the latter is towards architecture, the sea-facing bungalow belonging to well-to-do architects Shreeram Lagoo and Jeetendra cuts a truly attractive picture.
Satte Pe Satta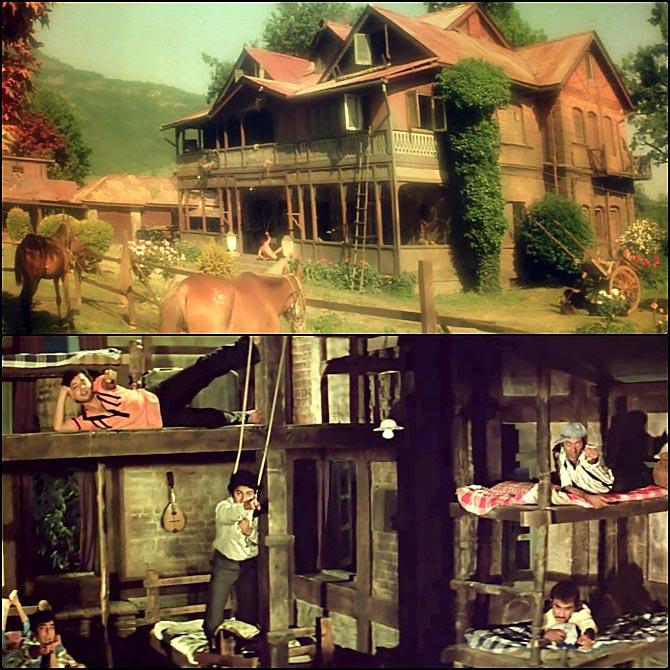 Who wouldn't want to live in a fun farmhouse like Amitabh Bachchan and his brothers in Satte Pe Satta?
It's almost as though they took inspiration from the adorable cottage in Disney's Snow White and the Seven Dwarfs to turn a fantasy into reality.
But, of course, the bunk bed, takes the cake.
Betaab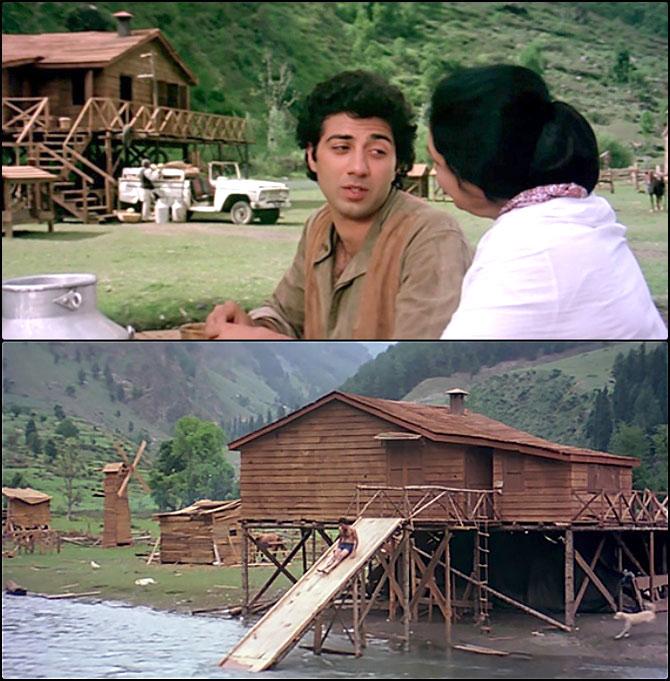 To live in the lap of nature like Sunny Deol in his debut is so, SO refreshing and inspiring, no wonder there is an actual spot called Betaab valley, named after the film, in Kashmir's Pahalgam area.
Sunny's magnificent wooden house and open-air bath and dining area might not seem practical around destructive brats like Amrita Singh but when it comes to charm, it wins hands down.
Dil Chahta Hai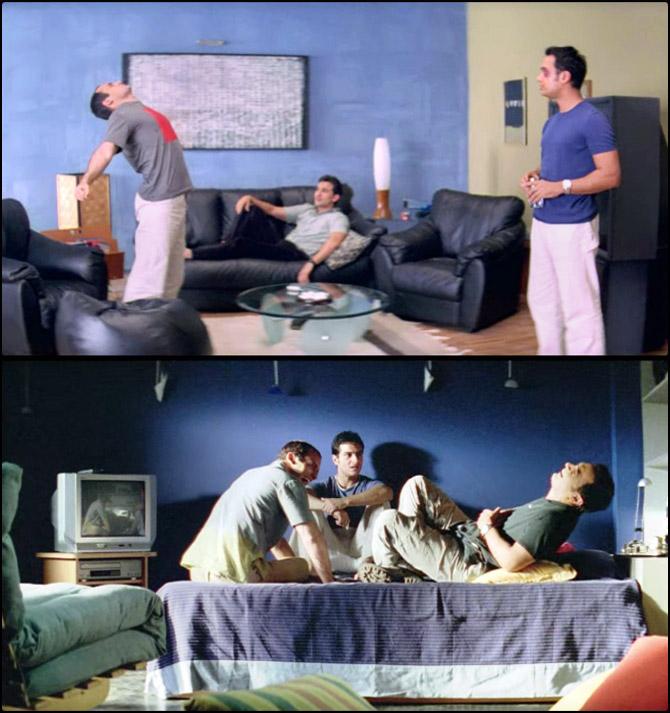 Hip haircuts, trendy clothes, Dil Chahta Hai changed the vocabulary of Hindi cinema from head to toe.
Part of its cool revolution includes the hipster homes of its characters starring blue walls and leather lounge sofas.
Wake Up Sid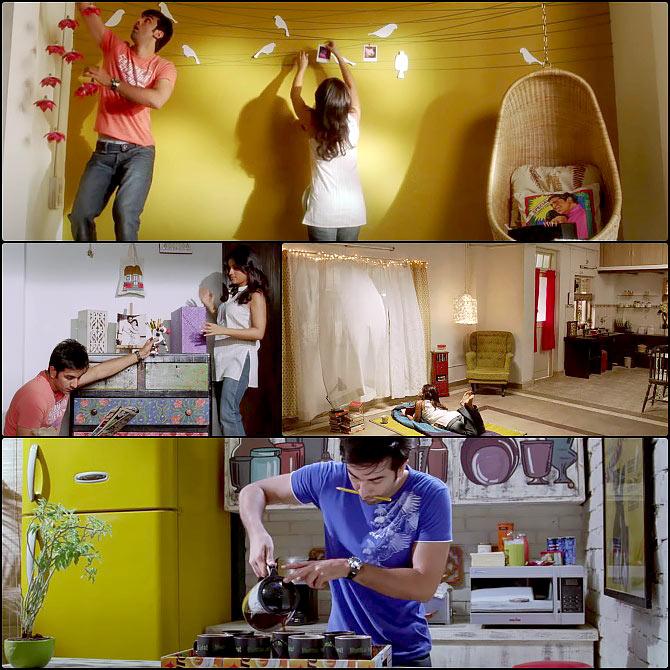 Lively, colourful, alive, Wake Up Sid shows how to do chic interiors on a budget.
Bachelor pads and independent working girl homes haven't looked the same since.
Tridev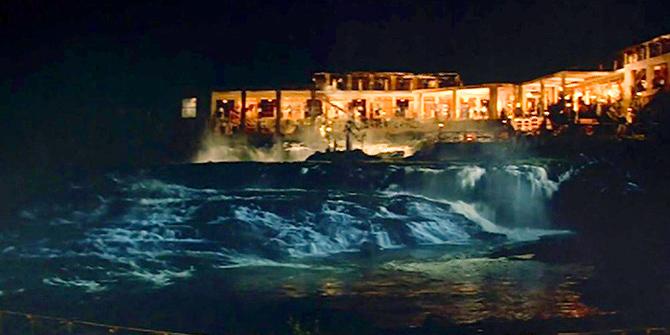 Alright so it's a villain's lair but bad guys can have taste too.
Amrish Puri's remarkable WFH sanctuary, built atop Ooty's waterfall, is one of its kind and took about two weeks by art director Bijon Das Gupta to get ready.