Judwaa 2's balloon of recycled gas soon goes phus and what's left is tedious buffoonery of the brainless, for the brainless and by the brainless, sighs Sukanya Verma.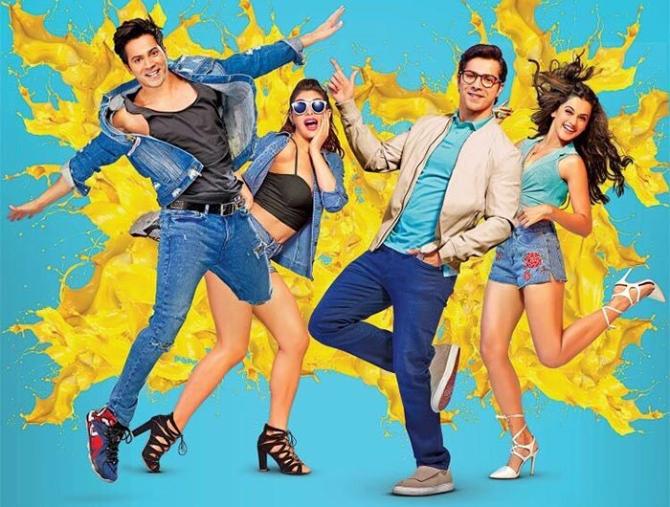 Watching Judwaa 2 is like taking a Salman Khan appreciation class. His presence looms large over every single frame of the remake -- sometimes in anticipation of catching a lucky glimpse -- a hankering that only grows as you witness Varun Dhawan's dedicated impersonation of the star.
As nostalgic that sounds, it's awfully hindering too.
Everything that unfolds before our eyes is not only predictable but also lacks personality.
Twenty years ago, when David Dhawan directed Salman in their first film together, the actor was looking his snazziest and his double delivery of cocky and chicken (Raja and Prem) wasn't touched by the expectations of mega stardom.
A good deal of his image is built on a doing-my-own-thing flakiness that peaked rather nicely in David's pea-brained potboiler.
Throw in solid old timers like Kader Khan, Shakti Kapoor, Anupam Kher, Satish Shah, Tiku Talsania, a sprinkling of Anu Malik's foot tapping ditties every few minutes and you had a film that rejoiced in its pedestrian wit and hand-me-down novelty.
In comparison -- a response Judwaa 2 pretty much screams for -- David's reboot is stale and sluggishly loosens its bags of tricks.
It's the same story: twins separated at birth. Raja grows up to be a street-side lout, Prem a mousy millionaire. Some of Anu Malik's songs and that infectious stolen-from-Deep Forest tune return too.
Only, this time, the comedy of mixed-up identities takes place in London.
Considering the script's strictly earthy appeal, the international backdrop is a misplaced touch and does little more than promoting London tourism.
Besides their appearance, the duo also share their reflexes, a phenomenon of convenience that acts up when there's a woman nearby or the writing has run out of gimmicks.
It wasn't funny when a guy forced his tongue down a girl's throat then. It isn't funny now.
Nor is the sneakily palmed off sexism, racism or innuendoes in the garb of humour.
Judwaa 2 has its moments of laugh-out-loud too.
The silliness of slyly inserted Modi jibes, Rajpal Yadav crying Yeh totli hai, ambulance ko turbulence boli, translating bonfire as janamjali, Ali Asgar's panicky shrink, Varun undressing and dressing up again in a wacky action sequence or parodying Shah Rukh Khan fulfill their promise of a one-time chuckle.
Some of the first one's best scenes are revisited to droll effect and work purely due to the nostalgia factor.
Sadly, nothing else amuses outside its copy-paste structure.
Judwaa 2's balloon of recycled gas soon goes phus and what's left is tedious buffoonery of the brainless, for the brainless and by the brainless.
As Varun's empty-headed arm candies, Taapsee Pannu and Jacqueline Fernandez's single-minded task is to appear stupid and stylish. One misses Karisma Kapoor's dotty exuberance in such dispensable roles; it gave them more credibility than they deserved..
Never known for socially conscious, political correct content, David Dhawan's cinema is a fascinating study in star power designed for fans who like to see their favourite stars as logic-defying, larger-than-life icons of freestyle entertainment.
In Judwaa 2 though, he comes across as more daddy than director.
You can almost hear him instructing his son, 'Beta Varun, do a Salman.' 'How does Govinda say that line?'
The upshot is a compliant son and committed mimic foregoing his individuality to assume the skin of two actors David has worked with most prolifically.
Varun does the best he can. But it is like the orange jeans he wears, resembling Salman's in Judwaa. Only this one is ripped in places.
Rediff Rating: