Sooryavanshi works, and how, exclaims Joginder Tuteja.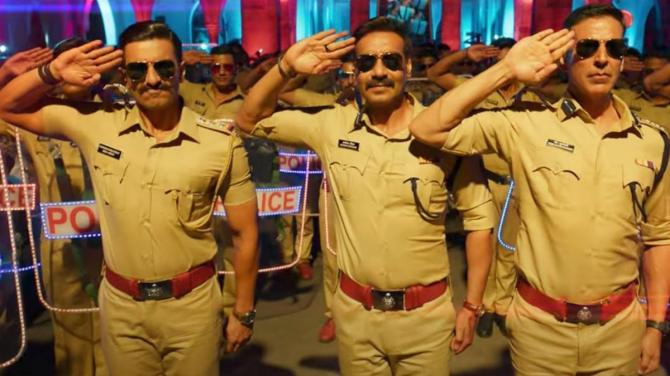 A terrorist attack is imminent.
Hundreds of devotees have assembled around a mandir and a masjid.
The priest wants to safeguard the idol of Lord Ganesh.
It's heavy.
A maulvi observes this. Pronto, he along with other Muslim devotees lend a hand to move the idol.
Thereafter, it is strategically placed with the masjid in the backdrop.
The song Choro Kal Ki Baatein plays in the backdrop.
Result? A lump in the throat.
This could have been a scene from Manmohan Desai's Amar Akbar Anthony where a Hindu (Vinod Khanna), a Muslim (Rishi Kapoor) and a Christian (Amitabh Bachchan) donate blood to their ailing mother (Nirupa Roy). The scene worked wonderfully in 1977. There is no reason why something similar won't work 44 years down the line.
It certainly worked for me!
That's the beauty of Akshay Kumar's Sooryavanshi, which has been handled so deftly by Director Rohit Shetty.
The film is a perfect example of how to make a commercial movie that has everything for the class as well as mass audience.
Sooryavanshi isn't the kind of masala entertainment that many film-makers have tried to force feed the audience. It is pure big screen entertainment, something that truly works right through its near two and a half hour duration.
Fifteen minutes into the film and you know why the makers were so sure about bringing this one only in theatres, even if it meant holding on to the release for 18 months.
They knew what they had come up with, and hence were very clear that Sooryavanshi would open first on the big screens.
That is established right at the beginning when the narrative gets to the point with its geo-political set up -- the Mumbai blasts that happened, the ones that follows and who were the perpetrators of the crime and what led them to do what they did.
It's like getting into Kabir Khan territory here.
But it's helmed by a different director and hence, Akshay Kumar does what he does best: He makes a grand entry.
It's a series of such entries that Akshay makes in this film which picks the best of his starrers Baby and Holiday, and then sprinkles a lot more to make it very entertaining for audiences.
So if the first half gets into the class territory where the core plot is established, the second half is massy where you know that even if the villains (Jackie Shroff, Gulshan Grover, Kumud Mishra, Abhimanyu Singh and Nikitin Dheer) are plotting to bomb Mumbai after activating the sleeper cells, Akshay with his team of Mumbai policemen (while gaining tips from the IB and support from the NSG) would foil it all.
So what if the terrorists had been planning it all for 27 years and ready to explode that 600 kgs of RDX?
A few chance encounters, daredevil stunts in Bangkok, fast and the furious chases in Mumbai and explosive action in the climax would indeed save thousands of Mumbaikars.
Akshay excels as an actor.
Over the years, he has delivered quite a few blockbusters, but it is amazing to see how he brings in newer aspects in his acting this time around.
He brings in drama and even humour in his deadpan style.
He is also ultra fit, as evident in the action sequences, and lends just the right expressions for every scene.
Rohit Shetty delivers his best entertainer till date.
He explores geo-politics and sensitively handles the communal portions, which show his hold as a storyteller. He knows what works for the big screen.
Moreover, he handles his technical aspects also quite well, right from cinematography (eye catchy), background score (exhilarating), editing (slick), locations (large canvas) and of course the action (breathless).
Ajay Devgn is back as Singham and there are two highlights:
1. The way he takes on the baddies in a crucial sequence
2. The way he announces Singham 3.
Ranveer Singh is a riot, especially when he explains the perils of terrorism to terrorists.
It is humorous, but then also conveys so much in the simplest of manner.
Katrina Kaif is adequate though I wished that Tip Tip Barsa Paani lasted a bit longer, courtesy her sizzling presence.
It's remarkable to notice how there is no dull moment in this two-and-a-half hour film, showing yet again that a long movie can work if made with conviction and loads of exciting sequences, just like Manmohan Desai used to do in his films with one highlight every 10 minutes.
Sooryavanshi works, and how.
It deserves a big screen watch as this is where it truly belongs.
Rediff Rating: