Hansal Mehta's nine-hour drama series Scam 1992 needs to be viewed by everyone, young and old, recommends Moumita Bhattacharya.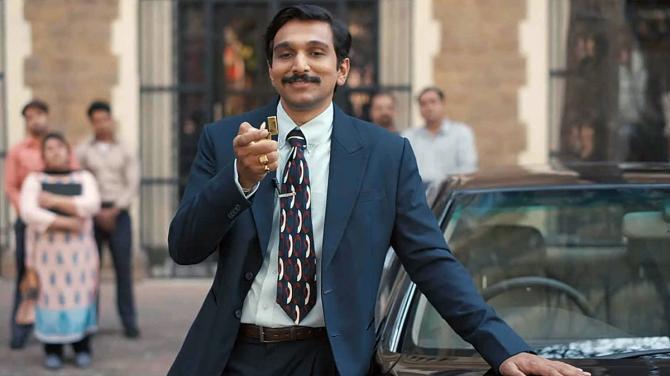 Hansal Mehta's Scam 1992 is the story of the rise and fall of the Big Bull Of Dalal Street, Harshad Mehta.
But it isn't a white versus black story.
It is all grey, with Mehta humanising the man behind the biggest scam of the 1990s.
It gives you a peek into the world that led to this man's ambitious rise, only to crash and burn.
Scam 1992 is one of the most detailed series to have ever hit the OTT platform.
Mehta and his writers Sumit Purohit, Vaibhav Vishal and Karan Vyas have invested a lot of research into the story and it is evident in every episode.
That has worked incredibly well for the series because what you get is a streamlined pass to the yesteryear when the scam was brewing and how it unfolded.
Harshad Mehta (Pratik Gandhi) has the usual problems of a man who lives in a shanty but has huge dreams.
In between the monotony of his life, he obviously knows that he is meant for greater things.
He is from a family who tried to be an entrepreneur but wasn't successful.
As if to prove to his ancestors and everyone around him who made peace with their fate, Mehta jumps into stock-broking with gusto.
It's fine when he is making quick profits and being shrewd about it, but he wants to grow bigger than his boots which ultimately becomes his downfall.
Scam 1992 is a must-watch for the present generation, who are unaware of this blot in India's financial history that left the government red-faced.
If the story is smart, crisp, and polished, Hansal Mehta directs with precision making you understand the psyche behind the man who carried out this fraud.
Based on journalists Sucheta Dalal and Debashish Basu's book The Scam: Who Won, Who Lost, Who Got Away, Scam 1992 opens well and has something for every section of the audience.
It might get slightly jarring for people like me who aren't well-versed with stockmarket lingo. But the writers and the director do their best to simplify the jargon for ease of understanding.
What helps are the effectual one-liners which are dropped every now and then to keep you tensely hooked.
It shows you the BTS of the man's life and why he did what he did, no justifications given.
Harshad Mehta is shown as a man who is always saved by his ideas when hit by a roadblock.
He always figures out a way and that becomes so repetitive that it threatens to get monotonous after a while.
What also ails the series is that the rest of the characters aren't fleshed out well. For instance, Sucheta Dalal, played by Shreya Dhanwantary, takes a lot of episodes to finally start opening up as a character. She also acts as an occasional narrator and is the journalist whose article was the last nail in Mehta's downfall. She needed an equal presence all through.
The performances are, of course, top-notch.
The selection of Pratik Gandhi as the protagonist is a masterstroke as he is easily relatable.
The underdog story works well with his demeanour and appearance.
Gandhi has done a superb job of being a stockbroker wanting excesses in his life.
All in all, Hansal Mehta's nine-hour drama series needs to be viewed by everyone, young and old.
It is dramatic, cinematic, rousing, explosive and extremely cohesive.
Many of us learned what the word SCAM really means after we heard about Harshad Mehta.
Rediff Rating: