Putham Pudhu Kaalai is refreshing like the unsuspecting morning dew that teases your senses when you step on the grass barefoot, discovers Divya Nair.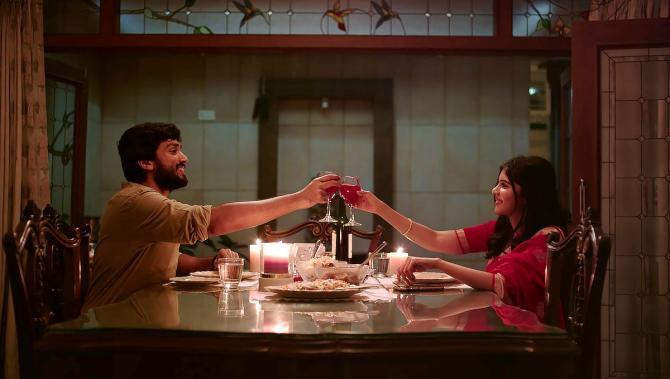 A few days ago, I complained to a friend that film-makers should stop making these two-hour long movies and rather tell shorter, memorable, stories instead.
Amazon Prime Video's Putham Pudhu Kaalai is a collection of five diverse stories put together by five accomplished directors, all themed around the lockdown.
Just like its title, PPK is refreshing like the unsuspecting morning dew that teases your senses when you step on the grass barefoot.
You simply close your eyes and get drawn into nature's beautiful surprise.
Sudha Kongara goes first with Ilamai Idho Idho in which Jayaram and Urvashi play an elderly couple who have recently discovered they are in love and had planned to spend a day together at Jayaram's home away from their kids and mundane lives.
The lockdown obviously proves favourable for the new couple who decide to stay together for the next 21 days.
The thing about love, when Jayaram says, is the way they make you feel. Sudha beautifully portrays it on screen by saying the story from Kalidas and Kalyani Priyadarshan's lens, as they play younger versions of Jayaram and Urvashi with spunk and spice.
It is not the quintessential boy-meets-girl romance but the way two mature characters let their hair down and discover each other as they flirt, care, laugh and fight with each other that makes them so endearing.
The way Jayaram dances with child-like enthusiasm, then kisses his wife&'s picture before putting it away in the drawer before opening the door for Urvashi, who is adjusting her hair in an effort to impress -- the little details bring you closer to how the two feel and eventually fall for each other.
It will make you believe that there is no perfect time or person to fall in love all over again. Because love is not about fancy dinner dates, gifts and kisses, it is about who will do the dirty dishes every day and how often you'll want to be the first to apologise after an argument.
Easily, the best segment in this anthology.
In Avarum Naanum - Avalum Naanum, Gautam Menon -- known for his complex and passionate love stories -- surprisingly presents us this story of a granddaughter (played by Ritu Varma), who reluctantly moves in with her scientist thaatha (maternal grandfather) in the lockdown.
Gautam deserves credit for picking up a predictable story of an unsettling relationship -- the misunderstanding and a lack of conversation between a father and daughter -- and treating it so effortlessly with straightforward dialogues, mutual trust and self-discovery.
Like the title, there are two versions to the same event that breaks them apart.
Despite the generation gap and friction between the two, you will eventually realise how neither of them is right or wrong.
M S Bhaskar is flattering as the geeky thaatha, who is principled enough to hold on to his beliefs but is equally loving and accommodating to new ideas and open conversations.
It's not easy to show these diverse traits, thoughts and emotions in a person in such limited screen time yet make the viewer feel exactly what the characters are experiencing in that moment.
Kudos to this team!
The third story -- Coffee, Anyone -- is Suahasini Maniratnam's effort to put together the complex lives of four women bound by a conflict.
Siblings Suhasini and Anu Hasan, who are married in different countries, fly back to India to be with their once brilliant, now comatose mother.
The plot is interesting and so is the basic premise of how the sisters cherish their bond with their mother while trying to reconcile and heal her.
Yet, the execution fails to convince you as it all seems a little forced, induced intentionally to bring in relevance and fill those gaps.
Rajiv Menon's Reunion has just three characters: Andrea, Gurucharan and Leela Samson.
Independent artiste Sadhana (played by Andrea)'s bike breaks down coincidentally in front of her school buddy Dr Vikram (Gurucharan)';s house where he lives with his ailing, spirited mother Bhairavi (Leela).
As Vikram quarantines himself at home, the trio discovers each other's stories and help each other find purpose and meaning in their crumbling lives.
If you can ignore Gurucharan's bushy eyebrows and Andrea's consistent winged eyeliner, you may be able to relate to their stories, maybe even smile a little.
Miracle, directed by Karthik Subbaraj, sticks out as a sore thumb in this compilation of relationships.
The lives of two jobless adults (Bobby Simha and Muthukumar) and one struggling film producer (Sharath Ravi) intersect overnight.
Only those who believe in miracles will eventually find it.
But how destiny tricks the three is interesting to watch.
Putham Pudhu Kaalai is a delight to watch with its fine ensemble of actors, directors and their fascinating plots.
You can stream it with your family over homemade popcorn and coffee without complaining.
And if you are the emotional kinds like me who doesn't hold back tears, maybe you'd even ask for a few tissues.
Rediff Rating: