The Bad Boy Billionaires series has a lot in common: The three billionaires' hefty ambition, dangerous arrogance and untrammeled power, observes Dhruv Munjal.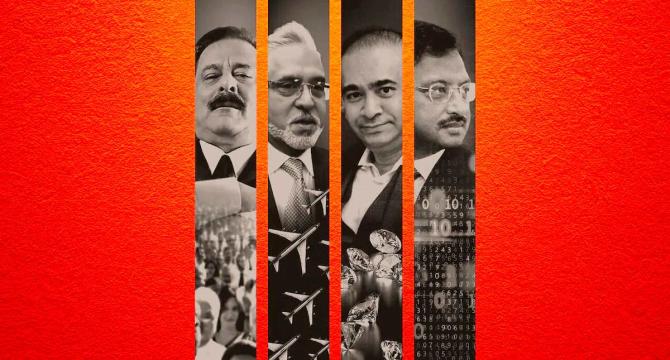 Perhaps it was only fitting that a docuseries on four of India's controversial billionaires got off to such a controversial start.
Bad Boy Billionaires on Netflix was slated for release on September 2, but was pushed back after two of the subjects in question, Sahara Chairman Subrata Roy and Satyam founder Ramalinga Raju, approached the courts and got a stay on the release.
The episode featuring Raju is still under wraps but the other three -- including Vijay Mallya and Nirav Modi -- became available earlier this month.
By nature, biographical documentaries have always been a bit peculiar: Film-makers often pick out famous personalities as their muses and attempt to recreate their life and times despite so much already being available on them.
That's where, in addition to previously unseen footage, new information acquires colossal importance. Without it, such films turn into prosaic primers on people with otherwise beguiling characters.
That was always going to be the challenge for Bad Boy Billionaires, the arduous nature of which becomes apparent in the first episode itself.
Mallya's life story is so fabulously famous that it was going to take Sherlock-like acuity to unearth anything unknown to the general public.
Predictably then, we're fed with stories about his 'flamboyant' lifestyle, much of which was typified by boundless ambition and a penchant for extravagant parties.
The financial shenanigans of all three businessmen are retold through people close to them.
In Mallya's case, there are testimonies by childhood friend and entrepreneur Kiran Mazumdar-Shaw, former Kingfisher Airlines president Alex Wilcox, columnist Shobhaa De and designer Manoviraj Khosla.
From the interviews emerge interesting details about Mallya's younger days: His passion for motorsport -- as a kid, he owned a battery-operated toy Ferrari -- as well as his fast, reckless lifestyle, which he had to alter after his father Vittal Mallya's sudden death.
There are also rare images from Mallya's near-fatal helicopter ride in 2003, with the visuals of the interview in the incident's immediate aftermath revealing the real 'King of Good Times': A man increasingly in awe of his own infallibility.
His son, Sidhartha Mallya, also makes an appearance, but instead of strongly countering the allegations against his father, he sticks to vague assertions like 'they needed a political pawn' and 'a man to be made an example of'.
But perhaps the most distressing part here is Mallya's voyeuristic streak.
Even as anguished former employees of the doomed Kingfisher Airlines -- thousands of them unpaid for months -- speak about their travails, Mallya is shown throwing an obnoxiously expensive bash for his 60th birthday, which also witnessed a performance by Enrique Iglesias.
At the end of which, you can only view Mallya as someone who simply couldn't help himself, drunk on the myth of invincibility and making rash business decisions as a result, the highlight of which was the foolhardy call to buy Air Deccan.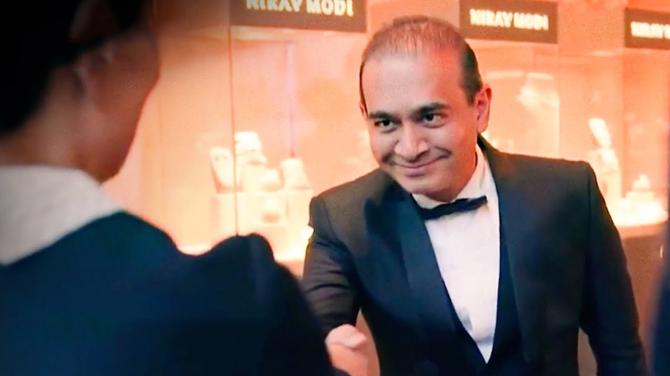 In terms of newness, the second episode, based on diamantaire Nirav Modi, is far more watchable.
Modi's delinquencies are fairly recent, and some of the visuals make for gripping viewing. The journalistic commentary on this one -- most notably the ever-eloquent James Crabtree -- does a fine job of breaking down how Modi, along with uncle Mehul Choksi, duped Punjab National Bank of over Rs 11,000 crore. Sadly, though, there is just a passing mention of Choksi, who now holds Antiguan citizenship.
While the episode on Mallya relies on archival footage, Modi's is more like a series of news reports, many of which are annoyingly repetitive. But Director Johanna Hamilton -- each episode has a different director -- deserves credit for putting forth an empathetic portrait of Modi.
By interviewing women workers from his Surat workshop, Hamilton showcases a businessman not accused of financial fraud, but a caring jeweller who helped change the lives of thousands of people seeking employment.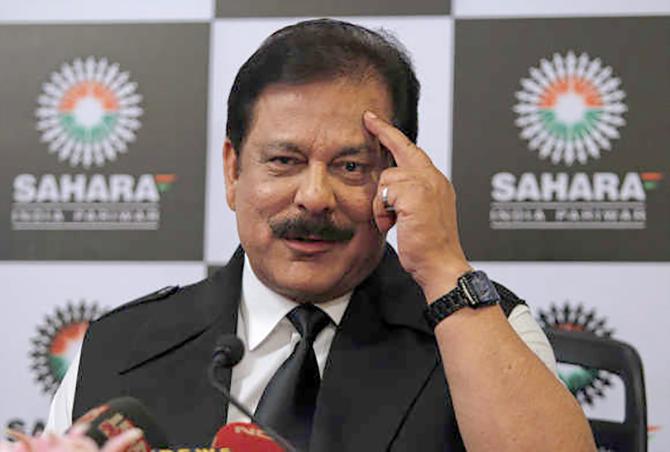 Even as the section on Modi comes with its share of Bollywood and Hollywood A-listers, Netflix has reserved the most entertaining bits for the final episode.
The World's Biggest Family is a riveting, if greatly disturbing, take on Roy and his Sahara empire.
Roy's backstory -- it all started with him asking farmers to invest in his company in an Uttar Pradesh village in 1978 -- gets you hooked immediately, setting the ball rolling for a scam that went unchecked for decades.
Roy's tale is unique because he was never really in the business of running a company -- he enjoyed a cultish appeal where he allegedly swindled the poor and hapless of their hard-earned money. Through powerful storytelling and sharp imagery, Director Nick Read provides an immaculate dissection of Roy's hubris.
When viewed together, it's safe to say that this docuseries has a lot in common: The three billionaires' hefty ambition, dangerous arrogance and untrammeled power.
But above all, it exposes the fault lines in India's fragile financial and political system: How officials are corruptible, banks often ignorant and politicians largely indifferent.
It also underscores how the Mallyas and Modis of this world may not be the most scheming offenders around.
They are the only ones who've come to light -- the worst may yet follow.