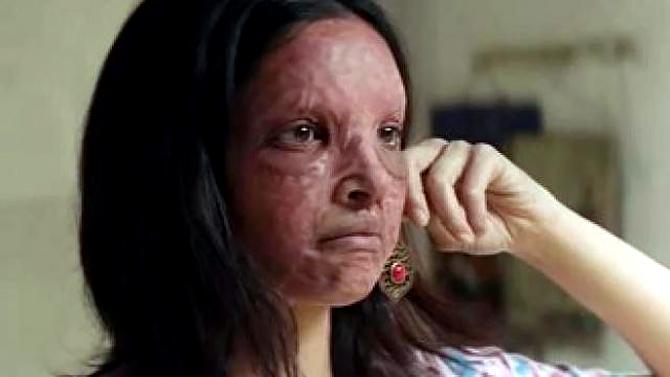 We asked readers to send in their reviews of Chhapaak, and we got quite a few!
Here's a look at what Rediff reader Sid thought about the film:
Where do I even begin?
I saw this movie on Friday at 7:45 in a packed theatre in Cary (North Carolina).
To be honest, I came into the film for one reason alone: Deepika Padukone.
I walked in having read a couple reviews, knowing that this movie was about an acid attack story.
This is all I knew.
Then came the two hour and 18 minute cinematic experience which followed and oh my God, it was incredible!
The film begins in Delhi in 2012 during the infamous gang rape protests.
During these protests, a reporter is seen with a cameraman capturing the moment.
An older man is shown running away from the crowd of people holding a picture of someone harmed/attacked by acid. This is where the film starts, a father with a picture.
This moment is meant to do one thing, and one thing only. Indicate how little acid attack cases and victims are given headlines and news. Also, to introduce Vikrant Massey (whom I will get to). Massey plays an NGO working 'civil servant' who wants to stop acid attacks.
After a few scenes, we are introduced to Malti and from this point, you simply forget that you are watching Deepika Padukone on screen.
I mean, yes, it is clear it is Deepika on screen but WOW!
She completely submerges herself into the character and is incredibly fascinating to watch.
She is poised, graceful, strong.
The film takes you through Malti's story, court proceedings, the whole nine yards and does a very convincing job at it.
Meghna Gulzar takes you through this story with composure.
I didn't feel as though I was rushed through the process of watching this film, nor did I feel like I was being dragged along.
The screenplay is written beautifully (barring one incredibly melodramatic sequence) and keeps you engaged.
The best part about this film is the acting performances.
I have already written a lot about Deepika so I won't continue with her (although I could go on :)).
Vikrant Massey absolutely NAILS it. He is so effortless on screen that I honestly felt as though he just blended into the surroundings.
His Amol, as a character, isn't likeable but he isn't meant to be either. He is not the star of the show and Gulzar makes you entirely aware that this is Malti's story, not Amol's.
But I digress.
All the supporting roles: mother, father, brother, lawyer... Every character is cast wonderfully and the best part is that none of them are known actors.
It isn't as though, say, a Seema Pahwa (Bareilly Ki Barfi) couldn't have played Malti's mother. She could have and would have nailed it. But with the actress being unknown, it allows for authenticity to be maintained.
The background score is created with the sole purpose to complement the work.
There are two songs in the film, the title track and Nok Jhok.
The title track and the scenes before it will surely make you cry.
The lyrics are stunning, everything just feels like a warm blanket. Nothing feels overdone.
But the story is a bit strained. There isn't much to tell, and that's why the film is only about two hours.
But its pace keeps the audience engaged the entire time.
The film doesn't linger on who the perpetrator was, just why he did what he did.
Chhapaak is not an easy watch. At all.
Nor should it be.
It is a story about a horrific circumstance.
It is not a film to watch on a Friday night after a long week of school/work.
It is a tough watch because none of it feels forced. And do not expect a happy ending.
I left the theatre with my jaw hanging.
The film's subtlety kept me wanting more and after it was over, I felt fulfilled and satisfied.
My take: Chhapaak is a must watch for the script, the acting performances, and Meghna Gulzar's commitment to telling a real story.
Please watch this movie in theatres so that more such films can be made.
I rate this film five stars.
What did YOU think about the film?
We give you *your* space to tell us what you think about Chhapaak?
Please send your review to moviesdesk@rediff.co.in (Subject: My Review) along with your NAME, AGE, LOCATION.
We'll publish the best reviews on Rediff.com. Reviews may be lightly edited for clarity.