Hrithik Roshan first faced the camera as a child for his maternal grandfather J Om Prakash's movies.
Growing up, he assisted his actor-turned-director dad Rakesh Roshan on home productions like Karan Arjun and Koyla.
It was a matter of time before he'd get in front of the camera as leading man.
In the first scene of his debut Kaho Naa... Pyaar Hai, the light-eyed looker takes centre stage before a large, cheering crowd only to wake up and realise it's all a dream.
But the mesmerised audience made sure it came true.
Hrithik's Adonis face, blazing charisma and nimble dancing made such a strong impression on celluloid, the crazy euphoria it generated catapulted the actor to instant superstardom.
From comparisons to the curious Kumar Gaurav phenomenon to pitting him as the sole challenger of the Khan trinity, everybody went berserk trying to analyse his enormous popularity.
Two decades down, Hrithik has had his fair share of ups and downs in the popularity charts but a single-minded approach to his career continues to hold him in good stead.
As his last release War proved, he's still more than capable of mesmerising his audience.
On his 46th birthday on January 10, Sukanya Verma lists 10 impressive Hrithik scenes.
Lakshya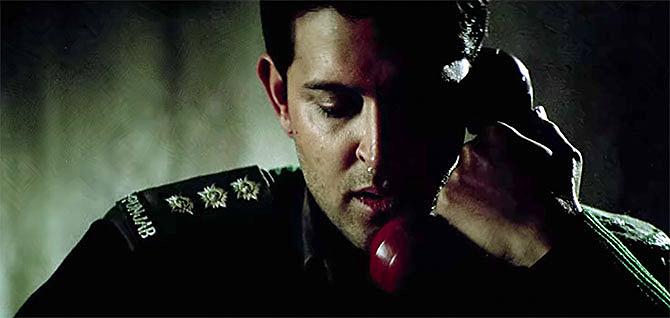 Hrithik's coming-of-age in Lakshya is a performance to remember.
Several sequences in the movie showcase his versatility, moods and metamorphosis but the phone call towards the end highlights it conclusively.
The simplicity of the conversation is everything.
Heading on a do or die mission, Hrithik fights back tears to tell his estranged father (Boman Irani) he loves him.
But it's the sense of fulfilment he feels in being the source of his father's pride and joy that gives some real vigour to his lakshya.
Luck By Chance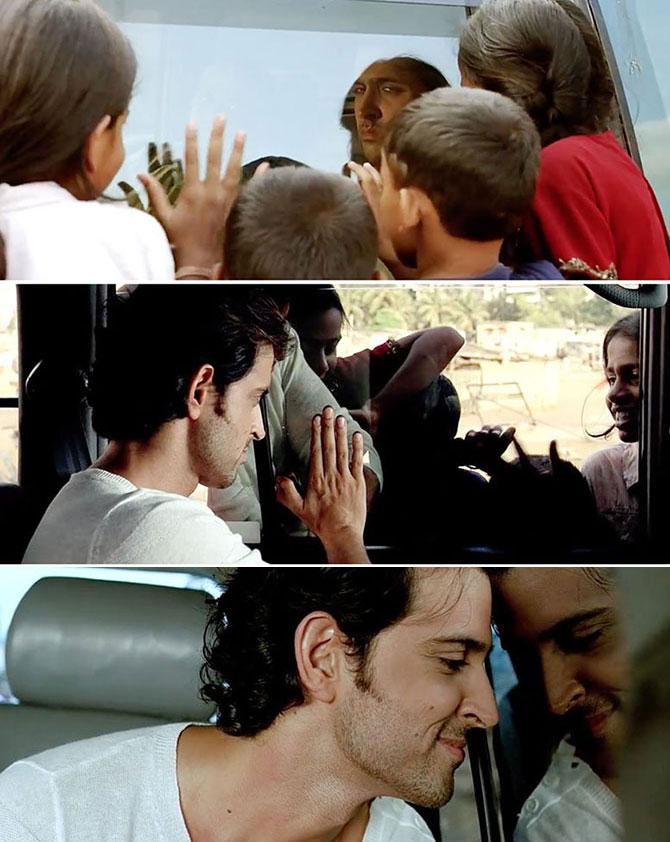 The length of a role is no way to measure an actor's calibre.
Few express it as soulfully as Hrithik in Luck By Chance.
Easily among his career's best work, the actor once again shows his supremacy in silent scenes.
The one at the traffic signal where Hrithik, playing a huge movie star, takes a break from talking shop to engage a bunch of knee-high fans on the street.
Across the car's side window, a celebrity lets his guard down and encounters a fleeting reflection of deep-down innocence.
In one sublime moment, Luck By Chance reveals its cinematic essence and the dichotomy of stardom.
Fiza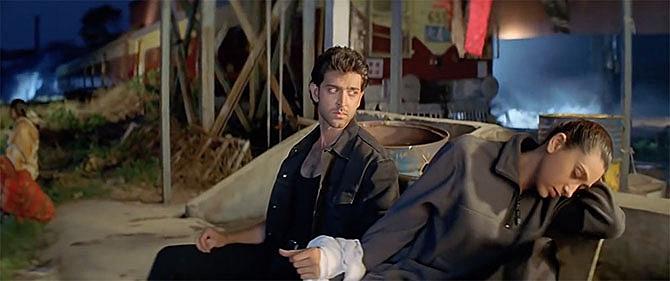 Despite starting out on a full-scale masala note, Hrithik's next few choices revealed a keenness to branch out.
In Khalid Mohammad's Fiza, there's much histrionic display from its fine cast of Jaya Bachchan, Karisma Kapoor, Manoj Bajpayee and one-film old Hrithik where a sister's search for her missing brother leads her to discover he's now part of a terrorist organisation.
The entire film is building towards their reunion.
When it finally happens, emotions run high.
Big sister, played by Karisma, is determined to take Hrithik back home.
The latter resists.
As the exhausted duo wait by the railway tracks, Karisma who has tied her brother's hand alongside hers in a scarf as a preventive measure to ensure he won't run off again, falls asleep.
Hrithik sees an opportunity to leave, almost does too.
But one look at his earnest sister, unwavering in her good faith, and he's unable to go ahead with it.
He realises there's no going back.
Still, for a little while the illusion is the most alive and pure he's ever felt in a long, long time.
Zindagi Na Milegi Dobara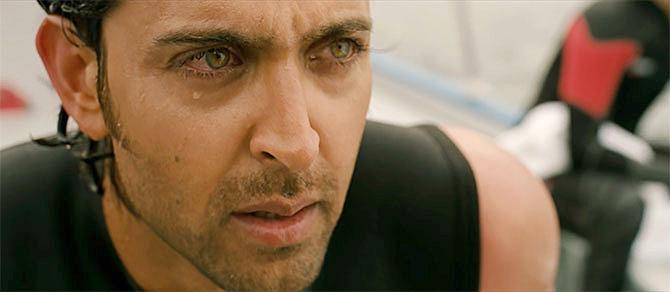 Some find it hard to connect with the upscale existentialism of Zindagi Na Milegi Dobara, but its easy, breezy pursuit of finding value in footloose methods isn't without its merits.
It hits its peak in Hrithik's serene transformation following a scuba diving stint, it's exactly as his instructor promised minutes before -- tumhari life badalne wali hai.
As he looks into the vast ocean through those meditative eyes, a gentle tear rolls down his cheek.
So this is what it feels to be alive, he appears to be telling himself, something he had completely forgotten through years and years of corporate slaving.
Jodhaa Akbar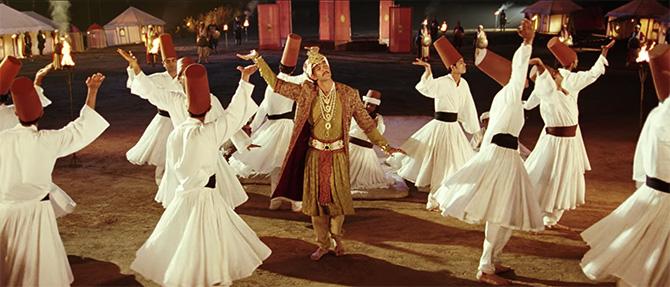 The body language is effortlessly regal, a lived-in authority in his commands as well as a natural curiosity for culture as Hrithik creates a brand new and younger embodiment of Emperor Akbar's secular mind and robust policymaking for silver screen in Ashutosh Gowariker's Jodhaa Akbar.
Several grand scenes come to mind.
I enjoyed the eloquence of his fair speeches.
I loved the exquisite seduction of his physicality in fight and flirtation.
My pick, however, is the marvellously graceful moment he has at the end of Khwaja Mere Khwaja, where he goes into a trance-inducing spin next to the Sufi whirling dervishes and becomes one with divinity.
What a pristine, perfect, moment!
Mission Kashmir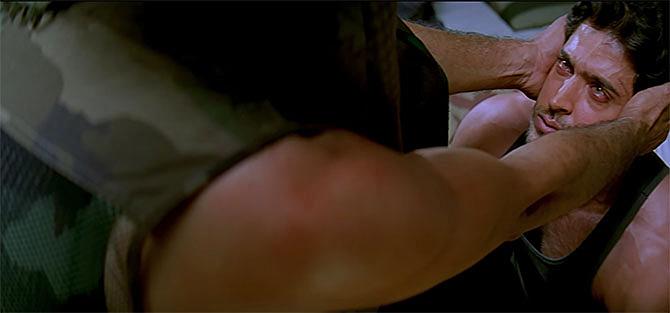 Though its overwrought in its messaging, the intensity enveloping Hrithik's face-offs around Sanjay Dutt or Jackie Shroff keep things afloat in Mission Kashmir.
Director Vidhu Vinod Chopra is visibly enamoured by Hrithik's striking greenish brown eyes and uses every opportunity to focus on their drama.
He succeeds most potently in the scene where Jackie works up his hypnotic ferocity and initiates Hrithik inside his politics of hate.
Bruised and brainwashed, there's nothing those eyes can't say.
Agneepath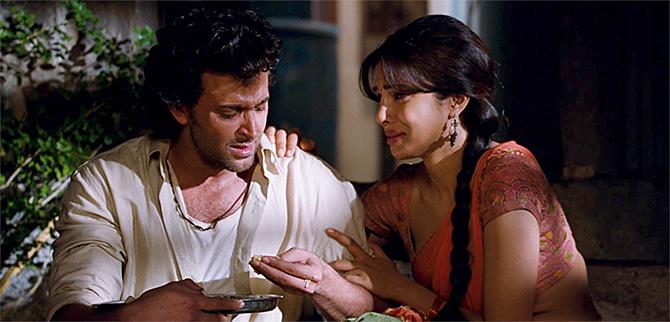 As I mentioned in my review of the Agneepath remake, Hrithik's approach to Vijay Dinanath Chauhan is an entirely different interpretation: 'He plays Vijay like a boy. AB played him like a man.'
In the original when his mother admonishes Vijay for his criminal ways on the dinner table, he storms out of the room.
In the remake, he takes his plate outside and continues to eat -- crying, angry and heartbroken desperate for his mother's warmth and approval.
This unexpected show of vulnerability is one of the things why Agneepath is one of the rare, decent remakes of a beloved movie.
Dhoom 2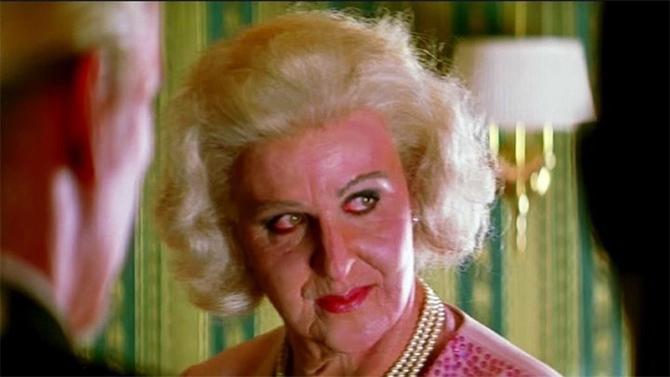 Hrithik set the bar high for Dhoom antagonists as the sneaky thief who loves to play fancy dress.
Senior citizen janitor to sculpture, the man slips into all kinds of disguises, but it's his turn as the British sovereign during the train robbery sequence that I found to be all kinds of campy fun.
Guzaarish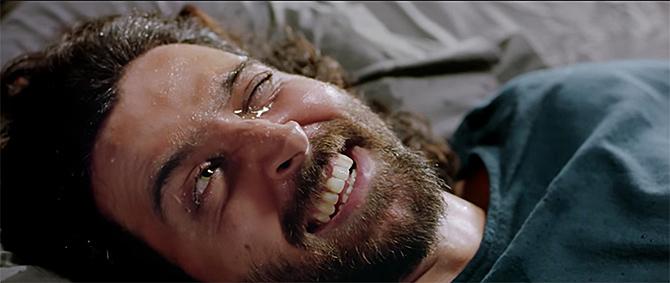 Guzaarish is an unoriginal, tedious watch, but few can complain about Hrithik's delivery as a quadriplegic forced to retire from the world of magic and rely on everybody for all his basic needs.
Hrithik's hard-hitting portrayal of his character's helplessness and humiliation works regardless of Bhansali's impulses to overstate.
The actor goes through a journey of emotions when assaulted by a stream of rain drops trickling through the leaky roof above his bed.
Where humour and help fail and all hope dies -- a poignant, powerful show by Hrithik.
War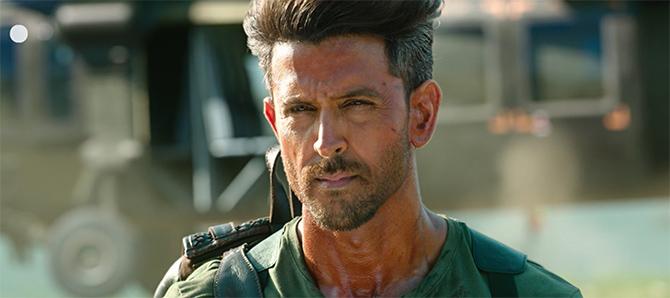 I should probably add this to my favourite entry scenes.
Hrithik stepping out a chopper and strutting towards a bunch of awestruck superiors and subordinates is the very definition of Bollywood hero.
And the look on his colleague's face is so pricelessly spontaneous, it's hard to tell if they were directed to drool or simply couldn't help themselves.
The man's beauty never distracted us from his talent.
War insists we change that in its nearly worshipping portrayal of the star.
---
Sukanya Verma is the Principal Movie Reviewer for Rediff.com.
She can be contacted at mailto_sukanyaverma@rediffmail.com
---