If you are looking for a fluffy rom-com without much pravachan, Kushi is worth a watch, recommends Divya Nair.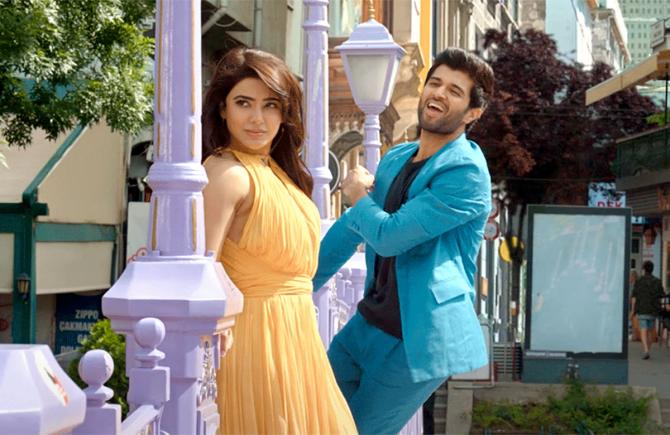 There is a magnetic quality about love stories involving disapproving parents and families. It's a formula that most certainly works with the Indian audience.
Think Bombay, DDLJ, Alaipayuthe, Two States...
Director Shiva Nirvana attempts this tried and tested formula with his latest theatrical Kushi, starring Vijay Deverakonda and Samantha Ruth Prabhu.
In this romantic comedy, Viplav (Vijay), a BSNL employee, falls in love with Aradhya (Samantha) only to realise that their fathers -- who have strong, conflicting views about astrology and science -- will not approve of their union.
When either of the parents refuse to budge, the couple decide to get married and live away from their families in a bid to prove that unconditional love can conquer everything.
The idea behind the film -- to explore the power of superstition versus logic in the life of a married Indian couple -- is thoughtful and relevant in modern day.
Remember how a few days ago, the entire world applauded India for its successful moon mission? Well, it had its fair share of religious homams, prayers and blessings as well.
Can science and logic truly win over superstition?
Or should they co-exist in harmony?
While the stunning lead pair and talented supporting cast offer so much promise in this family drama, the makers somehow decided to play it safe, perhaps hoping not to draw unwanted controversy.
The first half invests too much time aimlessly trying to establish chemistry between the lovers, with loosely explored references to A R Rahman, Mani Ratnam, Dil Se.., Roja and the likes.
The second half rushes without dwelling or deeply exploring the conflicts faced by a young married couple.
Kushi sows many seeds of thought by bringing up commonly faced issues like infertility, miscarriage, miscommunication, ego clashes, gender sensitivity and parental pressure.
At the same time, it also trivialises the gravity of the situations with lame songs and one-liners that dilute and deviate from the main conversation, without taking a stand.
Unlike Alaipayuthe or Bombay, in which either of the couple didn't have to explain themselves as to why they fought or loved each other, Kushi tries a bit too hard to copy its predecessors.
But if I were to ignore the forced references and 'trying too hard to impress' bit, Kushi is a decent watch with good performances led by an efficient supporting cast including Murali Sharma, Sachin Khedekar, Vennela Kishore, Saranya Ponvannan, Jayaram and Rohini.
The Alleppey sequence featuring Jayaram and Rohini where they talk about dealing with grief of a loved one, is a beautifully written segment. It is also the turning point of the film.
The message of the film is thoughtfully written in a way that it offends no one and also gives the audience a 'happily ever after'.
Vijay and Samantha look good together; their chemistry is natural.
Vennela Kishore and Saranya's comic timings are equally entertaining.
If you are looking for a fluffy rom-com without much pravachan, Kushi is worth a watch.
Kushi Review Rediff Rating: