Home > Movies > Mad about movies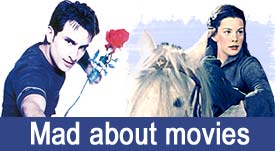 The ugly face of Bombay

Sreehari Nair | August 26, 2003 12:19 IST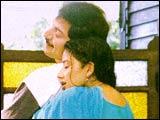 I was witness to one of the black marks in the history of Bombay, oops Mumbai.
The movie Bombay remains my favourite film when it comes to showcasing Mumbai on the big screen. Directed by Mani Ratnam, Bombay touched the nerve of the Mumbaiite.
Released in 1995, exactly three years after the bloody riots and the serial bomb blasts that spilled fear across the city, Bombay had its share of controversies. The so-called Hindutva brigade were busy renaming Bombay as Mumbai then, and wanted to rename the movie Mumbai. The movie next landed in controversy because of its bold theme.
| | |
| --- | --- |
| | Mad about Movies! |
| | |
The story revolves around a Hindu boy (Arvind Swamy) and a Muslim girl (Manisha Koirala) who fall in love, decide to leave their village and go to Mumbai.
The twist comes when a riot erupts between the Hindus and Muslims. The best part of the movie is when Arvind's father, who has come to visit his son and daughter-in-law, takes one of his grandchildren to a temple nearby. On their way back, a group of Muslim youths stop them.
Meanwhile, the child who is now perched on his grandfather's shoulders, rubs out the bhasm (ash) that he has applied on his forehead to escape the attackers.

Manisha Koirala is convincing as a Muslim girl and deserves all the applause she received. Arvind Swamy also plays the role of his lifetime. The thrilling part of the film begins when the boys go missing and the riots are shown through excellent camerawork by Santosh Sivan. 

The music composed by A R Rahman is superb, especially Humma humma and Kuchi kuchi rakamma. Even the Bombay theme that plays in the background while the two actors walk past the dead bodies in a mortuary looking for their sons raises goose pimples.

Tears are sure to flow down one's cheek at least for Mumbaikars. Truly a wonderful movie.
Are you Mad about Movies too? Here's your chance to tell us how much!


What do you think about the story?








Read what others have to say:





Number of User Comments: 4








Sub: Bombay is a good movie

Bombay is a good movie which sets in my movie list. All the songs of this film are excellent and the cast also impressed to ...


Posted by Mohammad Asif









Sub: correction

Hi, I just wanted to point out that cinematography of Bombay was by Rajiv Menon and not Santosh sivan. Thanks, Jaiganesh


Posted by Jaiganesh









Sub: A landmark

Such south indian movies that take place in north and being appeciated by the whole nation truly portrays the unity in diversity of our nation. ...


Posted by Prasanna









Sub: Cinematographer of BOMBAY

Spotted a small mistake. Bombay's cinematographer is Rajiv Menon (Director of 'Sapney') not Santosh Sivan.


Posted by Balaji






Disclaimer