The series is held together by a superbly astute performance by Gagan Dev Riar, who moves from cheerful conman to menacing criminal with remarkable skill, observes Deepa Gahlot.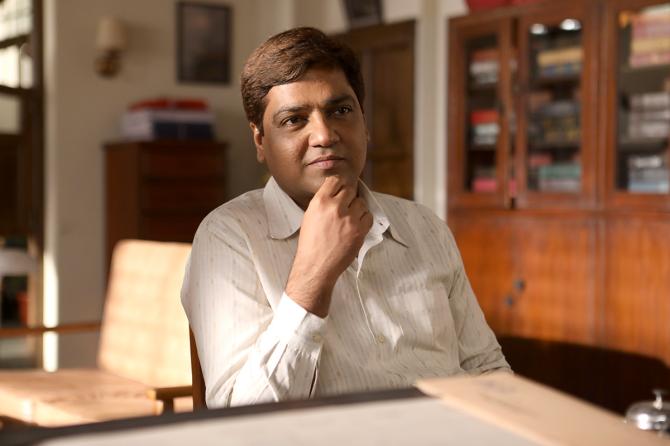 After Scam 1992 and Scoop, Hansal Mehta has cemented his place as a long-form chronicler of the moral erosion of contemporary India.
He has not directed Scam 2003: The Telgi Story, but is the showrunner for the series that Tushar Hiranandani has helmed.
What is common between the two Scam series are the men who so easily subvert the system.
Harshad Mehta in the earlier show and Abdul Karim Telgi in the new one have brains, a spirit of enterprise, a gift of the gab and the ability to unerringly trace the weak spot in others.
Most often it is as easy as money, but in Telgi's most daring act of corrupting an honest man, it is simply understanding the hidden frustration of one who has not received his due. Both men grabbed opportunity when it was not handed to them on a platter.
And in both shows, the lead actors were perfectly cast.
Gagan Dev Riar plays Telgi with all the charm and chutzpah of a man who knows what he wants and will go after it like a shark.
'I don't want to earn money, I want to make it,' he often says.
Just makes you wonder what he might have achieved legitimately, if a working class person like him had been able to crash the glass ceiling of privilege.
Very quickly, it is established how a Telgi, from a poor Khanapur (Karnataka) family, selling fruit in a train for a living, takes the offer from a stranger named Shaukat (Talat Aziz), to come to Mumbai for a job.
Shaukat owns a decrepit guest house, and Telgi uses inexpensive marketing techniques to fill up the rooms. He also marries his employer's daughter, Nafisa (Sana Amin Sheikh) and takes up a job in the Gulf for a while.
On his return, he sets up a business of sending others there with fake papers, and is soon arrested.
In jail, he meets a flamboyant Kaushal Zaveri (Vyas Hemang), who runs a tiny scam of reusing revenue stamps from rejected documents.
This sparks in Telgi the idea of producing fake stamp papers, first by stealing from the official boxes coming out of the government press in Nashik, and then in a breathtakingly convoluted scheme, finding a way of printing them.
Adapted by Kiran Yadnopavit, Kedar Patankar and Karan Vyas from Sanjay Singh's book Telgi: A Reporter's Diary, the first five episodes (another five will follow next week) chart Telgi's rise to great wealth, dropping cohorts who can't keep pace with him and acquiring new ones, by corrupting everyone -- cops politicians, bureaucrats -- with ease. He calls his increasing band of dependents hyenas, who feed on the lion's leftover kill.
Despite his greed, there is no glamour in Telgi's life, except for his visits to dance bars and his infatuation with a particular dancer, who indirectly leads to his downfall.
This will be seen in the remaining episodes, that promise to be more interesting.
In the first lot of five, a lot of time is used up in explaining Telgi's modus operandi, which brushes the boredom line. That much ambition and overconfidence leads to an inevitable hubris.
In real life, Telgi died in 2017.
The series is held together by a superbly astute performance by Gagan Dev Riar, who moves from a cheerful conman to menacing criminal with remarkable skill. It helps that he also vaguely resembles Telgi.
The supporting cast of known names like Bharat Jadhav, Nandu Madhav, Bharat Dabholkar and well chosen newbies enhances the series, which may not be as fascinating as Scam 1992 because the stamp paper counterfeiting defrauded the government, but did not affect the common citizen.
While Harshad Mehta took advantage of a changing economy and enticed everyone to dream of wealth, Abdul Karim Telgi just filled his own pockets and those of his corrupt coterie.
But the fact that he got away for so many years because of a who-will-bell-the-cat pass that he got, just reveals the rot in our system. That corruption is endemic in our society is well known, but once in a while, a Mehta or Telgi comes along with incontrovertible proof.
Scam 2003: The Telgi Story streams on SonyLIV.
Scam 2003: The Telgi Story Review Rediff Rating: