'Earlier, it was four songs and four fights, and some story. That was enough.'
'Maybe we are in a box then and the audiences were not prepared for anything new.'
'Now we have got bigger scope.'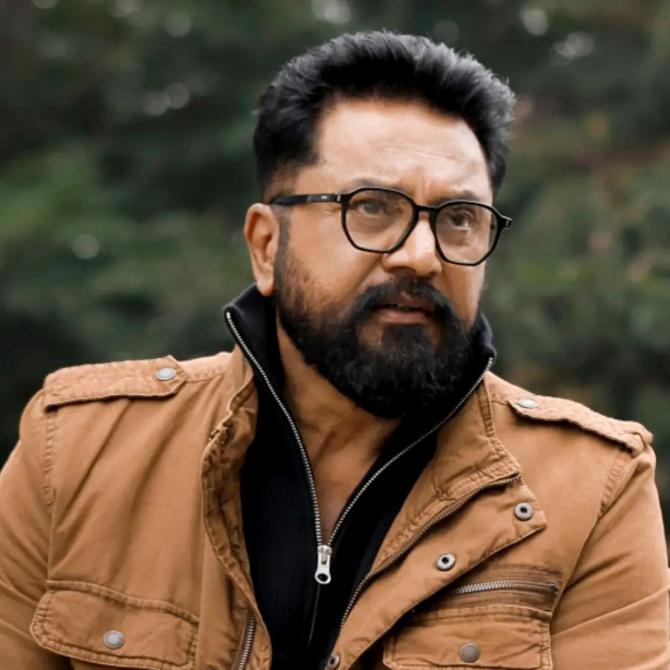 After his supporting act in two back-to-back blockbusters Ponniyin Selvan and Varisu, Sarathkumar is basking in the success of his lead turn in the Tamil hit Por Thozhil.
This has set the wheels in motion for the southern star, who returns from his sabbatical from acting.
"I'm waiting to do a bigger film," he tells Mayur Sanap/Rediff.com.
Your play this tough cop in Por Thozhil, who is mostly cold towards people around him and hides his emotions inside. How different is your real personality from this character?
Loganathan (his character's name), towards the end, mellows down slightly towards his partner. Maybe he is trying more to connect with people than what he was right in the beginning.
This character is not a direct link to me as a person.
The real Sarathkumar and Loganathan differ a lot.
I'm a very jovial and happy-go-lucky guy. And here, he is a tough guy, and a guy who knows his job, of course.
For others, he looks arrogant. But he's very clear in what he wants to do.
I think that is what I learned from this character.
If you're steadfast and clear on what you want to do in life, you can achieve it.
There is already chatter about a sequel. Is it on the cards?
Definitely. (The film) has the potential of a franchise.
We (SP Loganthan and DSP Prakash, played by Ashok Selvan) can keep working like Sherlock Holmes and Watson.
There is definitely a scope to build another story because at the end of the film, one more case has come for both of us.
We have already started working on it and we might do this next July or August.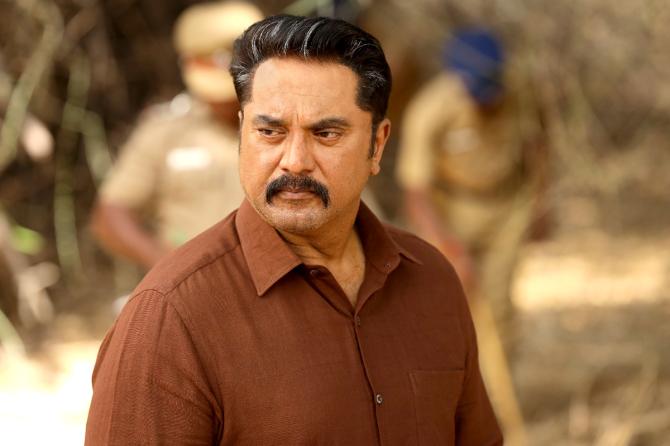 What gave you confidence about debutant director Vignesh Raja?
In my 40-year career, I have given many chances to many youngsters and debutants.
You may be surprised that I identified Shankar and told Mr Kunjumon (K T Kunjumon, producer) that we will do Gentleman (1993) with Shankar. And he became a big director.
I had told Kunjumon that as an associate, I have been watching Shankar and he will do a great film.
We started the photoshoot for Gentleman.
Then I opted for I Love India (1993) when my Surieyan Director Pavithran and Kunjumon fell out. (The role eventually went to Arjun).
Any debutant director who would come along in my life, including cameraman Randy (R Rathnavelu), I welcomed them with open arms.
I look into the fire within themselves. They need a hand and that is what I do.
It was same with Vignesh. When he came and narrated a script to me, I was totally floored. I saw the flow in the script. He was well prepared.
The storyboard was there, including the lenses, the shots, the top angle, crane moment, trolley, music score and everything. It was very impressive.
I knew he had gone into the script very deeply, and will give a good film.
In these 40 years, how much has the industry changed?
The industry has definitely changed.
The scope for an artist is much bigger now, both personally and in terms of revenue. Everything is much higher than whatever we guys even thought of back then.
The technology has changed. You have gadgets, graphics, green mat, and ropes to pull you up and bring it down (in an action film).
Other than that, the scope for an artist to be seen by a pan India crowd has opened up in a big way.
People will notice you even if you're from the South. This is because of the OTT platforms.
Do you think the recognition that Southern cinema is currently receiving was long overdue?
Whether it was long overdue or not, I think the recognition should have been there.
It has been there, of course.
Kamal Haasan had appeared in films up North. Rajinikanth had also gone there.
But mostly, the guys over here were not even looked into for various reasons.
Maybe the marketability was not there, and they thought that this would not grow into a bigger industry.
I think the camaraderie is taking place and there is no divide like North-South-East. People working from North to South, South to North is happening.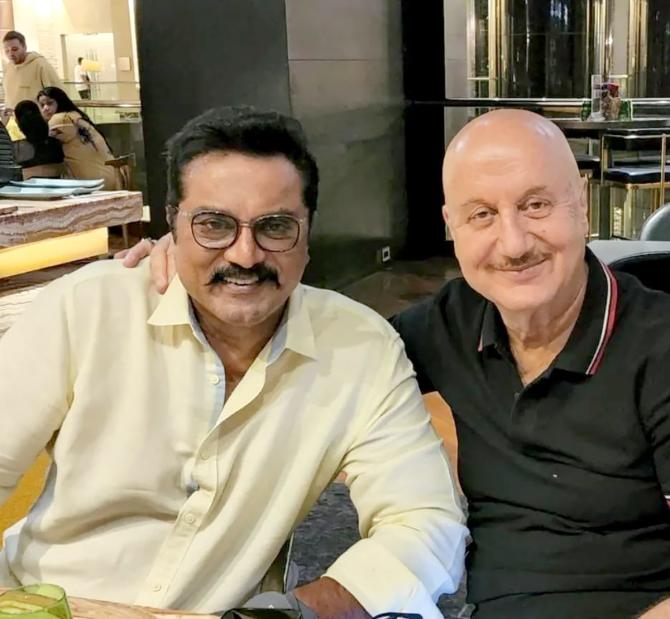 Are you open to doing a Bollywood film?
Yeah, definitely.
I have done a cameo in a film which I can't talk about at the moment, but it will be releasing in a couple of months.
I'm waiting to do a bigger film.
I've done two seasons of a Disney+Hotstar Web series in Telugu called Parampara. It has been seen by people from the North too.
When I went to Ahmedabad for a shoot, people recognised me at the airport. They said, 'Sir aapko dekhe hain Parampara mein, bohot accha laga humko (Sir, we have seen you in Parampara, we liked it very much).' These were all Hindi-speaking people.
It means we are reaching where we couldn't reach before.
If Por Thozhil ever gets a Hindi remake, which Bollywood actor would suit your role?
Shahid Kapoor can pull it off.
It should be somebody who is not towering the other person. There has to be some comical sense within him.
What kind of change do you see in today's audiences? And how does it reflect in the roles you choose?
Earlier, it was four songs and four fights, and some story. That was enough. Maybe we are in a box then and the audiences were not prepared for anything new.
Now we have got bigger scope.
There is a better scope for performance.
As actors, we can think of so many characters.
Today's heroes can do anything they want. There is no protagonist and antagonist. No hero and villain. We can do some experiments in roles.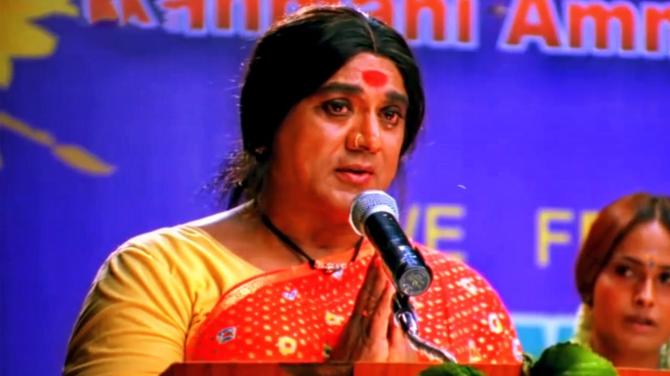 What has been the most challenging role of your career?
My role in Kanchana (2011) was most challenging.
I am a muscular person, my shoulders are big.
When Lawrence (Raghava Lawrence, director and actor) came to me and narrated the film and my transgender character, I said to him this would be a big flop. The audience would laugh at me and it will be the doomsday situation.
He said, 'No Anna, please do it for me.'
That transformation from my manliness to become a transgender was definitely a challenge. And I think I pulled it off.
My wife (Radhika Sarathkumar) is a very big critic of mine. When she saw the film, she asked me how I got all those little nuances of a woman right.
I said I observe women. I know how they do their hair, how they use a finger to draw the hair back and things like that.
What's that one character that you wish to play?
I want to do a biopic of Subhas Chandra Bose.
I love him as a leader, and would like to direct and act in that biopic.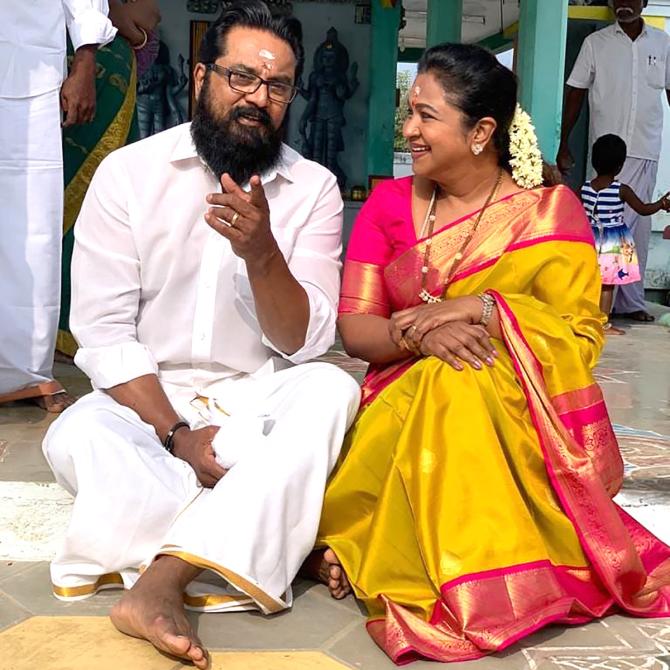 You said your wife is your biggest critic. What are her favourite characters played by you?
She liked Natpukkaga (1998). I played dual role of father and son.
She also liked Kanchana, Pachaikili Muthucharam (2007) which was directed by Gautham Menon.
She liked me in PS-1 and PS-2, and Varisu that I did with Vijay recently.
There are certain films that she may not even say anything about, and I know this film wasn't nice for her.
She is someone who calls a spade a spade, and I respect her views.
In recent years, I've seen her appreciating a lot of my characters.
Who are the Bollywood film-makers and actors that you greatly admire?
The stature of Amitabhji (Bachchan) is the greatest.
Any character that he plays, he moves you with his performance.
I like the kind of personality he has and the way he interacts with people.
I briefly met with Salmanji (Khan) when we were associated with the Celebrity Cricket League. His film Bajrangi Bhaijaan really moved me.
Since I was not exposed to Bollywood, I've not had any close contact with anybody.