'Nothing will fall into anybody's lap for free.'
'There is a lot of competition out there, there are a lot of people to take your place.'
'It's never easy.'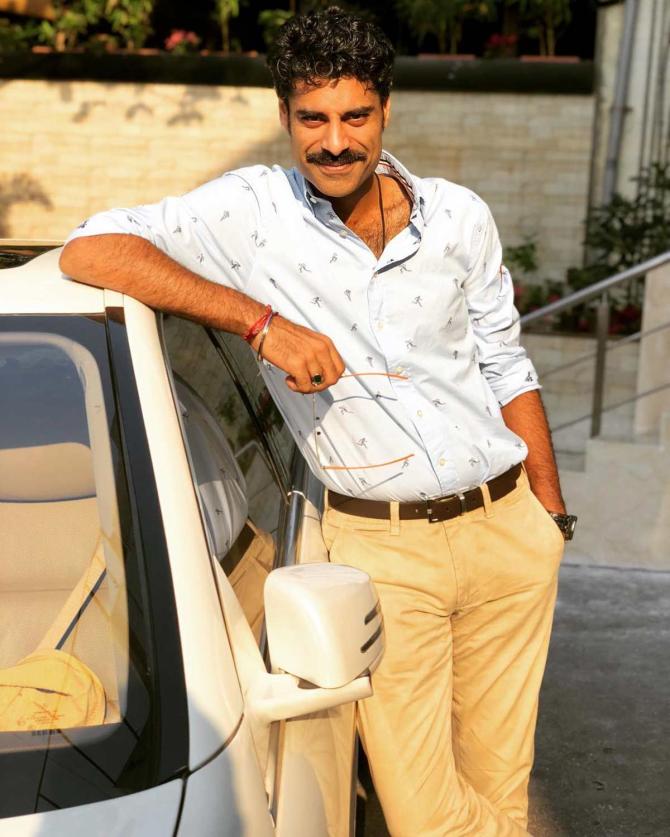 After wowing everyone with his performance in Aarya, Sikander Kher returns as a gangster in the crime thriller, Mum Bhai.
He has enjoyed working for it, and he especially loves his character Rama Shetty's look.
"It's a kickass look," he tells Rediff.com Contributor Sameena Razzaq.
We have already seen many films on face-offs between gangsters and and encounter specialists. How is Mum Bhai different?
These kinds of stories are interesting.
The public enjoys them, but it really boils down to how the story is being told.
When I read the script, I was entertained.
Every story has got its own individual flavour.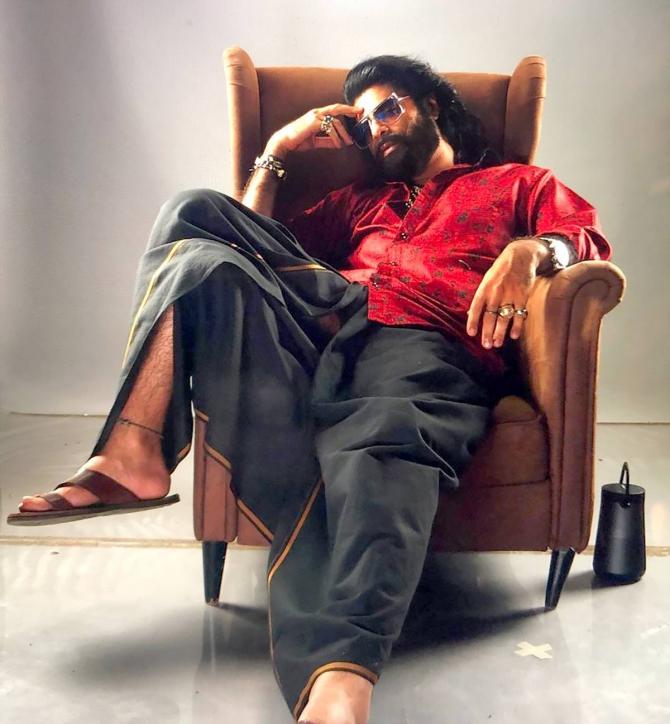 Long hair, a beard and a lungi makes you look very rugged.
It's a really good look.
It's a kickass look.
When I saw the first look test, I quite liked it.
Suman Guha, the person who has done the costumes, and the people who have worked on the look... the long hair, beard and lungi is just fantastic.
I loved the way Rama's look has shaped up.
Ekta Kapoor really knows what she is doing.
She is on the top of her game.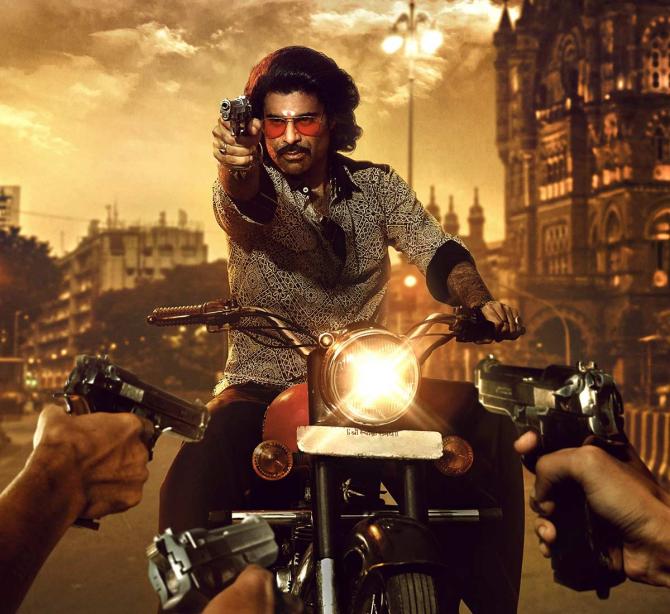 You and Angad Bedi made quite a boy gang on the sets?
He has been a dear friend of mine from many, many, years and he is a really awesome co-star.
He is extremely supportive and secure.
We had long hours of shoot, we shot in far away places and I think if it wasn't for him, it would have been tougher.
He has made the ride a lot easier and fun.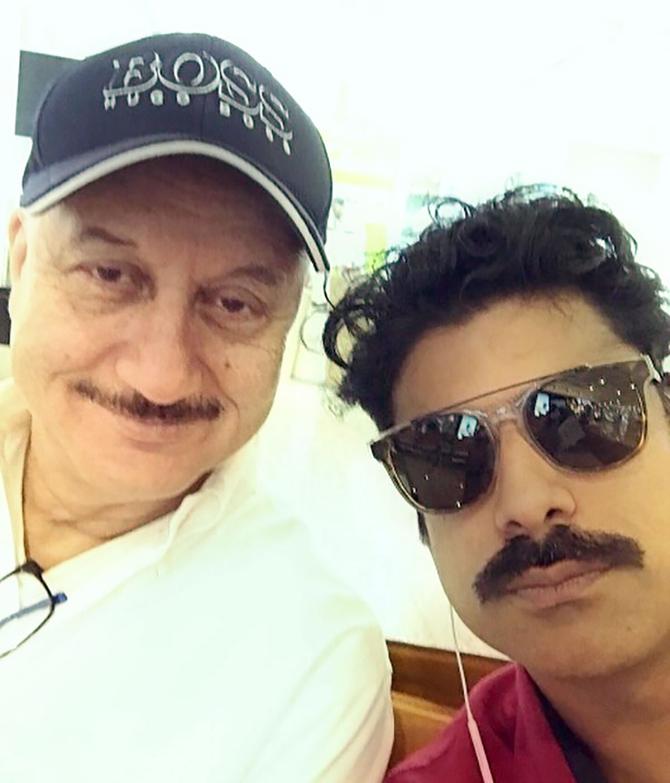 You seem to have an ideal father-son relationship with Anupam Kher. Do you also have difference of opinions?
Yes, of course, we do.
It's just normal and healthy.
If we didn't have a difference of opinion, something would have been wrong in the relationship.
He is very cool. In fact, he is like a friend.
Over the years, as you grow older, you start respecting each other as human beings, more than just a relationship.
I could discuss anything with my parents, openly, from a very young age.
Both are extremely liberal.
I am lucky to have parents like that because that has made me the man I am today.
Anupam Kher has penned a touching note for you during the lockdown, where he said, 'Thank you dearest @sikandarkher for being there in the other room of our home for the last 8 months.' Did you expect that?
Absolutely not!
I was pretty surprised myself because see, I am not in the country and he was leaving. There is a time difference, so I woke up in the morning and saw this note.
See, we are not the kind of people to post about each other so I was like, wow!
The lockdown period has taken a toll on everybody.
We have seen new sides of so many situations, we have been in situations that we weren't in before.
So reading something like that was extremely touching and wonderful.
My reply to that came from my heart.
Khersaab was recently trolled for calling New York 'home'. Does this intolerance bother you?
I don't know if it's intolerance.
None of this bothers me.
People can say what they want, I just focus on my work.
You had to struggle for a long time without work right after your debut. Even then, you did not ask your successful parents to help you.
I believe everybody has a different path and their path has different obstacles.
I am very lucky that I can pursue my dream.
I would never ask my parents to do something for me. And they wouldn't because everybody has their own journey.
Also, we are all busy with our own stuff.
To be honest, I would be quite embarrassed to ask them.
How did you stay afloat during that difficult time?
I was very lucky that I had food on my plate and did not have to pay the rent.
My parents are brutally honest and they could have said, 'dekh yaar Sikandar, tujhse acting nahi hoti, tu kuch aur business ke baare mein soch.'
But my parents always had faith in me as an actor.
They saw my work and saw that this guy can act. It's up to him how he takes it ahead.
When your films fail when you start off, work is not going to come easily. So I had long gaps.
From 2007, there was a long gap, then there was Khelein Hum Jee Jaan Sey.
But one after another, they were not doing well.
Incoming work gets tougher and tougher until it becomes a battle that you are fighting in your head.
It all boils down to how you deal with those situations.
With failure, you learn a lot of things.
Luckily, I look at the positive side.
You know you will go through lows and highs, nothing is constant.
I go out, I ask for work.
I audition.
I meet casting directors.
I am at it.
At the end of the day, I don't worry about the result because that's not in our hands.
I just want to keep doing work.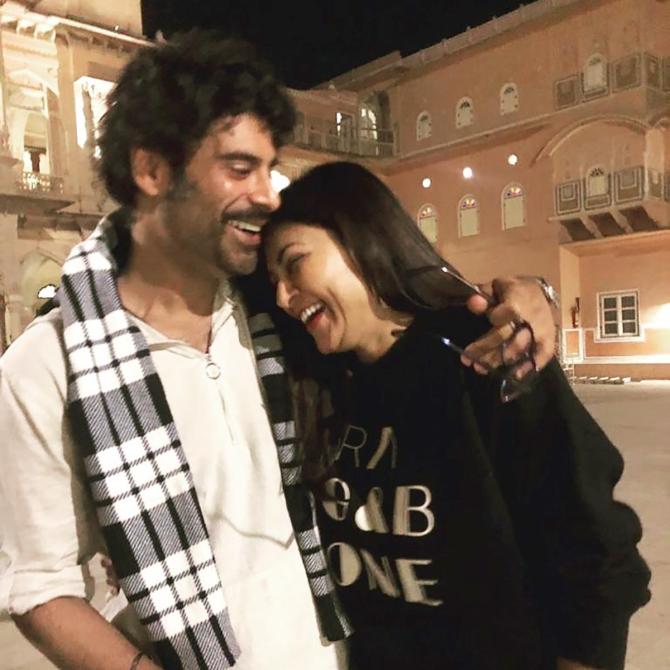 Has any real life gangster intrigued you?
I have read Dongri to Dubai: Six Decades of the Mumbai Mafia.
It's interesting to know the history of Mumbai, how Varadarajan Mudaliar came into being, how Karim Lala was... it's history at the end of the day.
Earlier, Ramu (Ram Gopal Varma) made films loosely based around these characters.
John Abraham did Batla House,, so the policeman that John was playing, we had a meal with him when we were shooting for Romeo Akbar Walter in Delhi. That was interesting.
We had some conversations about how they function.
It's a side we don't really see.
It's a harsh world, the way they see and deal with situations is something we don't know and cannot connect with because it takes a lot out of you.
Your character Daulat in Aarya communicated through silences and with his eyes. How did you pull that off?
It was one of the toughest roles I played.
I always say that dialogues are like a crutch and I did not have that crutch.
Luckily, we had (Directors) Ram Madhvani, Sandeep Modi and Vinod Rawat.
They really knew the character.
Their process is truly amazing.
The people editing it can also make a big difference to how the performance comes across because a lot of times when you are silent, they can just cut it. But they kept those silences because they knew the character.
I look forward to the second season.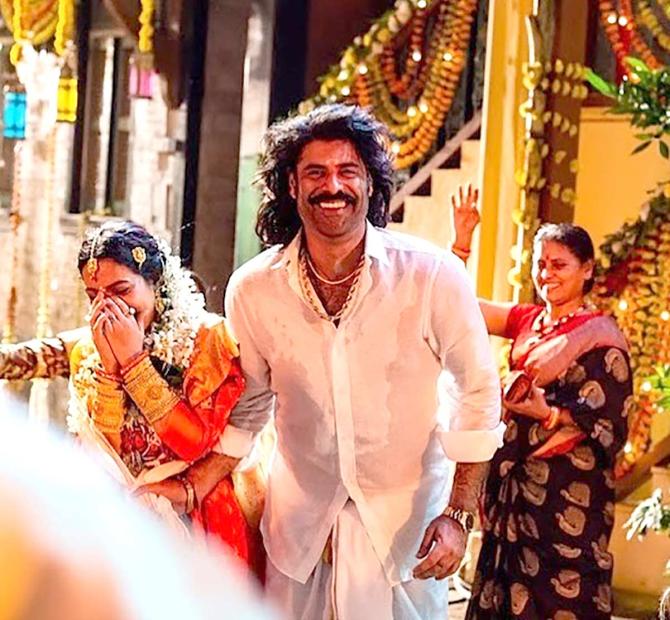 You are part of Sooryavanshi that stars Akshay Kumar.
I had a great time working with Rohit Shetty.
He really knows how to make large cinema.
OTT is giving many actors a new lease of life, and work is pouring in.
It has provided job opportunities, but you have to still go out and look for work.
I still go and audition.
Aarya was an audition, Mum Bhai was an audition.
I don't think that mindset should ever change.
Nothing will fall into anybody's lap for free.
There is a lot of competition out there, there are a lot of people to take your place.
It's never easy.