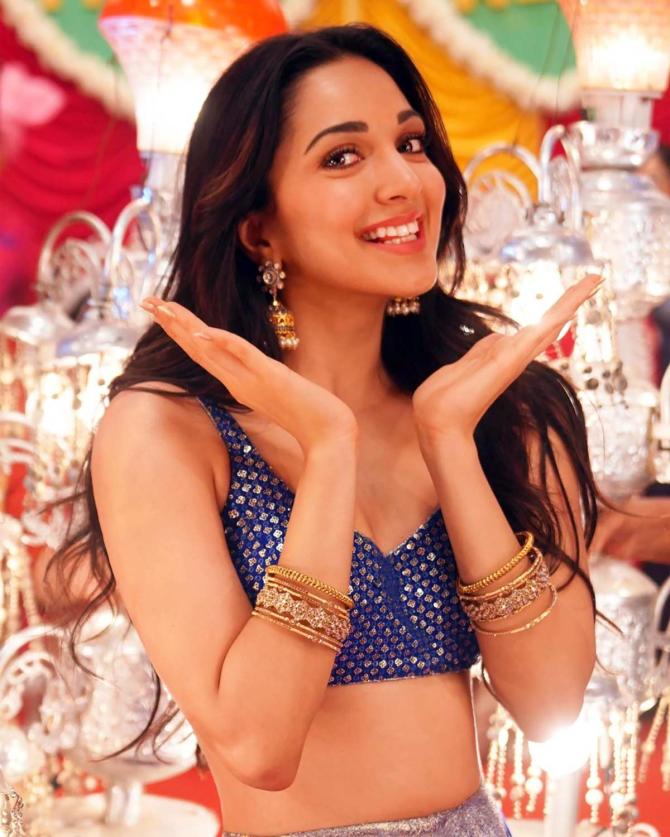 Abir Sengupta directs his first Hindi film Indoo Ki Jawaani, starring Kiara Advani, which releases on December 11.
But it's really not easy for a Ranchi native with no connections in the film industry to turn director in Bollywood.
Abir tells Patcy N/Rediff.com how he made it happen, revealing, "You hustle when you come from a different city and have that hunger to work."
How did Indoo Ki Jawaani happen?
I knew Ryan Stephen, one of the producers of Indoo Ki Jawaani.
He used to work with Dharma Productions and I used to pitch him my scripts.
We had a great bond, but not a single script materialised.
One day I was sitting in a cafe and he happened to be there.
I had just finished writing the script of Indoo Ki Jawaani.
He asked what it was about and I gave him one-liner.
He loved it so much that he asked for a full narration.
I narrated the film to him and Niranjan Iyengar, his partner, a couple of days later and they really liked it.
They asked me whether I would like to take it to Emmay Entertainment, Nikkhil Advani's production house.
Monisha (Advani) liked the script, and she said, if Madhu (Bhojwani) and Nikkhil like it, we would like to collaborate on this script.
Within 10 days, another narration was fixed and all of them liked the script.
Immediately, things started happening.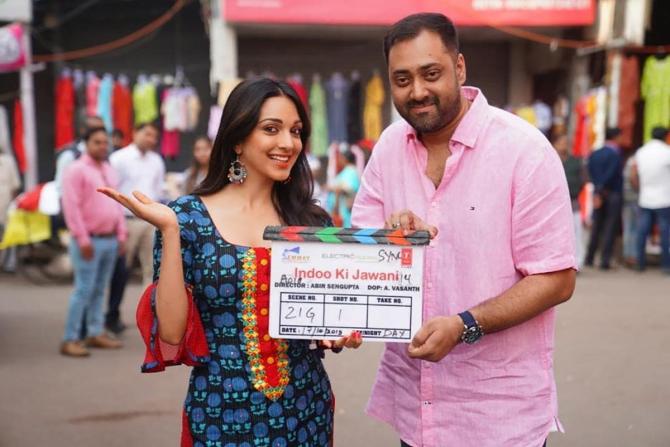 How did you get your cast in place?
We were discussing and Ryan suggested Kiara. That's how we approached her and got her on board.
The rest of the cast just followed.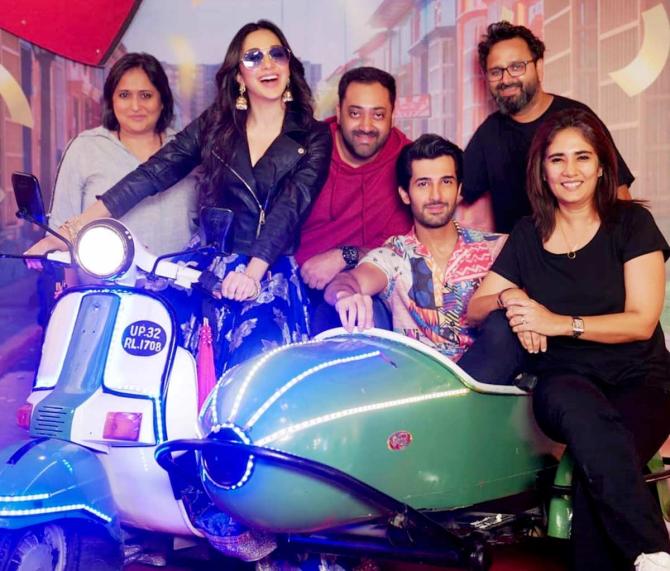 Where did you shoot the film?
I shot the film mostly in Lucknow.
Then, in Mumbai for five days.
What is Indoo Ki Jawaani about?
It's a coming-of-age story.
It's about a young girl from Ghaziabad, who goes on a dating app and does a right swipe.
You did a short film, SoulsathI. How did that idea come about?
My business partner was meeting a lot of guys through matrimonial Web sites because she was looking at getting married.
She would come and tell me, 'I met this guy and what a jerk he was! He constantly kept looking at me here and there. They are not interested in me, they are only interested in my body and how I look.'
It's terrible the way men objectify women when they meet women through these Web sites or dating apps.
She just said one line: 'People are only interested in my body and nobody is interested in my soul.'
That line struck me.
So I thought of an idea where a woman is looking for a soulmate.
How did Adah Sharma come on board for a short film?
I wanted to cast Adah for a very long time after I watched Commando 2 and Hasee Toh Phasee.
The day I finished writing the script and narrated it to my business partner, she asked me who I would cast.
The first name that came on my mouth was Adah.
I texted her and introduced myself, and said that I wanted to make a short film with her.
She responded promptly and asked me to send her the script.
I sent it to her and within 45 minutes, she wanted to meet me.
We met the next day, and I realised that we had the same vibe for the film. She's also a believer of fairy tales and love stories.
Since it was a short film, we shot in two days.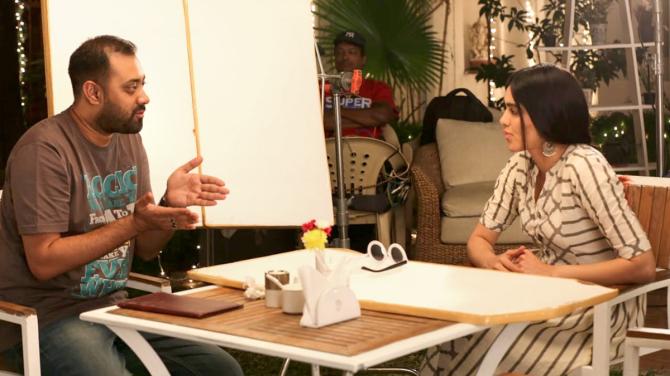 Tell us about yourself.
I come from Ranchi.
I am a Bengali, but was brought up in the Hindi heartland, so I am more comfortable with Hindi than Bengali.
I always had the knack for writing.
I wanted to write, not direct, as I had no clue what a director actually does.
I wanted to become a journalist, so I did my graduation in journalism and mass vommunication, and went to Delhi.
I worked in Star News for a brief period of time.
I realised I wanted to do a different kind of writing. I want to get into fiction, so I came to Bombay in 2010.
Like a madman, I was meeting everybody who ever knew me and getting numbers.
I used to text them and ask for work.
I would randomly land on different sets and meet people.
You hustle when you come from a different city and have that hunger to work.
I always wanted to become a writer, but didn't know how to do it.
I always wondered how writers make money.
I was lucky that I got to meet interesting people.
It helped me to learn the craft of writing a movie.
Slowly and steadily, I got my first job in Fireworks Productions. They used to produce CID and Surya The Super Cop.
I did Gutur Gu for SAB TV and for a brief period of time, I also worked in Phaas Gaya Obama.
I also worked as an assistant art director in a TV show.
I started writing television shows from 2011, like Emotional Atyachar, MTV Webbed, CID, Surya The Super Cop, Savdhaan India, Arjun...
That was not quite satisfying because there are crazy deadlines where people call you night and tell you to write an episode to be shot the next morning.
I left writing TV in 2014.
I was sitting outside a theatre where I saw a couple fighting.
I overheard the conversation and that gave birth to the first idea of my Bengali film, Jomer Raja Dilo Bor.
Magically, that film got made in a year.
The making of that film was my learning experience into making movies, right from writing to directing. It was a film school for me.
I formed a company with my business partner, and we produced that as well.
I was more comfortable in the Hindi so I started writing scripts to make in Hindi.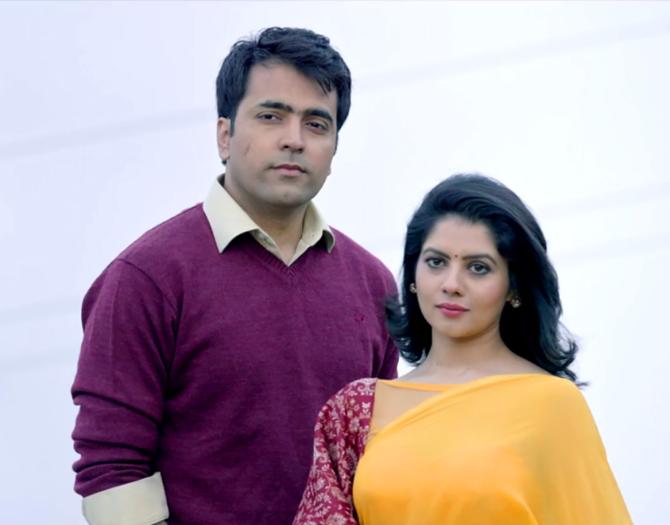 After Jomer Raja Dilo Bor in 2015 to Indoo Ki Jawaani , you took a long break. What did you do?
I wrote a lot.
I would write a script and take it to producers. They would not like it for some reason, and then I would write another script.
Again, I would take it to producers. Some would like it, some would not.
I signed two films, but then we could not find the right cast, so they would not fly.
In between nothing was flying, so I made the short film.