'My definition of a true star is when they enter a room, the energy of the room changes.'
'She has the aura of a true star.'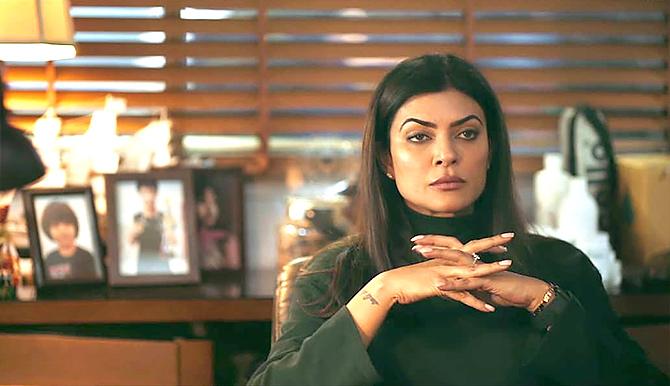 "I'm in the business of feelings, in the business of emotions. Mein emotion ki dhande mein hoon. I'm interested in making you cry, making you feel," says Ram Madhvani says.
Of course, the director has mostly made thrillers, a genre you would not associate with emotion.
Best known for making Neerja, starring Sonam Kapoor, Ram recently rolled out the Web series Aarya, led by Sushmita Sen.
With that, the director -- who gives equal credit to co-directors Sandeep Modi and Vinod Rawat -- fulfills a 10-year-old dream.
"Even though I would like to do more work, sometimes it just does not work out. It's a difficult mountain to climb," Ram tells Ronjita Kulkarni/Rediff.com.
The song Bade Achche Lage Hai is pivotal to Aarya. Is that your favourite song?
Please don't ask me to sing it! (Laughs)
No, no. It seemed to work well because it was emotionised and kept Tej's character (played by Chandrachur Singh) alive.
My wife Amita, who is the co-producer of Ram Madhvani Films, is the true Hindi film song enthusiast, the one who plays Antakshari and gets friends home to do some Karaoke of Hindi film songs.
I know the songs obviously, but she knows the lyrics too.
So much of my taste in Hindi film music comes from her.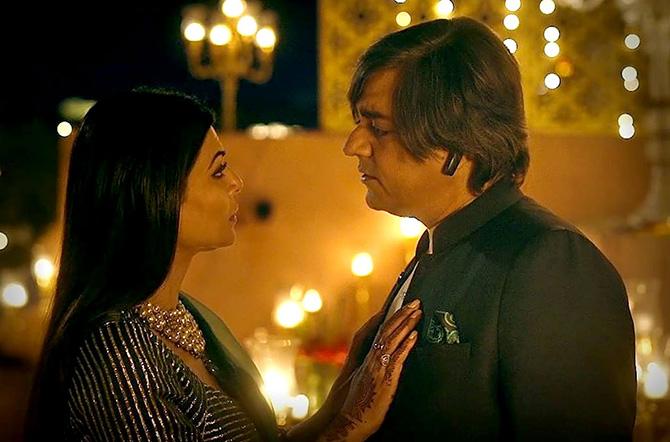 You used retro music in a unique way in the show. Shammi Kapoor's beautiful and soothing Akhele Akhele has been picturised on a horrific kidnapping.
So much of that is thanks to the editors, Khushboo Agarwal and Abhimanyu Chaudhary.
We knew that we were going to use old Hindi songs.
Obviously in a kidnap scene, you tend to use dramatic music. But they decided to use this song.
Abhimanyu's mother called up to say, you know that line 'Yeh kya majra hai, tumhe kuch pata hai' comes when the mother turns in her bed.
Disney + Hotstar and SaReGaMa helped us get permissions for these songs.
A lot of the post production was done from home during the lockdown.
We finished shooting on March 5, and the lockdown was announced on March 25.
So the entire post production, the VFX, the colour correction and dubbings happened at home. We had done live sound, but there is always some dubbing that you do later.
Ankur (Bhatia) was dubbing from New York, Sushmita (Sen) from Bandra (north west Mumbai), Jayant (Kriplani) from Kolkata...
Namit (Das) told me that he could dub only at 2-3 in the morning because that's when it was most silent, but even then, there were dogs barking.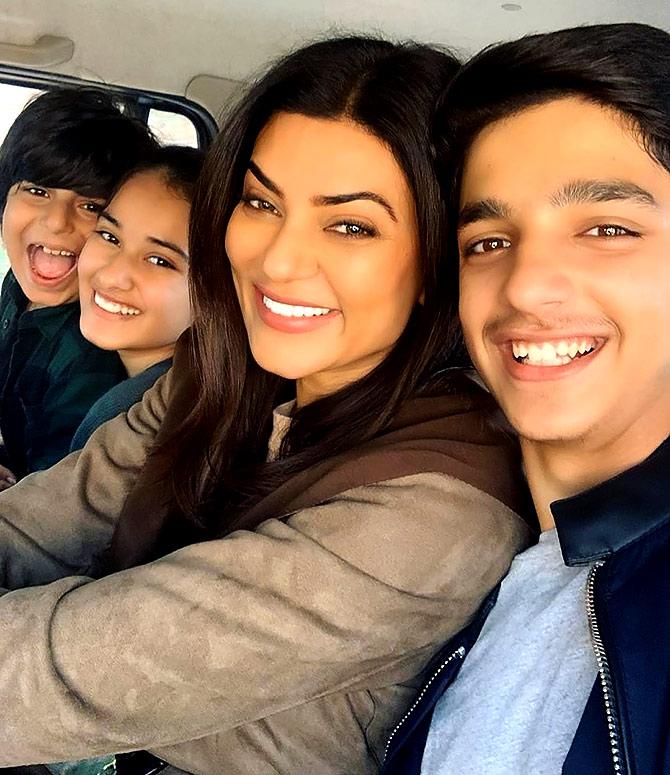 Why did you choose the Dutch show Penoza to adapt into a Web series?
Ten years ago, Fox Star wanted to make it into a movie.
In those days, there was no OTT platform.
Amita and I saw it and we loved the (central) character. We loved the fact that she was a strong woman, and the way she played it.
We tried to make it into a movie, but it didn't get made for various reasons.
Then two-two-and-a-half years ago, when Endemol Shine India and Hotstar asked us if the story was still in our bones, we said yes.
It is a long journey of the universe coming together and not allowing it to be made into a movie. And now, taking it to where it is now.
Was Sushmita Sen always on your mind?
When it was to be made into a movie, she was not a part of it.
Then when we started writing Aarya as a show, we went and met Sushmita and thankfully, she had seen Neerja.
I told her the story and she immediately said yes.
She was so positive that after she left the room, I told Amita that I don't think this will happen because she can't say yes so easily right?
I thought her manager would call us in two days and say that she loved it, but she can't do it.
Like all actresses, they have the power to say yes or no.
But she said yes and was so genuine about it.
So it was green-lit and it happened really fast after that.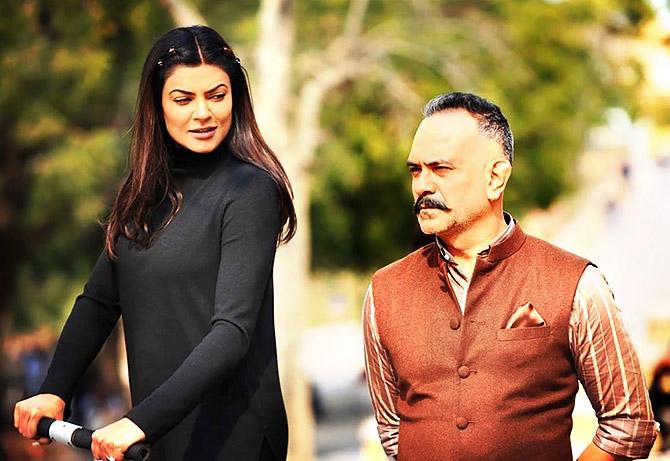 What is she like to work with?
My definition of a true star is when they enter a room, the energy of the room changes.
She has the aura of a true star.
Apart from that, I now know that she tells it to you straight.
If she wants to say no, she will say no. If she wants to say yes, she will say yes.
She has a child-like enthusiasm about her.
She also has a 360 degrees awareness. If she is eating dinner and there's someone, perhaps the chef, standing behind her wanting an autograph, she will turn around.
She will know his name and say, 'Satish, sorry, please let me finish dinner.'
She is incredibly polite and gracious.
Everything that you see about her, the way she conducts herself, is real.
My co-directors Sandeep Modi and Vinod Rawat did a workshop with the team, and she had never done a workshop before in her life. We did it to make them all feel like a family.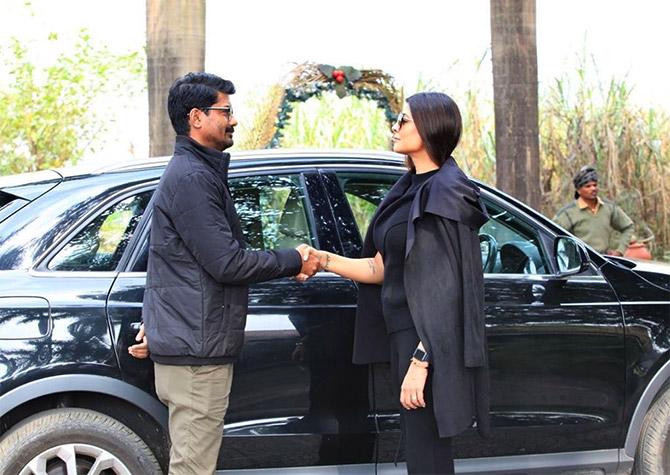 You have chosen such a brilliant ensemble cast.
Chandrachur Singh lives in Delhi, but when we had asked him, he was in Dehradhun.
He had seen Neerja and said yes, I want to do this.
All the other roles -- Sikandar Kher, Manish Chaudhary, Vikas Kumar -- is thanks to Abhimanyu Ray, the casting director.
The actor who played Khan's assistant Bharon Singh (Jagdish Rajpurohit)...
Everyone auditioned for the roles.
They are hugely talented people.
The ensembleness of the cast made sure everyone got recognition.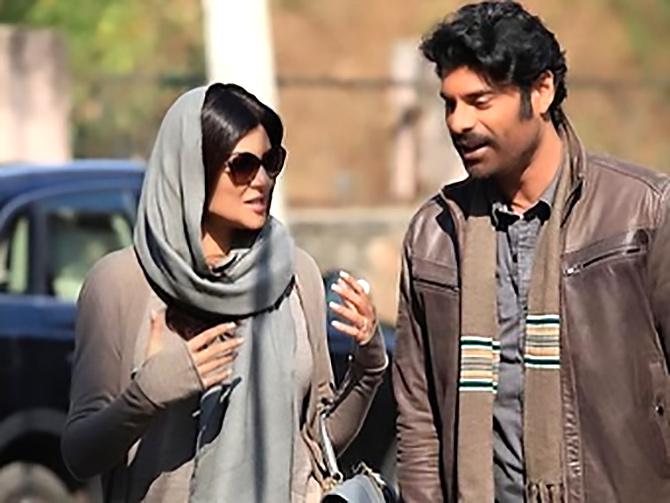 We haven't seen Sikander Kher so good before.
Sikander is so internal.
There is a school of acting which is to show and a school of acting which is to be. Sikander is in the latter.
We used to tell him, 'You are stone, you have to be like a wall.' From Daulat (his character), we started calling him Wallat.
You know, Wallat ko bulao! (Laughs)
Just with a shift of his eyes, while he is simply standing there, he lends so much presence to the screen.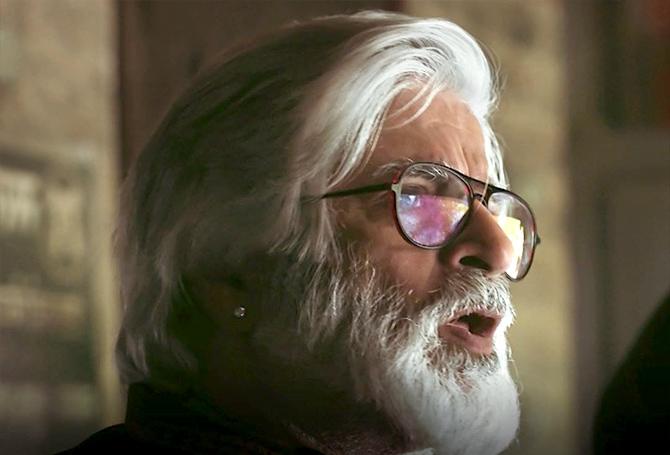 What was it like working with someone so senior like Jayant Kriplani?
Very easy. I just had to tell him to get sandesh from Kolkata every time he came down! It was pure bribing!
I told him you want to be in Aarya, you have to get me sandesh! (Laughs)
No, no, I'm just joking.
I have worked with Jayant's son (Pushan Kripalani) )as a DOP (director of photography).
I have worked with his wife (Gulan Kripalani) when she was in an (advertising) agency.
I have never worked with Jayant before.
Obviously he comes with a lot of work behind him. He is now what they call a thespian.
But he was very easy to be with.
Just day before yesterday, he messaged me and I told him that it was time for him to come back to Mumbai because I needed my sandesh again!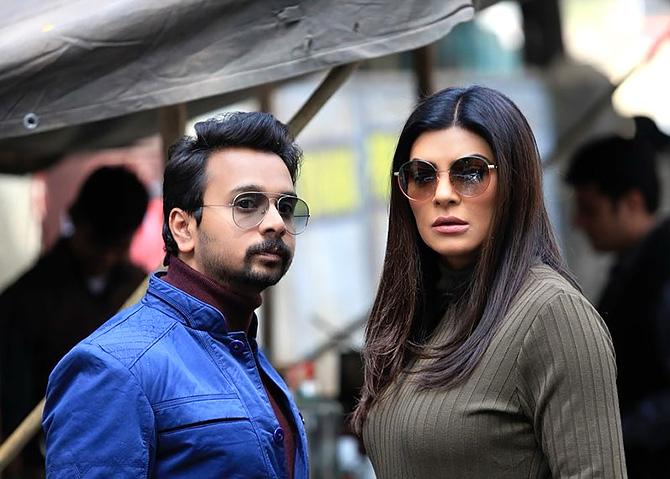 Namit Das played his grey character Jawahar so well.
He is multi-talented; he's a singer too.
When Namit joins Aarya on screen, the energy changes.
He is so wired all the time, and so unpredictable.
At the same time, you like him.
You feel bad for him.
That's the thing about the OTT platform, you can have grey characters.
He was not a bad guy. He even says at one point that the situation made him like this.
Neerja and Aarya are both thrillers and yet, a lot of importance is given to emotions and family dynamics.
Neerja was, of course, a hijack story, but it was a mother-daughter story. It was about how her family overcame the loss of their child.
Aarya is a crime thriller, but it Is actually a family crime thriller.
The reason to make it is because of the relationships.
The good thing about the plot is that it keeps everyone hooked into it, but what I am more interested in are the emotions.
I am in the business of feelings, in the business of emotions.
Mein emotion ki dhande mein hoon.
I am interested in making you cry, making you feel...
Aarya is not just a whodunnit, it's not just about who killed Tej...
If ever we make season two -- we've not been green-lit yet -- you will be interested in knowing about the people... like, what happened to the son, what happened to Aarya...
You'll be interested in the investment in relationships.
Even in life, that's what we are really interested in.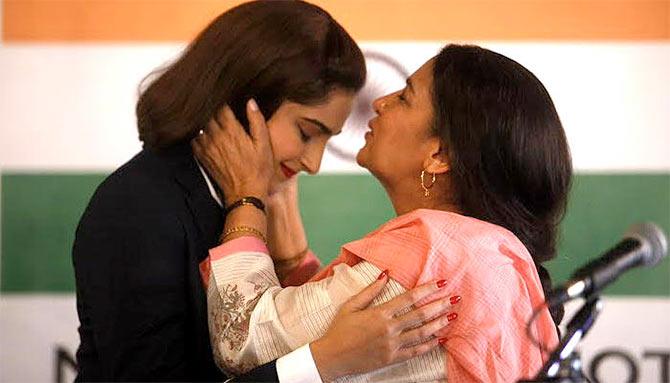 Your first film Let's Talk was in 2002, followed by Neerja 14 years later. Aarya followed 10 years later. Does it take you time to choose a next project or is it tough to get one?
There are two or three things at play.
There's a line that Aarya says, 'Trust is good, but control is better.'
I like control over the material I a&m putting out and sometimes, I find that the control takes time.
Secondly, this industry is very unpredictable. When a project comes out, it's like a miracle.
Even though I would like to do more work, sometimes it just does not work out.
It's a difficult mountain to climb.
I want to be faster, but the universe is writing a different script for me, so that whenever it does happen, like it happened with Neerja and Aarya, the love that I receive is huge.
So I will thank the universe and say that it doesn't matter if it takes time because when it happens, let it happen well.
But how does the delay make you feel? Your film Talisman did not work out. How does that affect you as a person?
I have a good support system, there's Amita and my family.
When it doesn't happen, it's disheartening and there's no question about it.
Sometimes I give myself a schedule and say that I am going to cry between now and 2 o'clock the next afternoon and then I will stop. (Laughs)
I am very schedule-oriented!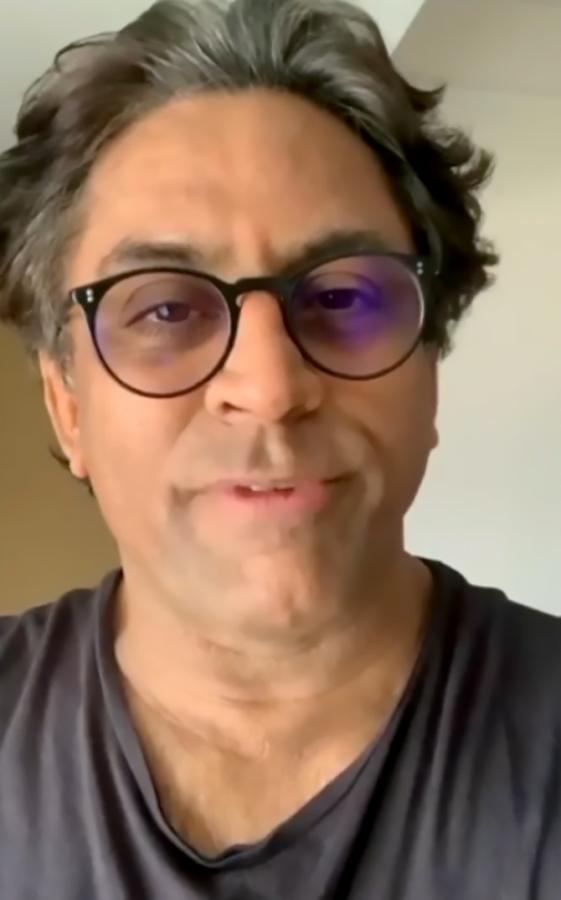 Have you actually done that?
Yes, I have actually, when one of the films didn't work out.
I said, all the drama until 2 o'clock the next day, and then no more.
I've been very lucky because in the films that didn't work out, I realise now that maybe that wasn't the right time.
That's why now I am a lot easier with the idea that things may not work out because when they do, I know that the universe is looking out for me.
I am easier with rejection now.
As a director, a lot of times my job is to say no. Like, I don't know the colour, I don't like the light... It's the way the 'no' is said.
Now, when the universe says no, I understand. I don't know why (it says no) right now, but I will soon.