...'You create your own success.'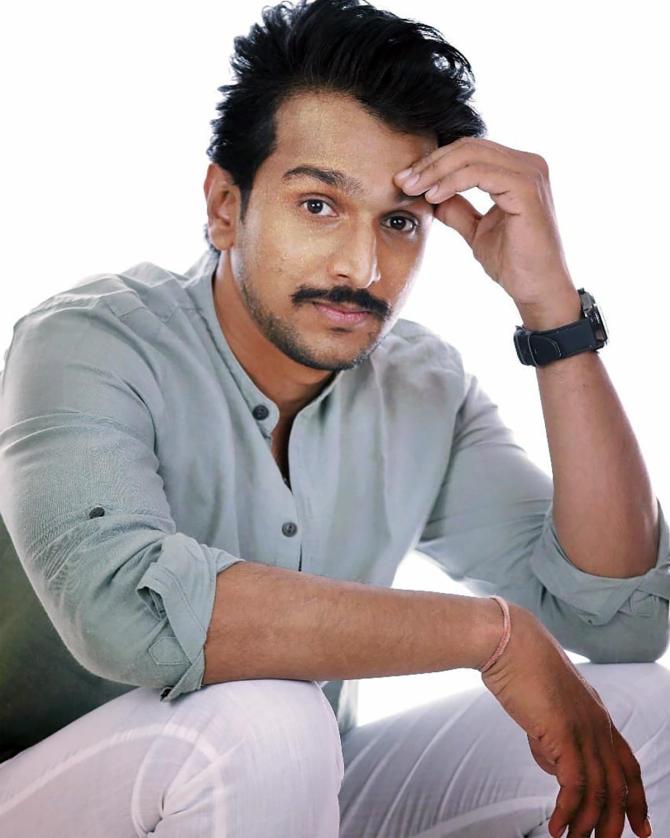 It's an exciting time to be Pratik Gandhi.
The actor who played Harshad Mehta in Hansal Mehta's Scam 1992 is undoubtedly, the star of 2020.
"Suddenly, I am centrestage, with full focus on me" Pratik tells Ronjita Kulkarni/Rediff.com, and it's all with good reason.
Still, Pratik hasn't forgotten his previous commitments.
As he completes another day of shooting a Gujarati film at 10 pm, he squeezes in an interview on his drive back home.
You walked the red carpet for the first time at the recent Filmfare OTT awards.
It was overwhelming!
All this time I would watch Filmfare on TV, I never thought I would go there and present an award!
I was telling my brother that it seems the Almighty was training me for this all these years because in the last four-five years, I used to attend a lot of award ceremonies for my regional films.
The Gujarati film industry is a very small set up, probably the smallest among all the Indian film industries. But still, it does have an award set-up.
So it seemed that the universe was training me for this ceremony all this time.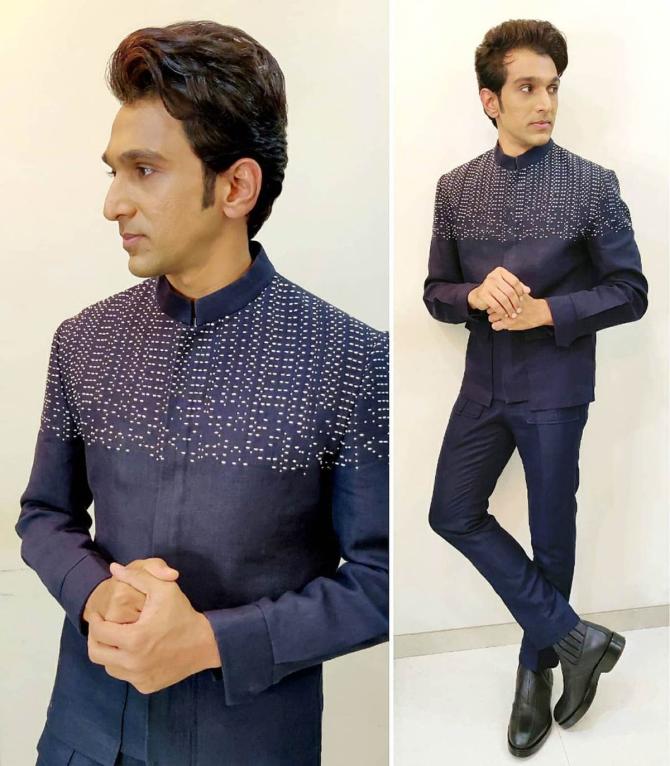 You have been enjoying quite a few firsts, including going on the sets of Indian Idol.
Yes, I saw it live for the first time.
The kind of talent these guys have! It gave me goosebumps!
But I never knew that the dialogues of Scam were so famous. Even the walk!
One of the contestants went on stage and asked me to do the famous walk. Hansal and I were looking at each other, and wondering which walk was that! Which famous walk? I didn't know (laughs)
It has been more than two months since Scam released. How has this time treated you?
It has been a roller coaster ride.
My life has changed.
A lot of things have changed.
I have been working in this field for the last 15 years, but my first mainstream project put me in the limelight.
Suddenly, I am centrestage, with full focus on me.
For the last two months, I am giving so many interviews every day.
I think I have got offers of seven-eight Web series in the last two months.
People have started taking me seriously as an actor.
It makes me feel confident of my craft.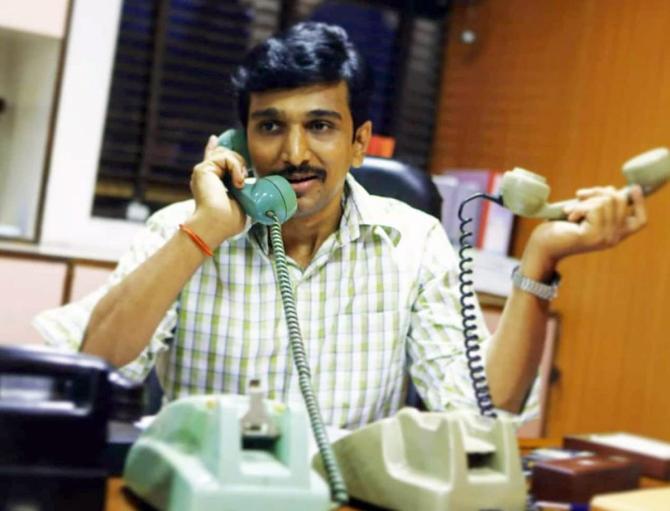 Do people call you Harshad when they meet you?
Yes. They say my dialogues.
Randomly, people come to me and ask me where they should invest.
But you didn't know about the financial world before you took up the show.
Not at all.
I am an engineer, and I have no relationship with the financial world.
But I got curious to learn more about it.
Did you expect this kind of feedback?
We knew that something good would come out of it, but I never knew it would be the biggest thing of the year.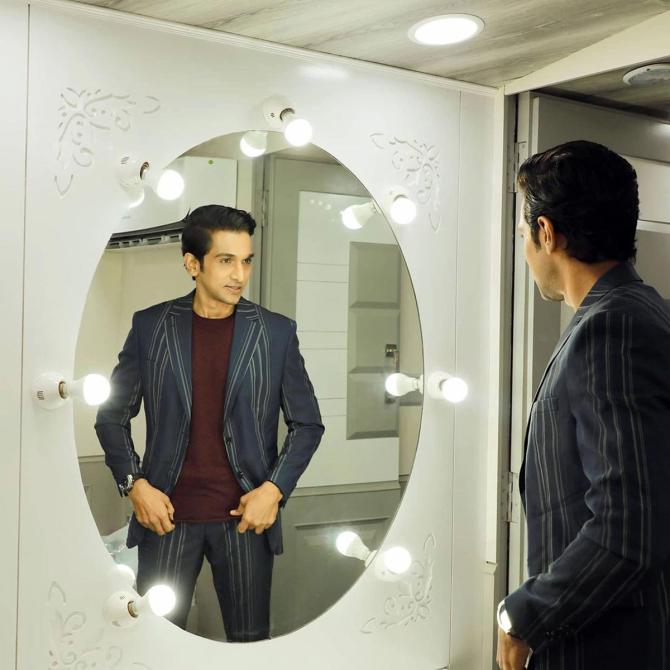 You are the Star of 2020. Does that put pressure on you for your next project?
The way I look at it is that I don't want the pressure.
I am excited about what is going on around me right now.
A lot of people were telling me that your next move will define your career, it will define my future.
But I have working in a similar way all this time before Scam -- be it in stage shows or regional cinema, my approach towards my work and creating characters is not going to change.
Now the dilemma is to select from many.
Earlier, there was no selection. I would meet people and ask them if there was anything interesting that I could work on.
I went through the usual process of auditions. Sometimes I wouldn't even know which project I was auditioning for.
I had no idea where the big projects were, whom to meet, which production house...
Now the scene has reversed.
Now they give me narrations.
They give me details of the production house, the writers, director... they even send me the director's profile and ask me if it excites me.
So the approach of the world towards me has changed. My approach is the same.
How are you handling this sudden fame?
I am just going with the flow.
I feel no one is interested in you unless you create your own success.
I don't want to change the way I work because that's what brought me here.
Theatre has given me this beautiful training. Sometimes, you get a lot of claps and sometimes, for the same act, you may not.
Things change every day.
Also, actors are human beings, not machines. It's not like success ka formula mil gaya, aur use feed kar do and every time we can create success.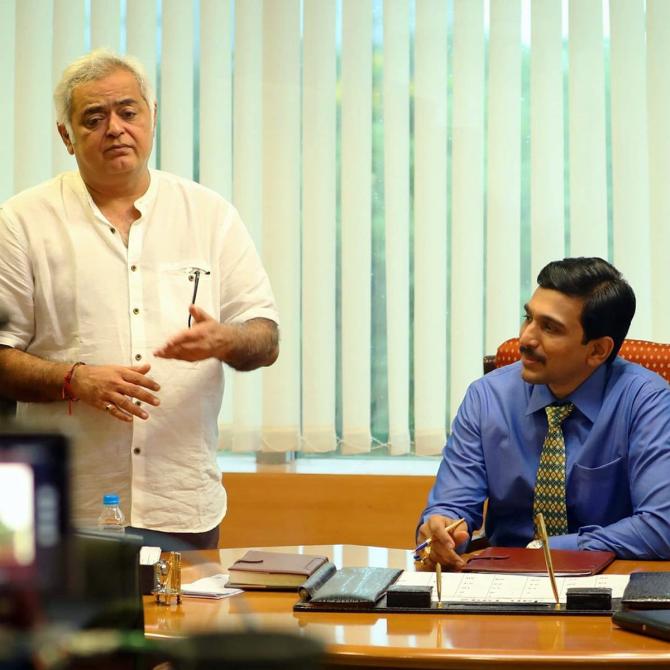 How old were you in 1992?
I guess I was 10 years old.
I had heard that the whole socio economical design of the country had changed (because of the scam). But I was too young to understand the technical things that had happened.
Apart from that, my cousin had lost money in this scam. That's how I remembered Harshad Mehta.
Did you ever connect with his character at any point?
The connect I find was in his earlier journey -- a guy coming from a lower middle class, living in a chawl, trying to make his space in the mainstream.
It was so classist then.
Apart for a few people, they were not letting anyone enter their world.
Harshad Mehta fought for his space, created it, and started ruling the financial world.
That struggle of any middle class guy is the same.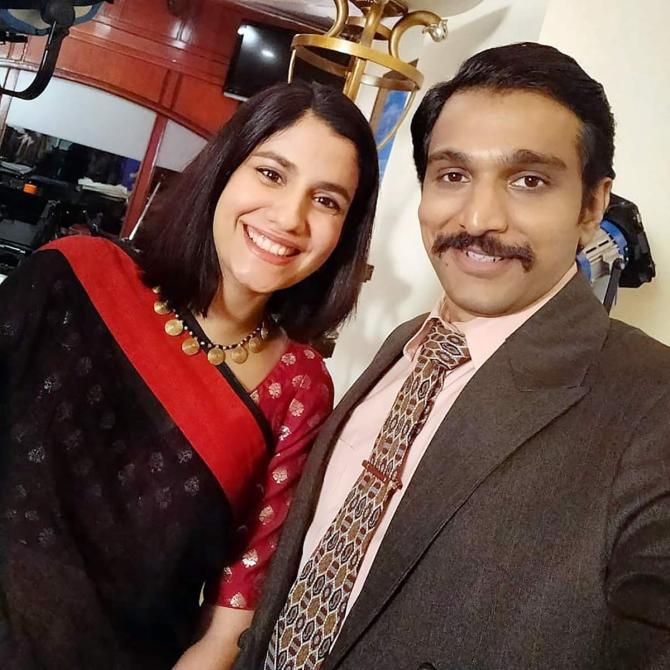 What was the toughest part about playing him?
The toughest part was that I had to remain neutral while playing him, even after reading everything about him, after knowing about the scam.
I was not supposed to be biased in my mind.
As an actor, I should be able to create a character which is open to interpretation by the audience.
That is very tricky.
So how did you do it?
The script had 550 pages -- a research document in itself.
I also googled Harshad Mehta.
Hansal told me that we should make this character a human character. When I saw his interviews on YouTube, I did not try to mimic him or look like him or behave like him.
We wanted to bring out his characteristics, his journey from confidence to over confidence to arrogance to ego, to his downfall.
As an actor, I love to perform such complex human emotions.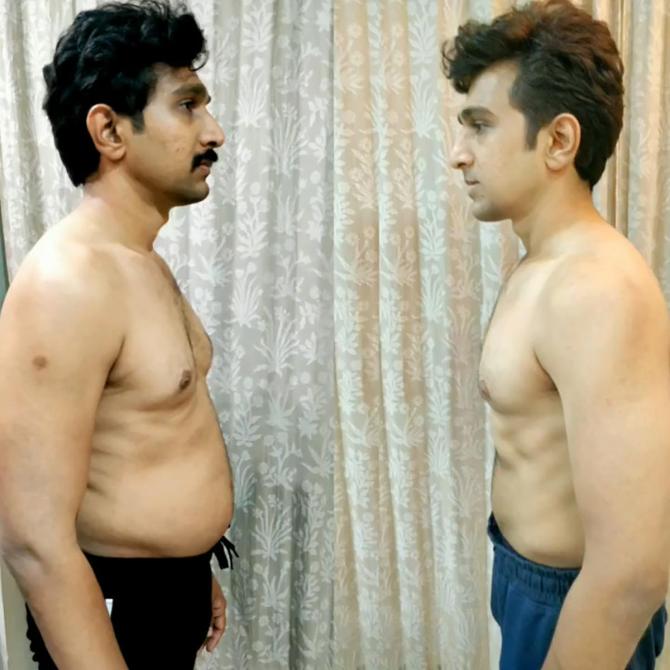 You gained weight for the role.
I gained 18 kilos because they wanted that body frame.
He had a squarish body frame, he was a typical Gujarati that way.
But my body isn't heavy set.
My face cut is also different, I have an elongated face.
I kept eating for eight months! I had a lot of rasgullas.
I had to drink a lot of beer for that beer belly.
What's your favourite scene in the series?
I have lots; there are a lot of small moments that I love.
But I love the scene in the 10th episode, where Harshad and his brother Ashwin confront Bhushan after they learn that Bhushan has back-stabbed them.
It is a very complex scene.
You feel for Bhushan that he was promised a partnership, a dream that was never fulfilled.
At the same time, you feel for Hashard too because now, for this f***-up, he will have to face the music from the CBI again. And that is the first time that Harshad was scared because he didn't want to go to jail.
He fell cheated.
It was a very complex scene.
The death scene was also very touching.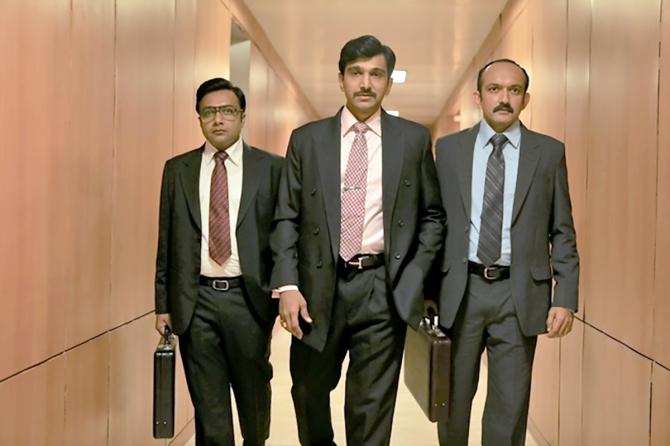 What feedback did your wife give you?
She loved it. But she refused to watch the last two episodes.
What about your six-year-old daughter Miraya?
For her it's very simple. If I'm happy, and smiling, she likes those scenes.
The moment I'm tense or crying on screen, she doesn't like it.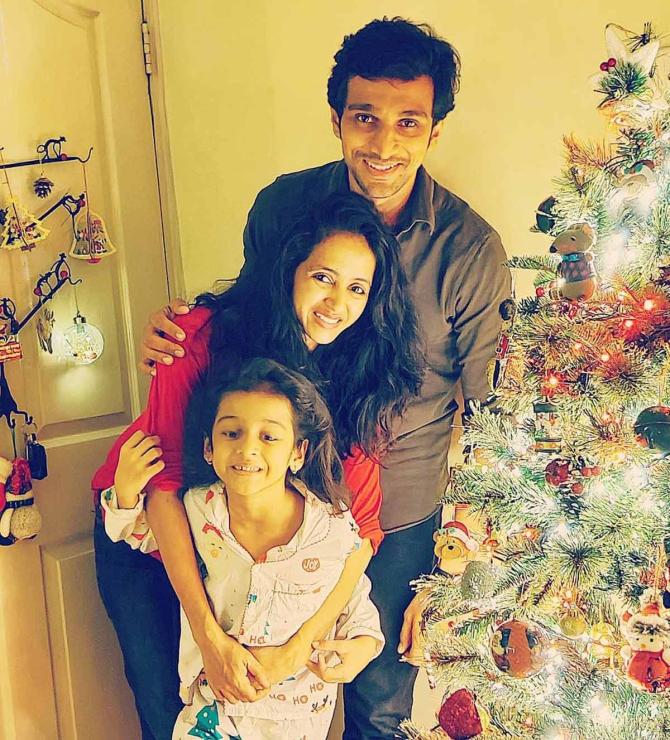 What were you doing in life before you got this role?
I was shooting for my first Hindi film as lead, Ravanlila. It is ready and we will release it soon in theatres.
I was shooting in Bhuj when Hansal called me.
Ravanlila is a socio political satire and a love story.
Did you always want to be an actor?
I have been doing theatre since Std 4.
So being on stage, performing a character was second nature to me.
I don't remember a certain day or incident when I decided to be an actor. It was a part of me.
Why did you become an engineer then?
I have a multiple-passion disorder. (laughs)
I want to do many things at the same time.
Mechanical engineering is also a passion for me. I get excited about innovations.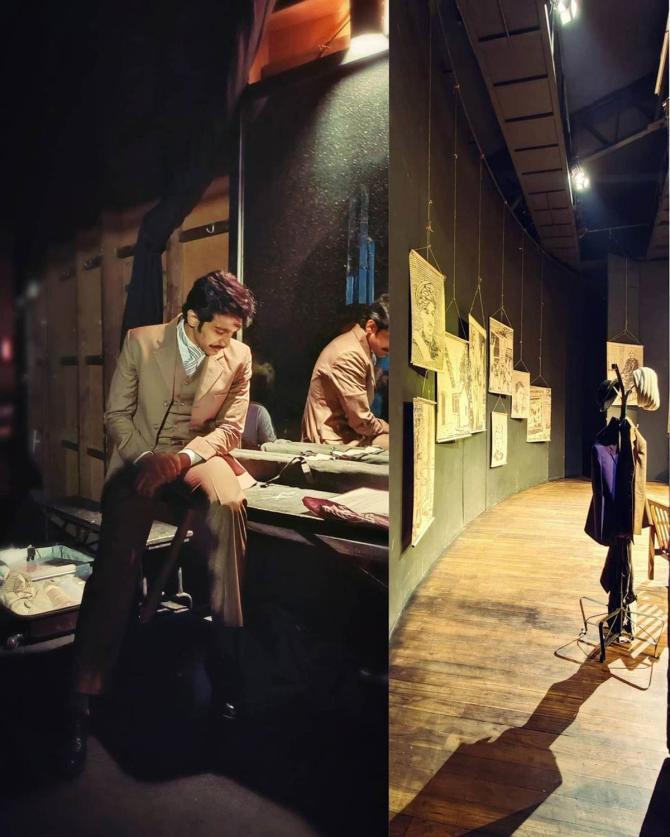 Tell us about your journey.
In 2004, I came to Bombay with an engineering degree in hand and some theatre experience, thinking that this is the place for both these fields.
I started working freelance, and then I joined a corporate full time, as an engineer.
I kept doing my theatre side by side.
I balanced both for almost 14 years.
How tough was that?
I had to compromise on my sleep and my family time.
I used to rehearse for my plays between 5:30 am and 8 am.
Then I would travel for about one-and-a-half hours to reach office. It was a full time job of about eight hours.
In the night, I would either go for a show or another rehearsal.
I was a part of experimental theatre, so that gave me the freedom of rehearsing on my time. It involved less travel but there were less number of shows too. But it was very fulfilling.
In all those years, I took only two or three vacations.
I used to accumulate my leave, thinking that I would utilise them for any project that would come my way.
In 2014, I got my first Gujarati film Bey Yaar and I took leave of about 20-22 days for it.
After two years, I got my second film Wrong Side Raju. Again, I took leave for about 25 days and shot it. It won the National Award, and I started getting a lot of offers.
I started doing a lot of monologues in theatre.
Then came a time when I had to choose between acting and my engineering job.
In 2016, I left my job and became a full time actor.
My wife was my biggest support. She understood me, my passion.
She, my parents, my younger brother...It seems they were also living my dream.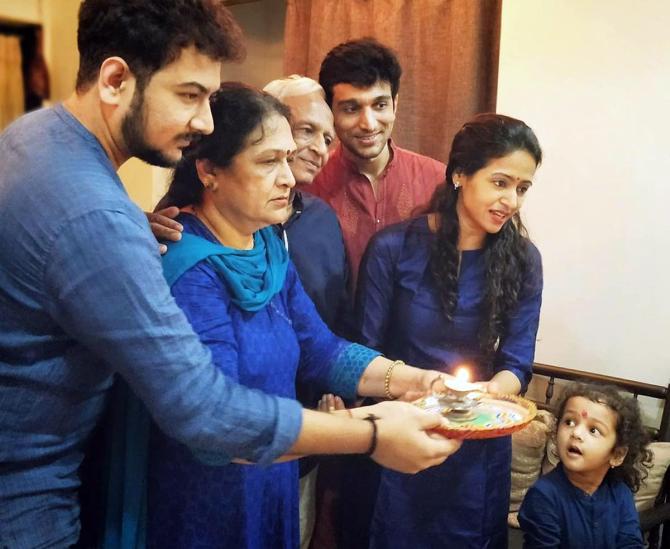 You took up quite a few jobs when you came to Bombay, including hosting children's parties.
Oh yes!
From 2004 to 2008, I have done a lot of things.
I was a compere and would host children's birthday parties, kitty parties, corporate parties.
I started taking water tanker cleaning contracts of housing societies in Vile Parle (north west Mumbai).
I also installed mobile towers across the city.
Until I got a good project, I had to survive in the city.
So giving up that stable engineering job must have been a big risk. What was going on in your mind?
Just before I left my job in 2016, I had bought a house with a huge loan.
I was just any other salaried guy, buying a home for his family.
It was a crazy thing that I did but I had understood that this so-called security is actually a myth.
There is no security in anything that you do.
My father was my biggest support. He told me to follow my heart and do what I wanted to do. He passed away two years ago.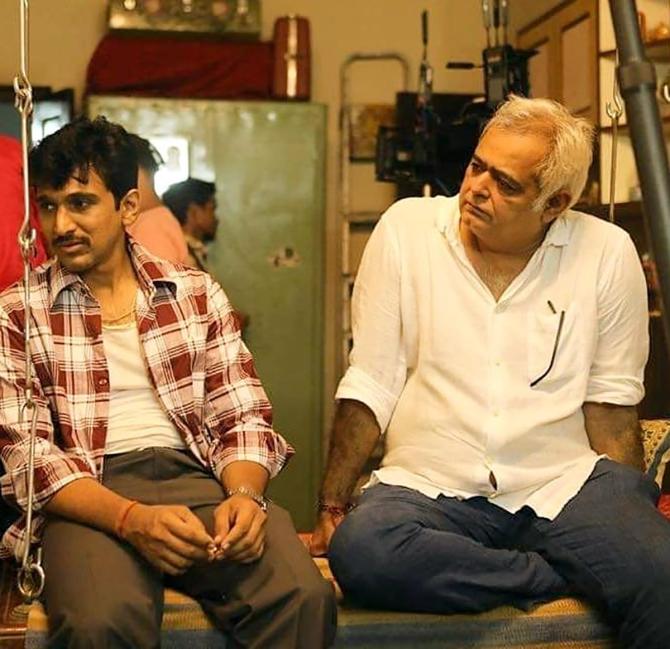 Will we ever see you in a hardcore Bollywood film?
I am open to everything.
I just started, so I am looking to work in all genres.
I like the realistic space.
In comedy, people have mostly explored slapstick. But there are different types of comedy. Comedy is the toughest thing to crack.
Will you continue working in Gujarati cinema?
I will balance my time between both.
I will be concentrating on mainstream, as I still have to establish myself as an actor.
It will take a couple of projects for me to get there.
But I want to do experimental Gujarati cinema.
How did you spend these months in the lockdown?
I was concentrating on my fitness the first 60 days because I had to shed the extra weight I had gained for Scam.
I would do a workout of almost three-and-a-half hours.
No more rasgullas.
I had to have solid control during the lockdown because everyone was putting up dishes that they had cooked at home on Instagram.
My brother cooks very well. You see that in front of your eyes, but you cannot eat that!
After that, my family and I tested positive for COVID.