'I didn't even know where Bombay was before I came here.'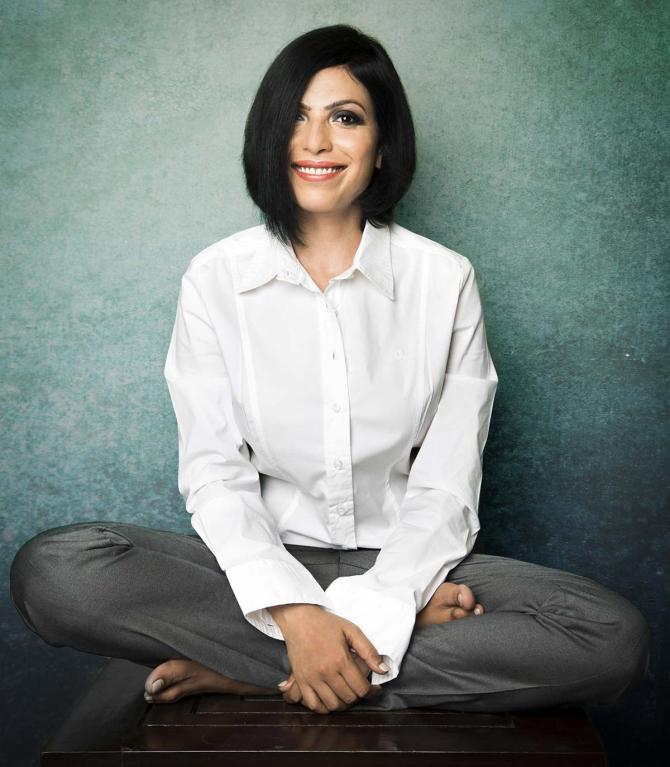 "People still remember me as the Chak De girl!" Shilpa Shukla says with a laugh.
It has been 13 years since she starred in the Shah Rukh Khan hit, and she has done several films since, but it remains the highlight of her career.
Shilpa will be seen next in the second installment of the popular Web series Criminal Justice, Criminal Justice: Behind Closed Doors.
It is a strong role, like most others that she has done, and she tells Ronjita Kulkarni/Rediff.com, "Someone once told me that I get such roles because of my high cheek bones."
How was the experience of shooting Criminal Justice 2 in these COVID times?
The shoot started before the lockdown and we were supposed to resume in March. But the lockdown happened.
When we started shooting again, some four or five months later, it was so great to see these actors again.
This is an experience in my career that I will never forget.
I can't describe that feeling of when you take things for granted and you feel you will always have a set around you and people around you, and then you are deprived of that for five months.
Even a namaste was divine!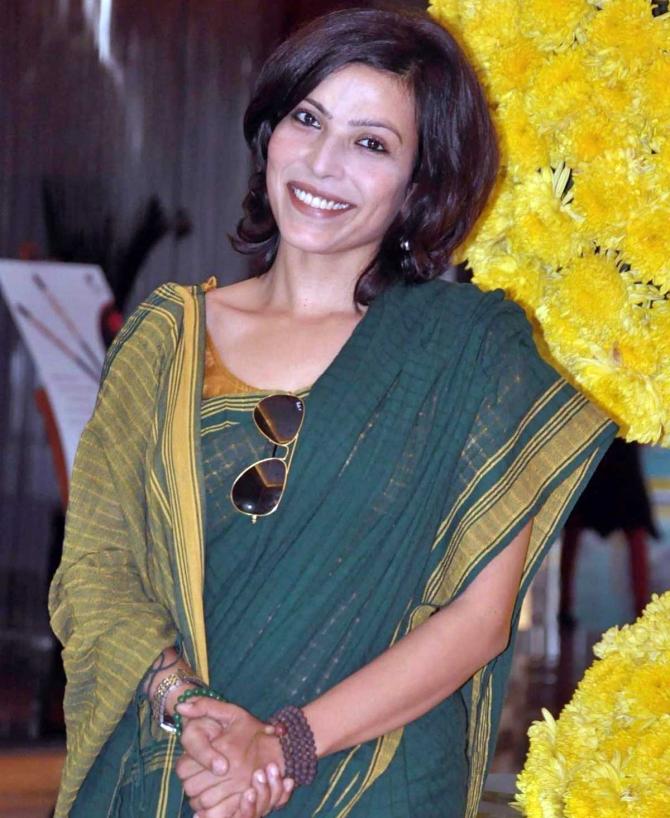 You share the screen with Pankaj Tripathi. What was that like?
Pankaj is a very dear friend. I've known him for almost 15-20 years now.
I've known him from Delhi.
He would come home with his baby.
Since both of us are from Bihar, we would go to the Bihar film festival together.
I'm happy to share screen space with him.
I know that he is a gifted artist...yeh to hame bahut pehle se pata hai (I have known it for a long time).
You have to keep up with the patience, but whenever your time comes, it comes.
And how beautifully it has come for him!
Also, for the audience. It's not that finally just the artist is getting his due. Even the audience is enjoying his performances, which means it is also changing something in them. So it is a two-way process.
I had done a short film with Pankaj about five years ago, and I have seen him through that phase of struggle.
But he has always been such a dignified person.
And he has not changed at all. Things around him have changed, but he hasn't.
He is still humble and respectful towards everyone.
He is such a fine artist with such a great attitude.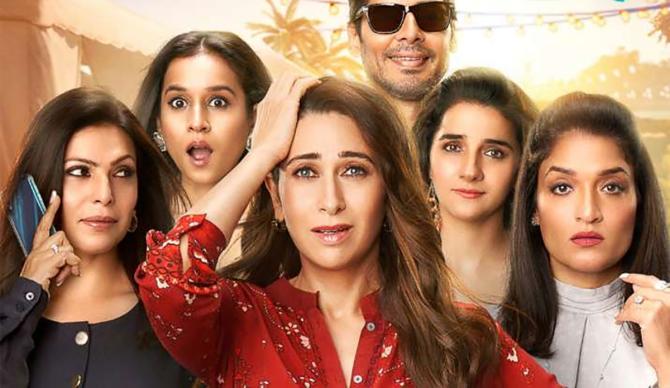 You have always played strong characters, whether it is in Criminal Justice, Mentalhood or even in Chak De! India. Do you pick such roles, or do they come to you because this is how you are?
That's a mystery even I don't know.
I am not like that.
My friends don't think I am like that, they call me a cotton ball!
Maybe because of my training in theatre, a certain amount of fearlessness has come in.
But when I do theatre, I do all kinds of characters.
In films, if this is how people see me, then it's fine. It's a compliment if they see me as a strong, powerful woman.
Someone once told me that I get such roles because of my high cheek bones.
I've never known the film industry well, so I don't know what works and what doesn't, why something happens and why something doesn't.
So I just like to leave it at that.
Why don't we see you in more films?
I come from theatre.
I never came to this industry with any motive, but to be able to express through the characters that I play.
When that expression becomes similar for every character, it bores you. I didn't want to fall into that rut.
Also, I wanted to keep enriching my real life experiences, for which we need to keep emptying ourselves from time to time. It's a very new concept for our Indian film industry, but people in the West have been doing it.
There wasn't much that was happening from 2014 to 2018-2019 for me. It was either horror or...kuch maza nahin aa raha tha.
In those times, very limited characters would be written for women.
The reason I didn't do anything was because nothing excited me.
I went to America for almost a year.
I went to my village (in Vaishali district, Bihar) to get some life experiences.
And I didn't have any fear in my head that the time was ticking.
And I like it when people still remember me...like Roshni (Banerjee, casting director) remembered me for Criminal Justice.
The world has changed in the past two years. Now I know that I will work more.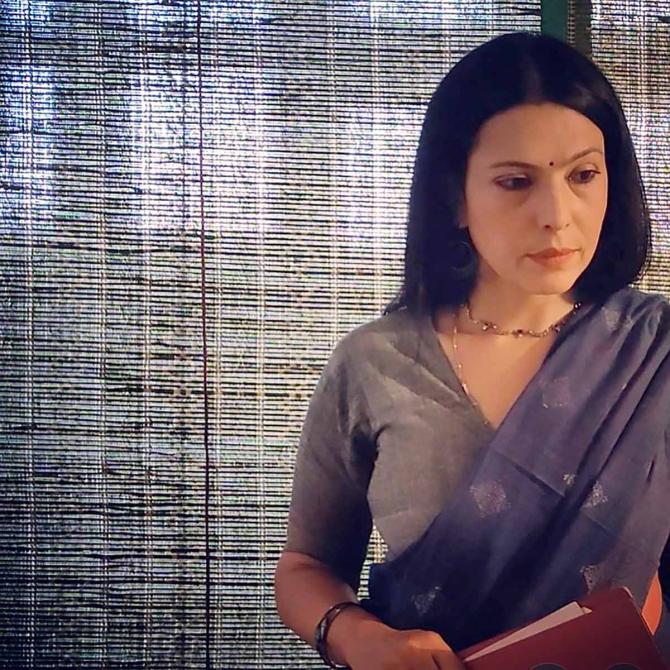 How did you cope during that period?
Everything is a part of the process at the end of the day.
When nothing was happening, I had to embrace that too. Even that uncertainly needs to be embraced.
I was spending time with my family, my mother.
To satisfy my creative cravings, I would do theatre.
I had no one in Bollywood and the industry has been very kind to me.
I'm very happy with what I've got, and honestly, I did not expect much.
I got all the awards for both my films (Chak De! India, BA Pass), so they have recognised me, praised me and loved me.
I have played strong women characters, so I have no complaints.
Do people still recognise you as the Chak De girl when you walk on the streets?
They do, and it's lovely!
The other day, I went to this mobile shop to get that LED ring for my Zoom interviews.
And this guy was so nervous!
He asked if it was the same girl, and I said yes. He asked for a picture, and his hand was shaking!
So I said, 'Barah saal ho gaye, why are you still so nervous?' (laughs)
So that happens.
Whenever I go to a public place, I feel this familiarity with the whole world.
When I was in America, someone came to me and asked, have I seen you at a wedding?
So there's that familiarity.
Are you still in touch with the other girls in the film?
Absolutely! We have a WhatsApp group.
Have you bumped into Shah Rukh Khan lately?
The last time I met him was when I was getting a Star Screen award for BA Pass. He announced the award, in fact. This was in 2014.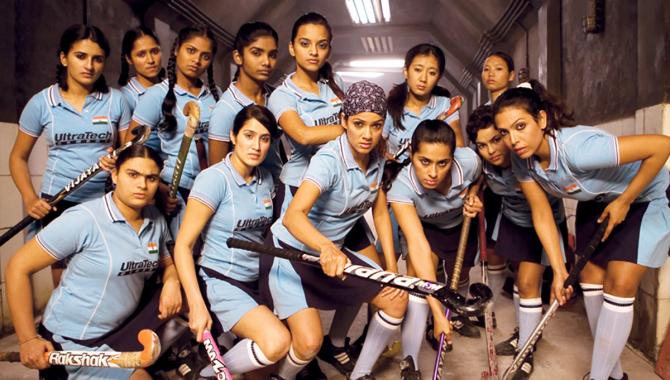 Chak De! India gave you a lot of recognition, but did it give you any work?
Yes, there was work that happened after that.
Unfortunately, the recession happened around the same time. Many of the projects that I shot for were shelved.
That was one of the most difficult phases of my life because just when you think you have arrived, you get suddenly disillusioned.
I shot for four films that never released.
But now when I look back, I say theek hai. Like I said, you have to embrace it all.
How did you handle that phase because you were quite young and inexperienced then?
I started questioning success.
I started questioning happiness.
I started questioning the cause of the suffering.
It took me on another journey.
At that time, I was unhappy, but disillusionment is also very important because it pushes you to question things.
I took my first sabbatical, and then I took another sabbatical after BA Pass.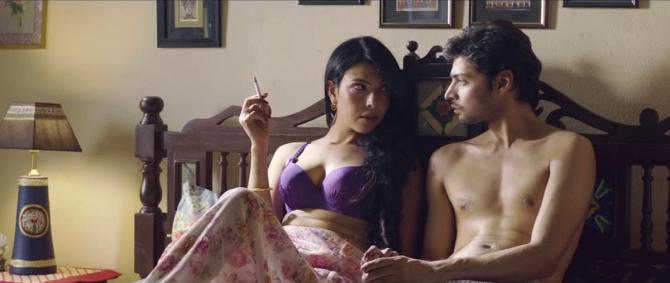 BA Pass had quite a bold subject. Did you take it up to change your image?
Not at all.
I'm a very spontaneous person.
I didn't even know where Bombay was before I came here.
I was theatre in Delhi. Someone called me, and asked me to do a film.
I did it -- the film was called Khamosh Paani -- and it became big.
Someone said come to Bombay, and I asked him, 'Where is it?'
I had seen only one or two movies (in my life) because there was so such interest in my family.
Then things just started rolling.
I remember Anurag Kashyap had called me once for Gangs Of Wasseypur. Just before that, I had worked on something, where the protagonist ages from 16 to 60.
I was so emotionally drained after that that I asked Anurag if I could assist him on the project.
He had laughed and said, 'Are you mad? I'm asking you to play a part and you want to assist me.'
So I said that I didn't see myself in that character, and that I knew someone else who would fit the part better.
Later, I did go on set and met him.
If I have explored an emotion for too long, I doubt it will excite me again.
But I have evolved now.
Now I know that if people want to see you in a certain kind of role again and again, it's okay. It's a gift that you've got, so you should not let it go.
I've understood that now.
So I am in a better state to keep on working.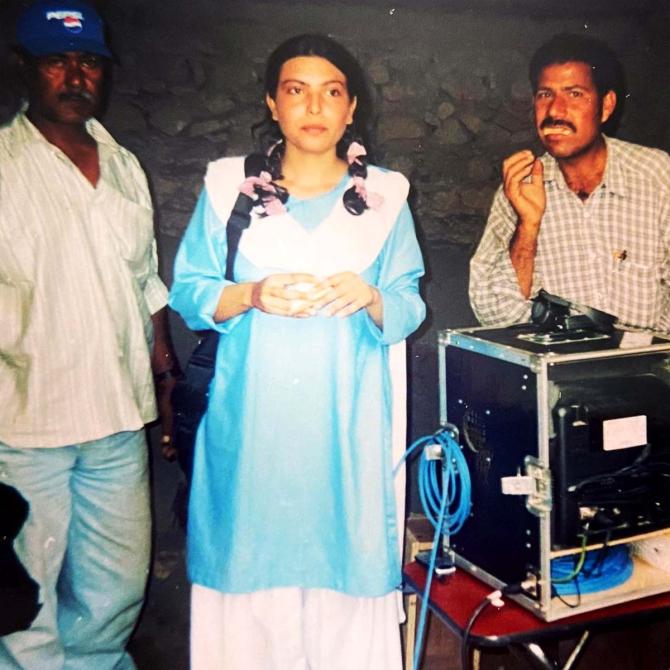 Did you feel any regret for turning down Wasseypur?
No. I know that is very difficult to process, but no.
Like I said, I had suggested that he take someone else, who he later took for Sacred Games.
I don't believe that I am an actor so only I should be doing this.
You have met the Dalai Lama quite a few times.
Yes, many times. Almost every year, since 2010.
Every year, there is a teaching that happens and I go and take teachings from him. A lot of people come for that. Sharmila Tagore comes regularly.
We are so fortunate to have him with us.
It gives me more grounding.
My brother is a Buddhist monk.