'The magic of Roja can never be replicated because how can you recapture the carefree innocence of childhood?'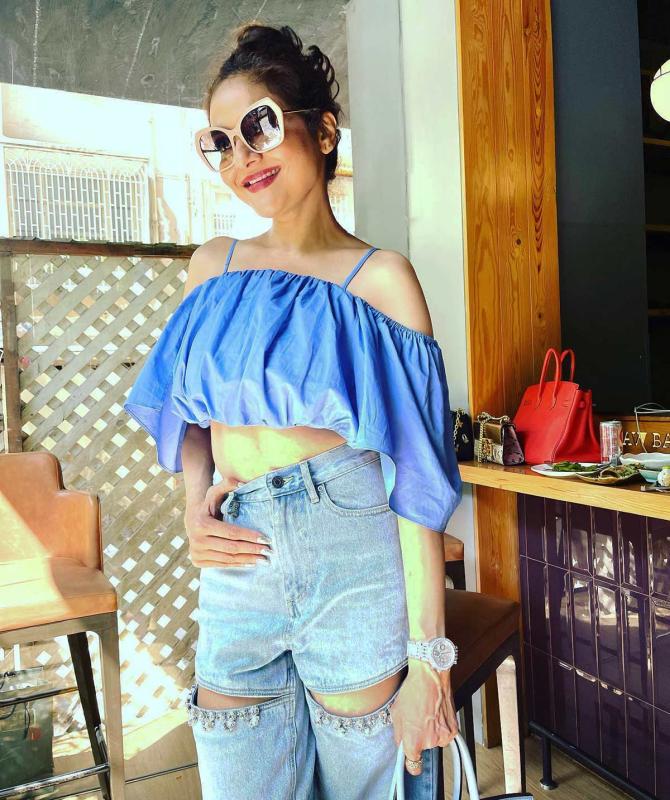 There's a reason why Madhoo quit acting so abruptly, and she tells us why here.
But she's back, with a slate of films and Web series in hand, and raring to go again.
Madhoo looks back at her career, and ahead, and tells Rediff.com Senior Contributor Roshmila Bhattacharya, "Now that I am back as a professional actor, I'm raring to work with some of my earlier co-stars, like Ajay Devgn and Akshay Kumar."
Many believe you made your debut opposite Ajay Devgn in Phool Aur Kaante. But wasn't your first release K Balachander's Tamil film, Azhagan?
I signed both films at the same time and even shot for them simultaneously.
There was also a Malayalam film, T K Rajeev Kumar's Ottayal Pattalam, which released in the same year.
So you debuted in three languages in 1991?
(Laughs) Yes, but that's something I realised only in hindsight.
At that time, I was barely 20.
It was a male-dominated industry then and at times, even my hairdresser was a man and I was the only woman on the set.
That must have been really tough.
Yeah, I laughed one day and cried another day.
And moved on.
You have always wanted to be an actress?
Yes, since I was five years old.
But in my adolescence, I went through a bad phase when I didn't like my face, body or even myself much.
I have grown to love myself since, but back then, my self-esteem had hit rock bottom.
For a while, I didn't think I would be accepted as an actress.
So when I suddenly landed these opportunities by chance, when I was just 19, and life opened up, it seemed like the greatest gift from God.
Grateful to be living my dream, I never asked any questions. I didn't overthink.
Like when I landed I V Sasi's Malayalam film Neelagiri, another 1991 release, I did not wonder what I would be doing in a film that already featured Mammootty, Sunitha and Srividya.
(Laughs) I was the youngest on the set and the happiest because ek aur film mil gaye hai (I had got one more film).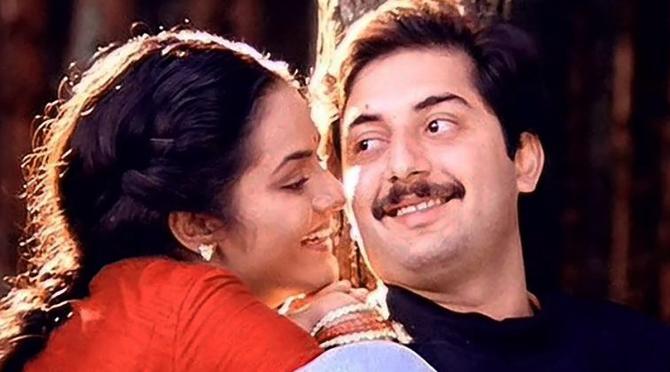 What has been keeping you busy?
There is Emcy Joseph's comedy Ennnitu Avasanam and a Netflix anthology series, also in Malayalam, based on legendary author M T Vasudevan Nair's stories.
Each story is an hour-long episode with a different cast, featuring actors like Mammootty, Mohanlal, Biju Menon and Aparna Balamurali, and acclaimed film-makers like Priyadarshan sir, Santosh Sivan and Jayaraj.
My story, Vilpana, is helmed by a lady director and is the most arty thing I have ever done.
There is another progressive anthology series on Amazon Prime, Sweet Kaaram Coffee, with Laxmi aunty of Julie fame as my mother-in-law and Jallikatu actress Santhy Balachandran as my daughter.
My story revolves around three generations and is women, their place in society and will overturn saas-bahu dynamics.
By the end of the shooting, it felt like Laxmi aunty was my mother for real.
There's a pan-India Telugu film, Eagle, with Ravi Teja.
I've just started shooting for a Vashu Bhagnani action thriller with Tiger Shroff and Sara Ali Khan, which has me in an important role.
There's another Hindi film with Shreyas Talpade.
It's been over 30 years but you are still known as the Roja girl singing Dil Hai Chhota Sa, Chhoti Si Asha. Let's flashback to that career defining role.
The beauty of Roja is that I didn't do anything.
Running through the fields, splashing in the water, making mischief with the children was me, only I was running on Juhu beach in real life.
My father has coined a name for me: NRKK.
We lived in a society called Krishan Kutir and I was the Non Resident of KK because I was never home.
I have matured as an actress since and while I may be able to better my performances in other films, I can never do a Roja again because I wasn't acting in the film, I lived the role.
Even in the second half, when Roja is fighting to get her husband, Rishi, back from the terrorists in Kashmir, she is more vulnerable than aggressive.
The magic of Roja can never be replicated because how can you recapture the carefree innocence of childhood?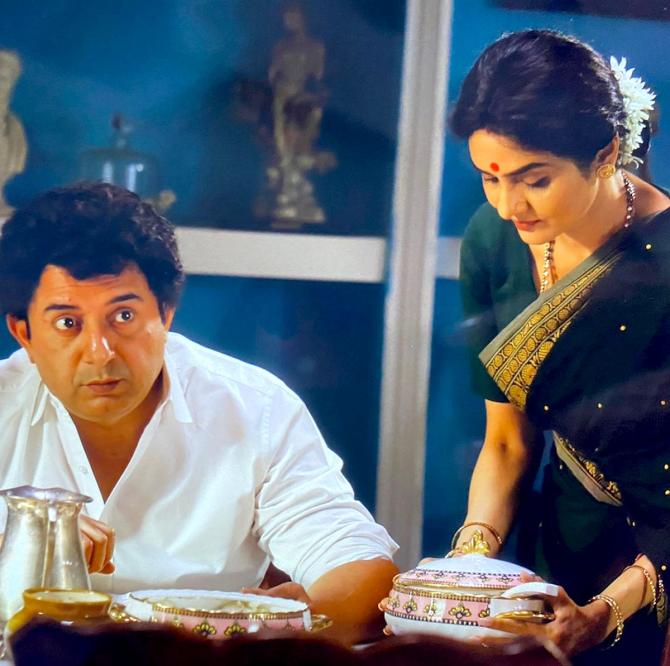 How was it reuniting with your Roja co-star Arvind Swamy in Thalaivii?
Like me, Arvind was not a professional actor then.
He was Mani (Ratnam) sir's friend, who had done a cameo in Thalapathi in 1991 after which he was cast in the lead in Roja.
Like me, he was very raw and that worked in our favour.
During Thalaivii, when someone showed Arvind a photograph of us from Roja, he quipped, 'Oh these two were amazing!'
It was like he was talking of other actors instead of us.
While laughing at him, I could understand his reaction because it seems like Roja happened to someone else.
How much has Ajay Devgn changed?
He was always a good actor, intense and genuine.
It's just that since Phool Aur Kaante he has done a lot of brilliant work with some really fine directors, like Mahesh Bhatt and Sanjay Leela Bhansali, and that has honed his talent, boosted his confidence, made him a complete actor.
Now that I am back as a professional actor, I'm raring to work with some of my earlier costars, like Ajay and Akshay (Kumar).