'A feeling of dissatisfaction had set in. I believed the flood of offers coming my way didn't do justice to my talent.'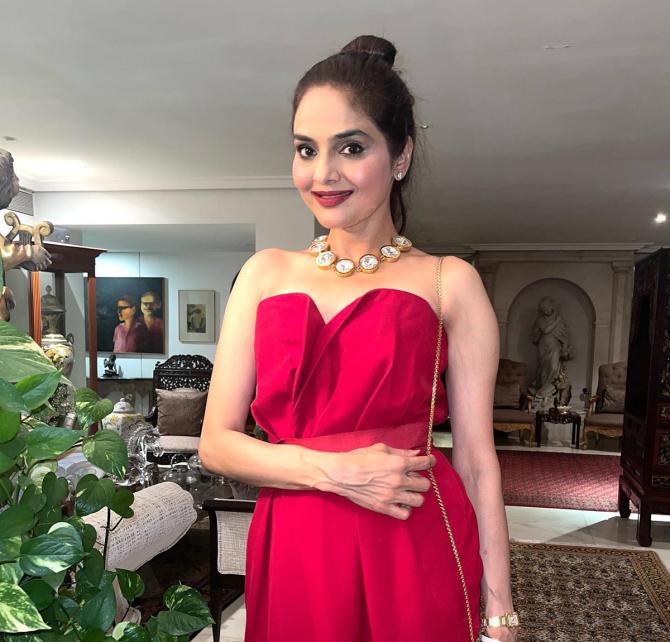 One still remembers her running with the wind and singing with the birds, Dil hai chhota sa, chhoti si asha, but Madhoo is not a carefree Roja today. She is a mother of two, making a comeback to acting.
And like she did three decades ago, she is bending the rules again.
Just 54, she is playing not a mother but a grandmother in ZEE5's fantasy series,Fireflies: Parth or Jugnu.
Madhoo's nani is a revelation, nothing like the stereotype we have been seeing on screen for years.
In a two-part interview with Rediff.com Senior Contributor Roshmila Bhattacharya, Madhoo reveals, "Doing a role that was blatantly sexual would be far more difficult than playing a nani because then, I would have to break the barriers of conditioning."
At an age when actresses are still wary of playing mother, you are seen as a grandmother in Fireflies: Parth or Jugnu. That's a brave call.
I don't know if it's brave because even in my Hindi debut film Phool Aur Kaante, I played a wife and a mother.
In Pehchaan, I was a girl from a red light area.
And mind you, this was in the '90s, when heroines didn't experiment with their roles and image.
For me, being an actor is not different from being a doctor, engineer or even a plumber. It's just that by default that we get a lot of love and attention.
When I'm told I'm brave or down-to-earth, that I'm unlike a star, I often wonder what makes me different since I don't think I'm doing anything extra special.
You are breaking stereotypes, Madhoo. Your nani is not greying and past her prime, but young and beautiful. She's going to glamorise grandmothers on screen.
I'm so happy to hear you say that.
Touched, gratified and humbled actually.
She's not your typical nani, wearing her silver hair in a jooda (bun), but she has a smart, slick bob cut.
She wears trousers and boots too since it's a hilly region.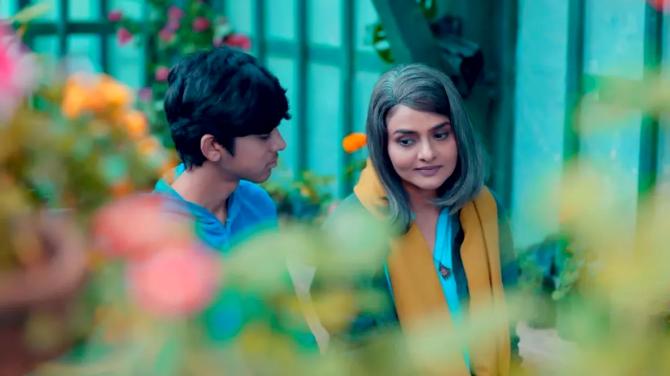 What was your reaction when you offered the role?
(Laughs) I thought the makers had no idea how I looked or spoke, so I asked for us to get on a Zoom call the next time.
I was surprised when they told me they were familiar with me.
I admit there were some misgivings, but then I told myself that if I could play an evil, dark character in Agni Devi and a hard-as-nails cop in Déjà vu, hen I'm neither in real life, what stops me from playing a grandmother?
Honestly, for me, doing a role that was blatantly sexual would be far more difficult than playing a nani because then, I would have to break the barriers of conditioning.
Despite that, I've been scared and nervous because acting is no longer just a 'timepass', a break from domesticity.
I'm back for good and giving my career 200 per cent.
So I really want the audience to accept and appreciate me.
What hasn't changed is that your nani also tells stories rooted in Indian mythology through which she is trying to impart knowledge and inculcates morals and values in the younger generation.
Yes, given the times we live in and the cut-throat competition, everyone, including children, are grappling with stress, anxiety and insecurity.
My nani is as concerned about her grandchildren's mental health as much as their physical well-being.
I'm like the sutradhar (narrator) in B R Chopra's Mahabharat.
(Chuckles) Only instead of 'Main samay hoon', it's 'Main nani hoon.'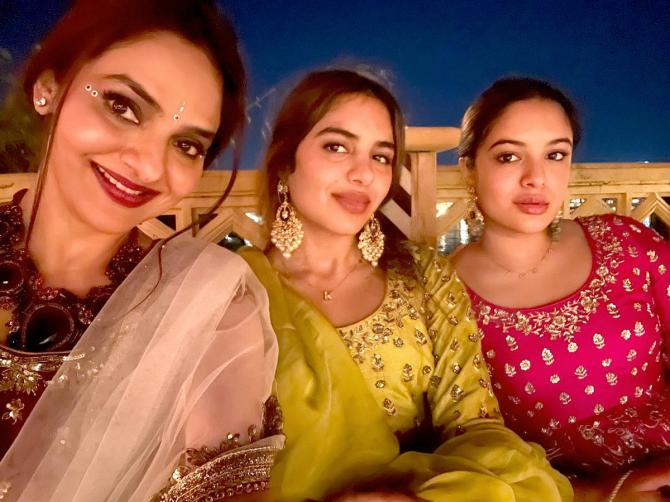 Do you give similar lessons to your daughters, Keia and Ameya?
That's a somewhat different scenario.
I lost my mother when I was very young and had to struggle on my own to find a place in the film industry.
With age and experience, I learnt the ways of the world.
As a mother, I tried to shield my daughters. but it upsets them.
Irritated, they tell me not to be preachy or judgemental, not to nag.
It took me time to understand that they have had a more protected upbringing and as a result, have grown up confident.
So it is enough to share my experiences, then surrender to God and let them be.
Even if they fall, they can pick themselves up and learn from experience.
Are they interested in following in your footsteps?
Keia sings and is a fabulous dancer. Yes, she desires to be an actress.
Ameeya is more intellectual, a good writer, very different.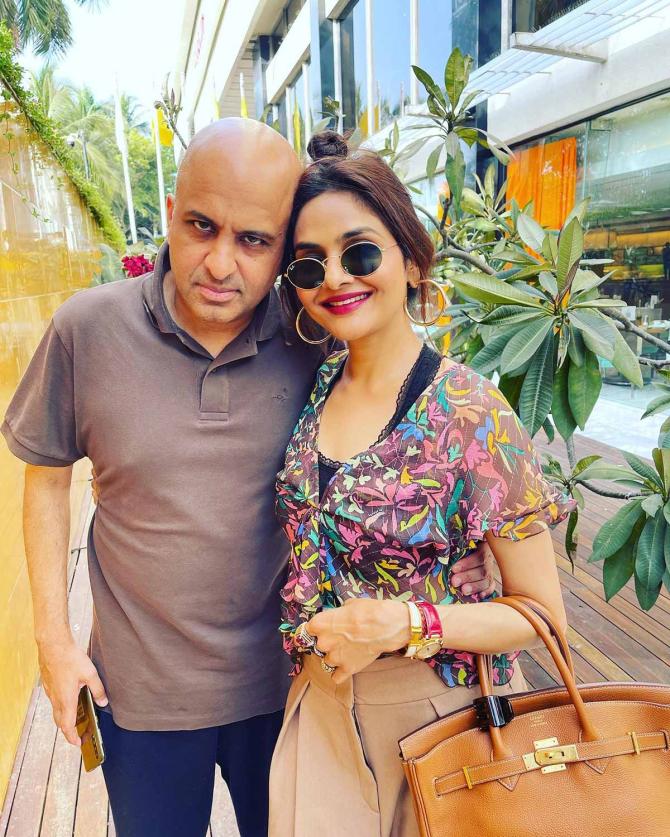 Which film of yours is your husband's favourite?
Anand (Shah, industrialist) likes Harry Baweja's 1996 action-romance,Diljale, which had me as the leading lady opposite Ajay Devgn.
From my more recent outings, there's Aarambh: Kahaani Devsena Ki, Goldie Behl's 2017 historical fiction series on Star Plus. It's written by V Vijayendra Prasad and has me playing Queen Sambhaviji and her twin, Padmavija, of Sambhav Pradesh.
(Laughs) As the warrior queen, I'm seen fighting many battles and whenever we have an argument, he jokes, 'Baap re, now you will pick up the sword and chop off my head.'
Despite being one of the busiest actresses in the Hindi, Tamil and Telugu film industries, you suddenly disappeared.
I got married in 1999.
By then a feeling of dissatisfaction had begun to set in because somewhere, I had begun to think of myself as a very good actress.
I believed that the flood of offers coming my way did not do justice to my talent or potential.
The roles I wanted to do were not coming my way and frustration was creeping in.
When I found a partner in Anand with whom I wanted to spend the rest of my life, I told myself, 'Chalo, kuch aur kar lete hain.'
So I got married and quit the industry.
Any regrets?
None. It's been a beautiful life.
I had my babies, and watched them take every step, saw every tooth fall...
As they started growing up and didn't need me around all the time, I began to feel restless.
That's when I returned to acting again.
But I planned it out beautifully, not taking on big projects, but interesting roles that didn't take me away from home for too long.
Now that Keia and Ameeya are both studying abroad, I can concentrate fully on my career.