'He has the voice, the performance, the talent and the presence.'
'He is a bankable star, so he brings all these things to the table.'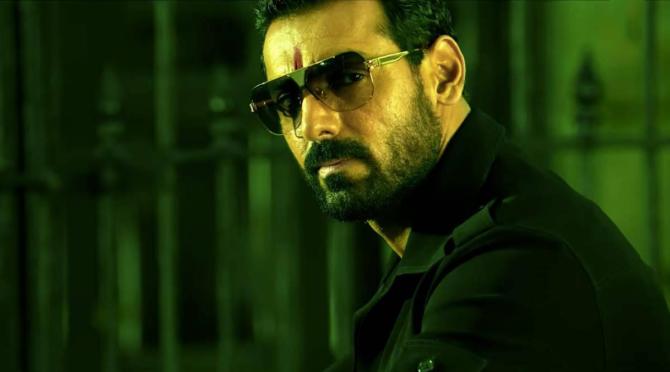 Sanjay Gupta's film Mumbai Saga, starring John Abraham and Emraan Hashmi, marks the return of the larger-than-life cop-gangster shootout drama.
Set in Mumbai's underbelly, the film portrays the events that led to the transformation of Bombay into Mumbai.
Sanjay tells Rediff.com Contributor Sameena Razzaq what exactly his cinema is all about: "There are a handful of film-makers like us who will always make films we believe in. We believe films on the large screen will be made on the basic concept of paisa vasool, so woh toh karna hi hai na, yaar!"
Theatres are open with just 50 percent capacity and Mumbai Saga has locked horns with Sandeep Aur Pinky Faraar. This will affect the box office collections of both films.
Is there a way out for films releasing in pandemic amidst all these challenges?
I can't comment on that. These are decisions taken by the producers and the distribution heads of the companies when they feel whatever is the best period for them.
Having said that, each film has its own destiny, its own audience and gets its own numbers.
There was a clash between Kaabil and Raees and that affected both films. There were two superstars.
But I don't see that much of a competition happening here. There isn't a way out.
We can only wait up to a point. We waited for a year.
We weighed our pros and cons and decided upon a date.
Rohit Shetty also held out for over a year.
Mumbai Saga was never an OTT film.
It is not designed, written, shot or structured as a film to be consumed on television screens and laptops.
It is a theatrical experience, a full blown cinematic experience.
As a producer who has invested Rs 60 crore (Rs 600 million, he will look at all the ways, pros and cons, about how he will recover his cost and get the highest possible audience.
John (<,em>Abraham) and Emraan (Hashmi) felt we should not even consider the OTT option but it's easy for them to say that; they have not invested Rs 60 crore in the film. Bhushan Kumar has.
So it's a call even I cannot take.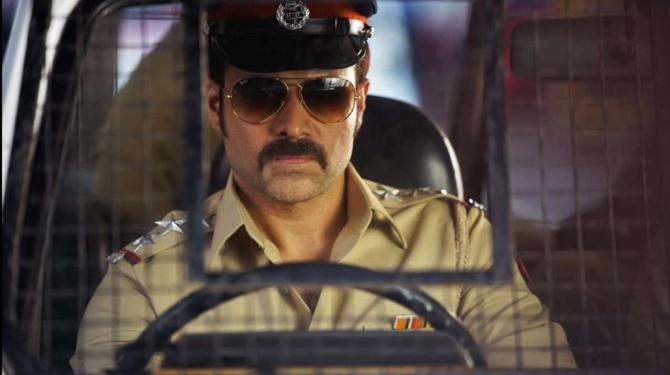 With the rise in OTT, film-makers were veering towards realism. But now, Bollywood is reloading the vintage larger-than-life formula of the '80s and '90s. Is his the period of the masala revival?
Absolutely not.
Where did we go?
It's not like I took a hiatus.
I have done Kaabil, Jazbaa, Shootout at Wadala...
Rohit Shetty has done all the blockbusters.
Salman Khan has done all the blockbusters.
The rise in OTT is a wonderful thing, but can I ask a simple question: When you see the crime shows across the OTT channels -- some of them are exceptionally good like Paatal Lok or the first season of Mirzapur and Sacred Games, I thought they were brilliant -- do you find anything cinematic in that?
There is a statement made by Martin Scorsese.
You know what's the worst word that has come into our business? He says it is content.
Films are not content.
We should not categorise films as content.
You just want to go to the theatres to be entertained, to be taken on a ride. So why are we ignoring that basic fact and saying, no, no content is king.
I mean, entertainment is king.
Whether there is OTT, which is a blessing, of course. But that is material designed and created for a smaller screen.
That material is very personal, like it's one on one.
Do you remember the last time you sat with your family and watched an OTT show?
Suddenly unko ek licence mil gaya hai aap sex daal do. Arre kyun?
Some of the greatest crime films like The Untouchables, Scarface and The Godfather... where was the nudity in these films? Where was the obscenity in these films?
They are two different platforms and you have content for two different platforms.
There is a handful of film-makers like us who will always make films we believe in.
We believe films on the large screen will be made on the basic concept of paisa vasool so woh toh karna hi hai na, yaar!
I understand that there was a spurt, a certain growth in films made on smaller budgets but at the same time, it's not that we have stopped consuming this.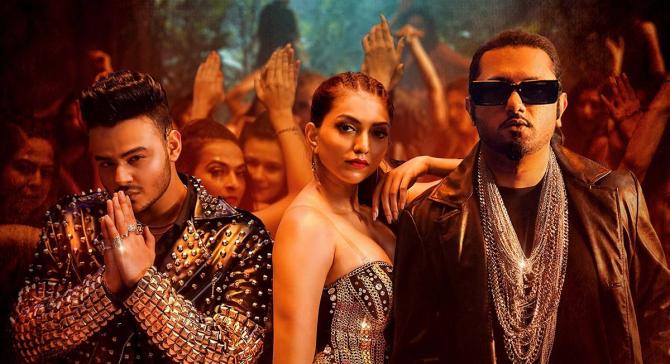 Ram Gopal Varma and you are known for making films on the underworld. Mr Varma has called his film D Company, the asli Mumbai Saga. What do you think?
I have grown up watching his movies.
I used to bunk college and watch Shiva and all of that.
Ramu is one film-maker, rather the only film-maker in the film industry, who is entitled to any opinion.
I don't think about that film and I don't see any reason to.
Did you always have John Abraham and Emraan Hashmi in mind while casting for this film?
John, yes. The film was written keeping him in mind.
I did not know who would play the other role.
Once we finished writing, we had a discussion and I said I needed a fresh pairing.
I needed somebody who had not done it before, so that it becomes one of the USPs of the film.
When I was a kid, if there was an Amitabh Bachchan and Vinod Khanna film, I used to feel very happy.
Look at 2019's biggest hit (War). You saw two dashing heroes go at it.
I had to reinvent John because he had played a gangster for me in Shootout at Wadala.
How is that gangster going to be different from the one he plays here, whether it is the way he talks, the way he walks, the way we present him, the way we dress him, the beard, the hair...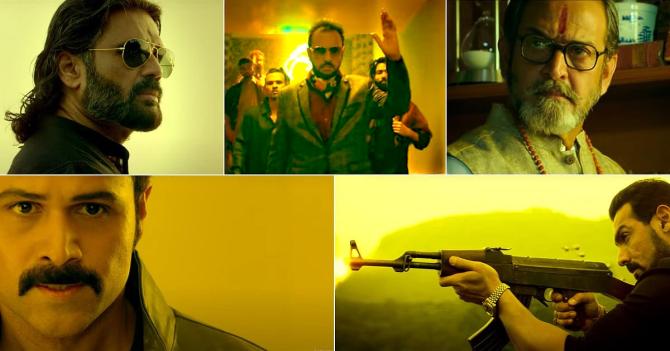 But why John? You already made a gangster film with him?
Why not John?
When I am casting for a gangster film, he is better suited.
John is a complete man.
He is the total package.
He has the voice, the performance, the talent and the presence.
He is a bankable star, so he brings all these things to the table.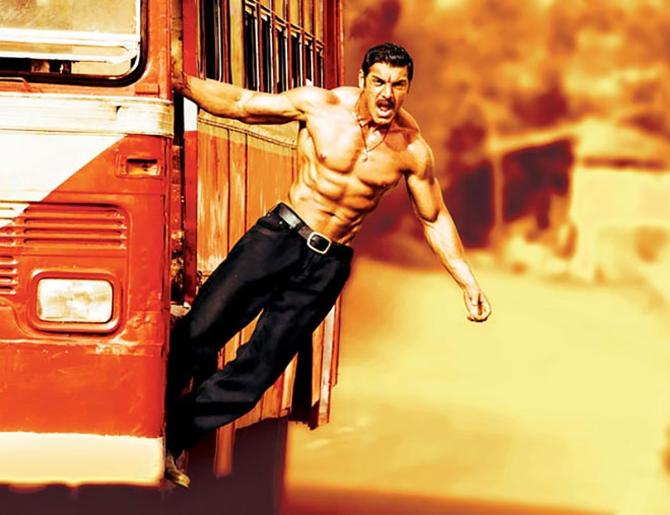 You have begun scripting Rakshak, which is about a vigilante superhero. Who will play the superhero?
I have nobody in mind.
But it's a superhero, so it will have to be a young, fit and good actor.
In the West, Robert Downey, Jr is the highest paid actor in the world. But when he was taken for Iron Man, he was just off his alcoholism and drug addiction. He was a non-entity.
Iron Man made Robert Downey, Jr what he is today.
Do you recall who Gal Gadot was before Wonder Woman?
So what they do is that they spend money on the film, rather than on the star.
That's something we need to start doing here, and we have started to an extent.
Rakshak is an original story of a superhero vigilante.
Daredevil and Batman are guys who do not have superpowers, but they are superheroes.
Rakshak is in that category.
Once you set up something like this, it opens up a whole world for you to explore later, including if you want to do spin off shows or films.
Krrish is the only superhero we have, but then again, Rakeshji (Roshan) takes his time. When he feels he is ready, he makes a film.
Between the Krrish films, there is a gap of five or six years, so obviously he is not making it to make money or milk it.
He is ready when he has a story to tell.
Having worked with both father and son so closely over the last three or four years, that is one thing I have learnt from them. It's never about making a project.
It's about you telling the right story.
Having said that, Rakeshji is a standalone producer.
He does not share even with a studio. He releases it himself.
Suppose the Krrish franchise was with Disney, all the infrastructure they have internationally is what they could have done something with.
I am eyeing that.
If I create this character and the character gets accepted, that's is the most important thing now.